Advanced Management Program
| Course Dates | Format | Location | Duration | Time Commitment | Price |
| --- | --- | --- | --- | --- | --- |
| May 28-Jun 28, 2024 | In Person | Cambridge, MA | 5 weeks | 8 hours, 5 days/week | $73,000 |
Tracks
Management and Leadership
Certificate Credits
25.0 EEUs
Topics
- Digital Business & IT
- Entrepreneurship
- Financial Management
- Global Economics & Markets
- Operations
- Organizations & Leadership
- Strategy & Innovation
- Systems Thinking
Course Highlights
Partake in a month-long in-person course on MIT campus and in Kendall Square
Network with global senior executives
Participate in interactive sessions, management simulations, team building exercises, 1:1 leadership coaching, individual feedback assessments, meetings with MIT labs and local companies, and more
Earn an Advanced Certificate for Executives (ACE), which confers MIT Sloan Affiliate Alumni status
Course Snapshot
Why attend MIT's Advanced Management Program (AMP)?
Are you an experienced executive at an inflection point in your career? Perhaps you're preparing to move into a C-suite role or thinking of embarking on an entrepreneurial venture. Are you looking to broaden your global perspective by exchanging success stories (and failures) with peer executives and entrepreneurs from around the world? Are you a progressive leader who is ready to be challenged and to challenge others? Are you ready to grow your network and forge deep, lasting relationships you never thought possible in five short weeks? Then the MIT Sloan Advanced Management Program may be right for you.
AMP participants arrive with sky-high expectations for world-class learning and leading-edge research on a wide range of topics. But the reality is, they leave with much more. AMP alumni take away actionable plans for managing complex, multi-dimensional organizations in volatile, uncertain markets. They return home with renewed energy, a toolbox of new skills and frameworks, a new leadership vision, and a readiness to make a difference in their companies and in the world. They take with them a global network of unparalleled leaders and the lifelong friendships that they forged here at MIT.
During the five weeks, participants benefit from:
Exposure to MIT Sloan's world-class faculty and their latest research
Access to the extraordinary innovation ecosystem within and around MIT, including company visits, and tours of labs and centers
Ongoing challenges to their thinking, leadership style, biases, and expectations of themselves and others
Time and resources to focus on personal projects and initiatives
Opportunities to form profound connections with participants and program alumni
Course Experience
MIT Sloan welcomes a select group of experienced executives to an intense, transformative learning experience on campus and in the heart of what is often referred to as "the most innovative square mile on the planet." Designed to fit the time constraints of seasoned, mid-career executives, the Advanced Management Program runs for 5 consecutive weeks. Limited to a maximum of 36 participants, the program is intentionally diverse, representative of global points of view. Executives in the program may or may not have an advanced degree but all have rich work experience, including P&L responsibility and significant international experience. In line with the MIT Sloan mission, all participants have the ambition and desire to advance management practices and make a broader impact in their organizations and the world.
AMP participants will engage in:
Custom learning components led by MIT's world-renowned faculty
Interactive classroom sessions
Management simulations
Case studies
360° feedback and 1:1 leadership coaching
Individualized feedback assessments
Lectures
Team-building experiences
Action learning projects
Executive panels
Participants will also explore the many companies, labs and centers that make MIT and surrounding Kendall Square the epicenter of innovation worldwide.
Learn more about the in-person course experience.
Alumni Gathering
Advanced Management Program alumni are invited back to campus for 2 days each June to reconnect with their peers and the MIT community. A themed agenda will bring the group together with current participants to network, learn, and share experiences.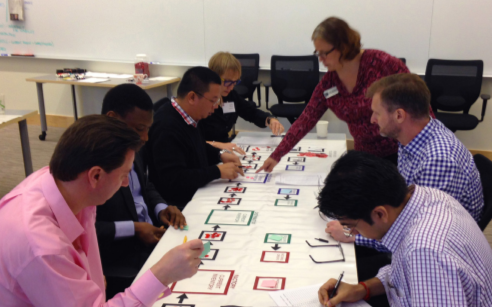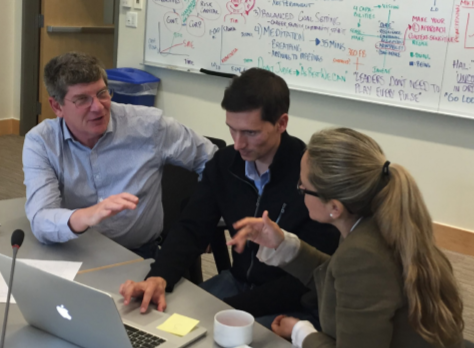 Applying to the Course
AMP 2024 Application Information and Deadlines:
If you are concerned that you do not meet all the criteria for AMP, or that your professional experience is not relevant to this program, we encourage you to apply anyway. We know our program benefits from diverse backgrounds and experiences. Please reach out even if you don't meet our application criteria to the letter —our team is happy to help you assess whether this program is a good fit at this point in your career and learning journey.
Early application is encouraged and will increase your chances of being accepted. Applicants in later rounds have a higher likelihood of being deferred or waitlisted. Applications for the 2024 session will be reviewed after the 2023 session ends. You can begin the application process by using the red 'Enroll Now' bar at the bottom of the screen.

Round 1 - November 10th, 2023
Round 2 - January 20th, 2024
Round 3 - April 12th, 2024
Due to limited class size and the need to reserve hotel rooms, AMP requires a $10,000 deposit within 30 days of acceptance.
Tuition includes accommodations starting the day before the program starts, ends the day after the program ends; breakfast, lunch, and snacks on all week days of the program; one cohort dinner per week; 2 face to face coaching sessions while in Cambridge plus a follow up session with the coach following the program. No fees are due at time of application.
Speak with the Program Team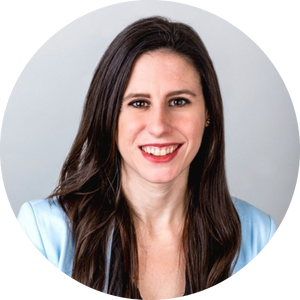 Alex Donovan
Assistant Director, Executive Programs, Executive Education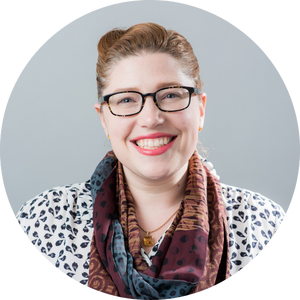 Molly Schneider
Associate Director, Executive Programs, Executive Education
If you are considering the Advanced Management Program but have questions or would like to see if you would be a good fit for it, you may email Molly and Alex at execedamp@mit.edu. They would be happy to speak with you. You can also find answers to some frequently asked questions here. Watch a recording of a recent info session here.
Health and Safety
See our on campus healthy and safety policies.
The guiding purpose of the Advanced Management Program (AMP) is to deepen the ability of experienced executives to make significant and systemic changes in their companies and the world.
As a participant, you will experience:
A deepening ability to make significant and systemic changes in your company and the world
Access to faculty, coaches, business leaders, and alumni who can help you apply the latest management thinking and frameworks to your industry, company, and professional challenges
The latest insights on cutting edge topics like Fintech, Blockchain, Cryptocurrencies, Cybersecurity, and Digital Transformation
Opportunities to deepen and hone your skills in the critical areas of Leadership and Change Management, Strategy, System Dynamics, Innovation, Entrepreneurship, Technology, and Information Management
Visits to companies, labs, and incubators within the MIT and Boston/Cambridge innovation ecosystem
A unique climate and sense of belonging to a profound network of participants and alumni from around the world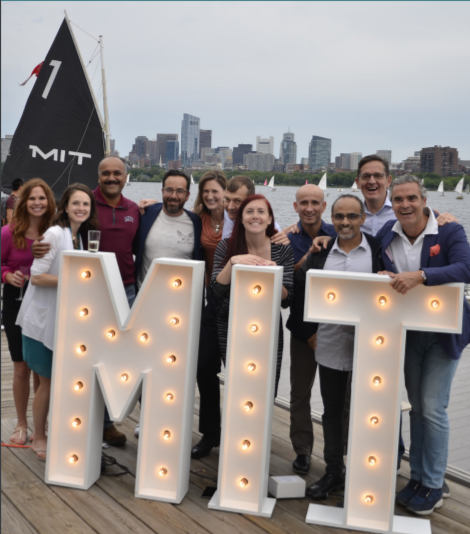 AMP participant benefits:
Upon completion of the program, participants will be awarded the Advanced Certificate for Executives in Management, Innovation, and Technology (ACE) which grants MIT Sloan Affiliate Alumni status. This includes:
An MIT Sloan email-forwarding-for-life (EFL) address
Inclusion in the MIT Sloan Alumni Directory
Subscription to the MIT Sloan Alumni newsletter
Invitations to select MIT Sloan events
Opportunity to join local Alumni clubs (membership is up to individual club leadership discretion)

Other benefits of earning the ACE are:
Inclusion in a private LinkedIn group exclusively for ACE holders
Membership in a private LinkedIn group for Executive Certificate holders which connects you to a global network of business professionals
Option to have your profile listed in our online Executive Certificate Holder Community
20% discount on additional Executive Education programs and a 30% discount on inaugural sessions of in-person two-day courses. Some exclusions apply.
A digital, certified copy of your certificate
Sample Schedule—Subject to Change
Are you a good candidate for the Advanced Management Program?
The Advanced Management Program (AMP) is an intense and demanding experience limited to 36 participants. The best AMP candidates are seasoned executives who carry significant leadership roles in their companies. All the key elements of the AMP experience—the professors, their content, the scope of the project work, 1-on-1 leadership coaching, simulations, etc. are designed specifically for:
Seasoned executives with significant leadership roles in their companies as general managers, leaders of functions or business lines, and who have direct responsibility for profit/loss
Senior leaders with an advanced degree and 15–20 years of work experience, across several different functions and business lines
Global citizens with significant international exposure yet fluency in written and spoken English
Those with an urgent agenda for change with support from employer and family to step away for five committed weeks
If you are concerned that you do not meet all the criteria for AMP, or that your professional experience is not relevant to this program, we encourage you to apply anyway. We know our program benefits from diverse backgrounds and experiences. Please reach out even if you don't meet our application criteria to the letter —our team is happy to help you assess whether this program is a good fit at this point in your career and learning journey.
Why your company should sponsor employees to attend MIT's AMP:
Sponsoring your top-tier executives to attend MIT's Advanced Management Program (AMP) is a unique opportunity to maximize the impact of executive education in your organization.
The guiding ethos of the AMP is to empower experienced executives to bring about substantive and transformative changes, not just within their respective organizations but on a global scale. By nurturing your talent through such a program, you can equip them with the capabilities to navigate your company through complex challenges, making your team more agile, innovative, and forward-thinking.
We also hope you will give special consideration to women and people of color in your organization. Research shows that women and minority professionals are less likely to nominate themselves for such opportunities. We are committed to accepting a diverse and inclusive cohort that reflects a range of perspectives and experiences. In fact, the small and diverse cohort of peers is part of what makes this program so unique and so valuable.
If you are seeking extraordinary learning experiences for your high performing professionals, here are a few ways in which MIT's AMP stands apart:
Tailored learning experience: AMP is not just a theoretical course; it provides practical tools, granting participants direct access to renowned faculty, coaches, industry leaders, and alumni. This ensures your employees can contextualize the latest management paradigms and frameworks to your specific industry and company challenges.
Cutting-edge insights: With the corporate landscape evolving rapidly, especially in areas like fintech, blockchain, cybersecurity, and digital transformation, AMP ensures your team stays ahead of the curve.
Holistic skill development: Beyond just insights, the program offers extensive training in pivotal areas such as leadership, change management, strategy, innovation, and technology, among others. These skills are paramount in today's volatile business environment.
Experiential learning: AMP is not confined to the classroom. Participants will also engage with the MIT and Boston/Cambridge innovation ecosystem, including visits to companies, labs, and incubators. Such experiences provide invaluable real-world insights and connections.
Global networking: AMP is a congregation of bright minds from across the globe. Your employees will not only learn from the course but also from their international peers, fostering a unique sense of belonging and building a vast professional network.
But don't take our word for it … AMP participants frequently share feedback about their AMP experience and its impact on their role and company. Here is what a few of these executives have to say:
"AMP equipped me with the capabilities I need to lead and manage organizations. I learned from world-class faculty and networked with accomplished professionals, which gave me a new perspective on leadership and management. I am now better equipped to make strategic decisions, build high-performing teams, and drive innovation." — Andrés R.
"It was important to me that I wasn't repeating business school again. I wanted to dive into those issues that keep leaders up at night. And I wanted to be able to bring real takeaways back to my company … I challenge my peers and team members differently now. I don't make decisions for them anymore. I have more tools to suggest how they can think about their work differently and how we can challenge each other to solve problems and get to the answers." — Birgit G.
"We have been going through some exciting transformations within our company. I felt like MIT rewired my brain just in time for me to come back and really delve into what needed to be done. Every day I spent on the Cambridge campus was literally preparing me with tools that I use every day now." — Terence L.
The knowledge, skills, and connections participants acquire in AMP have the potential to yield exponential returns for your company. We hope you will consider sponsoring senior leaders to partake in this once-in-a-lifetime experience at MIT.
Use this template letter as a starting point for requesting your organization's approval to attend AMP.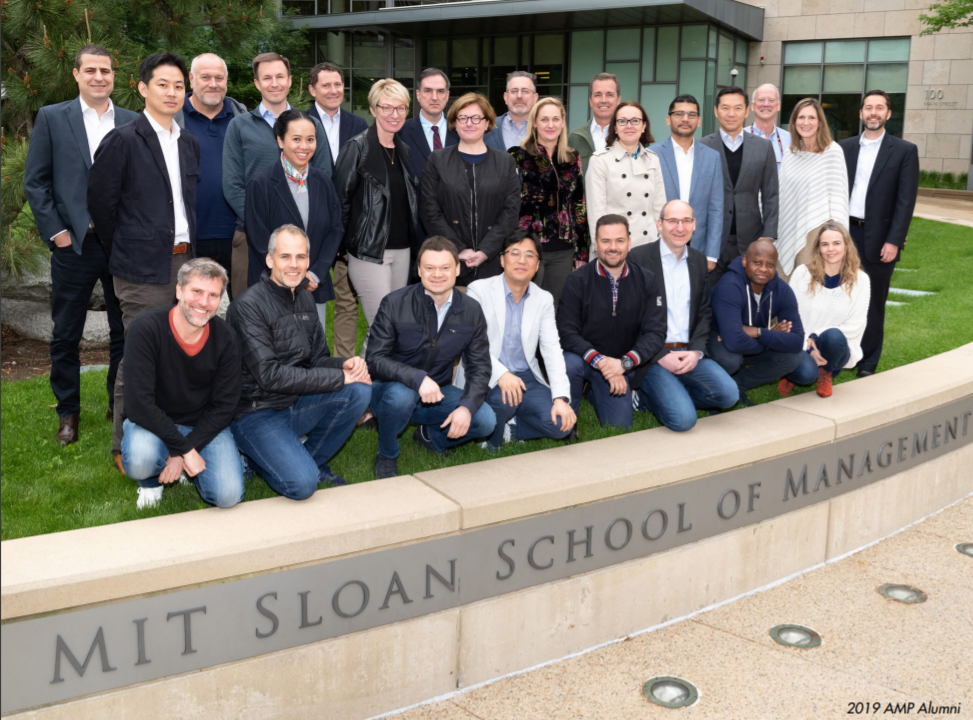 | Course Dates | Format | Location | Duration | Time Commitment | Price |
| --- | --- | --- | --- | --- | --- |
| May 28-Jun 28, 2024 | In Person | Cambridge, MA | 5 weeks | 8 hours, 5 days/week | $73,000 |
Tracks
Management and Leadership
Certificate Credits
25.0 EEUs
Topics
- Digital Business & IT
- Entrepreneurship
- Financial Management
- Global Economics & Markets
- Operations
- Organizations & Leadership
- Strategy & Innovation
- Systems Thinking
A truly life changing experience and the unmissable opportunity for catching up with like-minded professionals from different industries. A must for everyone willing to learn about best practices for digital transformation or pivoting career towards entrepreneurship.
—Barbara D.
The AMP is a life-changing experience. The quality of the content and structure of the program far exceeded my expectations.
—Niël M.