Understanding and Solving Complex Business Problems
| Course Dates | Format | Location | Duration | Time Commitment | Price |
| --- | --- | --- | --- | --- | --- |
| Mar 21-22, 2024 | Live Online | N/A | 2 days | 8 hours/day | $4,500 |
| Jun 6-7, 2024 | In Person | Cambridge, MA | 2 days | 8 hours/day | $4,500 |
| Dec 12-13, 2024 | Live Online | N/A | 2 days | 8 hours/day | $4,500 |
Tracks
Management and Leadership
Certificate Credits
2.0 EEUs
Topics
- Operations
- Systems Thinking
Course Highlights
Discover MIT's unique, powerful, and integrative System Dynamics approach to assess problems that will not go away
Experience the Beer Game, which simulates the supply chain of the beer industry
Learn a new way of thinking about and resolving complex, persistent problems that emerge from change
Earn a certificate of course completion from the MIT Sloan School of Management
Why attend Understanding and Solving Complex Business Problems?
Systems thinking was designed to improve people's ability to manage organizations comprehensively in a volatile global environment. It offers managers a framework for understanding complex situations and the dynamics those situations produce. Systems thinking is a response to the rapid changes in technology, population, and economic activity that are transforming the world, and as a way to deal with the ever-increasing complexity of today's business.
Senior managers can use systems thinking to design policies that lead their organizations to high performance. The program is intended to give participants the tools and confidence to manage organizations with full understanding and solid strategy.
Course experience
This complex problem-solving course introduces participants to MIT's unique, powerful, and integrative System Dynamics approach to assess problems that will not go away and to produce the results they want. Through exercises and simulation models, participants experience the long-term side effects and impacts of decisions and understand the ways in which performance is tied to structures and policies.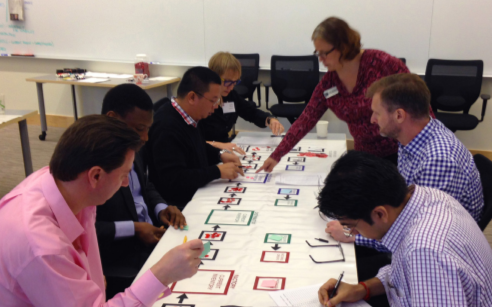 Participants play the Beer Game, a table game developed by Jay Forrester. Played with pen, paper, printed plastic tablecloths, and poker chips, it simulates the supply chain of the beer industry. The game illuminates aspects of System Dynamics, a signature mode of MIT thought and illustrates the nonlinear complexities of supply chains and the way individuals are circumscribed by the systems in which they act.
Learn more about the in-person course experience.
Applying to the course
We accept enrollments until the offering reaches capacity, at which point we will maintain a waitlist. Many of the courses fill up several weeks in advance, so we advise that you enroll as early as possible to secure your seat.
You can begin the application process by using the red 'Enroll Now' bar at the bottom of the screen.
Health and Safety
See our on campus healthy and safety policies.
Have questions?
Contact us if you would like to speak with a program director or visit our Frequently Asked Questions page for answers to common questions about our courses.
Upon successful completion of your course, you will earn a certificate of completion from the MIT Sloan School of Management. This course may also count toward MIT Sloan Executive Certificate requirements.
The program will offer a new way of thinking about and resolving complex, persistent problems that emerge from change. Applying systems thinking along with intuitive principles of feedback control, participants will learn to:
Assess the likely impact of different policies and decisions that relate to their organization's growth, stability, and performance
Recognize business system archetypes that can trigger persistent, long-term problems
Use state-of-the-art management tools to identify relationships
Intervene effectively to make fundamental changes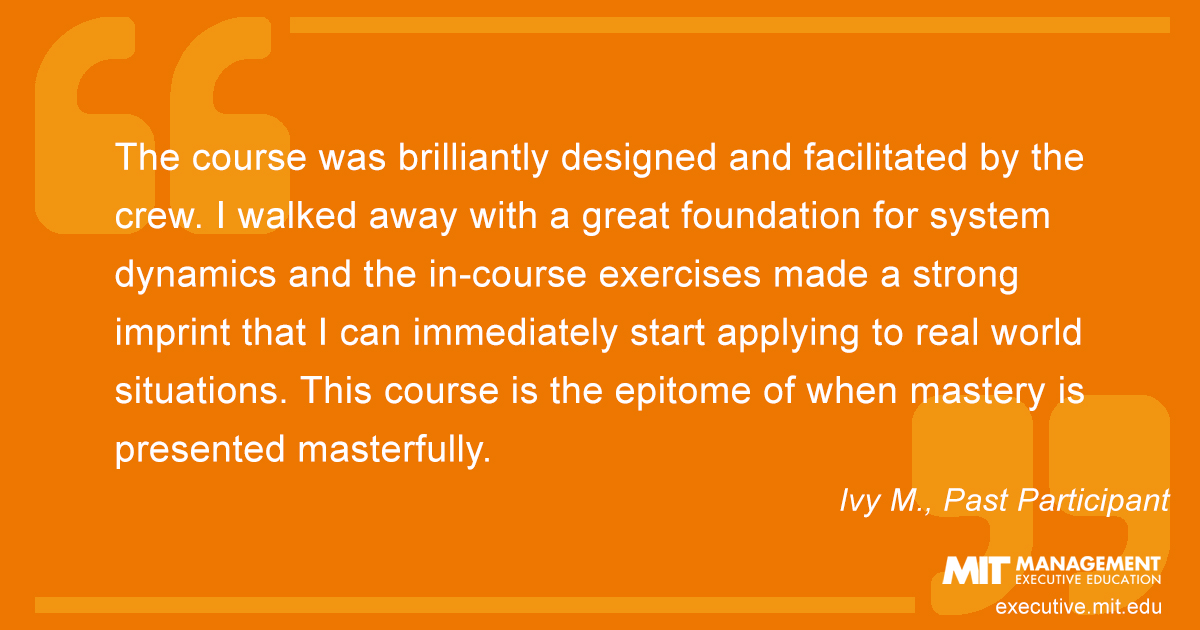 Sample Schedule—Subject to Change
This program is designed for executives with decision-making responsibility who are looking for fresh ideas to resolve organizational problems.
Past participants have included
CEOs
Presidents
COOs
CTOs
VPs and EVPs
Corporate planners and strategists
Senior Project Managers
Product Development Managers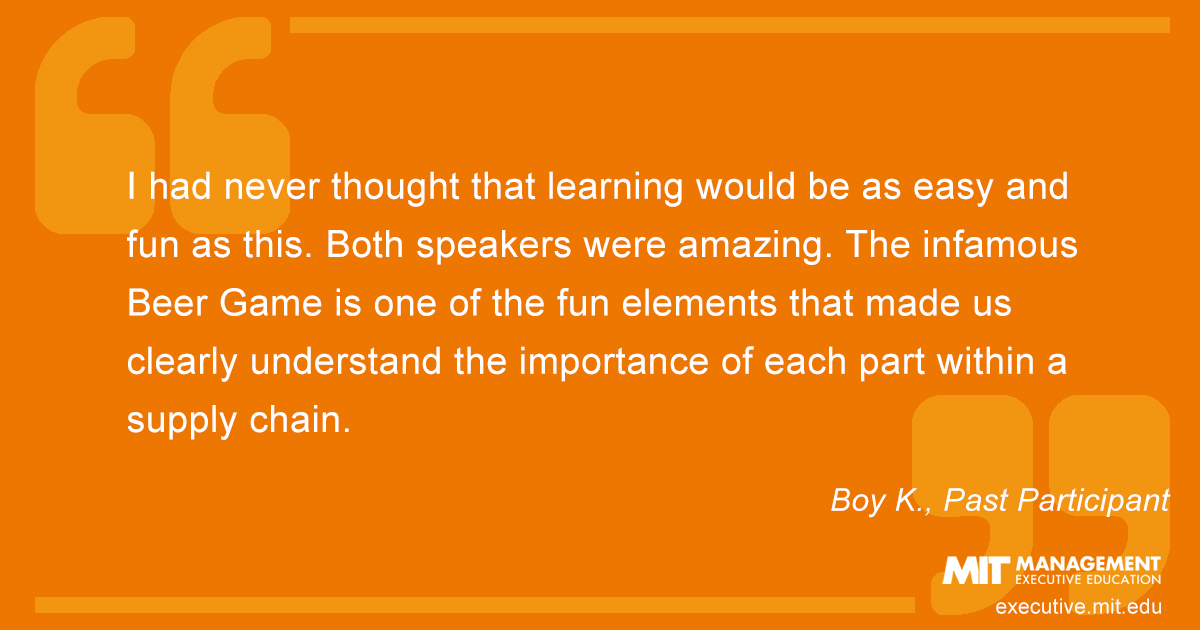 | Course Dates | Format | Location | Duration | Time Commitment | Price |
| --- | --- | --- | --- | --- | --- |
| Mar 21-22, 2024 | Live Online | N/A | 2 days | 8 hours/day | $4,500 |
| Jun 6-7, 2024 | In Person | Cambridge, MA | 2 days | 8 hours/day | $4,500 |
| Dec 12-13, 2024 | Live Online | N/A | 2 days | 8 hours/day | $4,500 |
Tracks
Management and Leadership
Certificate Credits
2.0 EEUs
Topics
- Operations
- Systems Thinking
This program is designed to empower you to analyze complex problems in any area by using powerful yet very simple tools which are also very easy to use in real world, I enjoyed it a lot.
—Jia X.