Navigating Transitions During Disruptive Change
| Course Dates | Format | Duration | Time Commitment | Price |
| --- | --- | --- | --- | --- |
| Oct 12-13, 2023 | Live Online | 2 days | 7 hours/day | $4,500 |
Tracks
Management and Leadership
Certificate Credits
2.0 EEUs
Topics
- Digital Business & IT
- Organizations & Leadership
- Strategy & Innovation
Course Highlights
This unique program will help you better manage uncertainty and lead others through disruptive change
You will explore and apply key concepts and tools to guide yourself and others successfully through the behavioral, cognitive, and emotional arcs of individual and team transitions—the Transition-Curve Framework
Includes customized graphic illustrations to serve as a dynamic tool for reflection and application
You will earn a certificate of course completion from the MIT Sloan School of Management
Featured content
Why attend Navigating Transitions During Disruptive Change?
Transitions are inevitable, in work and in life. Navigating a change curve well is every leader's responsibility. Building on the Transition-Curve Framework (research and practice on adjustment, learning, emotional response curves, and more), this unique program will help you better manage uncertainty and successfully lead others through the behavioral, cognitive, and emotional arcs that accompany disruptive change.
Change has been, and always will, be constant. The role of a leader is to identify the uncertainty that surrounds change and create the context for talking about and managing it. Disruptive change—events that challenge our lives, organizations, industries, and societies in fundamental ways—raises the stakes on all the above. How we navigate the transitions that result from disruption has a direct impact on outcomes.
Course experience
Led by Hal Gregersen, this innovative new change management training takes a deep dive into the social and psychological journey that accompanies transition. You will explore and apply key concepts and tools to guide yourself and others successfully through the behavioral, cognitive, and emotional arcs of individual and team transitions—the Transition-Curve Framework. By understanding how people move through these arcs at their own pace, you will be better equipped to build organizational support for yourself and high-performing teams before, during, and after transitions. And you will be able to avoid common leadership mistakes that over-emphasize performance and de-emphasize the human side of transitions.
This course will include customized graphic illustrations to serve as a dynamic tool for reflection and application. Pre-reading materials will also be provided.
Learn more about the live online experience.
Learn more about the in-person course experience.
We do not recommend this course if you have already completed Managing the Human Side of Digital Disruption, unless you are seeking a refresher of the content.
Applying to the course
We accept enrollments until the offering reaches capacity, at which point we will maintain a waitlist. Many courses fill up several weeks in advance, so we advise that you enroll as early as possible to secure your seat.
You can begin the application process by using the red Enroll Now bar at the bottom of the screen.
Health and Safety
See our on campus healthy and safety policies.
Have questions?
Contact Us if you would like to speak with a program director or visit our Frequently Asked Questions page for answers to common questions about our courses.
Upon finishing this course, you will earn a certificate of completion from the MIT Sloan School of Management. This course may also count toward MIT Sloan Executive Certificate requirements.
As a participant in this course, you will learn how to
Engage the power of inquiry, cultural awareness, and a growth mindset to manage transitions
"Mind the curves" of adjustment, learning, and emotional response
Frame your role of as an effective leader in times of transition
Identify threats and address them openly with your team
Understand the role of social defenses during times of uncertainty
Create organizational support at each phase of the change curve
Sustain psychologically safe and compassionate transition cultures
Provide better transition support to individuals and teams virtually
Identify and engage in positive transitions at home and in communities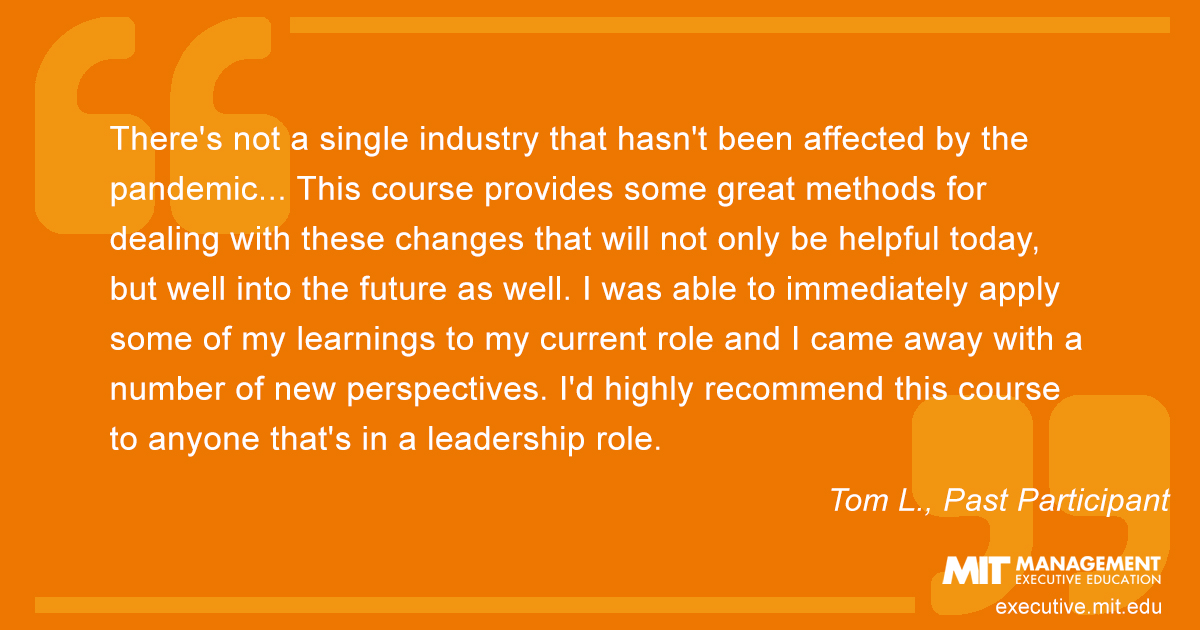 Sample Schedule—Subject to Change
This course has been developed for
Individuals who want to improve their ability to navigate the transitions that result from disruptive change and/or create an organizational culture that can support individuals and teams as they do so
Senior leaders and professionals engaged in change management
This content is highly applicable to the new world of substantial systemic change and the impact it has on our roles in radically shifting organizational models.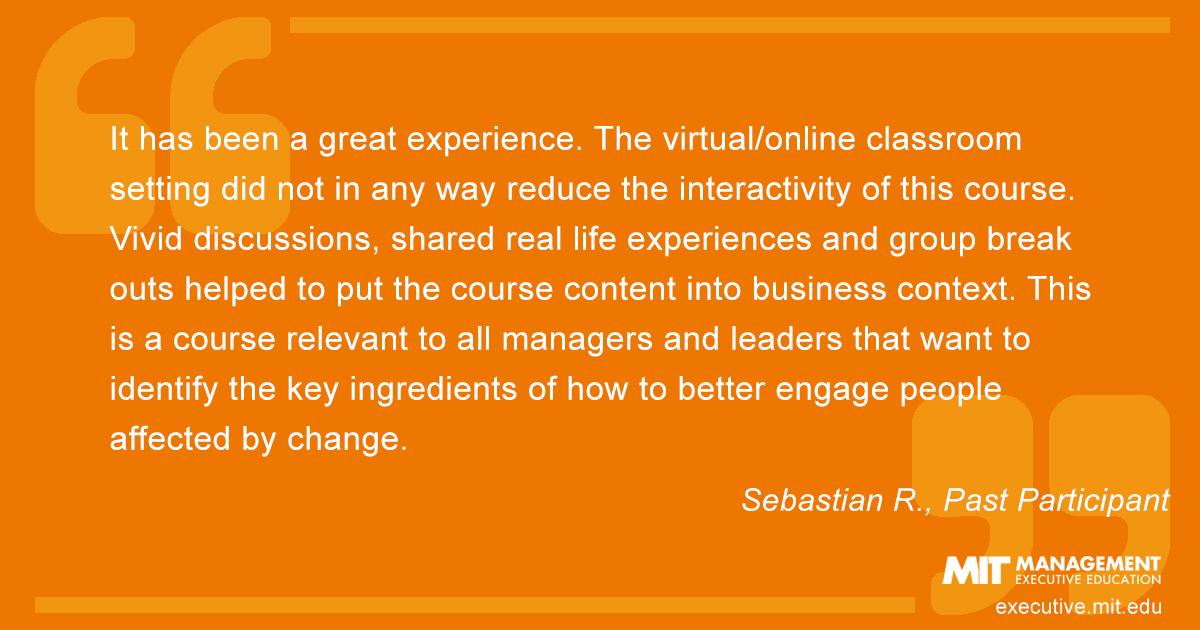 | Course Dates | Format | Duration | Time Commitment | Price |
| --- | --- | --- | --- | --- |
| Oct 12-13, 2023 | Live Online | 2 days | 7 hours/day | $4,500 |
Tracks
Management and Leadership
Certificate Credits
2.0 EEUs
Topics
- Digital Business & IT
- Organizations & Leadership
- Strategy & Innovation
It has been a great experience. Vivid discussions, shared real life experiences and group break outs helped to put the course content into business context. This is a course relevant to all managers and leaders that want to identify the key ingredients of how to better engage people affected by change.
—Sebastian R.