Managing the Human Side of Digital Disruption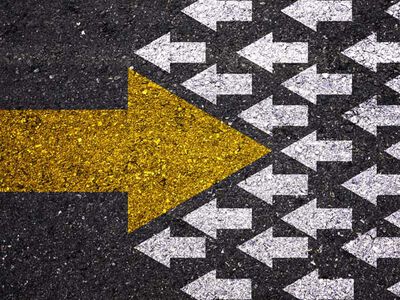 | Course Dates | Format | Duration | Time Commitment | Price |
| --- | --- | --- | --- | --- |
| Mar 6-Apr 23, 2024 | Self-Paced Online (date based) | 6 weeks | 6-8 hours/week | $2,800 |
Tracks
Management and Leadership
Certificate Credits
2.0 EEUs
Topics
- Organizations & Leadership
Course Highlights
This course runs over 6 weeks with an estimated 6-8 hours per week of study time
This course is delivered in our Self-Paced Online format which enables you to participate at your own pace within weekly modules
You will learn through a variety of formats including: interactive videos, practice quizzes, presentations, assignments, and discussion forums
You will have access to a Success Adviser who will help you manage your time, and support you with any administrative or technical queries you might have
You will earn a certificate of course completion from the MIT Sloan School of Management
Why attend Managing the Human Side of Disruption?
With continuous digital innovation and the COVID-19 pandemic creating a heavier reliance on technology, organizations globally have had to rapidly digitalize their operations and processes to remain competitive. At the same time, employees have had to take on new roles, transform their capabilities, and manage the psychological effects these transitions can cause. To ensure a successful, digitally driven transformation, business leaders require the skills to lead their companies, people, and teams through change and the knowledge to help reduce the emotional impact.
Course experience
The Managing the Human Side of Digital Disruption online short course provides you with the insight and tools to lead people and teams through digital change. Drawing on the Transition-Curve Framework, developed by Faculty Directors Hal Gregersen and Roger Lehman, you'll explore the progression of your team's roles, capabilities, and psychological responses to change, and gain methods for managing the unique requirements of each. You'll also be introduced to the elements of successful change management, which will help you leverage the superpowers of purpose and inquiry and establish the essential conditions of psychological safety and trust in your business context. On completion of the program, you'll be able to confidently and proactively lead transformations, now and in the future.
This online program will expose you to expert instruction from Hal Gregersen and Roger Lehman, MIT Sloan School of Management Senior Lecturers, who currently lead our in-person program, Navigating Transitions During Disruptive Change.
Learn more about the self-paced online experience.
Learn more about the GetSmarter course experience. Learn more about GetSmarter technical requirements.

Applying to the course
Enrollment for this course is done through the GetSmarter website. You can begin the application process by using the red Enroll Now bar at the bottom of the screen and clicking on the "Go to GetSmarter Site" button.
This program provides leaders with the skills to effectively navigate digital transformation within their organizations, focusing on the human element. You'll start by using the Transition-Curve Framework to identify the different challenges people experience during transitions. Next, you'll investigate the impact digital transformation has on defined roles, how roles and capabilities need to adapt to support your organization, and methods to improve the way you lead your team through these changes. Then, you'll explore the most common emotional responses to digital change and analyze the interplay between the three dimensions of a transformation to create a positive, productive outcome. Finally, you'll walk away with approaches to confidently and successfully manage digital transformation.
This course requires a high level of engagement that's facilitated by establishing a space of trust and vulnerability between participants. Through a combination of forum discussions, developmental exercises, journals, interactive polls, and enrichment activities, you'll learn to apply the concepts covered in this course to your context.
Sample Schedule—Subject to Change
This course is designed for:
Professionals looking to understand the impact digital transformation has on the people and teams in their organizations.
Those wanting to create a positive culture that supports individuals and teams through transition periods will equally benefit.
Business leaders and managers who wish to comprehend the shift in organizational models that digital change causes and improve employee engagement and experience during transition.
Business advisers and consultants seeking to enhance their digital transformation leadership knowledge and skills to stay ahead in a changing industry will also find this course useful.
HR business partners who need to create solutions to improve employee value propositions and experiences in an evolving workplace will find the concepts covered valuable.
GetSmarter™, a brand of 2U, Inc., partners with the world's leading universities to select, design and deliver premium online short courses with a data-driven focus on learning gain.
Technology meets academic rigor in our people-mediated model which enables lifelong learners across the globe to obtain industry-relevant skills that are certified by the world's most reputable academic institutions.
| Course Dates | Format | Duration | Time Commitment | Price |
| --- | --- | --- | --- | --- |
| Mar 6-Apr 23, 2024 | Self-Paced Online (date based) | 6 weeks | 6-8 hours/week | $2,800 |
Tracks
Management and Leadership
Certificate Credits
2.0 EEUs
Topics
- Organizations & Leadership
At MIT Sloan Executive Education, we are focused on bridging the energy, engagement, and idea flow of physical in-person teaching and learning into online experiences. We aim to positively modify individual and collective behaviors that participants will take back to their teams and propagate throughout their organizations.
—Paul McDonagh Smith - Senior Lecturer & Digital Capability Leader, MIT Sloan School of Management