Innovator's DNA: Mastering Five Skills for Innovative Disruption
| Course Dates | Format | Duration | Time Commitment | Price |
| --- | --- | --- | --- | --- |
| Dec 13-14, 2023 | Live Online | 2 days | 7 hours/day | $4,500 |
Tracks
Strategy and Innovation
Certificate Credits
2.0 EEUs
Topics
- Organizations & Leadership
- Strategy & Innovation
Course Highlights
Teaches how to achieve breakthrough insights through self-assessment, catalytic questioning, deep observation, diverse networking, and rapid experimentation
Provides a better understanding of your own innovation and execution-focused leadership skills
Helps you tackle a real-time individual challenge to innovate around
Confers a certificate of course completion from the MIT Sloan School of Management
Featured content
Why attend Innovator's DNA?
Innovation is a big buzzword that means different things to different people. Where do innovative and revolutionary business ideas come from? According to research by Hal Gregersen, co-author of The Innovator's DNA and executive director of the MIT Leadership Center, mastering five key skills forms the foundation for finding ideas that create value. This innovation disruption course helps executives learn to achieve breakthrough insights through self-assessment, catalytic questioning, deep observation, diverse networking, and rapid experimentation.
Every great innovator, from Jeff Bezos to Steve Jobs, excels at asking the right questions. Day in and day out they seek provocative new insights by getting out of their offices and into the real world, actively observing, networking, and experimenting to generate valuable new ideas. By doing so, they improve our lives and grow our economy, finding new solutions to the most challenging problems we face. Innovative entrepreneurs and intrapreneurs act differently, to think differently and, in the end, they make a significant impact.
Ready to find out your iDNA profile for innovation? Watch the video below and download the 20-question 'iDNA Profile Quiz' from this webpage to get a quick snapshot of your Discovery-Delivery skills profile.
Course experience
Building on hundreds of interviews and more than 10,000 survey assessments, Gregersen delivers unique insight into the behaviors of extraordinary innovators. Participants of this course will learn and practice important discovery skills that lead to new and disruptive innovation, ranging from product improvement and new market creation, to generate valuable, new economic growth.
These key innovation skills include:
• Questioning the status quo
• Observing the world like anthropologists
• Networking with diverse people to get new ideas
• Experimenting in small, fast, and cheap ways to reach novel solutions
• Connecting typically unconnected insights to deliver disruptive new business ideas
To put this innovation strategy into practice, participants will identify an individual challenge for which they seek a solution and commit to innovating around that challenge throughout the two days.
Participants will also engage in a personal diagnostic assessment to better understand their own innovation and execution focused leadership skills.
Learn more about the live online experience.
Learn more about the in-person course experience.
Applying to the course
We accept enrollments until the offering reaches capacity, at which point we will maintain a waitlist. Many of the courses fill up several weeks in advance, so we advise that you enroll as early as possible to secure your seat.
You can begin the application process by using the red Enroll Now bar at the bottom of the screen.
Health and Safety
See our on campus healthy and safety policies.
Have questions?
Contact us if you would like to speak with a program director or visit our Frequently Asked Questions page for answers to common questions about our courses.
Upon successful completion of your course, you will earn a certificate of completion from the MIT Sloan School of Management. This course may also count toward MIT Sloan Executive Certificate requirements.
This highly interactive program will help participants
Gain deeper insight into their own unique innovation skill strengths
Build questioning, observing, networking, and experimenting capabilities to surface new ideas and value-creating innovations
Practice questioning skills intensively through individual and group exercises
Apply skills to a real individual challenge
Evolve their existing corporate culture to better foster these five skills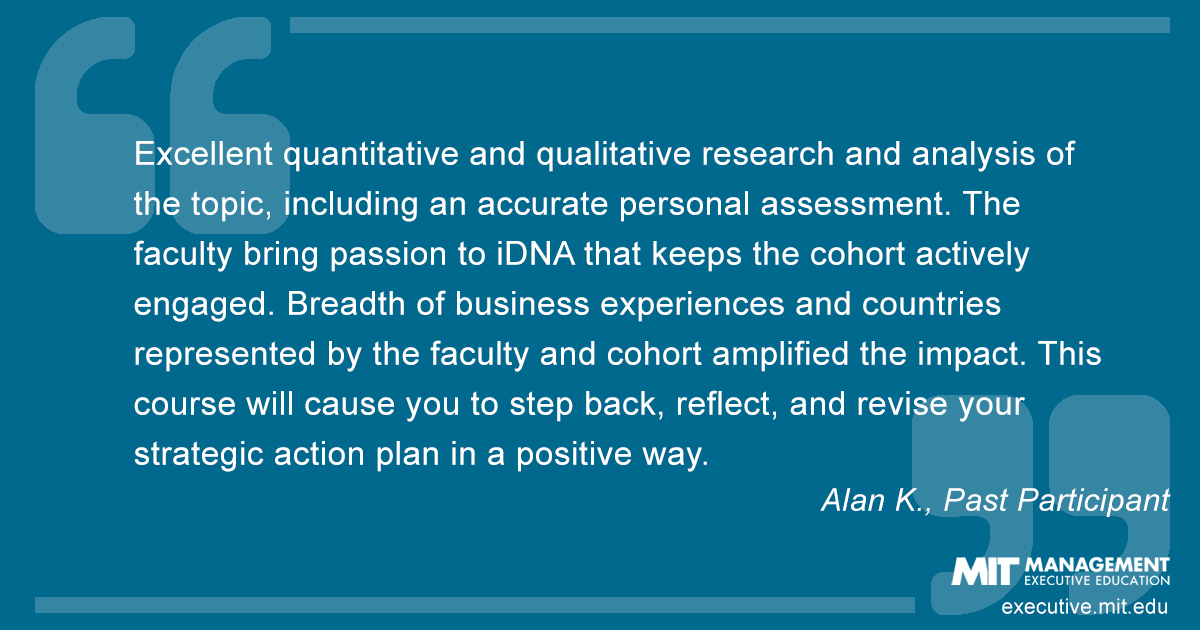 Sample Schedule—Subject to Change
This program has been developed for executives seeking to improve their creative problem-solving skills and deliver higher value-creating innovation at their organizations.
This program is applicable to
• CEOs
• Presidents
• COOs
• Executive VPs
• Heads of R&D, Engineering, Manufacturing, and IS
• Chief Technologists
• Corporate Planners and Strategists
• VPs of Marketing and New Venture Development
• Other senior managers with leadership responsibility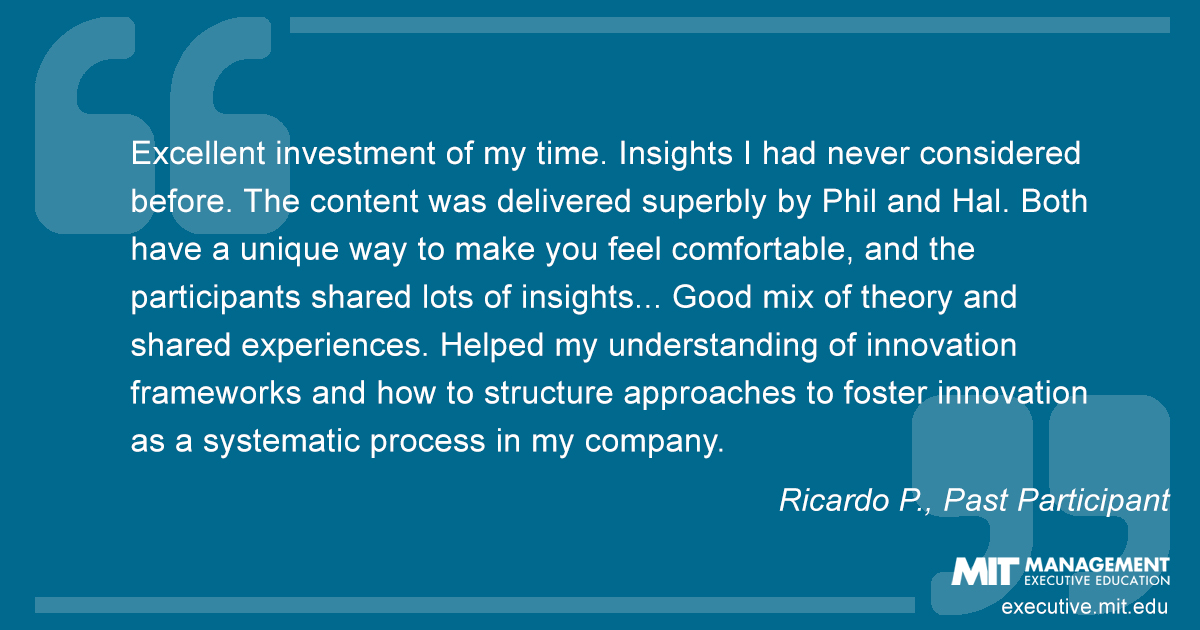 | Course Dates | Format | Duration | Time Commitment | Price |
| --- | --- | --- | --- | --- |
| Dec 13-14, 2023 | Live Online | 2 days | 7 hours/day | $4,500 |
Tracks
Strategy and Innovation
Certificate Credits
2.0 EEUs
Topics
- Organizations & Leadership
- Strategy & Innovation
It is a 'must-attend' course. Hal Gregersen is excellent, knows perfectly his subject and knows how to share his experience. The course provides a lot of tools and methodologies that can be used from day 1 when back at work. Acting differently to make a difference really becomes up to us, no more excuses !
—Patrick B.