Communication and Persuasion in the Digital Age
| Course Dates | Format | Location | Duration | Time Commitment | Price |
| --- | --- | --- | --- | --- | --- |
| Oct 6-7, 2022 | In Person | Cambridge, MA | 2 days | 8 hours/day | $4,100 |
Tracks
Management and Leadership
Certificate Credits
2.0 EEUs
Topics
- Digital Business & IT
- Negotiation & Communication
Course Highlights
You will learn how to become a successful communicator in person and in virtual contexts: from group discussions to presentations to social media
Session topics include speaking persuasively, visual persuasion, communicating quantitative information clearly, and adapting messages to audiences
You will earn a certificate of course completion from the MIT Sloan School of Management
Why attend Communication and Persuasion in the Digital Age?
Grounded in extensive cognitive research on how we learn and observe, Communication and Persuasion in the Digital Age is designed to help executives and managers become successful communicators in person and in virtual contexts: from group discussions to presentations to social media.
Advancements in technology and the rapid proliferation of digital media, data analytics, and online collaboration require executives to lead their organizations with sophisticated communication skills, adapted for these new ways of working. To be a successful leader today, you must be able to effectively persuade and influence at all levels, in person and virtually, and with supporting data.
Course experience
Edward Schiappa and Ben Shields draw on cutting-edge communication research, theories of persuasion, studies on parasocial interaction, and empirical studies on compelling storytelling to help participants solve problems, make quality decisions, and motivate people. Session topics include speaking persuasively, visual persuasion, communicating quantitative information clearly, and adapting messages to audiences. You will also benefit from small group discussions.
Learn more about the live online experience.
Learn more about the in-person course experience.
We do not recommend this course if you have already completed Interpersonal Communication: Strategies for Executives, unless you are seeking a refresher of the content.
Applying to the course
We accept enrollments until the offering reaches capacity at which point we will maintain a waitlist. Many of the courses fill up several weeks in advance, so we advise that you enroll as early as possible to secure your seat.
You can begin the application process by using the red Enroll Now bar at the bottom of the screen.
COVID-19 policies
See our on-campus Covid-19 policies.
Have questions?
Contact Us if you would like to speak with a program director or visit our Frequently Asked Questions page for answers to common questions about our courses.
Upon successful completion of your course, you will earn a certificate of completion from the MIT Sloan School of Management. This course may also count toward MIT Sloan Executive Certificate requirements.
As a participant in this course, you will learn
how to leverage new communication skills and harness the power of persuasion to:
Influence attitudes and change behaviors in your organization
Understand how new technology shapes the way we work and communicate
Bring your message and your medium into alignment
Support your message with data analytics
Manage virtual communications with power and presence
Apply the latest research to become a confident and inspiring public speaker
Create a compelling story to galvanize and motivate people
Adapt and deliver your message across different media channels and to diverse audiences
Advance the level of discourse within your organization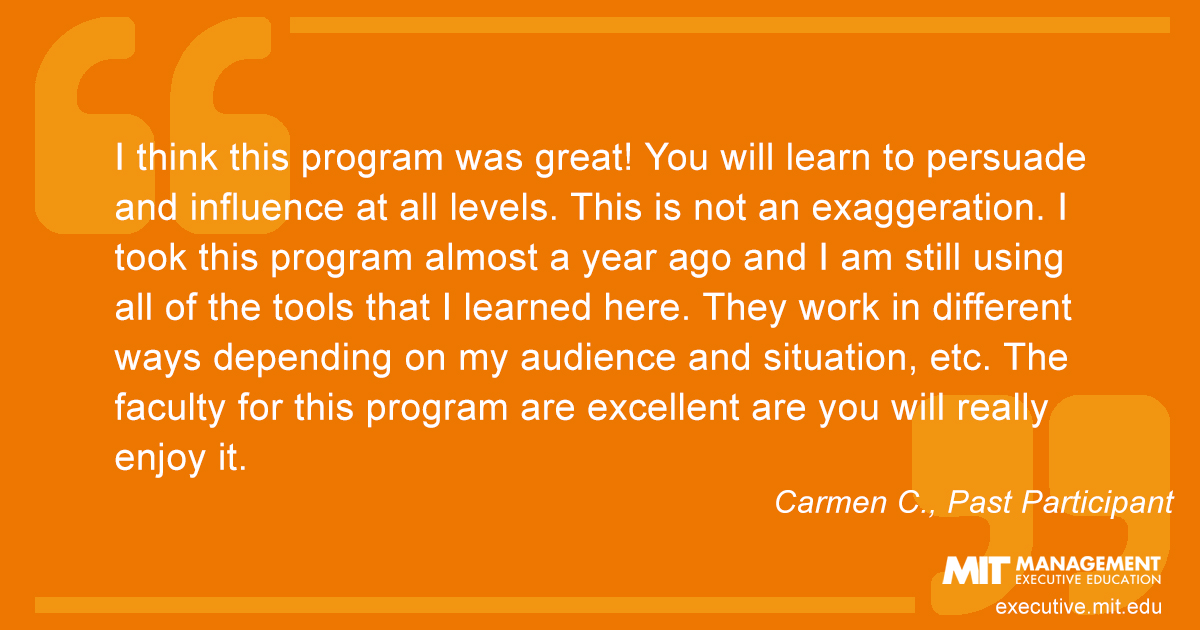 Sample Schedule—Subject to Change
This program is designed for
Effective communicators are valued at all levels of an organization. If your responsibilities include interacting in some shape or form with others, then this program is for you. Typical participants' areas of expertise tend to include:
Sales and marketing
Planning and development
Operations management
Strategic partnerships
Supply-chain agreements
Recruitment and human resources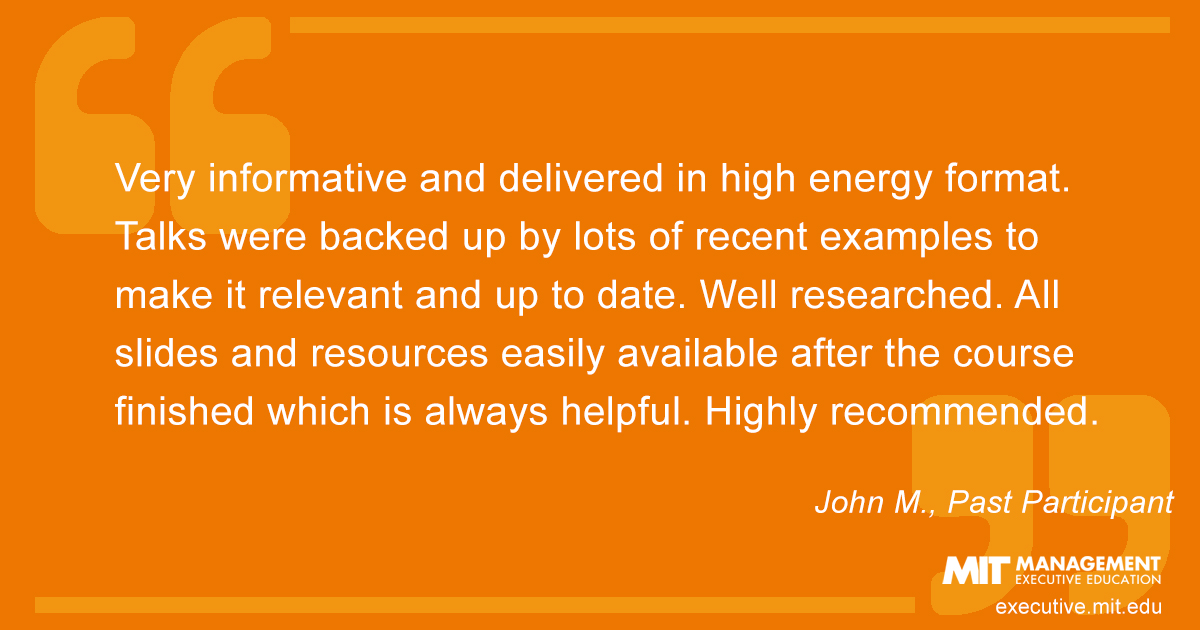 | Course Dates | Format | Location | Duration | Time Commitment | Price |
| --- | --- | --- | --- | --- | --- |
| Oct 6-7, 2022 | In Person | Cambridge, MA | 2 days | 8 hours/day | $4,100 |
Tracks
Management and Leadership
Certificate Credits
2.0 EEUs
Topics
- Digital Business & IT
- Negotiation & Communication
This course had great insights in regards to trends and changes in communications throughout history and ongoing. The learning material was very useful and I will implement many things from this course at my working environment as well as my personal life. The quality of the program material is outstanding, the faculty is great as well as the interaction between the participants throughout the course. Great course.
—Geva R.