Understanding Global Markets: Macroeconomics for Executives
| Course Dates | Format | Duration | Time Commitment | Price |
| --- | --- | --- | --- | --- |
| May 20-24, 2024 | Live Online | 5 days | 4 hours/day | $5,300 |
| Nov 4-8, 2024 | Live Online | 5 days | 4 hours/day | $5,300 |
Tracks
Strategy and Innovation
Certificate Credits
3.0 EEUs
Topics
- Financial Management
- Global Economics & Markets
- Business Analytics
Course Highlights
Delivered in our live online format enabling real-time interaction with faculty and global peers
Leave this course better able to make business decisions that take global markets and macroeconomics into account
Explore international monetary policy and how the economies across Europe, Asia, and the United States affect one another, especially in times of crises
Gain a deeper understanding of how central banks function, the dynamics of comparative advantage, how contagion occurs, sources of international conflict, and the varied responses of economies to crisis
Earn a certificate of course completion from the MIT Sloan School of Management
Course Snapshot
Why attend Understanding Global Markets?
This international economics course presents tools and frameworks to help executives understand and predict the medium- to long-run performance of economies to mitigate risk, develop growth plans, and make investment decisions, both locally and abroad.
Participants will leave this macroeconomics course better able to make business decisions that take global markets and macroeconomics into account and how to interpret economic change in the context of their organization.
Understanding Global Markets: Macroeconomics for Executives is designed to help business leaders better understand monetary policy and central bank decision making, and how these factors impact the countries in which they operate. This popular course explores international monetary policy and how the economies across Europe, Asia, and the United States affect one another, especially in times of crises.
Participants in this course gain a deeper understanding of how central banks function, the dynamics of comparative advantage, how contagion occurs, sources of international conflict, and the varied responses of economies to crisis. Executives leave the program with a better understanding of the current global economic environment, its future, its effects on their companies over the mid to long term, and how to assess and navigate macroeconomic challenges.
Course Experience
MIT Sloan Professor Roberto Rigobon brings this content to life. His fun, fast-paced, high-energy teaching style helps to convey how highly relevant macroeconomics are to businesses today.
You will participate in small group exercises. Pre-work is required to facilitate in-class discussions.
Learn more about the live online experience.
Applying to the Course
We accept enrollments until the offering reaches capacity, at which point we will maintain a waitlist. Many of the courses fill up several weeks in advance, so we advise that you enroll as early as possible to secure your seat.
You can begin the application process by using the red 'Enroll Now' bar at the bottom of the screen.
Have Questions?
Contact us if you would like to speak with a program director or visit our Frequently Asked Questions page for answers to common questions about our courses.
Upon successful completion of your course, you will earn a certificate of completion from the MIT Sloan School of Management. This course may also count toward MIT Sloan Executive Certificate requirements.
The tools and frameworks presented in this course will enable participants to:
Learn to interpret financial indicators
Recognize economic trends
Predict likely actions of central banks and governments
Understand the nature and behavior of financial crises
Make more informed off-shoring and international investment decisions
Hear from a past participant: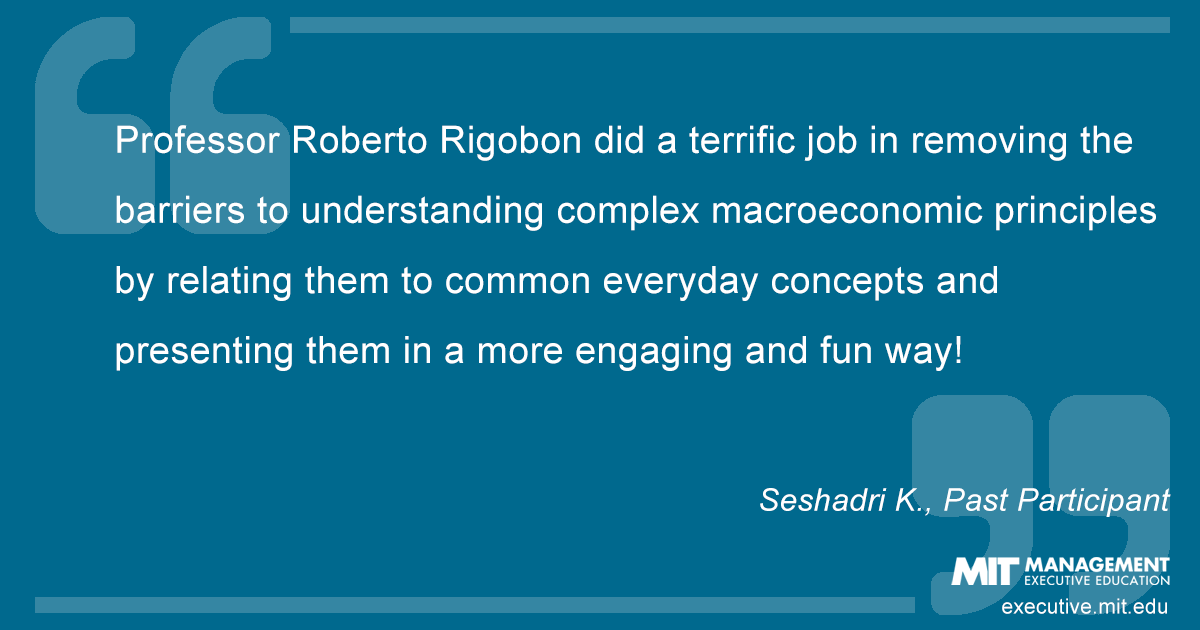 Sample Schedule—Subject to Change
This course is designed for:
Every senior manager needs to understand why economic changes take place and how to interpret them in the context of their own organization. Managers who will benefit from this course the most are:
• C-level executives of smaller or mid-size companies
• General managers
• Business unit managers in multinational companies
• VPs of finance, operations, human resources, marketing, and sales
• Strategic planning managers
• Consultants
We do not recommend this course to past participants of Economics for Business unless you are looking for a refresher.
Hear from a past participant: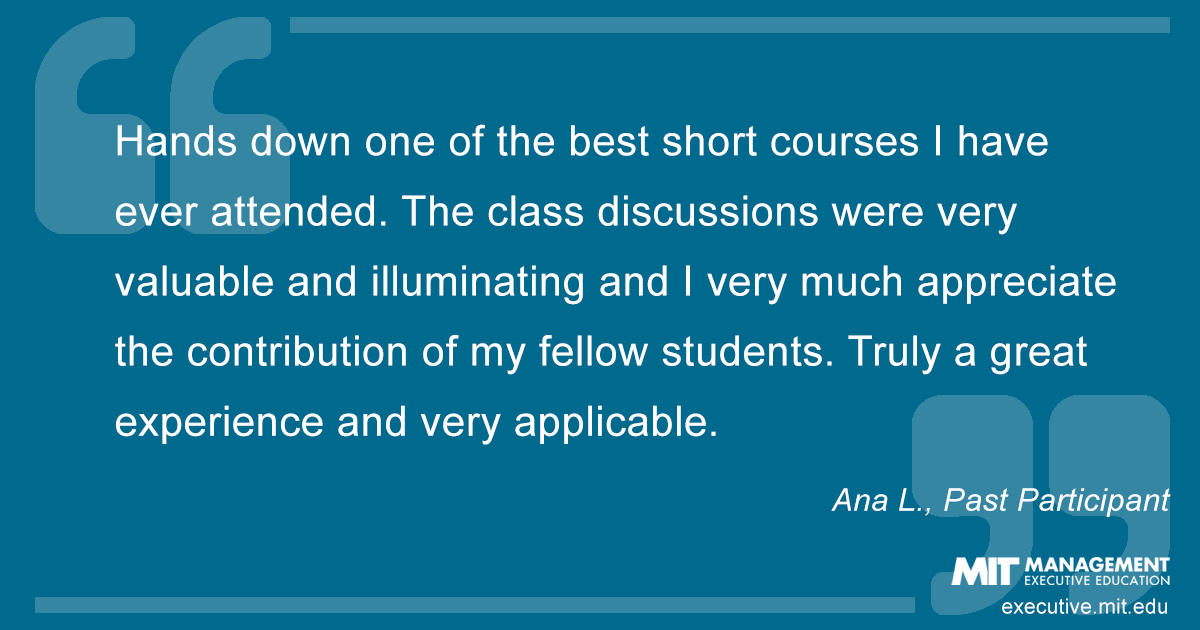 | Course Dates | Format | Duration | Time Commitment | Price |
| --- | --- | --- | --- | --- |
| May 20-24, 2024 | Live Online | 5 days | 4 hours/day | $5,300 |
| Nov 4-8, 2024 | Live Online | 5 days | 4 hours/day | $5,300 |
Tracks
Strategy and Innovation
Certificate Credits
3.0 EEUs
Topics
- Financial Management
- Global Economics & Markets
- Business Analytics
In many ways this is one of the best classes I have ever taken. The lessons from Roberto are profound and the frameworks he introduced us to go way beyond the classroom.
—Ayomiku W.