Strategy for Startups: From Idea to Impact
Tracks
Strategy and Innovation
Certificate Credits
2.0 EEUs
Topics
- Entrepreneurship
- Organizations & Leadership
- Strategy & Innovation
Course Highlights
This course is delivered in our live online format which enables real-time interaction with faculty and global peers
This course moves beyond a one-size-fits-all approach to startups and instead focuses on the key choices that founders face as they start and scale their business
You will experience a combination of interactive lectures, case analyses, and exercises
You will earn a certificate of course completion from the MIT Sloan School of Management
Featured Content
Why attend Strategy for Startups?
There are many possible paths to success for good ideas. How can innovators and entrepreneurs weigh their options and confidently make choices to position their ventures for competitive advantage? This two-day entrepreneurship course provides a practical and systematic approach to exploring and evaluating the core choices that entrepreneurs need to make as they translate their ideas into reality.
To achieve competitive advantage, innovation-driven and growth-oriented entrepreneurs must balance experimentation and learning with the selection and implementation of a strategy. Designed for innovation-driven and growth-oriented startups, this entrepreneurship course builds on an emerging body of work at MIT and elsewhere that moves beyond a one-size-fits-all approach to startups and instead focuses on the key choices that founders face as they start and scale their business.
Course Experience
Through a combination of interactive lectures, case analyses, and exercises, this entrepreneurship course provides:
A deep understanding of the core strategic choices facing startup innovators
A synthetic framework for the development and implementation of startup strategy in dynamic environments
Key insights into skills and behaviors required to scale those ventures over time
A methodology for evaluating the factors that are most important for successfully scaling an entrepreneurial venture
Learn more about the live online experience.
Applying to the Course
We accept enrollments until the offering reaches capacity at which point we will maintain a waitlist. Many of the courses fill up several weeks in advance, so we advise that you enroll as early as possible to secure your seat.
You can begin the application process by using the red 'Enroll Now' bar at the bottom of the screen.
Have Questions?
Contact us if you would like to speak with a program director or visit our Frequently Asked Questions page for answers to common questions about our courses.
Upon successful completion of this course, you will earn a certificate of completion from the MIT Sloan School of Management. This course may also count toward MIT Sloan Executive Certificate requirements.
You will complete this entrepreneurship course with a better understanding of:
The role of strategy in a new enterprise and the key strategic choices facing startups
How to take advantage of a novel opportunity through learning and experimentation
How to separate the underlying "idea" from strategic alternatives
The decisions that can help your venture establish competitive advantage
Ways in which founders can structure learning and experimentation, and their early venture, to help them realize their overall startup strategy
How to align the different elements of an overall entrepreneurial strategy, including how to integrate organizational choices with the process of choosing and executing a go-to-market strategy
The process of how to choose and execute a startup strategy
An integrated framework applying the entrepreneurial strategy process in a systematic way

Hear from a past participant:
"Loved this course! Many insights, use cases and interactions with top professionals! I highly recommend it!" - Mike B., Past Participant
Sample Schedule—Subject to Change
The course is particularly appropriate for those seeking to:
Found a growth-oriented startup
Join a startup company with influence on strategy development or implementation
Fund startups as an investment professional
Consult startups or innovation–driven firms in fast-moving environments
Hear from a past participant: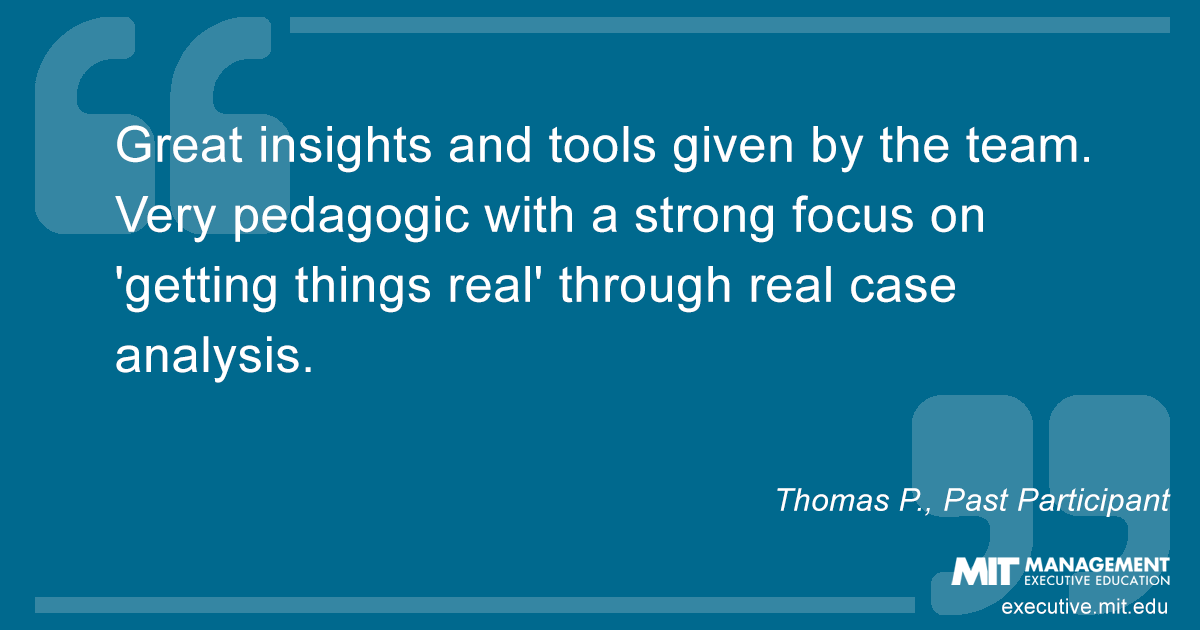 Tracks
Strategy and Innovation
Certificate Credits
2.0 EEUs
Topics
- Entrepreneurship
- Organizations & Leadership
- Strategy & Innovation
Loved this course! Many insights, use cases and interactions with top professionals! I highly recommend it!
—Mike B.