Reimagining Leadership: A Playbook for the Digital Economy
Tracks
Management and Leadership
Certificate Credits
2.0 EEUs
Topics
- Digital Business & IT
- Organizations & Leadership
- Strategy & Innovation
Course Highlights
This course is delivered in our Live Online format which enables real-time interaction with faculty and global peers
This course will help you shape and articulate a powerful narrative about what great digital leadership looks like in your organization as well as how to engage your teams in this dialogue
Course content will include in-depth discussions on business model transformation, performance and people analytics, essentials of platform leadership and network effects, role modeling digital behaviors, and the leader's role in culture change
You will leave with a playbook that opens the gates for a whole new and diverse generation of leaders in your organization
You will hear from guest speakers who are leaders in their fields
You will earn a certificate of course completion from the MIT Sloan School of Management
Featured Content
Why attend Reimagining Leadership?
We are all very familiar with the megatrends, such as digitalization and the changing nature of work, that are making this world a more complex place. Indeed, leaders of digital enterprises have a unique opportunity to not only transform their businesses, but to help transform their customers as well. What will define great leadership in the new digital economy? What new leadership behaviors are needed, and how can organizations make the behaviors the norm throughout an organization?
Digital media and methods are transforming businesses around the world. However, a global study of thousands of companies and C-suite leaders show a startling gap in readiness to compete, let alone win, in this new environment. This new course is designed to help participants define and achieve great leadership for their organizations in the new digital economy.
Course Experience
Through self-assessments, lectures, breakout sessions, and examples of leading companies like Amazon, Google, Alibaba, Netflix, Booking.com, this course will help you shape and articulate a powerful narrative about what great digital leadership looks like in your organization as well as how to engage your teams in this dialogue. You will also explore how to bake this narrative into your talent management systems and processes.
Course content will include in-depth discussions on business model transformation, performance and people analytics, essentials of platform leadership and network effects, role modeling digital behaviors, and the leader's role in culture change.
Leave this digital leadership course with a playbook that opens the gates for a whole new and diverse generation of leaders in your organization.
Learn more about the live online experience.
Guest Speakers

Dan Shapero is the Chief Operating Officer at LinkedIn. He is responsible for helping companies around the world grow their business and build winning teams through the value LinkedIn delivers. In this role, he oversees global sales, operations, as well as member and customer success. Since joining LinkedIn in 2008, Dan has held various leadership roles managing global teams across sales and product management, most recently as Chief Business Officer. Prior to LinkedIn, Dan was a management consultant at Bain & Company and a startup entrepreneur. Dan holds an MBA from Harvard Business School, and a BS in Applied Mathematics from Johns Hopkins.

Helena Gottschling is RBC's CHRO with global responsibility for Human Resources and, as part of RBC's Group Executive, for setting the overall strategic direction of RBC - extending to over 80,000 employees in 37 countries. Helena joined RBC in 1985, holding progressively senior roles in Retail Banking, Human Resources and National Office, which included positions in Vancouver, Calgary and Toronto, before being appointed CHRO in 2017. Prior to her current role, Helena was responsible for executive and high potential talent management, including leadership development and succession planning. She was also accountable for RBC's enterprise learning function and organizational effectiveness centre of expertise for change management and organizational design. Helena is married with one son and lives in Oakville, Ontario, Canada.
Applying to the Course
We accept enrollments until the offering reaches capacity at which point we will maintain a waitlist. Many of the courses fill up several weeks in advance, so we advise that you enroll as early as possible to secure your seat.
You can begin the application process by using the red Enroll Now bar at the bottom of the screen.
Have Questions?
Contact Us if you would like to speak with a program director or visit our Frequently Asked Questions page for answers to common questions about our courses.
Upon successful completion of your course, you will earn a certificate of completion from the MIT Sloan School of Management. This course may also count toward MIT Sloan Executive Certificate requirements.
Participants of this course will learn:
The hallmark mindsets of great leadership communities
What organizational configurations will work best
How strategy is formulated and executed in this new economy
How you, as a leader of a digital enterprise, can set a culture of continuous revitalization
What new leadership skills and behaviors will be required of your team
How to build a community of leaders, both internally and across your ecosystem
New KPIs to assess the efficacy of your digital transformation
Hear from a past participant: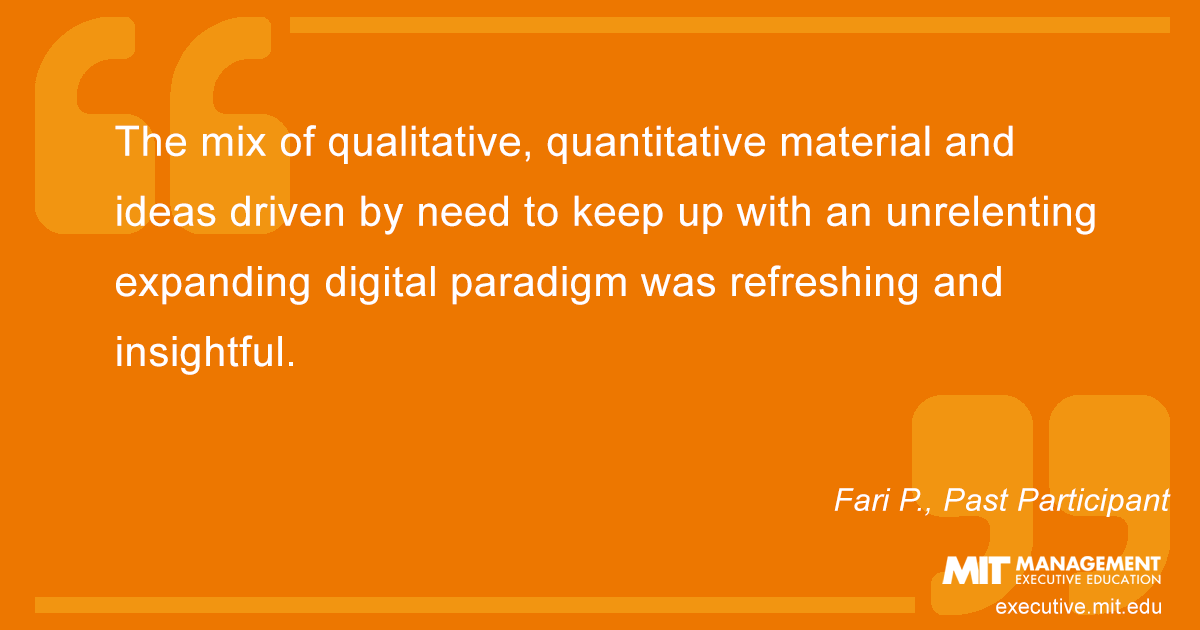 Sample Schedule—Subject to Change
This program is best suited for:
Senior leaders
Top-level managers
C-suite executives
Those with substantial business unit responsibilities
Ideal participants aspire to use digital to drive growth at their organization and want leadership to scale along with the company.
Participants who want to understand the new essentials of leading in the digital economy are well suited to this course, as are those who want to learn how to build and lead teams in this new environment, one in which business models and organizational structures have changed significantly.
Hear from a past participant: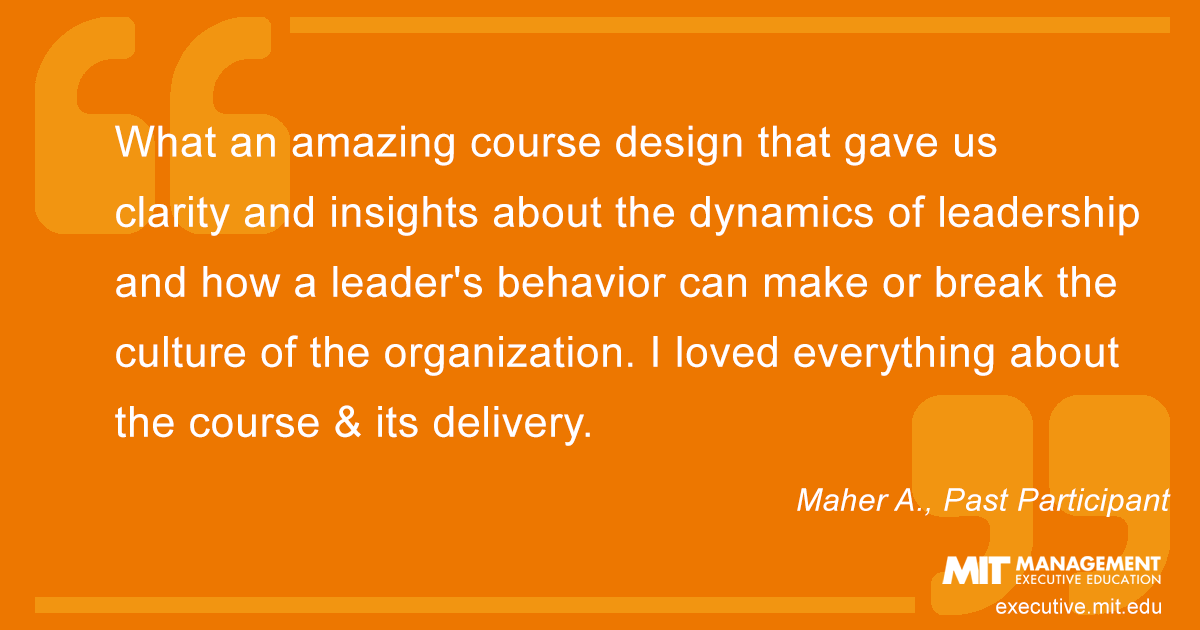 Tracks
Management and Leadership
Certificate Credits
2.0 EEUs
Topics
- Digital Business & IT
- Organizations & Leadership
- Strategy & Innovation
The mix of qualitative, quantitative material and ideas driven by need to keep up with an unrelenting expanding digital paradigm was refreshing and insightful.
—Past Participant Fari P.