Reimagining Leadership: A Playbook for the Digital Economy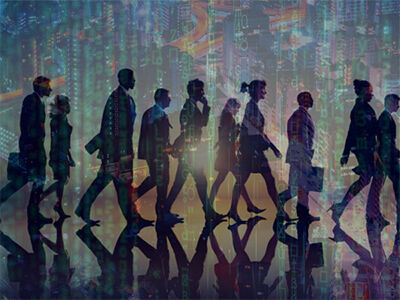 New Course
| Course Dates | Format | Duration | Time Commitment | Price |
| --- | --- | --- | --- | --- |
| May 17–19, 2021 | Live Online | 3 days | 5 hours/day | $4,300 |
Tracks
Management and Leadership
Certificate Credits
2.0 EEUs
Topics
- Digital Business & IT
- Organizations & Leadership
- Strategy & Innovation
Digital media and methods are transforming businesses around the world. However, a recent global study of thousands of organizations and C-suite leaders show a startling gap in readiness to compete, let alone win, in this new environment. This new course is designed to help participants define and achieve great leadership for their organizations in the new digital economy.
We are all very familiar with the megatrends, such as digitalization and the changing nature of work, that are making this world a more complex place. Indeed, leaders of digital enterprises have a unique opportunity to not only transform their businesses, but to help transform their customers as well. What will define great leadership in the new digital economy? What new leadership behaviors are needed, and how can organizations make the behaviors the norm throughout an organization?
The faculty of this timely new course draw from a global study of thousands of companies and C-suite leaders to shed light on capability gaps and provide research-based insights to help executives create the conditions for digital enterprise success.
Through self-assessments, lectures, breakout sessions, and examples of leading companies like Amazon, Google, Alibaba, Netflix, Booking.com, this course will help you shape and articulate a powerful narrative about what great leadership looks like in your organization as well as how to engage your teams in this dialogue. You will also explore how to bake this narrative into your talent management systems and processes. Course content will include in-depth discussions on business model transformation, performance and people analytics, essentials of platform leadership and network effects, role modeling digital behaviors, and the leader's role in culture change.
Leave this course with a playbook that opens the gates for a whole new and diverse generation of leaders in your organization.
Learn more about the live online experience.
Guest Speakers:


Dan Shapero is the Chief Operating Officer at LinkedIn. He is responsible for helping companies around the world grow their business and build winning teams through the value LinkedIn delivers. In this role, he oversees global sales, operations, as well as member and customer success. Since joining LinkedIn in 2008, Dan has held various leadership roles managing global teams across sales and product management, most recently as Chief Business Officer. Prior to LinkedIn, Dan was a management consultant at Bain & Company and a startup entrepreneur. Dan holds an MBA from Harvard Business School, and a BS in Applied Mathematics from Johns Hopkins.
Carol Cohen is Senior Vice President and Global Head, Talent & Transformation at Cognizant. In this role, Carol focuses on hiring, developing, engaging, and retaining talent to build high-performing, diverse and inclusive teams while strengthening leadership capabilities informed by data and enabled by systems. At Cognizant, she leads talent management, leadership development, diversity & inclusion, executive recruiting, people analytics, HR systems, and overall HR transformation. Her team's mission is to supercharge Cognizant's talent by driving a high performing and inclusive culture. Carol is a Board member for the National Center for Women in Technology (NCWIT) and was also a founding member of the Board of Directors for the Cognizant U.S. Foundation, a $100 million non-profit dedicated to enhancing STEM education and career pathing to address the U.S. shortage of digital talent.
Carol has more than two decades of experience in strategizing and implementing HR and global talent initiatives that drive positive business outcomes and dramatically improve employee performance. Prior to joining Cognizant, Carol was Vice President, Talent and Engagement for Thomson Reuters and Vice President, Global Talent at American Express, leading large-scale global talent management, succession planning, data and analytics, leadership development, and strategic planning and measurement initiatives. Before moving into Human Resources, Carol spent several years working as a management consultant for Perform Consulting. In that role, she led organizational effectiveness, transformation, and business process improvement efforts across technologies, retail, energy, and financial services.
Carol earned her MBA, with a concentration in International Business, from the University of Colorado and her undergraduate degree at Rutgers in Psychology and Sociology. Earlier this year, Carol Co-authored The New Leadership Playbook for the Digital Age: Reimagining What It Takes to Lead with MIT Sloan Management Review. In 2020, Carol received the MAKERS "Groundbreaker" award and Rutgers "Douglass Project Award for the Advancement of Women in STEM".

Meera Krishnamurthy is Cognizant's Global Head – Insurance Business Unit. She is focused on setting the Insurance unit's business goals, investment priorities, strategy and client relationships. She joined Cognizant in 2005 and has held several key roles in Cognizant's Insurance practice around the world. Meera has over 26 years of experience in the financial services and insurance industries.
Meera is a founding member of the board of directors of the Cognizant U.S. Foundation and is actively involved in a variety of Cognizant outreach and diversity programs. She is the regional leader of Cognizant's Women Empowered business resource group in Connecticut and board member at MAKERS, a media brand built to accelerate the women's movement through stories of real-life experiences that ignite passion and action. She regularly champions the cause of STEM (science, technology, engineering and math) initiatives in the greater Hartford area, where she speaks and participates in several outreach events.
Meera earned her bachelor's degree from the University of Madras with a specialization in computer science and mathematics.

Participants of this course will learn:
The hallmark mindsets of great leadership communities
What organizational configurations will work best
How strategy is formulated and executed in this new economy
How you, as a leader of a digital enterprise, can set a culture of continuous revitalization
What new leadership skills and behaviors will be required of your team
How to build a community of leaders, both internally and across your ecosystem
New KPIs to assess the efficacy of your digital transformation
Sample Schedule—Subject to Change
This program is best suited for senior leaders, including top-level managers, C-suite executives, and those with substantial business unit responsibilities. Ideal participants aspire to use digital to drive growth at their organization and want leadership to scale along with the company. Participants who want to understand the new essentials of leading in the digital economy are well suited to this course, as are those who want to learn how to build and lead teams in this new environment, one in which business models and organizational structures have changed significantly.
| Course Dates | Format | Duration | Time Commitment | Price |
| --- | --- | --- | --- | --- |
| May 17–19, 2021 | Live Online | 3 days | 5 hours/day | $4,300 |
Tracks
Management and Leadership
Certificate Credits
2.0 EEUs
Topics
- Digital Business & IT
- Organizations & Leadership
- Strategy & Innovation
The mix of qualitative, quantitative material and ideas driven by need to keep up with an unrelenting expanding digital paradigm was refreshing and insightful.
—Past Participant Fari P.