Machine Learning in Business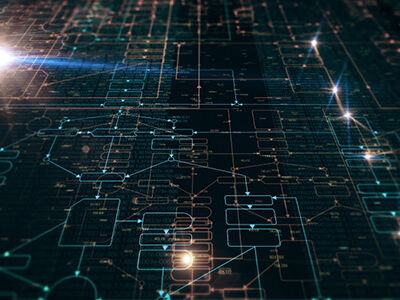 | Course Dates | Format | Duration | Time Commitment | Price |
| --- | --- | --- | --- | --- |
| Feb 7-Mar 26, 2024 | Self-Paced Online (date based) | 6 weeks | 6-8 hours/week | $3,200 |
| Apr 4-May 21, 2024 | Self-Paced Online (date based) | 6 weeks | 6-8 hours/week | $3,200 |
| Jun 5-Jul 23, 2024 | Self-Paced Online (date based) | 6 weeks | 6-8 hours/week | $3,200 |
See More Dates
Certificate Credits
2.0 EEUs
Topics
- Digital Business & IT
- Organizations & Leadership
- Strategy & Innovation
Course Highlights
This course runs over 6 weeks with an estimated 6-8 hours per week of study time
This course is delivered in our Self-Paced Online format which enables you to participate at your own pace within weekly modules
You will learn through a variety of formats including: interactive videos, practice quizzes, presentations, assignments, and discussion forums
You will have access to a Success Adviser who will help you manage your time, and support you with any administrative or technical queries you might have
You will earn a certificate of course completion from the MIT Sloan School of Management
Course snapshot
Why attend Machine Learning in Business?
Machine learning, a branch of artificial intelligence, is the science of programming computers to improve their performance by learning from data. Dramatic progress has been made in the last decade, driving machine learning into the spotlight of conversations surrounding disruptive technology. This six-week online program from the MIT Sloan School of Management and the MIT Computer Science and Artificial Intelligence Laboratory (CSAIL) aims to demystify machine learning for the business professional – offering you a firm, foundational understanding of the advantages, limitations, and scope of machine learning from a management perspective.
How will machine learning affect your business? How can your company capitalize on this dynamic technology?
This program views the technical elements of machine learning through the lens of business and management, and equips you with the relevant knowledge to discover opportunities to drive innovation and efficiency in your organization. Although you can expect to explore technical aspects of machine learning, the focus is on empowering you, as a business leader, to ask the right questions about whether machine learning applications will benefit a particular business problem, or make your organization more efficient.
Course experience
Through a mix of research insights reinforced by case examples, you'll have the opportunity to critically apply your learning. You'll learn to identify the realistic opportunities of this transformative technology as you develop an implementation plan for machine learning in a business of your choice. Whether you work in a strategic, operational, or managerial function, you'll be equipped with an understanding of how machine learning can impact your organization's business objectives, as well as knowledge of the key aspects of related implementation strategies. Over the course of six weeks, you'll learn how to successfully lead teams tasked with executing technical machine learning projects, and strategically leverage machine learning for a powerful competitive edge in business.
MIT Faculty will guide you to understand the current and future capabilities of this transformative technology, in order to effectively unlock its potential within business. You'll also have the opportunity to design a roadmap for the successful integration of machine learning – tailored for your own organization. At the end of the course, you'll walk away with a plan for immediate and practical business action.
Learn more about the self-paced online experience.
Learn more about the GetSmarter course experience. Learn more about GetSmarter technical requirements.

Applying to the course
Enrollment for this course is done through the GetSmarter website. You can begin the application process by using the red Enroll Now bar at the bottom of the screen and clicking on the "Go to GetSmarter Site" button.
Upon successful completion of your course, you will earn a certificate of completion from the MIT Sloan School of Management. This course may also count toward MIT Sloan Executive Certificate requirements.
In this course you will learn to
Discover the opportunities, capabilities, and scope of this transformative technology
Gain a sound understanding of the strategic application of machine learning in business
Develop a complete implementation plan for using machine learning in a business of your choice
Analyze, implement, and monitor the use of machine learning in your own organization
"We should think about AI, machine learning, and robots as tools. These technologies are more intelligent than the screwdrivers and the hammers we have today, but ultimately they remain tools for us to be in control of. Machines can do some things better than we can, and we can do things better than machines, so by combining our respective skills we can do so much more."– DANIELA RUS, Director of the MIT Computer Science and Artificial Intelligence Laboratory (CSAIL)
Sample Schedule—Subject to Change
This course is for you if:
You want to gain a sound understanding of the current and future capabilities of machine learning, and how to leverage it in a business context.
You're interested in successfully integrating machine learning technology into an organization, with a strategic action plan.
You're seeking recognition of your knowledge in the form of a certificate of completion from the MIT Sloan School of Management.
This online program is for business leaders, mid to senior managers, data specialists, consultants, and business professionals interested in exploring the strategic implications of integrating machine learning into an organization.
Whether you're interested in upskilling or are seeking an understanding of transformative technologies in the business environment, this program will assist you in identifying business areas that could benefit from the strategic application of machine learning. If you've been tasked with managing a team or project with roots in machine learning, or you're interested in using knowledge of technical innovation to find a competitive edge in the market, the skills you'll develop will help you realize your potential.
GetSmarter™, a brand of 2U, Inc., partners with the world's leading universities to select, design and deliver premium online short courses with a data-driven focus on learning gain.
Technology meets academic rigor in our people-mediated model which enables lifelong learners across the globe to obtain industry-relevant skills that are certified by the world's most reputable academic institutions.
| Course Dates | Format | Duration | Time Commitment | Price |
| --- | --- | --- | --- | --- |
| Feb 7-Mar 26, 2024 | Self-Paced Online (date based) | 6 weeks | 6-8 hours/week | $3,200 |
| Apr 4-May 21, 2024 | Self-Paced Online (date based) | 6 weeks | 6-8 hours/week | $3,200 |
| Jun 5-Jul 23, 2024 | Self-Paced Online (date based) | 6 weeks | 6-8 hours/week | $3,200 |
See More Dates
Certificate Credits
2.0 EEUs
Topics
- Digital Business & IT
- Organizations & Leadership
- Strategy & Innovation
We will go beyond buzzwords to give you a solid, intuitive understanding of what's going on inside Machine Learning programs and a firm foundation for thinking about how to use Machine Learning in business.
—THOMAS MALONE, Patrick J. McGovern (1959) Professor of Management, and Founding Director of the MIT Center for Collective Intelligence