Negotiation for Executives
| Course Dates | Format | Location | Duration | Time Commitment | Price |
| --- | --- | --- | --- | --- | --- |
| Mar 4-6, 2024 | Live Online | N/A | 3 days | 6-7 hours/day | $4,900 |
| May 28-29, 2024 | In Person | Cambridge, MA | 2 days | 8 hours/day | $4,900 |
Tracks
Management and Leadership
Certificate Credits
2.0 EEUs
Topics
- Negotiation & Communication
- Organizations & Leadership
- Strategy & Innovation
Course Highlights
Receive extensive personalized feedback, learn tips for efficient pre-negotiation planning, practice and hone your negotiation skills, and participate in numerous negotiation simulations
Draw on fundamental negotiation principles, groundbreaking scientific research, and specific real-world examples
Explore scientifically validated survey measures that provide insight into your personality and approach to negotiation
Earn a certificate of course completion from the MIT Sloan School of Management
Why attend Negotiation for Executives?
Negotiation is a daily practice within business organizations. We negotiate all the time—with clients and partners, vendors and suppliers, supervisors and colleagues, employees and recruits. Drawing on fundamental negotiation principles, groundbreaking scientific research, and specific real-world examples, this course will help you enhance personal gains in negotiation, while simultaneously sustaining these important relationships.
Successful negotiation requires self-awareness, preparation, and practice. This negotiation training course addresses all three requirements by providing extensive personalized feedback, tips for efficient pre-negotiation planning, and many opportunities to practice and hone your negotiation skills.
In Negotiation for Executives, Professor Jared Curhan presents a comprehensive framework to facilitate efficient and effective negotiation preparation, including scientifically validated survey measures that provide insight into your personality and approach to negotiation. This research-based framework helps negotiators analyze and better understand negotiation situations through perspective-taking, benchmarking, creative problem-solving, and brainstorming.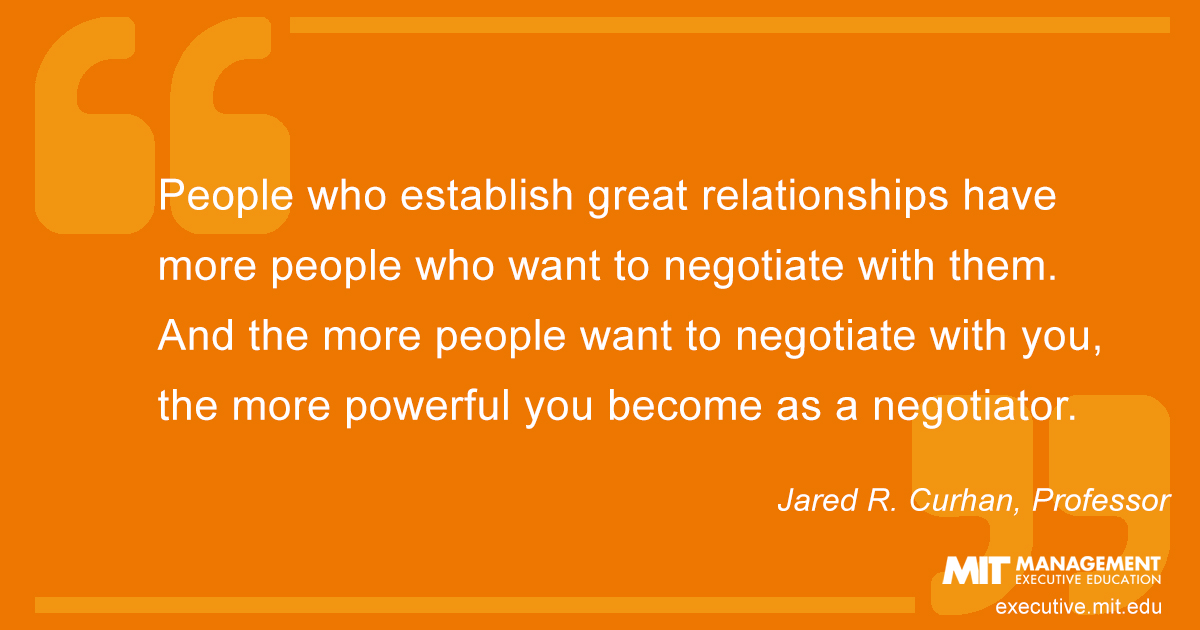 Course Experience
Course material is presented in a series of lectures, discussions, and engaging exercises that provide extensive personalized feedback and are designed to teach participants how to leverage their individual traits to achieve success and build lasting relationships at the bargaining table. Prior to the first day of sessions, participants are strongly encouraged to complete a detailed written questionnaire that will better customize the experience for each individual negotiator.
Numerous negotiation simulations will help you practice and hone your new negotiation skills. The simulations are followed up with lively, interactive discussions in which Professor Curhan relates simulation experiences to scientific theory and research.
True to the deeply analytical and quantitative MIT style, the material in this course is based on extensive scientific research by Professor Curhan and his colleagues. Curhan is renowned not only for his engaging and interactive teaching style, but also for his pioneering research on the social and psychological components of negotiation. His research includes topics such as: conceptions of fairness, concern for personal integrity, lasting reputations, company loyalty, preference change during the course of a negotiation, norms for appropriate negotiating behavior, and relational dynamics among negotiators who interact multiple times.
Please note: There is approximately 45 minutes of pre-work including an assignment that should be completed prior to the start of class. It's important to have this work completed thoughtfully with ample time before class, otherwise you may not be able to participate in the negotiation simulations and you also risk negatively impacting the learning experience for the fellow participant with whom you'll be partnered.
Learn more about the live online experience.
Learn more about the in-person experience.
Applying to the Course
Please note: The application deadline is 3 business days prior to course start. This course is limited to 40 participants. We accept enrollments until the offering reaches capacity, at which point we will maintain a waitlist. This course tends to fill up several weeks in advance, so we advise that you enroll as early as possible to secure your seat.
You can begin the application process by using the red 'Enroll Now' bar at the bottom of the screen.
Health and Safety
See our on campus healthy and safety policies.
Have Questions?
Contact us if you would like to speak with a program director or visit our Frequently Asked Questions page for answers to common questions about our courses.
Upon successful completion of your course, you will earn a certificate of completion from the MIT Sloan School of Management. This course may also count toward MIT Sloan Executive Certificate requirements.
In this course, you will learn how to:
Leverage your own specific personality traits and abilities to boost negotiation outcomes
Enhance bargaining power to claim a larger share of the pie
Recognize and resolve different types of issues to create and claim value
Develop strategies for efficient pre-negotiation preparation
Build and maintain working relationships without forfeiting economic outcomes
Deal with difficult tactics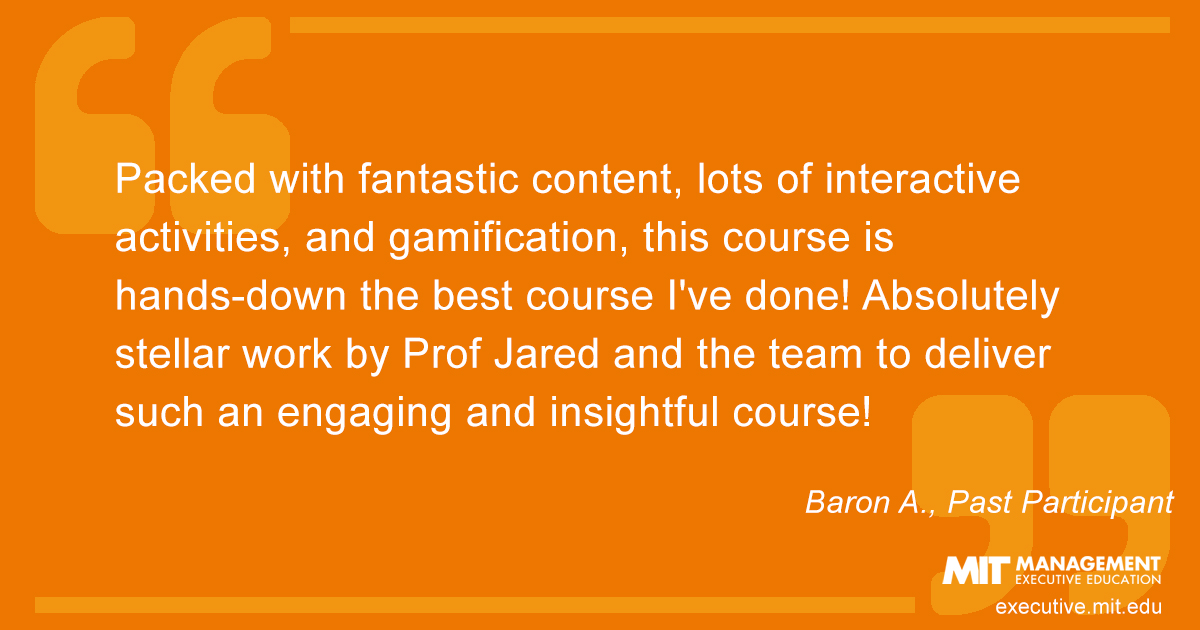 Sample Schedule—Subject to Change
This course is designed for:
Powerful negotiators are valued at all levels of an organization. If your responsibilities include interacting in some shape or form with others, then this program is for you.
Typical participants' areas of expertise tend to include:
Sales and marketing
Planning and development
Operations management
Strategic partnerships
Supply-chain agreements
Recruitment and human resources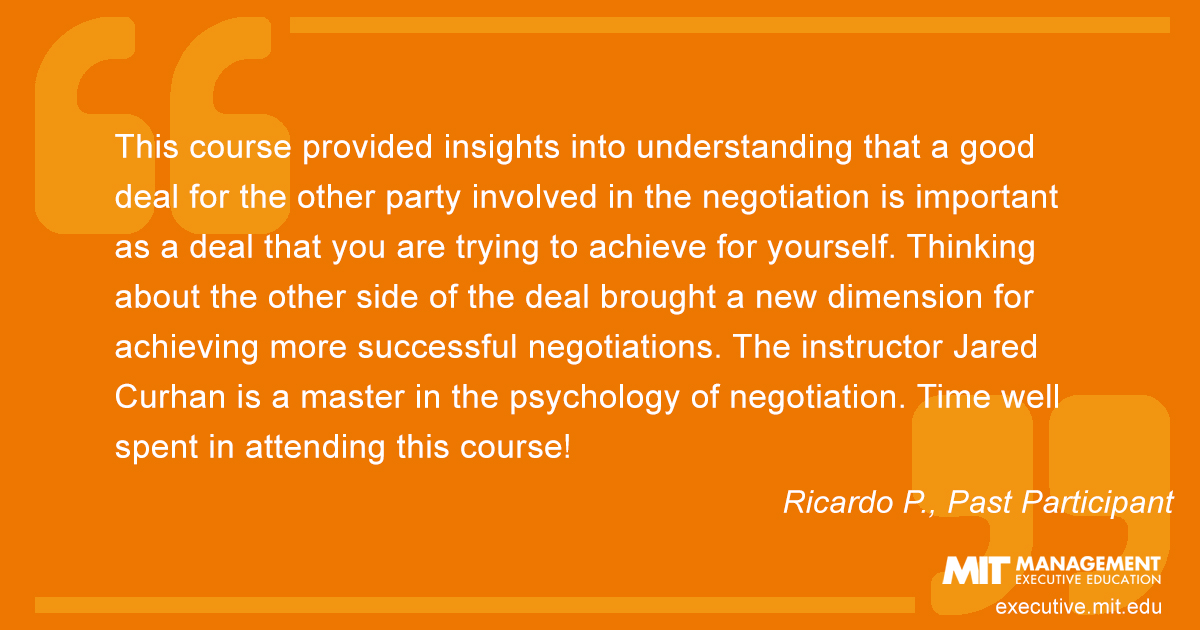 | Course Dates | Format | Location | Duration | Time Commitment | Price |
| --- | --- | --- | --- | --- | --- |
| Mar 4-6, 2024 | Live Online | N/A | 3 days | 6-7 hours/day | $4,900 |
| May 28-29, 2024 | In Person | Cambridge, MA | 2 days | 8 hours/day | $4,900 |
Tracks
Management and Leadership
Certificate Credits
2.0 EEUs
Topics
- Negotiation & Communication
- Organizations & Leadership
- Strategy & Innovation
This is a great course, with very well thought-out breakout sessions driving attendees to work through practical examples of negotiation. The course provides a comprehensive framework for negotiation based on comprehensive content. The delivery is smart, sharp and inclusive encouraging engagement from attendees adding real world examples from different industries and cultures across the globe.
—Fari P.