Maximizing Your Personal Productivity: How to Become an Efficient and Effective Executive
| Course Dates | Format | Location | Duration | Time Commitment | Price |
| --- | --- | --- | --- | --- | --- |
| Nov 16-17, 2023 | In Person | Cambridge, MA | 2 days | 8 hours/day | $4,300 |
Tracks
Management and Leadership
Certificate Credits
2.0 EEUs
Topics
- Organizations & Leadership
Course Highlights
Learn how to increase your efficiency while maintaining and improving your quality of life
Complete an optional writing assignment and receive valuable feedback
Receive personalized feedback from faculty and peers
Explore the unique challenges many are now facing working from home and learn helpful strategies to stay focused and productive in the new hybrid world of work
Understand how Generative AI can be leveraged to simplify tasks and increase efficiency
Earn a certificate of course completion from the MIT Sloan School of Management
Featured content
Why attend Maximizing Your Personal Productivity?
Maximizing Your Personal Productivity will show you how to do more in less time. You'll learn how to increase your efficiency while maintaining, or improving, your quality of life. This productivity course expands upon the principles covered in Bob Pozen's best-selling book Extreme Productivity and is designed to help enhance your leadership and communication skills in any setting. You will also learn digital techniques that can help manage your career and your team.
Faculty lead the class through various hands-on exercises focused on efficient reading and writing. Prior to the course, you will also have an opportunity to complete an optional writing assignment and receive valuable personalized feedback. Multiple polls and self-evaluations are administered throughout the course with the goal of helping you better understand your individual goals and how to best accomplish them.
Pozen is joined by Ben Shields, MIT Sloan Senior Lecturer in Managerial Communication, who shares best practices on effective presentations and general communication strategies by way of interactive exercises. This session concludes with personalized feedback from faculty and peers so that you may feel more confident delivering clear messages in the future, whether in person or in a virtual setting.
This productivity course will also explore the unique challenges many are now facing working from home, providing helpful strategies to stay focused and productive despite the blending together of personal and professional worlds. A special session on Generative AI will explore how this new technology can be leveraged to simplify tasks and increase efficiency.
"Since the Great Recession, many professionals have been facing more challenging schedules and more daunting to-do lists. This makes it all the more important for professionals to be able to get their work done quickly and effectively." —Bob Pozen, Faculty Director
Guest Speaker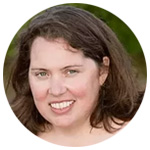 Renee Fry
Renee Fry is the founder of Gentreo, a next-generation financial estate planning, web-enabled software solution. Fry, a Harvard Business School Rock 100 entrepreneur, graduated with honors from Pennsylvania State University and earned an MBA from Harvard Business School. She has served in the Massachusetts government cabinet as head of Business and Technology under Mitt Romney. This background has given her the business savvy and inspiration needed to create a company to help the tens of millions of Americans who need help to prepare, plan and protect all they love.
Course experience
This productivity course is designed to increase your personal productivity through a series of case studies, practical exercises, and background readings. Encouraging self-evaluation through polls and surveys, you'll have ample opportunities to explore your work habits and learn through doing. At the conclusion of the course, you'll be able to immediately implement the best practices and lessons learned.
Learn more about the in-person course experience.
Applying to the course
We accept enrollments until the offering reaches capacity, at which point we will maintain a waitlist. Many of the courses fill up several weeks in advance, so we advise that you enroll as early as possible to secure your seat.
You can begin the application process by using the red 'Enroll Now' bar at the bottom of the screen.
Health and Safety
See our on campus healthy and safety policies.
Have questions?
Contact us if you would like to speak with a program director or visit our Frequently Asked Questions page for answers to common questions about our courses.
Upon successful completion of your course, you will earn a certificate of completion from the MIT Sloan School of Management. This course may also count toward MIT Sloan Executive Certificate requirements.
Designed for busy, experienced managers, this productivity training course will increase your efficiency by helping you:
Prioritize your goals and align your time allocation better with your highest priorities
Complete your high-priority projects efficiently by focusing early on the final product
Develop techniques for moving quickly through low priority tasks like emails
Hold shorter and more productive meetings with clear agendas and outcomes
Manage your own team by learning how to delegate and set metrics for success
Manage your boss by communicating regularly and adopting complementary styles
Read with more speed and comprehension by focusing on what is most important
Write more effectively by using outlines, the active voice, and strong connectors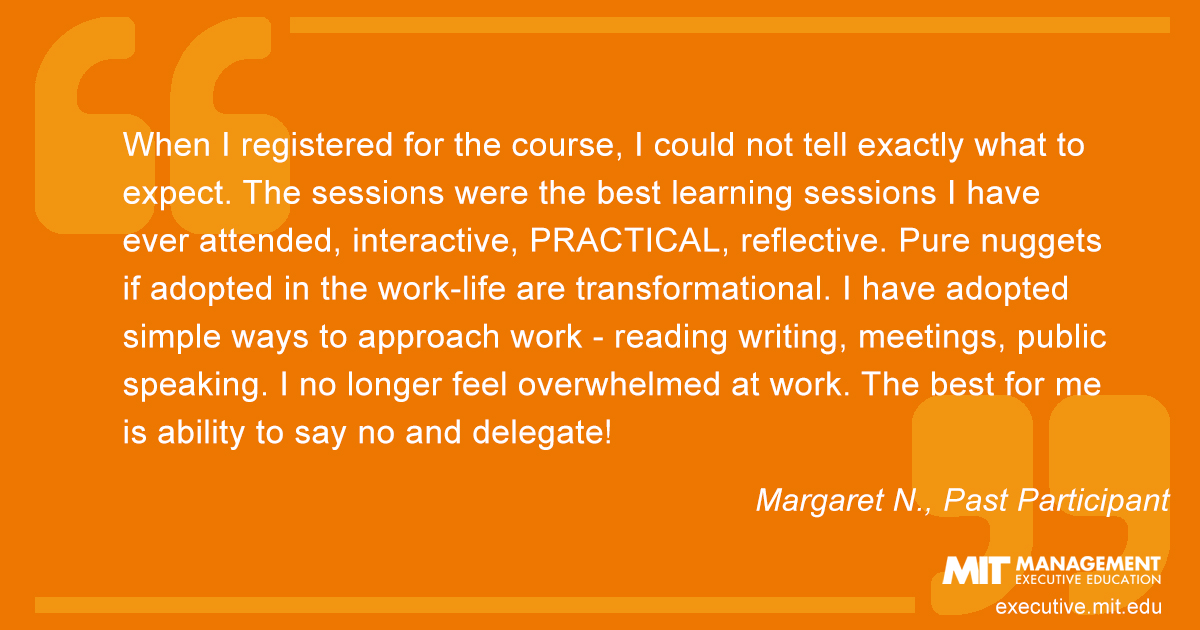 Sample Schedule—Subject to Change
This program is designed for
Mid- to senior-level managers with managerial responsibility and extensive work experience would benefit from this program
Individual contributors within their organization who are interested in advancing and expanding their leadership roles
Both U.S. and foreign executives
Experienced managers from startups, established global companies, not-for-profits, and governmental organizations alike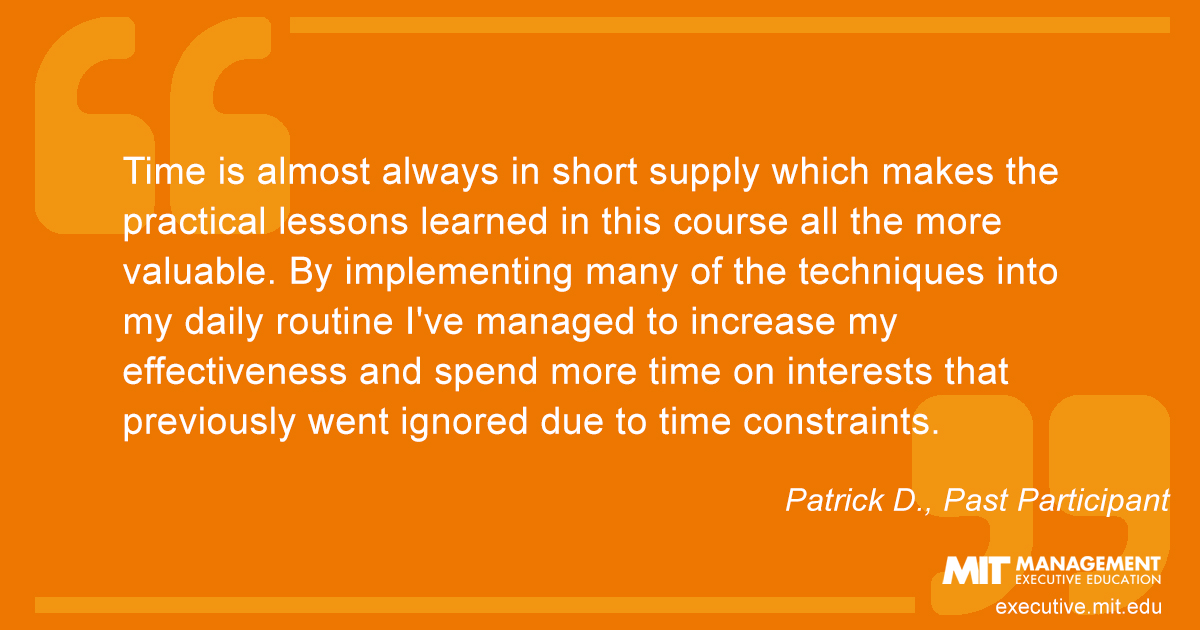 | Course Dates | Format | Location | Duration | Time Commitment | Price |
| --- | --- | --- | --- | --- | --- |
| Nov 16-17, 2023 | In Person | Cambridge, MA | 2 days | 8 hours/day | $4,300 |
Tracks
Management and Leadership
Certificate Credits
2.0 EEUs
Topics
- Organizations & Leadership
Time is almost always in short supply which makes the practical lessons learned in this course all the more valuable. By implementing many of the techniques into my daily routine I've managed to increase my effectiveness and spend more time on interests that previously went ignored due to time constraints
—Patrick D.