Leading a Diverse Workforce
Tracks
Management and Leadership
Certificate Credits
2.0 EEUs
Topics
- Operations
- Organizations & Leadership
Course Highlights
Delivered in our live online format, enabling real-time interaction with faculty and global peers
Designed to help you understand and tackle the challenges and opportunities of workplace equity, diversity, and inclusion training
Teaches a framework for learning how to grow and guide diversity in your organization as well as a set of challenging questions to ask yourself and your team
Provides opportunities to roll up your sleeves and have challenging and insightful conversations with faculty and peers
Confers a certificate of course completion from the MIT Sloan School of Management
Why attend Leading a Diverse Workforce?
There are numerous reasons for companies to be focused on diversity, equity, and inclusion training, also known as DEI training, however there is no one-size-fits-all manual for leading and managing a diverse workforce. If handled poorly, an organization can experience the very opposite of the benefits it seeks.
Managing and leading in culturally and demographically diverse groups is a critical skill for executives and entrepreneurs today. This new course is designed to help you understand and tackle the challenges and opportunities of workplace DEI.
Course experience
Organizations are hiring more diverse talent and hoping to expand into more diverse markets. This course on growing and guiding diversity in your organization will help you develop a clearer understanding of the social and psychological challenges to working effectively across identity-based differences. You will learn how to implement organizational changes that seek to support diversity, equity, and inclusion.
Through lectures, group discussions, simulations, breakout sessions, and case studies, you will explore:
The complexity of how employees with diverse identities and backgrounds experience recruitment, hiring, evaluation, rewards, and development
Cutting-edge, evidence-based strategies to promote opportunity for all and to create diverse, inclusive, and effective teams and organizations
The policies, practices, and systems that have the best chance of moving the needle on these issues
How merit-based reward practices can unintentionally lead to pay disparities based on gender, race, and national origin—and how you can correct this tendency using data, transparency, and accountability
Faculty will share frameworks and research that identify DEI training best practices while also recognizing that the evidence base is still emerging and that different approaches are needed in different contexts. This course will focus on the dynamics of race and gender and primarily draw on data from the U.S., with some attention to other identities and dimensions of difference (e.g., nationality, sexual orientation, ability, and more).
This course is highly engaging—be ready to roll up your sleeves and have challenging and insightful conversations with faculty and peers.
Learn more about the live online experience.
Applying to the course
We accept enrollments until the offering reaches capacity at which point, we will maintain a waitlist. Many of the courses fill up several weeks in advance, so we advise that you enroll as early as possible to secure your seat.
You can begin the application process by using the red 'Enroll Now' bar at the bottom of the screen.
Have questions?
Contact us if you would like to speak with a program director or visit our Frequently Asked Questions page for answers to common questions about our courses.
Upon successful completion of your course, you will earn a certificate of completion from the MIT Sloan School of Management. This course may also count toward MIT Sloan Executive Certificate requirements.
As a participant in this course, you will explore
The business case for diversity—why do you care, and why are you here?
The gap between DEI theory and practice, and how to close that gap
How to identify problems in your organization and approach them analytically
What has and has not worked for the participants in the class, and why
The upside and downside of meritocracy
Why it's ok, and maybe encouraged, to be skeptical of popular approaches to diversity in the workforce
How to adapt evidence-based best practices to your own organization to ensure that you are successful in achieving diversity and inclusion in your organization
How to measure and evaluate your progress
You will leave the course with a framework for learning how to grow and guide diversity in your organization as well as a set of challenging questions to ask yourself and your team.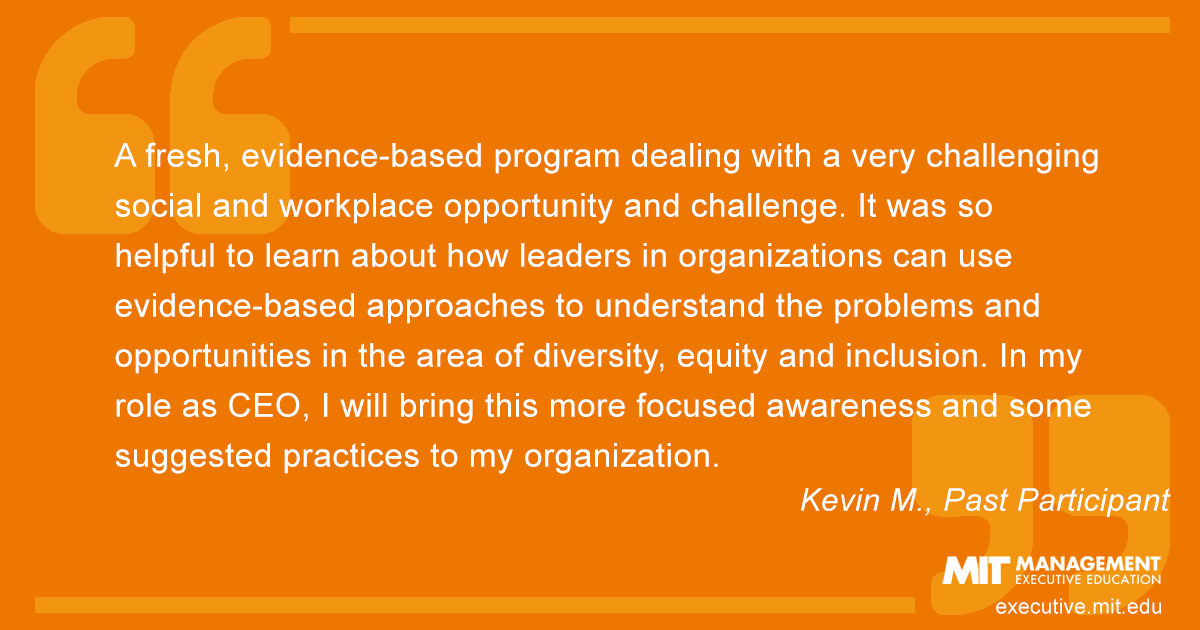 Sample Schedule—Subject to Change
This course is designed for
Executives and managers who are interested in an evidence-based approach to DEI in organizations
Those responsible for hiring and managing talent
HR directors and managers
Those for whom DEI training is core to their role
Directors of organizational development and corporate strategy
Vice presidents of operations
Other interested line leaders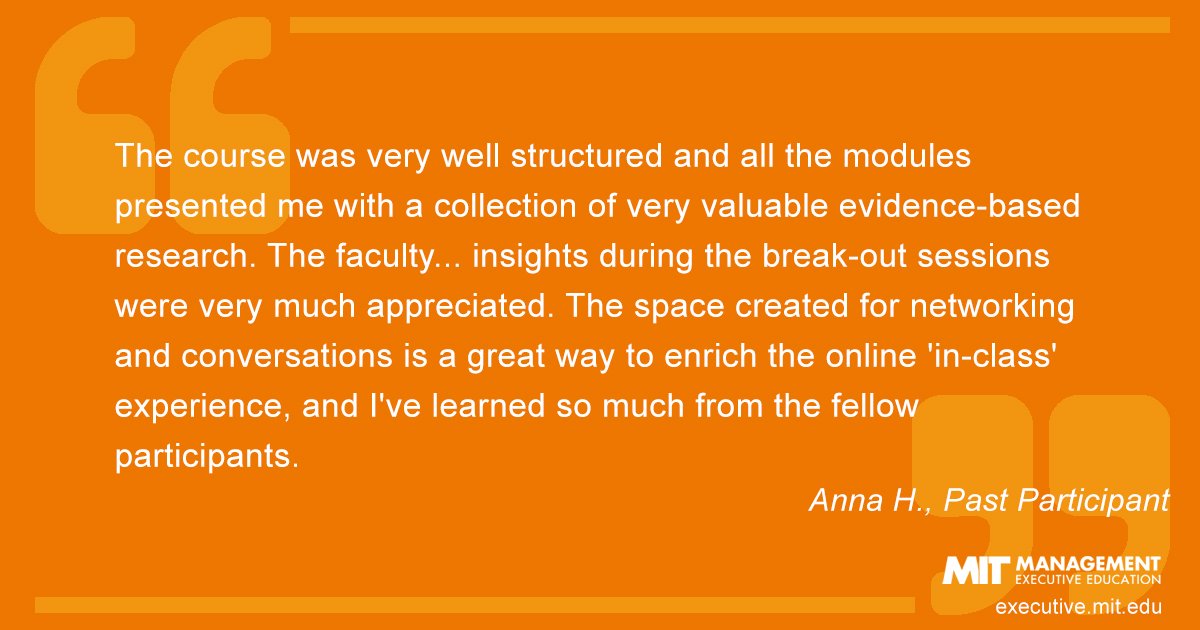 Tracks
Management and Leadership
Certificate Credits
2.0 EEUs
Topics
- Operations
- Organizations & Leadership