Innovating in Existing Markets: Reviving Mature Products and Services
Tracks
Strategy and Innovation
Certificate Credits
2.0 EEUs
Topics
- Marketing
- Strategy & Innovation
Course Highlights:
This course is delivered in our Live Online format which enables real-time interaction with faculty and global peers
This program is designed to help you innovate around your existing products to make them more compelling, useful, and valuable
You will learn through lectures, case studies, hands-on activities, and conversations with senior practitioners
You will earn a certificate of course completion from the MIT Sloan School of Management
Featured content:
Why attend Innovating in Existing Markets?:
There is considerable buzz around disruptive, revolutionary innovation—we're constantly told we need to do more of it, in every part of our business. But what do you do when you have an existing product in an existing market that is being challenged? How do you revive those products and restart growth? How do you innovate and improve existing products or services? If all you create is incremental improvements, you'll quickly become a low-cost (and vulnerable) commodity provider. But revolutionary, disruptive innovation is often expensive, difficult, and prone to failure.
This innovation strategies program focuses on a third type of innovation that is neither incremental nor disruptive. It's an approach that many successful companies such as USAA, Sherwin-Williams, LEGO, Victoria's Secret, Novo Nordisk, Gatorade, and Logitech have used in mature markets to revive challenged products and boost growth. This low-risk, high-reward strategy is an approach to innovation that all company leaders should understand so that they can recognize it when their competitors practice it and apply it when it will give them a competitive advantage. The program combines this "Third Way" innovation framework with Sloan's Three Perspectives on Organizational Change framework to generate implementation plans for the solutions you create.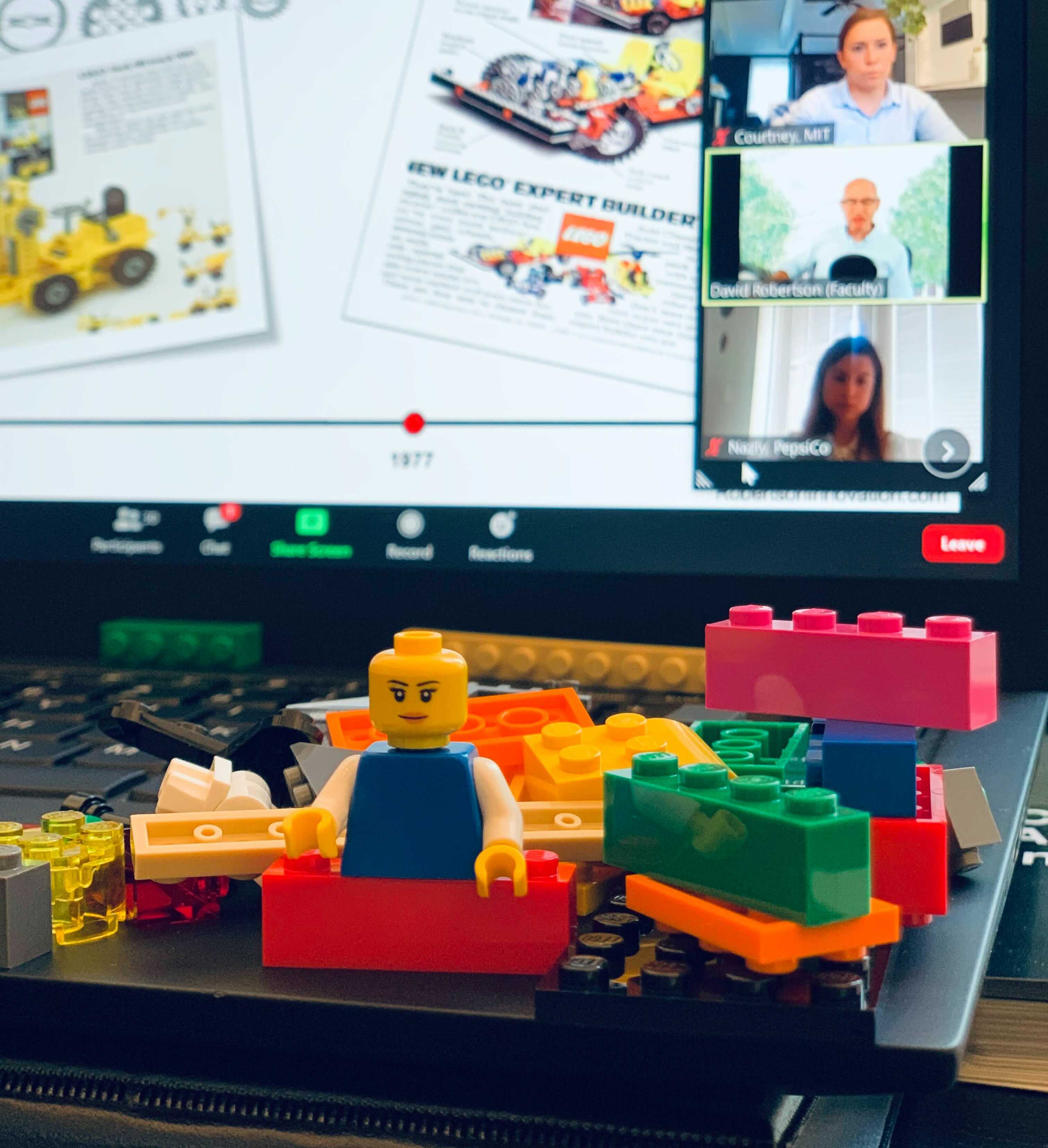 Course experience:
Through lectures, case studies, hands-on activities, and conversations with senior practitioners, you'll learn a set of tried-and-true tools and techniques for generating creative solutions to organizational challenges.
Our digital delivery over 3 days will also include the opportunity for you to apply new frameworks immediately to your own products/services – to generate immediate results for your business.
Learn more about the live online experience.
Guest speaker:

Robbie Bach joined Microsoft in 1988 and over the next 22 years worked in various marketing, general management and business leadership roles. Beginning in 1999, as Chief Xbox Officer, he led the creation and development of the highly successful Xbox video game business. Now in his new role as a "Civic Engineer," Robbie believes we all have a responsibility to engage on civic issues and dedicates his time and energy to providing strategies, creative ideas, and consulting to organizations who are driving positive change in our communities. He speaks to corporate, academic and civic groups across the country and in 2015 completed his first book, Xbox Revisited: A Game Plan for Corporate and Civic Renewal.
Applying to the course:
Please note: The application deadline is 10 days prior to course start. We accept enrollments until the offering reaches capacity at which point we will maintain a waitlist. Many of the courses fill up several weeks in advance, so we advise that you enroll as early as possible to secure your seat.
You can begin the application process by using the red Enroll Now bar at the bottom of the screen.
Have questions?:
Contact Us if you would like to speak with a program director or visit our Frequently Asked Questions page for answers to common questions about our courses.
Upon successful completion of your course, you will earn a certificate of completion from the MIT Sloan School of Management. This course may also count toward MIT Sloan Executive Certificate requirements.
This interactive program will give participants:
A set of tried-and-true tools and techniques for mastering new approaches to innovation
A structured framework for applying those tools and techniques
Recommendations and practices for overcoming resistance to innovation-driven change
Hear from a past participant: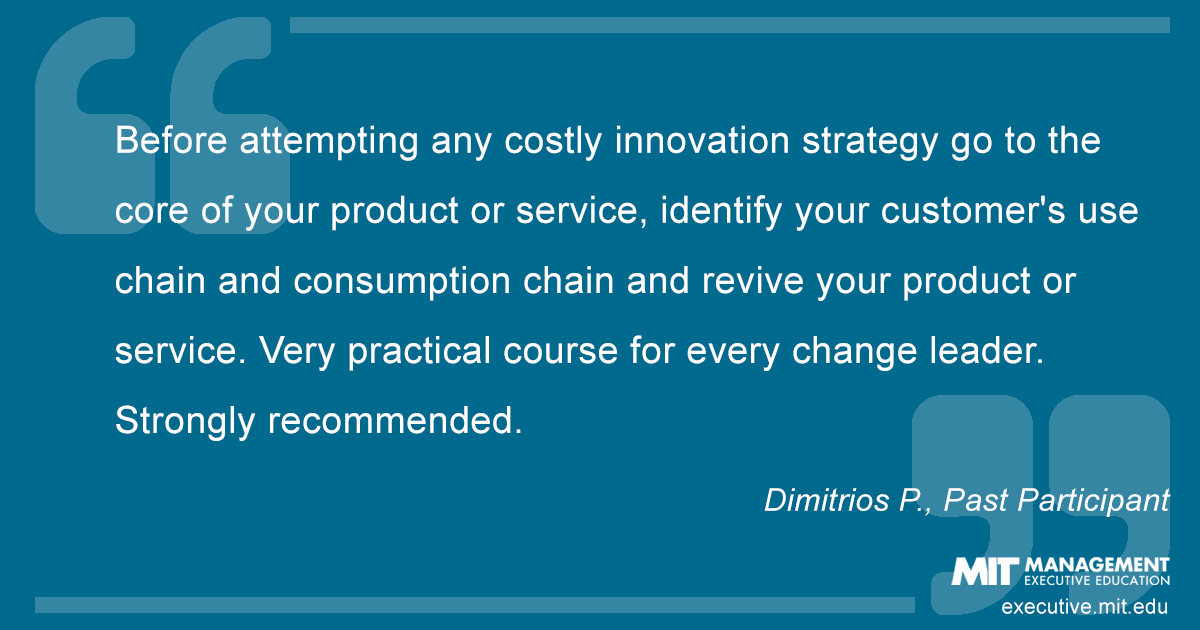 Sample Schedule—Subject to Change
This program has been developed for:
Executives seeking to improve their creative problem-solving skills and deliver value-creating innovation in their organizations
CEOs
Presidents
COOs
Executive VPs
VPs of marketing and business development
Heads of R&D, engineering, manufacturing, and IT
Chief technologists
Corporate planners and strategists
Other senior managers with leadership responsibility
Hear from a past participant: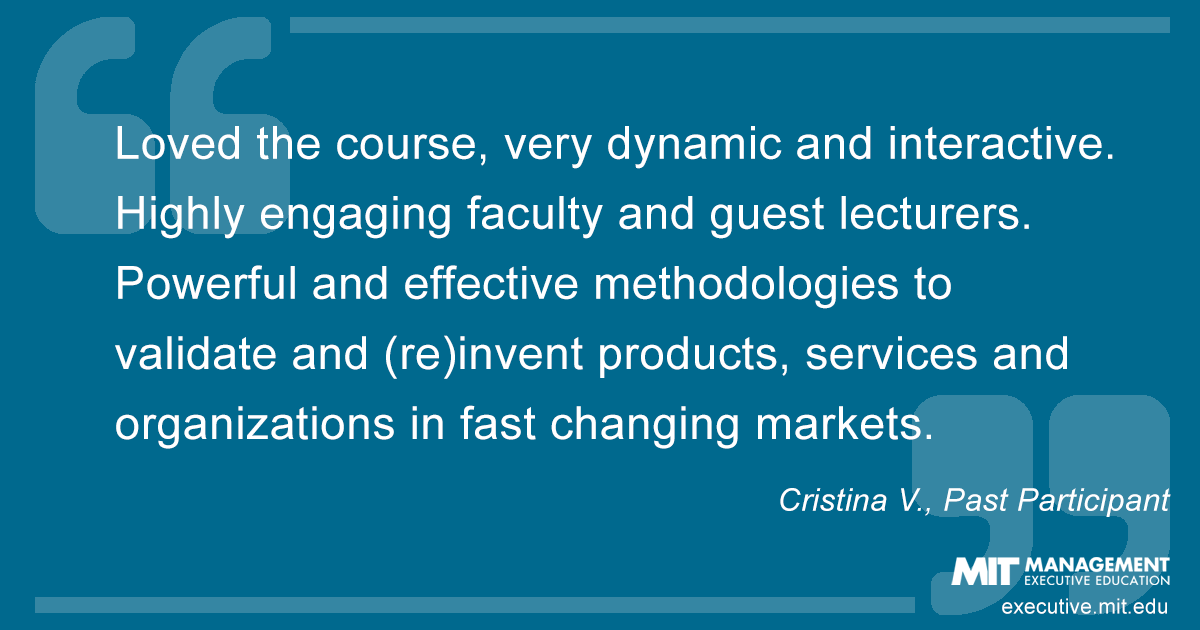 Tracks
Strategy and Innovation
Certificate Credits
2.0 EEUs
Topics
- Marketing
- Strategy & Innovation
Highly engaging faculty and guest lecturers. Powerful and effective methodologies to validate and (re)invent products, services and organizations in fast changing markets.
—Past Participant Cristina V.