Implementing Enterprise-Wide Transformation
| Course Dates | Format | Duration | Time Commitment | Price |
| --- | --- | --- | --- | --- |
| Nov 13-15, 2023 | Live Online | 3 days | 5 hours/day | $4,500 |
Tracks
Strategy and Innovation
Certificate Credits
2.0 EEUs
Topics
- Operations
- Organizations & Leadership
- Strategy & Innovation
Course Highlights
Connect with a network of global peers
Explore how to avert failure, create cultures of agility and resiliency, and develop a customized blueprint for large-scale business transformation in your organization
Learn how to become a successful transformation leader in your organization
Hear from guest speakers who are leaders in their fields
Earn a certificate of course completion from the MIT Sloan School of Management
Featured Content
Why attend Implementing Enterprise-Wide Transformation?
We know through research and practice that two thirds of enterprise-wide business transformation efforts fail to meet their intended objectives. Why? In today's world, disruption can emerge from any place, any time and in ways unexpected. Leaders often ignore or miss the early warning signals due to a variety of factors including cultural inertia, lack of disciplined scanning and decision-making processes, and siloed behavior that tends to discount troubling signs that impact other parts of the organization. When unit leaders turn inward to protect their entities, organizational agility becomes that much harder to achieve.
Effective leaders and their teams can beat the odds that their organizations' transformation efforts will fail. How? They set proactive agendas that create an inspiring future for employees. They build trust-based cultures of openness and transparency, combined with the discipline to spot and solve significant problems collectively as a team. They align the "messaging" of their agendas with the metrics, milestones, and rewards that provide a clear line-of-sight for employees to understand how they can contribute and what behaviors are valued in their organizations.
Course Experience
During this course, you will learn organizational transformation strategies and how to spot potential derailers that prevent successful transformations; more importantly, you'll learn how to become a successful transformation leader in your organization. Research based and practitioner led, the program environment is designed to help executives create a blueprint for their organization's near- and longer-term transformation.
Guest speakers will help to further demonstrate important conceptual examples, and significant time will be designated for peer collaboration and plan development.
Learn more about the live online experience.
Learn more about the in-person course experience.
Applying to the Course
We accept enrollments until the offering reaches capacity, at which point we will maintain a waitlist. Many of the courses fill up several weeks in advance, so we advise that you enroll as early as possible to secure your seat.
You can begin the application process by using the red 'Enroll Now' bar at the bottom of the screen.
Health and Safety
See our on campus healthy and safety policies.
Gain Your Supervisor's Support
Here's a letter you can edit and send to your supervisor to help you discuss your reasons for wanting to attend this course.
Have Questions?
Contact us if you would like to speak with a program director or visit our Frequently Asked Questions page for answers to common questions about our courses.
Upon successful completion of your course, you will earn a certificate of completion from the MIT Sloan School of Management. This course may also count toward MIT Sloan Executive Certificate requirements.
This program is intended to help you:
Spot the warning signals of organizations in need of transformation
Create a proactive business transformation agenda
Build a collective leadership capability to drive organizational transformation together
Create the disciplined processes to spot and address mission-critical capability gaps
Build the vital organizational networks needed to solve complex transformation challenges
Align messaging with metrics, milestones, and rewards
Create agile organizations by developing resilient leaders and employees
Develop a blueprint for transformation for your organization
Hear from a past participant: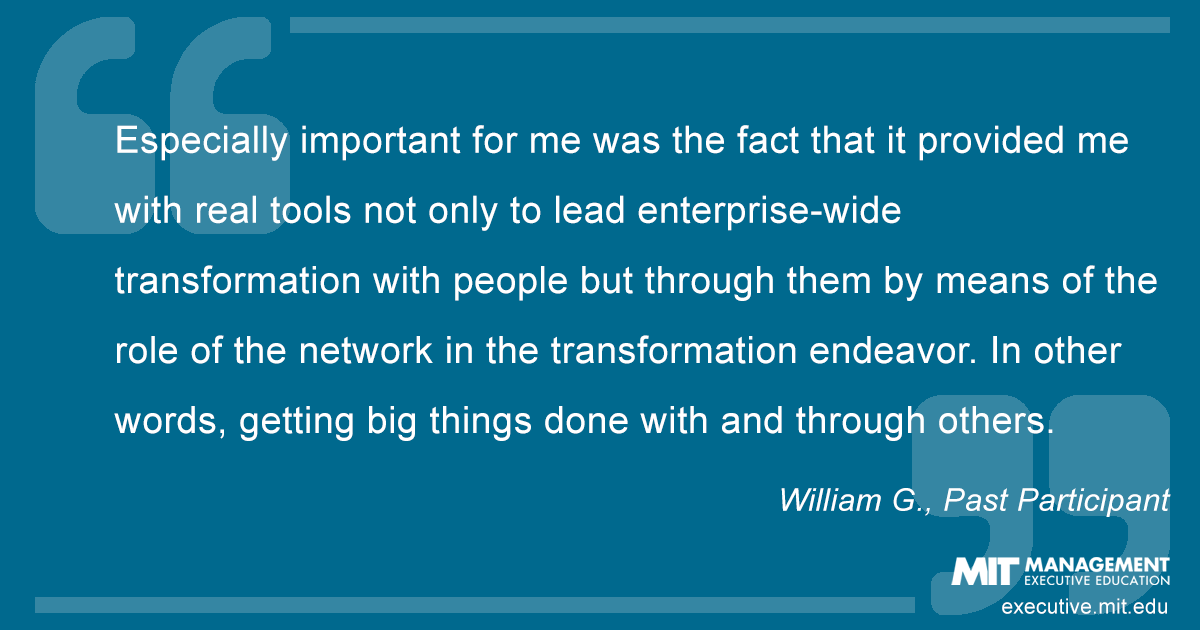 Sample Schedule—Subject to Change
This course is designed for senior executives who are currently engaged in or want to better understand bsuiness transformation.
Ideal participants include:
C-suite executives responsible for organizational transformation
Senior HR and communication leaders
Line leaders
Hear from a past participant: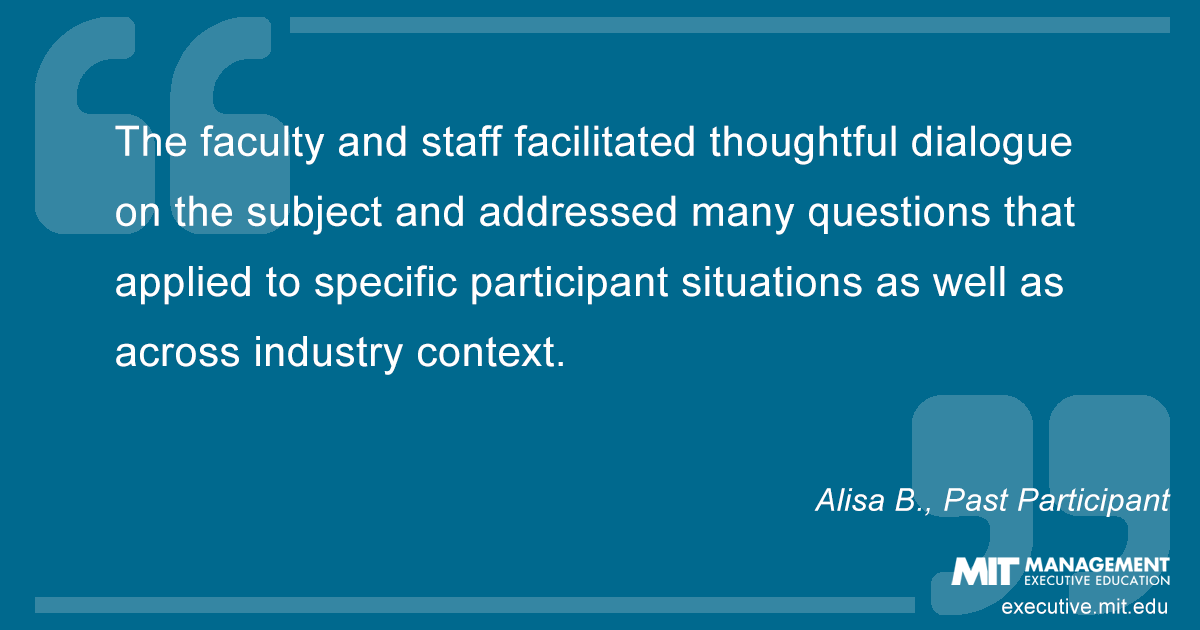 | Course Dates | Format | Duration | Time Commitment | Price |
| --- | --- | --- | --- | --- |
| Nov 13-15, 2023 | Live Online | 3 days | 5 hours/day | $4,500 |
Tracks
Strategy and Innovation
Certificate Credits
2.0 EEUs
Topics
- Operations
- Organizations & Leadership
- Strategy & Innovation
Experienced teachers, motivated peers, and highly current topics.
—Past Participant Tommy D.