Impactful Leadership: Operationalizing Purpose
Tracks
Management and Leadership
Certificate Credits
2.0 EEUs
Topics
- Operations
- Organizations & Leadership
Course Highlights
This course is delivered in our Live Online format which enables real-time interaction with faculty and global peers
This timely course provides a framework for driving financial and societal impact through the systematic operationalization of purpose
You will learn to define the role of business leaders amidst a workforce grappling with issues of race, gender, and inequality in their daily lives
You will earn a certificate of course completion from the MIT Sloan School of Management
Dates will be published soon. In the meantime, you can sign up to receive email notifications through the "Request Course Information" form on the right of the page.
Course snapshot
Why attend Impactful Leadership?
We are living through a period of seismic societal, racial, and economic change. This is precisely the time when leaders go to work. As a leader, your ability to respond to pressing social issues and changing stakeholder expectations will determine your organization's survival and fuel its growth. But how can you simultaneously maximize inclusivity, agility, and productivity with limited resources? And how should your organization make your value proposition clear to employees, customers, and suppliers, alike?
Led by practitioners, James Rhee, Impact Investor and Former Chairman & CEO, Ashley Stewart, and Bridget Akinc, CEO of Building Impact and Former Tech Executive, this innovative new course provides a framework for achieving multi-dimensional transformation.
Issues relating to social impact are now among the most important concerns for leaders and companies globally. As business leaders redefine the purpose of a corporation to promote an economy that serves all, they are challenged to maximize inclusivity, social impact, and corporate sustainability while satisfying the demands of balance sheets and stakeholders.
The winning formula will require incredible agility of mind, spirit, and brand, made manifest through quantitative rigor and technological innovation but also through acute emotional intelligence.
Course experience
Impactful Leadership will help leaders of future-looking and impact-oriented organizations:
Operationalize normative goals through a re-examination of financial measurements
Deconstruct conventional accounting metrics and rebuild them with purpose and enhanced profitability
Reconcile individual, organizational and societal goals
Create a culture and mindset of agility, broadly defined
Find the most efficient and profitable way to communicate purpose to oftentimes conflicting stakeholders
Build systems in finance, marketing, technology, and labor that will offer opportunities for learning and financial growth
Define the role of business leaders amidst a workforce grappling with issues of race, gender, and inequality in their daily lives
Learn more about the live online experience.
Applying to the course
We accept enrollments until the offering reaches capacity at which point we will maintain a waitlist. Many of the courses fill up several weeks in advance, so we advise that you enroll as early as possible to secure your seat.
You can begin the application process by using the red Enroll Now bar at the bottom of the screen.
Have questions?
Contact Us if you would like to speak with a program director or visit our Frequently Asked Questions page for answers to common questions about our courses.
Upon successful completion of your course, you will earn a certificate of completion from the MIT Sloan School of Management. This course may also count toward MIT Sloan Executive Certificate requirements.
Taught from the conjoined perspectives of an award-winning impact investor/CEO and an information technologist turned not-for-profit leader, this timely course provides a framework for driving financial and societal impact through the systematic operationalization of purpose. The program will offer a new way of thinking about leadership and organizations.
Applying organization theory along with intuitive principles of feedback control, participants will learn to
Work on the business, not just in the business
Lead an organizational (or brand) transformation/reinvention
Find ways to unlock existing value
Operationalize not-for-profit purpose in a for-profit setting
Understand stakeholder capitalism
Financially engineer solutions to societal issues
Recognize the power of diverse ecosystems
Affirm the business case for diversity
Break down mental models and think big
The faculty of this program are committed to empowering people to fulfill their true potential by marrying capital with purpose and truth across systems. Impactful Leadership will allow for (and demand) the purposeful reflection of next generation leaders.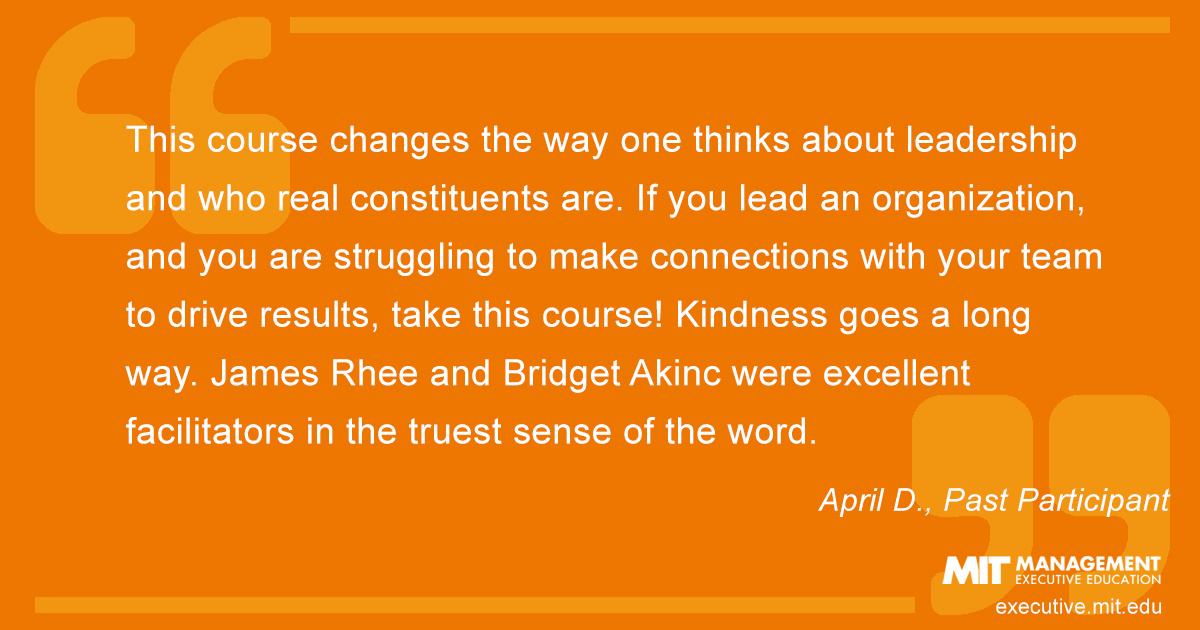 Sample Schedule—Subject to Change
This program is designed for
General managers
Aspiring leaders
Consultants
Entrepreneurial thinkers
Others who are interested in gaining a multi-dimensional understanding of the inextricable link between quantitative and qualitative drivers of individual and organizational performance
It will be of interest for those responsible for creating value through human capital both external and internal to the organization, and for those interested in redefining their leadership strategy against the backdrop of a rapidly shifting landscape
The ideal class will include participants from a wide range of disciplines and functional roles, with diverse backgrounds and experiences, who are interested in developing a sense of purpose.
Women and those from other groups typically underrepresented in leadership roles are encouraged to enroll.
Although the course will address financial concepts, it does not presuppose any level of financial sophistication.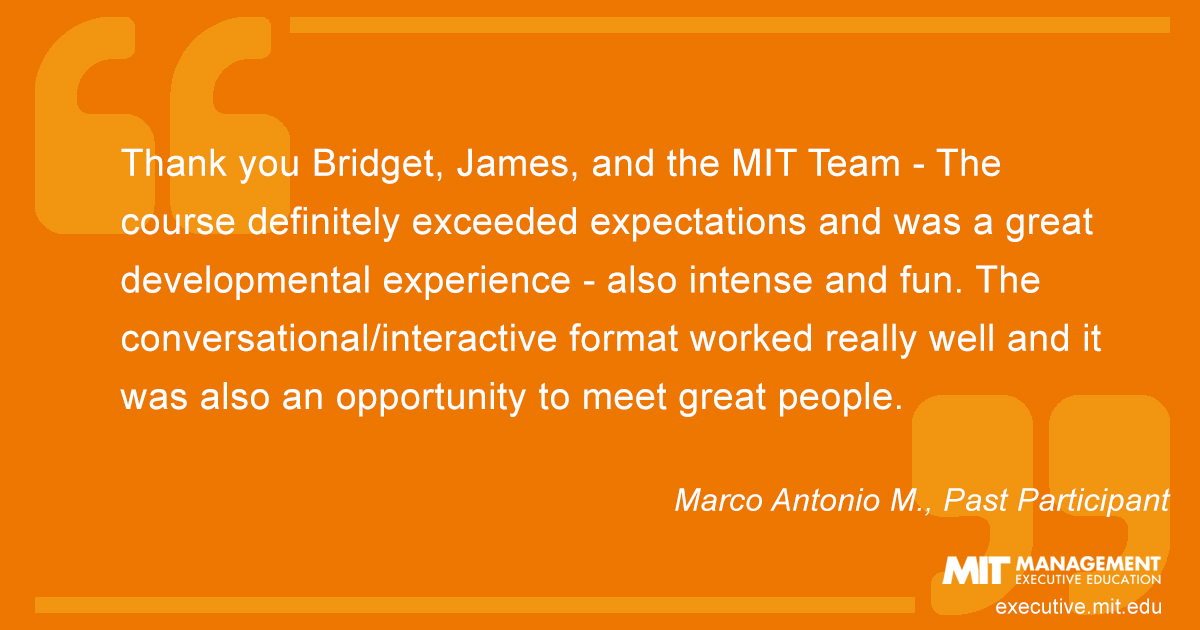 Tracks
Management and Leadership
Certificate Credits
2.0 EEUs
Topics
- Operations
- Organizations & Leadership
If you are in leadership, you should want to be an impactful leader. This course changes the way one thinks about leadership and who real constituents are. If you lead an organization, and you are struggling to make connections with your team to drive results, take this course! Kindness goes a long way. James Rhee and Bridget Akinc were excellent facilitators in the truest sense of the word.
—April D.