| Course Dates | Format | Location | Duration | Time Commitment | Price |
| --- | --- | --- | --- | --- | --- |
| Jul 9-18, 2024 | In Person | Cambridge, MA | 8 days | 7-11 hours/day | $18,000 |
Tracks
Management and Leadership
Certificate Credits
8.0 EEUs
Topics
- Financial Management
- Global Economics & Markets
- Marketing
- Negotiation & Communication
- Organizations & Leadership
- Strategy & Innovation
- Systems Thinking
Course Highlights
Eight-day in-person course on the MIT Sloan campus
Opportunities to network with global peers
Taught in English
Topics include general management, leadership, strategy, innovation, negotiation, analytics management, finance, and productivity
Confers an MIT Sloan Executive Certificate in Management and Leadership
Featured Content
Why attend the Global Executive Academy?
This global executive program is a transformative learning experience designed to fit the time constraints of experienced executives from a wide variety of industries and countries. Topics covered include general management, leadership, strategy, innovation, negotiation, analytics management, finance, and productivity.
Course Experience
Global Executive Academy is an eight-day management and leadership program for experienced executives across the globe. The course is taught in English.
Learn more about the in-person course experience.
Health and Safety
See our on campus healthy and safety policies.
Applying to the Course
Qualified candidates are admitted on a rolling, space-available basis, and space is limited. Early application is encouraged and will increase your chances of being accepted. As this course is scheduled to be held in person, please also allow for Visa processing times.
You can begin the application process by using the red 'Enroll Now' bar at the bottom of the screen.
Have Questions?
Email execacademy@mit.edu if you would like to speak with a program director or visit our Frequently Asked Questions page for answers to common questions about our courses.
Upon successful completion of your course, you will earn an MIT Sloan Executive Certificate in Management and Leadership.
As a participant in this course, you will leave with:
A big picture understanding of how to maximize personal productivity in project management, work communications, and relationships
Familiarization with MIT's 4 Capabilities Leadership Model and a template for charting your own organization's strengths and opportunities for improvement
A clearer vision of your personal brand, your company's value proposition, and ways to strengthen your competitive position
Ideas on how to innovate and insights on how to lead organization-wide innovation and improvement
Financial tools and acumen critical for executive-level decision making
An expanded international network of talented, worldly executives from a variety of industries and countries, and the diverse perspectives they share
New insights, skills, and frameworks that you can immediately apply to your business when you return home
Hear from a past participant: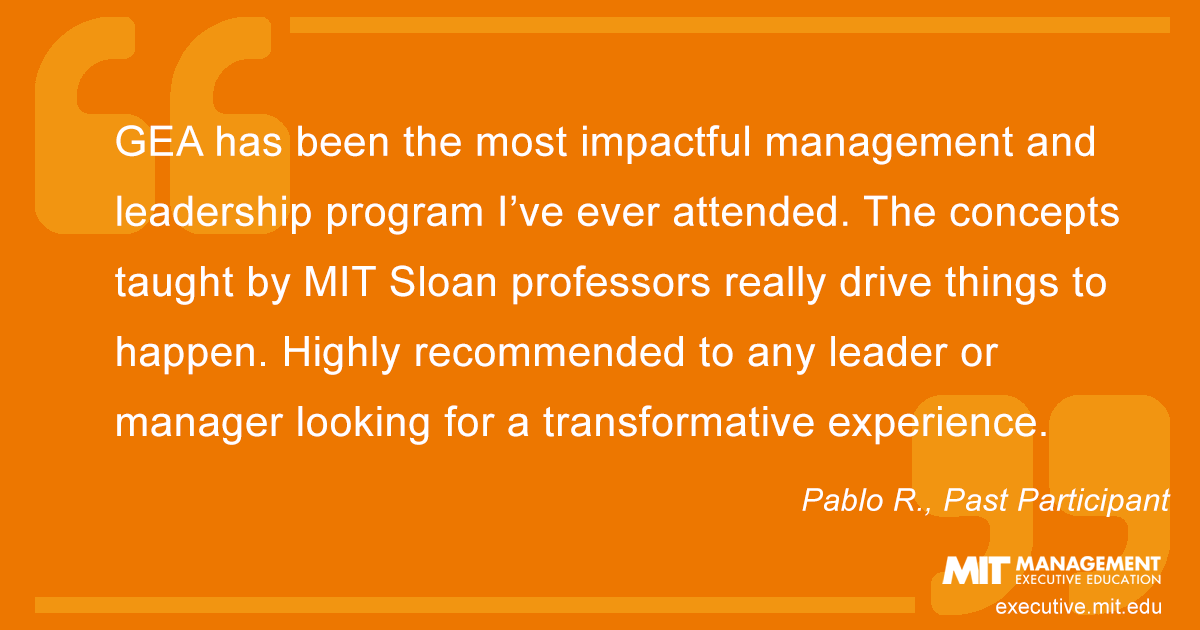 Sample Schedule—Subject to Change
"Our vision is to enable senior leaders from all over the world to come to MIT to attend our executive education programs and earn one of our coveted Executive Certificates... This will be a unique opportunity for an elite group of multinational executives to come together and learn with our faculty and each other, share experiences, and explore the business challenges of globalization in a truly unique way. It is a bold idea—but if there is anywhere in the world that this can work, MIT is the place." —Peter Hirst, Senior Associate Dean for Executive Education, MIT Sloan School of Management
Global Executive Academy is geared toward experienced executives looking to advance or refresh their leadership capabilities and global perspective.
The content and experience applies to:
Senior executives from small and mid-sized organizations around the world
Mid- to senior-level executives from large, multinational organizations
High-potential technical or business leaders looking to advance their general business acumen or gain international experience
Leaders seeking a condensed, global program as a substitute for or refresher to an International MBA
The 2018 cohort included participants from 18 different countries, spanning 18 industries and a variety of executive leadership functions including general management, finance and planning, engineering, business development, customer service, HR, legal, marketing, procurement, and more
| Course Dates | Format | Location | Duration | Time Commitment | Price |
| --- | --- | --- | --- | --- | --- |
| Jul 9-18, 2024 | In Person | Cambridge, MA | 8 days | 7-11 hours/day | $18,000 |
Tracks
Management and Leadership
Certificate Credits
8.0 EEUs
Topics
- Financial Management
- Global Economics & Markets
- Marketing
- Negotiation & Communication
- Organizations & Leadership
- Strategy & Innovation
- Systems Thinking
This most enriching environment is an eye opener, an insightful exercise, and a priceless lifetime lesson! Before taking this program, I wasn't sure if I will be a good leader ... now I feel that I am well-equipped for it and the choice is mine!
—Past Participant Khalood Rambo
Should we allow criticism while brainstorming?
In cooperative settings, criticism can boost creativity in brainstorming and negotiation. "Context really matters when it comes to the rules one should apply in brainstorming," Curhan said.
Ivy Chinchayan, Peru - Global Executive Academy Program at MIT Sloan
El participante de educación ejecutiva Ivy Chinchayan analiza sus motivos para elegir la escuela Sloan del MIT y la Academia Global para Ejecutivos para desarrollar y progresar en su carrera. Ella habla acerca del contenido del programa, la facultad del MIT de clase mundial y la experiencia en múltiples idiomas compartida con otros participantes de todo el mundo. Obtenga más información acerca de la Academia Global para Ejecutivos en la escuela Sloan del MIT.
Previous
Next