Digital Strategies for Transforming Your Business
| Course Dates | Format | Location | Duration | Time Commitment | Price |
| --- | --- | --- | --- | --- | --- |
| Jun 15-16, 2023 | In Person | Cambridge, MA | 2 days | 8 hours/day | $4,300 |
| Sep 19-20, 2023 | In Person | Cambridge, MA | 2 days | 8 hours/day | $4,300 |
Tracks
Strategy and Innovation
Digital Business
Certificate Credits
2.0 EEUs
Topics
- Digital Business & IT
- Operations
- Strategy & Innovation
Course Highlights
Delivered in our live online format enabling real-time interaction with faculty and global peers
Provides a powerful framework for transforming businesses on two dimensions—knowing customers better and optimizing business design
Leaves you with the tools to think about and communicate your business strategy internally, make decisions about what to focus on next, and critically consider developing important capabilities
Confers a certificate of course completion from the MIT Sloan School of Management
Featured Content
Why attend Digital Strategies for Transforming Your Business?
In this period of digital disruption, businesses focused narrowly on value chains are at a disadvantage. Next-generation enterprises need to think more broadly about their business ecosystems, leverage digitization strategy to understand their customers better, and establish options for future success. Drawing on cutting-edge research, this course engages participants in a framework for seizing on all the above.
To thrive in a digitized universe, merely tweaking the management practices that led to past success will not be enough. Businesses of all sizes need to evaluate the strategic implications of digital disruption and create a future-proofed digital business model. Many enterprises will need to completely reinvent their organizations and substantially change their processes.
Despite this urgency, leaders often lack a common language to assess the degree of threat that digital disruption poses to their business and—more importantly—the language to create a compelling vision for their enterprise's success.
Drawing on cutting-edge research conducted at MIT Sloan's Center for Information Systems Research (CISR), this course provides a powerful framework for transforming businesses on two dimensions: knowing customers better and optimizing business design.
Course Experience
Through hands-on assessments, exercises, lectures, case studies of high-performing companies, and lively discussions, you will endeavor to answer key questions that will ultimately inform your organization's digitization strategy including:
Which digital business model is best for your enterprise's future?
What is your digital competitive advantage?
How will you innovate to reinvigorate and renew your digital business model?
Do you have the crucial capabilities to reinvent the enterprise?
Do you have the metrics, governance, and leadership to make the transformation happen?
Learn more about the live online experience.
Applying to the Course
We accept enrollments until the offering reaches capacity, at which point we will maintain a waitlist. Many of the courses fill up several weeks in advance, so we advise that you enroll as early as possible to secure your seat.
You can begin the application process by using the red 'Enroll Now' bar at the bottom of the screen.

Health and Safety
See our on campus healthy and safety policies.
Have Questions?
Contact us if you would like to speak with a program director or visit our Frequently Asked Questions page for answers to common questions about our courses.
Upon successful completion of your course, you will earn a certificate of completion from the MIT Sloan School of Management. This course may also count toward MIT Sloan Executive Certificate requirements.
This course will provide you with the:
Tools to think about and communicate your digital business strategy internally
Ability to make decisions about what to focus on next
Critically consider developing important capabilities
At the end of the three days, you will leave with a better understanding of:
Where your enterprise is right now and how well (or poorly) you are positioned for digital transformation
What your business is best at
What your customers want
What level of threat you face from digital disruption
How your business needs to change to mitigate threats and seize opportunities
How to begin to create a compelling vision for your enterprise's success
This course will also equip you with an understanding of:
Four proven business models and three key sources of advantage for the digital era
The difference between "industries" and "ecosystems" and the importance of the latter
What business capabilities your organization needs to strengthen
The role of management and the board in business strategy transformation—and what guardrails leadership requires to keep this transformation on track
The importance of partnerships in creating integrated solutions that solve customer problems (and make your business a destination)
How to measure the success of your business model
Hear from a past participant: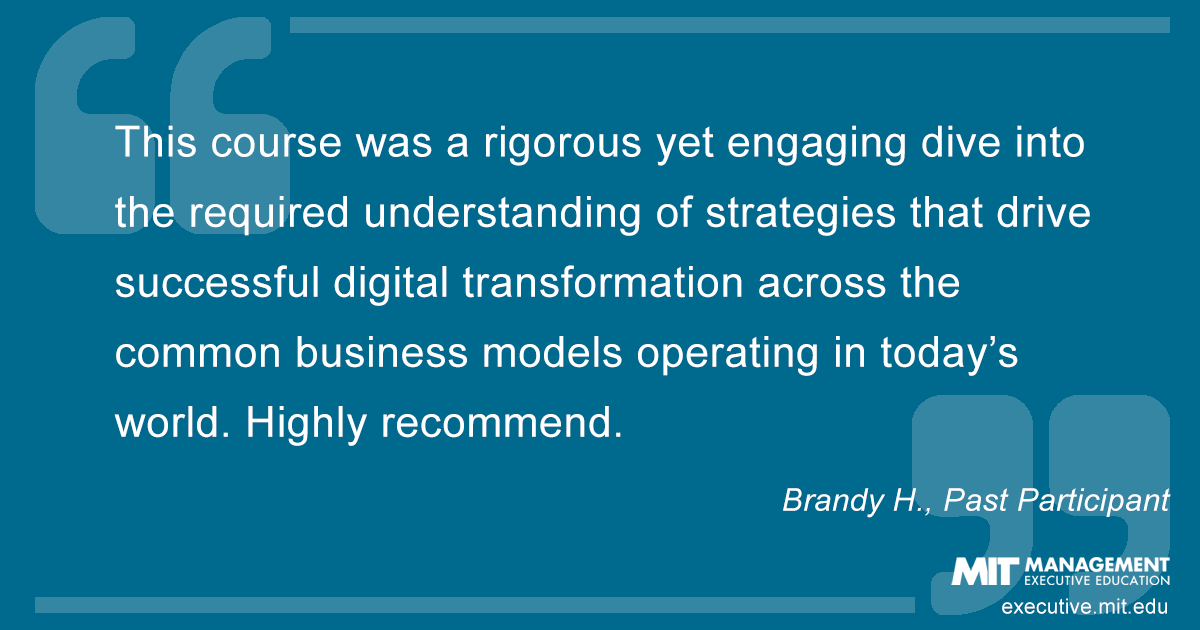 Sample Schedule—Subject to Change
This course is designed for senior executives and managers at division or corporate levels, including:
CEOs
Presidents
VPs and EVPs
CIOs and IT Leaders
COOs
Corporate Planners, Strategists, and Strategic Planners
VPs of Operations
Senior Marketing Executives
Senior Business Development Executives
Senior Project Managers
Product Development Managers
Innovation Officers
We encourage you to join with colleagues or a team from your organization as this will allow you to work together on your digital business plan over the three days. There are also team discounts available for 3 or more.
Hear from a past participant: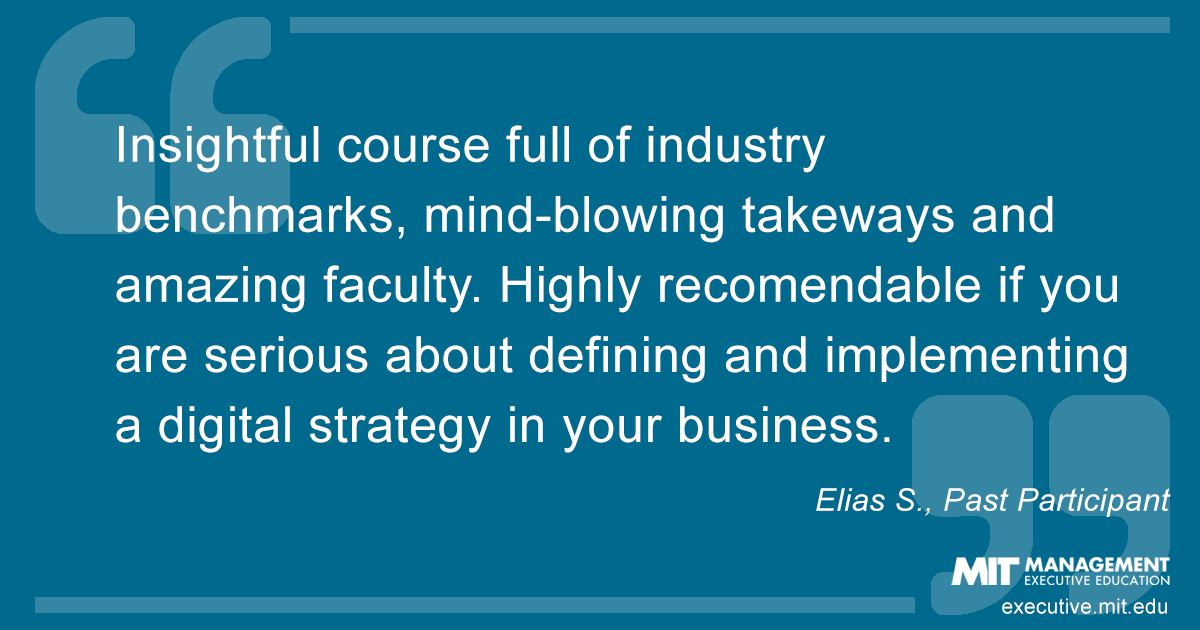 | Course Dates | Format | Location | Duration | Time Commitment | Price |
| --- | --- | --- | --- | --- | --- |
| Jun 15-16, 2023 | In Person | Cambridge, MA | 2 days | 8 hours/day | $4,300 |
| Sep 19-20, 2023 | In Person | Cambridge, MA | 2 days | 8 hours/day | $4,300 |
Tracks
Strategy and Innovation
Digital Business
Certificate Credits
2.0 EEUs
Topics
- Digital Business & IT
- Operations
- Strategy & Innovation
Very knowledgeable and approachable faculty and researchers. Great content and opportunities to network.
—Past Participant Alaide B.