Digital Learning Strategy
| Course Dates | Format | Duration | Time Commitment | Price |
| --- | --- | --- | --- | --- |
| Dec 13-15, 2023 | Live Online | 3 days | 5 hours/day | $3,900 |
| Apr 10-12, 2024 | Live Online | 3 days | 5 hours/day | $4,100 |
Tracks
Strategy and Innovation
Digital Business
Certificate Credits
2.0 EEUs
Topics
- Digital Business & IT
- Strategy & Innovation
Course Highlights
Delivered in our live online format enabling real-time interaction with faculty and global peers
Designed to help you build a blueprint for your enterprise that is flexible, personalized, and scalable, and that leverages transformative technologies
Teaches how to identify key strategic considerations
Explains how to harness current advanced technologies such as machine learning, augmented reality, and robotics in your education strategy
Confers a certificate of course completion from the MIT Sloan School of Management
Featured Content
Why attend Digital Learning Strategy?
Organizations, schools, and government departments of today and tomorrow require an effective digital learning strategy to keep speed with innovation and upskill their workforces. Regardless of your industry, your employees expect smart, connected experiences that fit the way they live and work in a digital world.
Effective digital learning programs strive to match the speed at which the digital economy is changing with organizational adaptability and readiness. This means taking advantage of the advanced technologies that are delivering disruption, including artificial intelligence (AI), machine learning (ML), augmented and virtual reality (AR/VR), and robotics, and harnessing them to build cutting-edge learning approaches that will lead you and your teams to a profitable and sustainable future.
Digital Learning Strategy is designed to help you build a blueprint for your enterprise that is flexible, personalized, and scalable, and that leverages transformative technologies. Through hands-on makerspace activities and under the guidance of industry experts, you will explore AI/ML, AR/VR, and robotics technologies firsthand, giving you the knowledge to begin using them immediately in your digital learning strategy. Faculty will combine the principles that underpin these technologies with recent insights in areas including neuroscience of learning, game theory, and data science.
You will learn how to:
Harness current advanced technologies such as machine learning, augmented reality, and robotics in your education strategy
Identify key strategic considerations such as when to enlist a vendor, speed to market, product lifecycle, pricing strategies, and how to mitigate the risks of advanced technologies effectively
Construct a "learning double helix" where digital and physical learning strategies are mutually supportive and create value that is more than the sum of its parts
Develop a "presentist" mindset (not a "futurist" one) equipped to build, implement, and articulate a digital learning strategy that is futureproofed from technological disruption and provides immediate competitive advantage
Look at digital learning and advanced technologies through a strategic lens that will help you create and deliver new value
Course Experience
Learn more about the live online experience.
Applying to the Course
We accept enrollments until the offering reaches capacity at which point, we will maintain a waitlist. Many of the courses fill up several weeks in advance, so we advise that you enroll as early as possible to secure your seat.
You can begin the application process by using the red 'Enroll Now' bar at the bottom of the screen.
Health and Safety
See our on campus healthy and safety policies.
Have Questions?
Contact us if you would like to speak with a program director or visit our Frequently Asked Questions page for answers to common questions about our courses.
Upon successful completion of your course, you will earn a certificate of completion from the MIT Sloan School of Management. This course may also count toward MIT Sloan Executive Certificate requirements.
In this action-learning based program, we'll help you build the capability and confidence to:
Effectively communicate the value of digital learning strategy to your stakeholders
Build and implement a 4-step model to create your digital learning strategy
Learn where, when, and how to use advanced technology in your learning strategy
Drive learning innovation through hacking, experimenting, and prototyping
Apply the lessons learned from a MIT Sloan digital case study to your enterprise
Manage your digital learning business and end-to-end lifecycle effectively
Lead your digital learning into the future by asking the right strategic questions
Define and implement a team-of-teams approach to digital learning strategy
Create a "double helix" where digital and physical learning strategies combine and complement
Move your team and organization towards a digital learning culture
Exit this program as a digital learning presentist ready to act and do, today
Develop a single learning digital language to share across your enterprise
Hear from a past participant: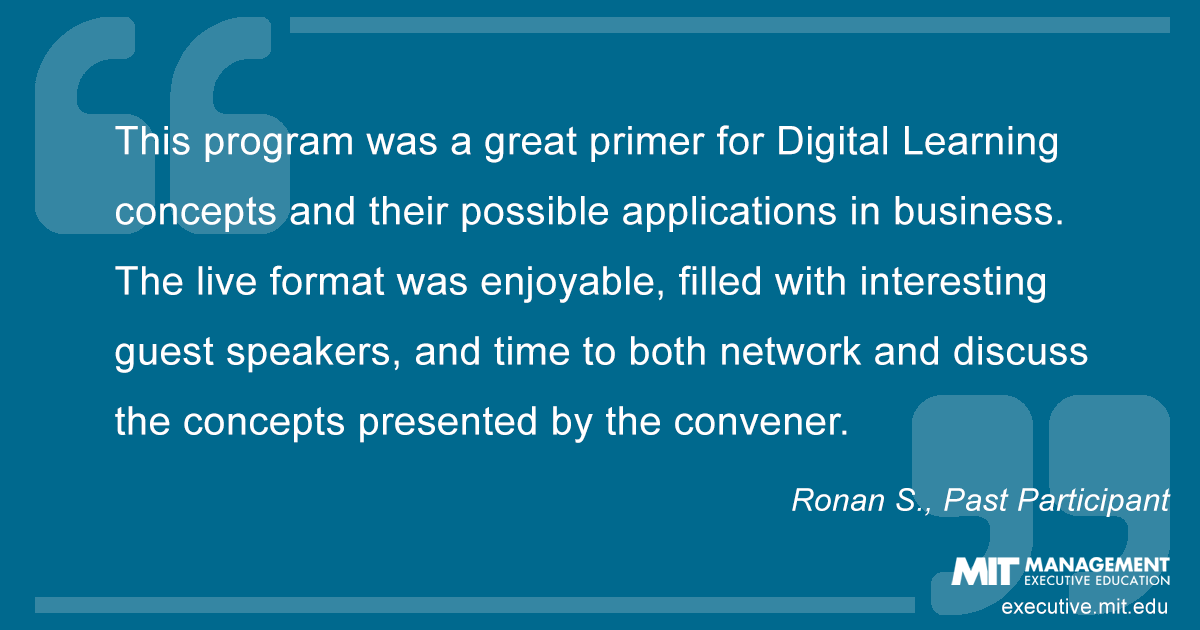 Sample Schedule—Subject to Change
This program is designed to benefit those directly responsible for training and learning in development in:
Fortune 500 companies
Government agencies
Schools
Other large organizations
Managers, leaders and entrepreneurs looking to drive innovation, productivity and growth built upon upskilling of their teams and workforce
Whether you want to become better informed digital learning purchasers or consumer, need to build digital learning into your team's DNA or want your organization to use digital learning more strategically, this program is for you.
Hear from a past participant: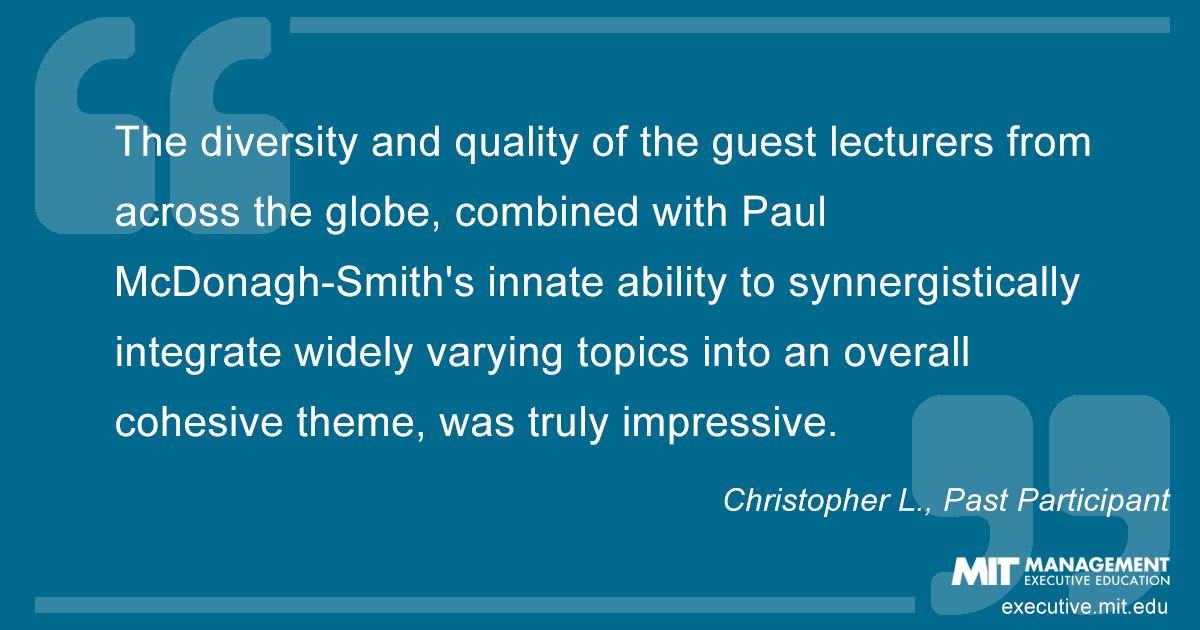 | Course Dates | Format | Duration | Time Commitment | Price |
| --- | --- | --- | --- | --- |
| Dec 13-15, 2023 | Live Online | 3 days | 5 hours/day | $3,900 |
| Apr 10-12, 2024 | Live Online | 3 days | 5 hours/day | $4,100 |
Tracks
Strategy and Innovation
Digital Business
Certificate Credits
2.0 EEUs
Topics
- Digital Business & IT
- Strategy & Innovation
There's a growing gap between the skills we needed yesterday and need tomorrow, an effective digital learning strategy helps you bridge that gap and upskill your workforce at speed. Together in the program, we'll demystify AI, AR, and Robotics to give you the confidence and capability to build transformative technology into your digital learning strategies, today.
—Paul McDonagh-Smith, Digital Capability Leader, MIT Sloan Executive Education
Through this course, my belief became firm it is essential to think about how to design experience that leads to the success of both companies and individuals by combining the human curiosity/collaboration and new technologies that evolves at an exponential rate, and how to leverage them to upskill people. The course involved special guest speakers, who are pioneers in each industry . . . . Despite being remote, with their very energetic beliefs, they move our hearts to a great extent; they encouraged us to be experimental. It was a beautifully woven program.
—Ryohei U