Developing a Leading Edge Operations Strategy
| Course Dates | Format | Duration | Time Commitment | Price |
| --- | --- | --- | --- | --- |
| Apr 9-10, 2024 | Live Online | 2 days | 8 hours/day | $4,500 |
Tracks
Technology and Operations
Certificate Credits
2.0 EEUs
Topics
- Global Economics & Markets
- Operations
- Strategy & Innovation
Course Highlights
Helps participants plan the most efficient use of material resources and manage complicated global networks
Provides analytical, strategic insights into vertical integration, outsourcing, product strategy, supplier management, process technologies, capacity and risk management, and global networks
Confers a certificate of course completion from the MIT Sloan School of Management
Why attend Developing a Leading Edge Operations Strategy?
Enterprises are increasingly complex, with supply chains, manufacturing, and service delivery processes spanning cultures, time zones, geographies, and geopolitical situations. To navigate this intricate world filled with new and different kinds of risk, executives need to know how to make the most efficient use of a company's material, people, and processes; how to manage more complicated global networks; how to optimize service and quality levels of performance; and how to minimize risks yet maintain required capacities.
This program will draw on real issues confronting manufacturing and service companies today, providing strategic frameworks to enable executives to make smart choices so their companies can deliver the high-quality products and services they are committed to providing their customers.
This operations management course offers unique, MIT-developed approaches to business operations strategy based on best-practice research conducted among the world's leading companies. The program helps participants plan the most efficient use of material resources and manage complicated global networks. It also offers analytical, strategic insights into vertical integration, outsourcing, product strategy, supplier management, process technologies, capacity and risk management, and global networks.
Course Experience
Learn more about the live online experience.
Applying to the Course
We accept enrollments until the offering reaches capacity at which point we will maintain a waitlist. Many of the courses fill up several weeks in advance, so we advise that you enroll as early as possible to secure your seat.
You can begin the application process by using the red 'Enroll Now' bar at the bottom of the screen.
Have Questions?
Contact us if you would like to speak with a program director or visit our Frequently Asked Questions page for answers to common questions about our courses.
Many participants attend this operations strategy program along with Supply Chain Strategy and Management.
Upon successful completion of your course, you will earn a certificate of completion from the MIT Sloan School of Management. This course may also count toward MIT Sloan Executive Certificate requirements.
In this course, senior managers will learn new approaches to operations strategy that were developed at MIT and based on best-practice research conducted among the world's leading service and manufacturing companies.
Participants will gain an analytic view of operations and strategic insights into:
Vertical integration and the factors that affect strategic decisions
Process design and process engineering
Integration of people systems with technical systems
Global facility network strategies and the future of supply chain management
Strategic implications of process technologies
Capacity and risk management, including capacity factors, supply and demand management
Outsourcing, supplier power, and trends in supplier management
Hear from a past participant: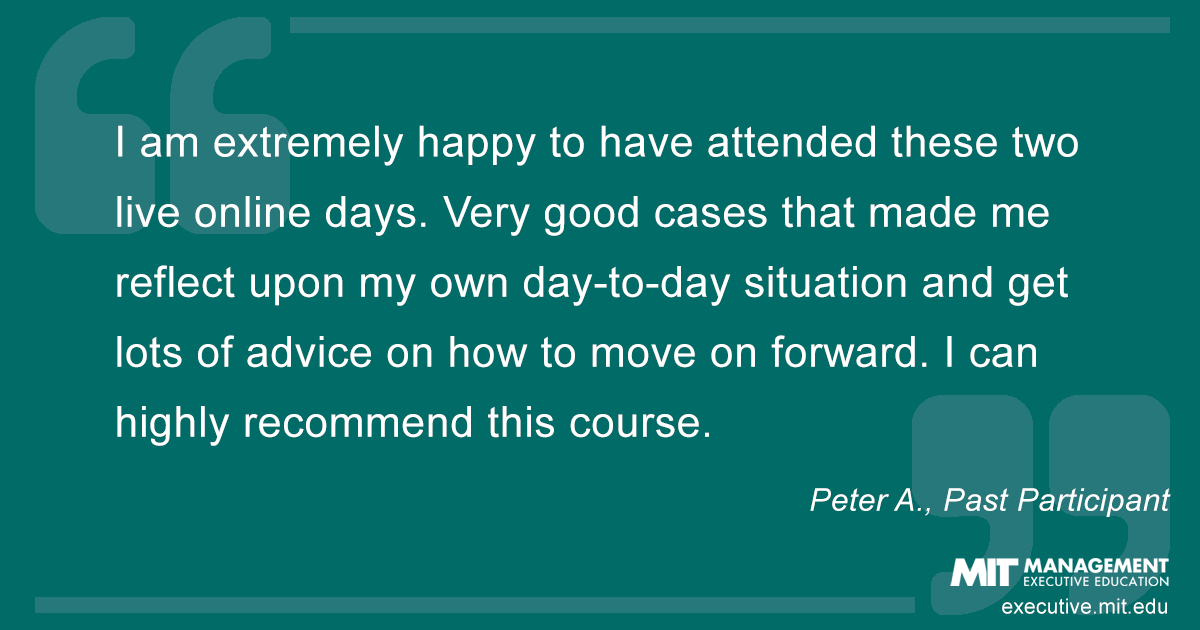 Sample Schedule—Subject to Change
This program is best suited for senior managers from manufacturing and service industries who are responsible for developing and executing operations strategy, including:
COOs
Strategic planners
Vice-presidents of business strategy, operations, supply chain management, services, and product development
Operations general managers
Senior project and program executives
Hear from a past participant: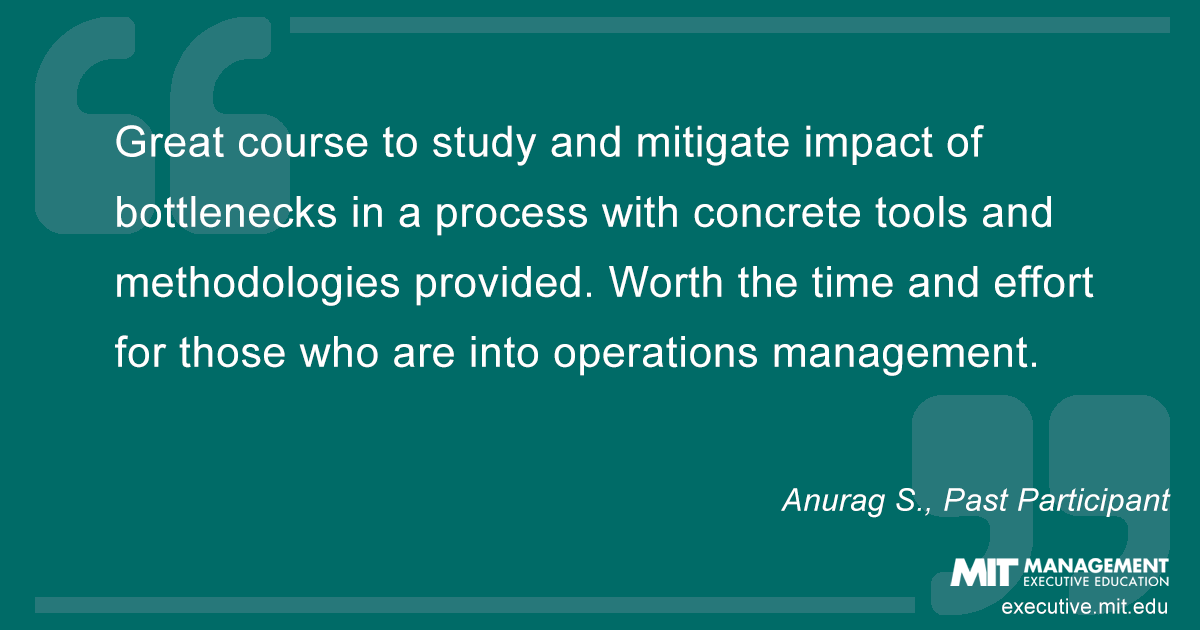 | Course Dates | Format | Duration | Time Commitment | Price |
| --- | --- | --- | --- | --- |
| Apr 9-10, 2024 | Live Online | 2 days | 8 hours/day | $4,500 |
Tracks
Technology and Operations
Certificate Credits
2.0 EEUs
Topics
- Global Economics & Markets
- Operations
- Strategy & Innovation
Excellent course. Speakers kept everyone engaged and gave real world examples. I would highly recommend.
—Past Participant William K.