Creating High Velocity Organizations
Tracks
Management and Leadership
Certificate Credits
2.0 EEUs
Topics
- Operations
- Organizations & Leadership
- Strategy & Innovation
Course Highlights
You will learn through a mix of presentations, case discussions, video dramatizations, small group exercises, and an in-class simulation emphasizing a participatory style to maximize the opportunities for "learning by doing"
Course material is organized into thematic modules designed around the four key principles of building the discovery capability in an organization—smart work design, creative problem solving, continuous knowledge sharing, and developing of discovery skills among employees
You will work on a challenge from your own organization
You will earn a certificate of course completion from the MIT Sloan School of Management
Featured Content
Why attend Creating High Velocity Organizations?
What makes some organizations capable of generating and sustaining high-velocity, unparalleled, relentless improvement and innovation? This program will introduce the fundamental principles by which such acceleration occurs, give examples of those principles in practice, and give participants an opportunity to test how those principles can be applied and translated to their own work.
Some organizations achieve such exceptional levels of performance—time to market, quality, safety, affordability, reliability, dependability and adaptability—that it puts their rivals to shame. Though few in overall number, they exist in manufacturing, high tech, heavy industry, product design and production, and services, such as health care delivery. The select few are capable of generating and sustaining such high-velocity, broad-based, relentless improvement and innovation, that they achieve unparalleled levels of excellence. Learn what drives the success of these companies.
The MIT Edge
Traditional business-school curricula tend to focus on teaching decision-making skills as a way to success. However, many companies today—especially those in relatively new industries—find themselves lacking the information or the experience needed to make the decisions that could determine their future. That is where the leaders' ability not only to think, but also to behave like innovators, becomes vital to the success of the organization. Known for its commitment to innovation, with this program MIT Sloan offers a rare opportunity for participants to learn how to channel their curiosity into innovators' behavior.
Course Experience
Creating High Velocity Organizations employs several teaching techniques:
presentations
case discussions
video dramatizations
in-class simulation emphasizing a participatory style to maximize the opportunities for "learning by doing"
The course material is organized into thematic modules designed around the four key principles of building the dynamic discovery capability in an organization—smart work design, creative problem solving, continuous knowledge sharing, and developing of discovery skills among employees. Each module consists of several sessions, which demonstrate, first, the positive impact through successful application of those key principles, and then provides examples of negative results when those principles were clearly needed but not applied.
Each session is punctuated by facilitated small-group exercises, in which participants can actively apply the ideas and examples offered in class to their own specific, real-life situations.
Learn more about the live online experience.
Learn more about the in-person course experience.

Guest Speaker
Admiral John Richardson, USN (Ret)
Admiral John Richardson served 37 years in the U.S. Navy, completing his service as the Chief of Naval Operations (CNO), the top officer in the Navy. Since retirement, he has joined the boards of several major corporations and other organizations. While in the Navy, Richardson served in the submarine force. He commanded the attack submarine USS HONOLULU in Pearl Harbor, Hawaii, for which he was awarded the Vice Admiral James Bond Stockdale Inspirational Leadership Award. He went on to command at every level of the Navy. Richardson served as the Director of Naval Reactors from 2012 until 2015. After Naval Reactors, he served as the 31st Chief of Naval Operations, the senior office in the Navy, from 2015 until August 2019. Richardson retired from the Navy in August 2019.
Since leaving the Navy, Richardson has joined the Board of Directors for The Boeing Company, Constellation Energy Corporation, and BWX Technologies. He also serves on the Boards of the Woods Hole Oceanographic Institution, the Center for New American Security, and the Navy League of the United States. Richardson graduated from the U.S. Naval Academy in 1982 with a Bachelor of Science in physics. He also holds master's degrees in electrical engineering from the Massachusetts Institute of Technology and Woods Hole Oceanographic Institution, and a master's degree in national security strategy from the National War College.

Applying to the Course
We accept enrollments until the offering reaches capacity at which point we will maintain a waitlist. Many of the courses fill up several weeks in advance, so we advise that you enroll as early as possible to secure your seat.
You can begin the application process by using the red Enroll Now bar at the bottom of the screen.

Register with peace of mind

If you're ready to participate in an in-person course but are concerned about how COVID may impact your travel plans, we understand. That's why we're offering worry-free enrollment. If you need to transfer your enrollment to a future course offering, we will waive the normal fees and issue you a credit that can be used within one year.
COVID-19 policies
See our on-campus Covid-19 policies.
Have Questions?
Contact Us if you would like to speak with a program director or visit our Frequently Asked Questions page for answers to common questions about our courses.
Upon successful completion of your course, you will earn a certificate of completion from the MIT Sloan School of Management. This course may also count toward MIT Sloan Executive Certificate requirements.
This course will enable participants to:
Create an organization where work is done by harnessing the best-known approaches available and signaling the need for new knowledge
Solve problems as they arise and to develop new understanding that prevents the problems from recurring
Multiply the impact of local discoveries by making them useful systemically throughout the organization
Lead an organization where discovery is encouraged, supported, and promoted at all times.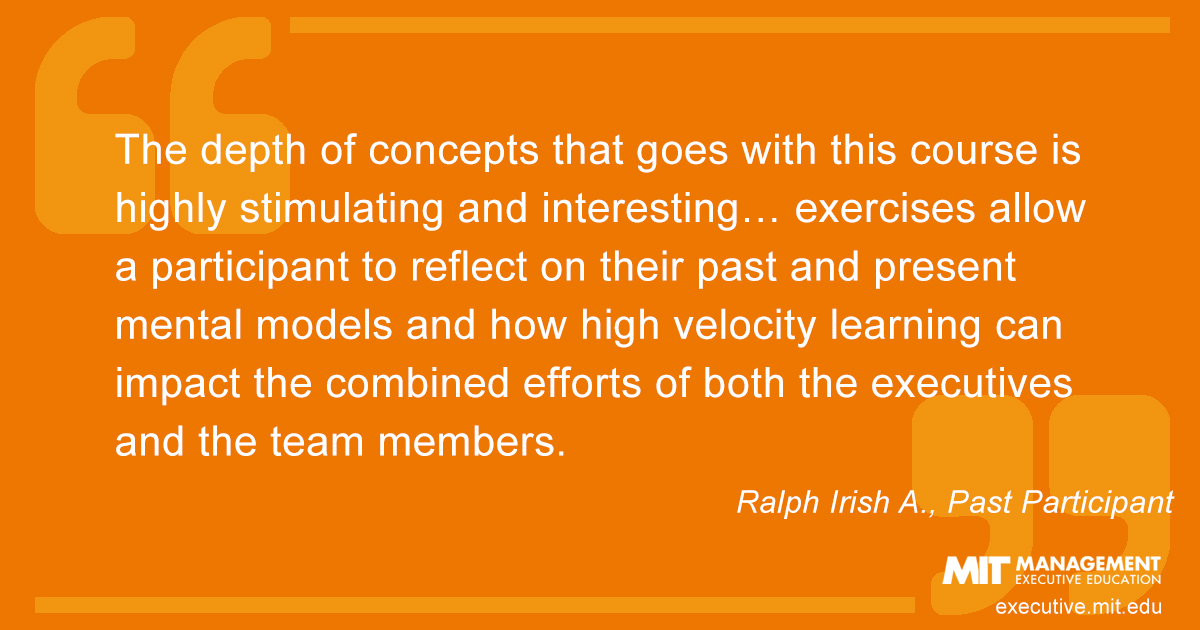 Sample Schedule—Subject to Change
This program is designed for:
managers with responsibility for core products, services, or mission-critical processes
subject matter experts on process excellence
senior leadership, whose understanding and support are vital in developing the discovery capacity within the organization
entrepreneurs in any industry, but especially in new and emerging fields, where there is little or no established knowledge base required for successful decision-driven leadership
To get the highest impact of this program, we recommend that participants attend in groups comprising managers and executives from the organization. Please inquire about group discounts for teams of three or more.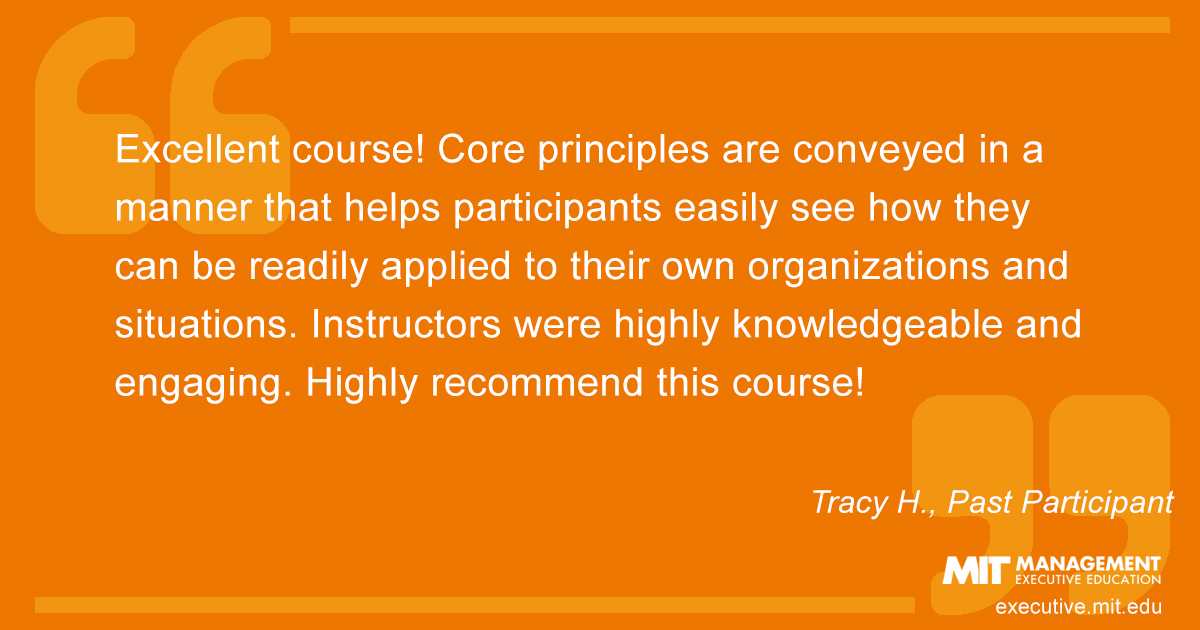 Tracks
Management and Leadership
Certificate Credits
2.0 EEUs
Topics
- Operations
- Organizations & Leadership
- Strategy & Innovation
Great program. Well-structured and well-taught. The material is applicable to all organizations and in all industries!
—Past Participant Yevgeniy P.
Succeeding in Periods of Abrupt Change
In this white paper, Steven Spear and Trent Hone build out a framework for how to navigate unfamiliar conditions, drawing on the US Navy's experience dealing with a confluence of strategic and technological abrupt changes in the early 1900s.
Steven Spear: Don't Be a Zombie Organization
Steven Spear, senior lecturer at MIT Sloan School of Management, discusses how organizations can display either zombie or agile hero qualities. Zombies are all the entertainment rage, mindless brutes in relentless pursuit despite all the obstacles hurled at them. Though individually they are easy targets, they are terrifying when attacking en masse. The outnumbered human heroes nevertheless prevail because they are agile learners, assessing situations and adapting to them, solving problems, to clobber the mindless hoards. Organizations, too, must adapt to their environment or risk becoming zombies.
We're All Start Ups Now: How to Succeed in a Time of Abrupt Change
The post-covid economy will reboot in fits and bursts, and the market will reward the businesses that can adapt to change and deploy their products and services with agility. In this webinar, Dr. Steve Spear discussed how and why a distributed experimental approach can help your organization succeed in the coming weeks and months.
Previous
Next