Business Sustainability Strategy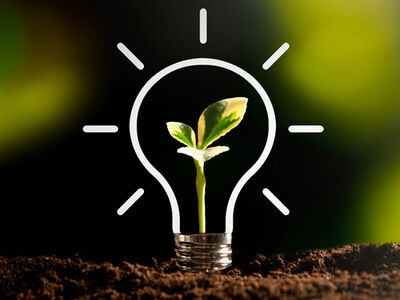 | Course Dates | Format | Duration | Time Commitment | Price |
| --- | --- | --- | --- | --- |
| Mar 6-Apr 23, 2024 | Self-Paced Online (date based) | 6 weeks | 6-8 hours/week | $2,800 |
| May 15-Jul 2, 2024 | Self-Paced Online (date based) | 6 weeks | 6-8 hours/week | $2,800 |
| Jul 24-Sep 10, 2024 | Self-Paced Online (date based) | 6 weeks | 6-8 hours/week | $2,800 |
See More Dates
Tracks
Strategy and Innovation
Certificate Credits
2.0 EEUs
Topics
- Global Economics & Markets
- Strategy & Innovation
- Systems Thinking
Course Highlights
You'll gain insight into how new technologies, strategies, and changes in human behavior can drive innovative sustainability solutions as you gain the skills to optimize your business processes
This course runs over 6 weeks with an estimated 6-8 hours per week of study time
This course is delivered in our Self-Paced Online format which enables you to participate at your own pace within weekly modules
You will learn through a variety of formats including: interactive videos, practice quizzes, presentations, assignments, and discussion forums
You will have access to a Success Adviser who will help you manage your time, and support you with any administrative or technical queries you might have
You will earn a certificate of course completion from the MIT Sloan School of Management
Why attend Business Sustainability Strategy?
For many companies, the topic of sustainability is at the forefront of business agendas. Consumers and stakeholders are demanding greater accountability from organizations, and the regulatory environment is becoming increasingly stringent. However, pursuing the environmental, social, and governance impacts of business is often met with tension. Leaders now need to manage the misconception within business that meeting sustainability goals means compromising profits.
The Business Sustainability Strategy: Technology and Management online short course focuses on navigating these trade-offs and tensions successfully, and explores the process of achieving sustainability through innovation and behavioral change. In this six-week program, you'll learn to optimize your business strategies as you analyze some of the most significant sustainability challenges businesses face today. You'll also tackle a range of diverse topics, including climate change, dematerialization, and the causes of market failures. With insight and guidance from the MIT Sloan faculty and a host of industry experts, you'll walk away with the skills to drive long-lasting, sustainable change within and beyond your organization.
Learn more about the self-paced online experience.
Learn more about the GetSmarter course experience. Learn more about GetSmarter technical requirements.

Applying to the course
Enrollment for this course is done through the GetSmarter website. You can begin the application process by using the red Enroll Now bar at the bottom of the screen and clicking on the "Go to GetSmarter Site" button.
Upon successful completion of your course, you will earn a certificate of completion from the MIT Sloan School of Management. This course may also count toward MIT Sloan Executive Certificate requirements.
In this course you will learn
This online program begins by exploring some of the choices that businesses and society make in the context of social and environmental challenges. You'll examine the impact of these choices as well as sustainability goals using the PROMISE framework — through this holistic lens, you'll learn to understand complex, multifaceted sustainability concerns.
You'll gain insight into how new technologies, strategies, and changes in human behavior can drive innovative sustainability solutions as you gain the skills to optimize your business processes. With focused sustainability management skills, you'll become equipped to oversee and drive sustainability initiatives within and beyond your organization. After completing the program, you'll have an understanding of how to navigate the trade-offs between implementing your sustainability strategies and optimizing business economy.
Sample Schedule—Subject to Change
The course equips decision makers with the strategies and insights to manage business processes responsibly and ethically, while still reaching their organization's financial goals. Participants will gain access to a global network of like-minded leaders and, with a flexible, entirely online approach to learning, will be able to work around their schedules as they acquire the management skills needed to drive sustainability initiatives. This course is designed for:
Business leaders and functional managers who would like to improve their sustainability leadership skills.
Investment professionals who are tasked with delivering socially responsible investments and public sector officials who need a business-centered, cross-sector perspective on sustainability
Those interested in driving the value of sustainability in the marketplace, particularly professionals with existing environmental skills
GetSmarter™, a brand of 2U, Inc., partners with the world's leading universities to select, design and deliver premium online short courses with a data-driven focus on learning gain.
Technology meets academic rigor in our people-mediated model which enables lifelong learners across the globe to obtain industry-relevant skills that are certified by the world's most reputable academic institutions.
| Course Dates | Format | Duration | Time Commitment | Price |
| --- | --- | --- | --- | --- |
| Mar 6-Apr 23, 2024 | Self-Paced Online (date based) | 6 weeks | 6-8 hours/week | $2,800 |
| May 15-Jul 2, 2024 | Self-Paced Online (date based) | 6 weeks | 6-8 hours/week | $2,800 |
| Jul 24-Sep 10, 2024 | Self-Paced Online (date based) | 6 weeks | 6-8 hours/week | $2,800 |
See More Dates
Tracks
Strategy and Innovation
Certificate Credits
2.0 EEUs
Topics
- Global Economics & Markets
- Strategy & Innovation
- Systems Thinking