Business Process Design for Strategic Management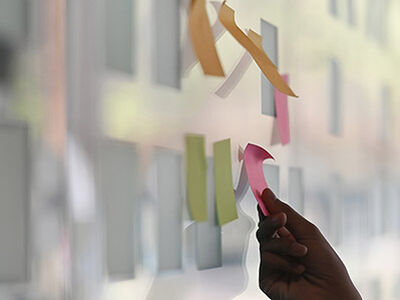 | Course Dates | Format | Duration | Time Commitment | Price |
| --- | --- | --- | --- | --- |
| Feb 14-Apr 2, 2024 | Self-Paced Online (date based) | 6 weeks | 6-8 hours/week | $2,800 |
| May 1-Jun 18, 2024 | Self-Paced Online (date based) | 6 weeks | 6-8 hrs/week | $2,800 |
| Jul 24-Sep 10, 2024 | Self-Paced Online (date based) | 6 weeks | 6-8 hrs/week | $2,800 |
See More Dates
Tracks
Technology and Operations
Certificate Credits
2.0 EEUs
Topics
- Operations
- Organizations & Leadership
- Systems Thinking
Course Highlights
Learn to optimize business processes through Dynamic Work Design, a set of principles and methods for achieving sustainable improvement efforts of any scale, in any industry, and in any function
This course runs over 6 weeks with an estimated 6-8 hours per week of study time
This course is delivered in our Self-Paced Online format which enables you to participate at your own pace within weekly modules
You will learn through a variety of formats including: interactive videos, practice quizzes, presentations, assignments, and discussion forums
You will have access to a Success Adviser who will help you manage your time, and support you with any administrative or technical queries you might have
You will earn a certificate of course completion from the MIT Sloan School of Management
Course snapshot
Why attend Business Process Design for Strategic Management?
Based on our highly-rated Visual Management for Competitive Advantage: MIT's Approach to Efficient and Agile Work program, this six-week online course broadens access to the knowledge of industry thought leaders such as Nelson Repenning and Donald Kieffer, who integrated decades of industry practice and academic investigation to create Dynamic Work Design. The online program offers those who would previously be limited in accessing the on-campus course the opportunity to engage with a portion of the content in a flexible and personalized way, through a highly collaborative and supportive online environment. You'll learn to implement improvement strategies naturally in your everyday work, not from a prescribed list, but from a deep personal understanding of the principles.
Unplanned events happen in all businesses - from communication breakdowns and the rise and fall of costs, to tighter turnaround times and employee disengagement. Use these pain points to lead improvement strategies and innovation in your organization with this online program which will expose you to the principles and development of Dynamic Work Design from the very creators of this sustainable operations improvement methodology. This program aims to teach you how to implement continuous improvement strategies into your organization's work design, as well as change the way you think about your own work and role as a leader within a particular area of improvement.
You'll develop an understanding of how to go about implementing improvement strategies; why improvement strategies usually fail; the psychological reasons behind learning, change, and motivation; principles of good work design; and how to go about problem solving effectively. The program culminates in the identification of issues within your organization and the development of a structured problem-solving document based on the A3 approach to continuous improvement which was first employed at Toyota and successfully adopted by many companies.
Learn more about the self-paced online experience.
Learn more about the GetSmarter course experience. Learn more about GetSmarter technical requirements.

Applying to the course
Enrollment for this course is done through the GetSmarter website. You can begin the application process by using the red Enroll Now bar at the bottom of the screen and clicking on the "Go to GetSmarter Site" button.
Upon successful completion of your course, you will earn a certificate of completion from the MIT Sloan School of Management. This course may also count toward MIT Sloan Executive Certificate requirements.
Participants in this program will be equipped to implement the principles of Dynamic Work Design in order to solve organizational issues and design effective improvement strategies they can implement in their unique contexts.
The program will enable them to
Understand the principles and approaches that drive improvement and apply them in all areas of an organization
Develop inquiry and evidence-based problem-solving skills for themselves and their organizations
Ensure business targets and improvement activities are tightly linked at every level
Experience the benefit of increased employee engagement as a result of well-designed work
Inspire the move from "controlling" to "enabling" in their management styles
If you ever wondered what Dynamic Work Design would look like in one picture...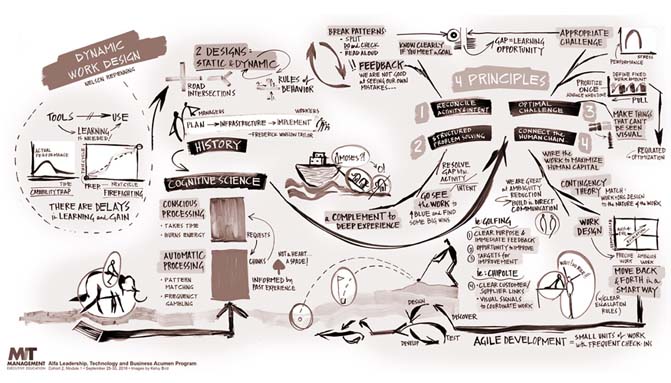 Sample Schedule—Subject to Change
This course is designed to empower executives and managers with the skills they need to refine business processes through an integrated improvement methodology.
Whether you're in healthcare, logistics, urban planning, engineering, financial services, education, NGOs, government — or any other industry that is people-focused — you'll benefit from what this program has to offer. Considering this course instills a mindset focused on "making things better", it would be valuable to anyone in a management position. If you're looking to adopt and lead the principles of improvement for the benefit of your organization, no matter what position you hold, this course is relevant to you.
This program is for you if:
You want insights from industry leaders you can use to discover opportunities for improvement across all areas of your organization
You want to become an enabler by leveraging the relationship between smart work design and the employee engagement that follows
You're driven to earn a certificate of completion from a top-tier university as recognition of your skills and knowledge in the field
We do not recommend this program to past participants of Visual Management for Competitive Advantage: MIT's Approach to Efficient and Agile Work (or Implementing Improvement Strategies) unless you are looking for a refresher.
GetSmarter™, a brand of 2U, Inc., partners with the world's leading universities to select, design and deliver premium online short courses with a data-driven focus on learning gain.
Technology meets academic rigor in our people-mediated model which enables lifelong learners across the globe to obtain industry-relevant skills that are certified by the world's most reputable academic institutions.
| Course Dates | Format | Duration | Time Commitment | Price |
| --- | --- | --- | --- | --- |
| Feb 14-Apr 2, 2024 | Self-Paced Online (date based) | 6 weeks | 6-8 hours/week | $2,800 |
| May 1-Jun 18, 2024 | Self-Paced Online (date based) | 6 weeks | 6-8 hrs/week | $2,800 |
| Jul 24-Sep 10, 2024 | Self-Paced Online (date based) | 6 weeks | 6-8 hrs/week | $2,800 |
See More Dates
Tracks
Technology and Operations
Certificate Credits
2.0 EEUs
Topics
- Operations
- Organizations & Leadership
- Systems Thinking
By far, the best operations course I've ever taken. Revealing concepts of the highest level, of immediate application and totally aligned with a strategy of continuous improvement. 100% recommended.
—Pablo Rodriguez C.