Breakthrough Customer Experience (CX) Strategy
| Course Dates | Format | Location | Duration | Time Commitment | Price |
| --- | --- | --- | --- | --- | --- |
| Dec 13-15, 2023 | Live Online | | 3 days | 5 hours/day | $4,700 |
| Mar 5-7, 2024 | Live Online | | 3 days | 5 hours/day | $4,700 |
| Jul 25-26, 2024 | In Person | Cambridge, MA | 2 days | 8 hours/day | $4,700 |
Tracks
Strategy and Innovation
Digital Business
Certificate Credits
2.0 EEUs
Topics
- Digital Business & IT
- Marketing
- Strategy & Innovation
Course Highlights
Delivered in our live online format enabling real-time interaction with faculty and global peers
Applies a behavioral science foundation to help you develop breakthrough digital customer experience (CX) for your brand that resonates in this highly digitized world
Explores how to create different types of value for customers, leverage artificial intelligence for an enhanced experience, and embrace field experiments for actionable data-based insights
Supplies a varied set of tools to help you enhance the digital customer experience your company provides and transform your organization to optimize an experimental culture
Confers a certificate of course completion from the MIT Sloan School of Management
Featured content
Why attend Breakthrough Customer Experience (CX) Strategy?
Digital transformation has revolutionized the way that humans behave and make decisions. This has greatly impacted competitive strategy as loyalty can be created and destroyed by customer experience. What do these shifts mean for customer experience (CX) strategy? This new CX strategy course uniquely applies a behavioral science foundation to help you develop breakthrough digital CX for your brand that resonates in this highly digitized world.
Whether you are part of a new company leveraging the latest technologies, or a legacy organization feeling the pressures of digital transformation, you need a CX strategy that is the best of two worlds—data-driven but also keenly aware of the human element.
Course experience
In this highly interactive course, Renée Richardson Gosline, MIT Sloan Senior Lecturer, demonstrates how state-of-the-art behavioral economics can be combined with leadership strategy to develop innovative marketing strategy and competitive advantage.
You'll learn how to create different types of value for customers, leverage artificial intelligence for an enhanced experience, and embrace field experiments for actionable data-based insights.
You'll leave this digital CX strategy course with a varied set of tools to help you enhance the digital CX your company provides and transform your organization to optimize an experimental culture.
Gosline will also draw on the research behind her forthcoming book, The Human Algorithm: How humans augment AI, and vice versa, to improve decision-making.

Course content and discussions will explore:
Using data and technology as a tool to craft a superior CX
Applied behavioral "nudges" for better/different choices and decisions
Creating a culture that embraces experimentation—and how to get leaders to buy in
How to design and incorporate experiments into your CX strategy for innovation
Customer-Brand Relationships (CBR) and how to diagnose and build them
Digital collaborations between firms and customers in platforms
Judgment and decision-making in AI/algorithm-mediated landscapes
Digital brand strategy
Learn more about the live online experience.
Applying to the course
We accept enrollments until the offering reaches capacity, at which point we will maintain a waitlist. Many of the courses fill up several weeks in advance, so we advise that you enroll as early as possible to secure your seat.
You can begin the application process by using the red 'Enroll Now' bar at the bottom of the screen.
Have questions?
Contact us if you would like to speak with a program director or visit our Frequently Asked Questions page for answers to common questions about our courses.
Upon successful completion of your course, you will earn a certificate of completion from the MIT Sloan School of Management. This course may also count toward MIT Sloan Executive Certificate requirements.
In this research-driven and practitioner-led program, you'll learn
Why the seat of control in the digital economy resides in exchanges among consumers and brands—and how these exchanges produce shared value
The ways in which digital technologies have accelerated business-to-consumer and consumer-to-consumer exchanges
How to generate new opportunities for value creation by rethinking or creating touch points in the user experience
The basics of experimentation and multi-method data collection strategies for deep consumer insights
How to become a change agent to lead a culture that pairs innovation with customer needs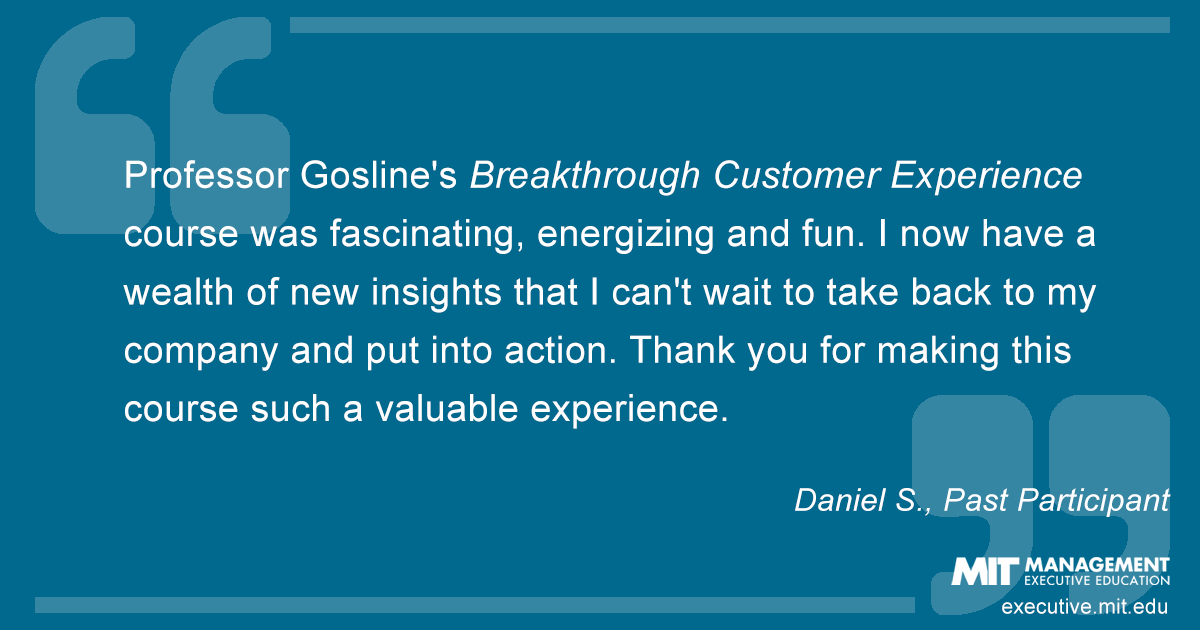 Sample Schedule—Subject to Change
Participants of this program are seeking to update their own skill sets as well as the analytic and experimentation capabilities of their organizations.
Ideal participants include but are not limited to
Individuals and teams charged with strategy or marketing who want to confidently manage digital transformation
Entrepreneurs and executives of start-ups who want to establish first-mover advantage but must conduct quick, effective experiments with limited resources
Executives and managers of legacy firms that want to update their processes without abandoning what made their companies great in the first place—including low-tech companies that may not have a good handle on data or digitization
Representatives of organizations seeking better processes for engaging customers over the long term
This customer experience course is highly relevant across industries and ecosystems—from B2B and B2C to C2C (customers sharing with each other) and C2B (customers collaborating with businesses).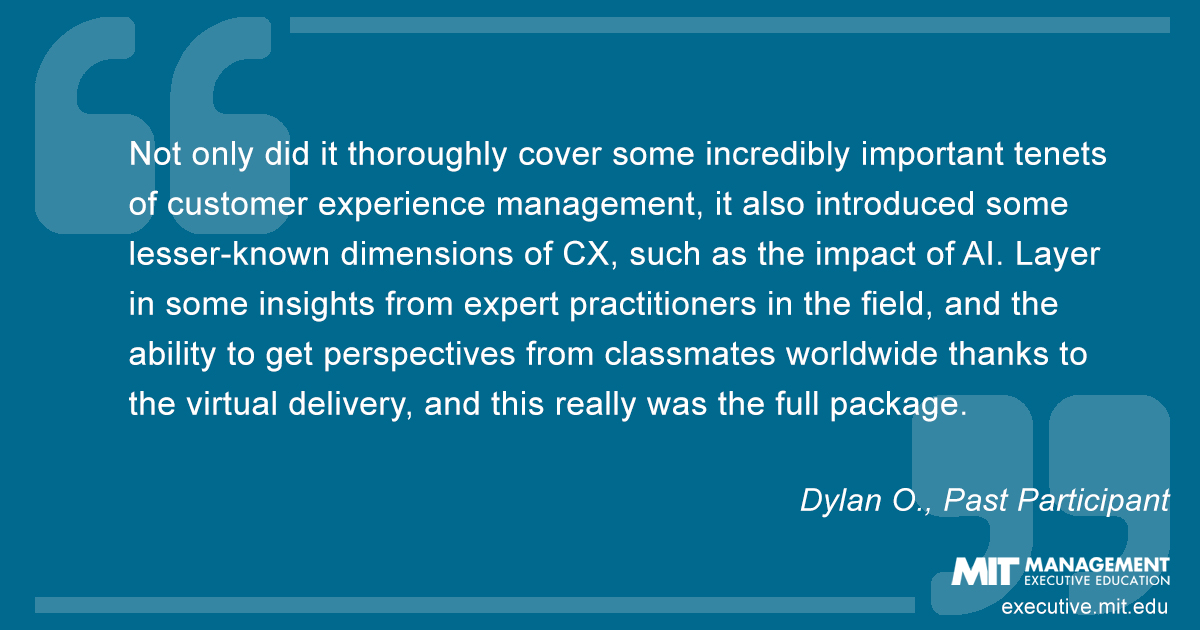 | Course Dates | Format | Location | Duration | Time Commitment | Price |
| --- | --- | --- | --- | --- | --- |
| Dec 13-15, 2023 | Live Online | | 3 days | 5 hours/day | $4,700 |
| Mar 5-7, 2024 | Live Online | | 3 days | 5 hours/day | $4,700 |
| Jul 25-26, 2024 | In Person | Cambridge, MA | 2 days | 8 hours/day | $4,700 |
Tracks
Strategy and Innovation
Digital Business
Certificate Credits
2.0 EEUs
Topics
- Digital Business & IT
- Marketing
- Strategy & Innovation
I was blown away by the quality of the course content, the presentation and the group activities. I'm looking forward to applying my learnings and I know that my customers will appreciate them as well.
—Tom L.