Accelerating Digital Transformation with Algorithmic Business Thinking
| Course Dates | Format | Location | Duration | Time Commitment | Price |
| --- | --- | --- | --- | --- | --- |
| Oct 19-20, 2023 | In Person | Cambridge, MA | 2 days | 8 hours/day | $4,300 |
Tracks
Strategy and Innovation
Digital Business
Certificate Credits
2.0 EEUs
Topics
- Digital Business & IT
- Organizations & Leadership
- Strategy & Innovation
Course Highlights
Choose your format: a self-paced online course delivered over seven weeks or an in-person offering delivered over two days
This course brings together insights from a team of world-renowned MIT Faculty
Highly interactive course using a range of engaging learning media, including live webinars and keynotes, videos, and podcasts – available in both formats
You will take away an Algorithmic Business Thinking "Journal" as a resource to use in your company – available in both formats
You will earn a certificate of course completion from the MIT Sloan School of Management
Course Snapshot
Why attend Accelerating Digital Transformation with Algorithmic Business Thinking (ABT)?
Digital transformation marks a radical rethinking of how technology, people, and processes combine to create and deliver value. This exciting new digital transformation education course introduces the concept of Algorithmic Business Thinking as a toolkit, mindset, and digital language for uniting and augmenting your human and digital capabilities, which will help you discover and uncover new opportunities throughout your digital transformation journey.
To successfully and sustainably accelerate digital transformation, we need to upgrade the way we think about, talk about, and act upon technology in our companies. Leaders need a toolkit for combining human capabilities and advanced technologies to create solutions that are more than the sum of their parts.
Algorithmic Business Thinking, a concept developed here at MIT, is a series of insights and frameworks for business leaders that enable you to:
Accelerate digital transformation and optimize ROI on AI and technology investments
Upskill your workforce and extend your customer base
Create elite digital professionals who speak a common digital language inside and outside of the company
Evolve your digital transformation strategy, leadership, and management approaches
Unite human and machine capabilities to ask and answer business questions in ways that deliver competitive advantage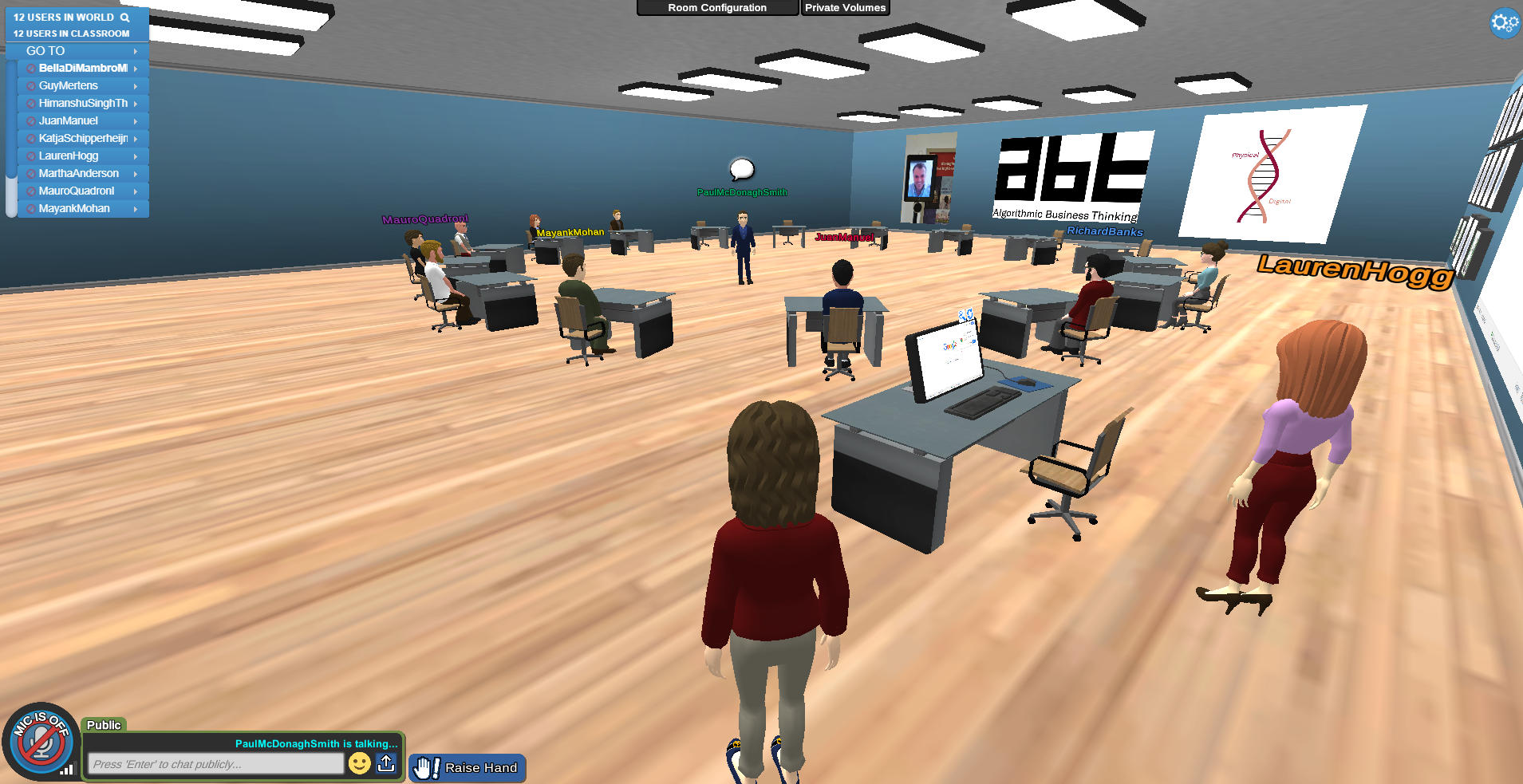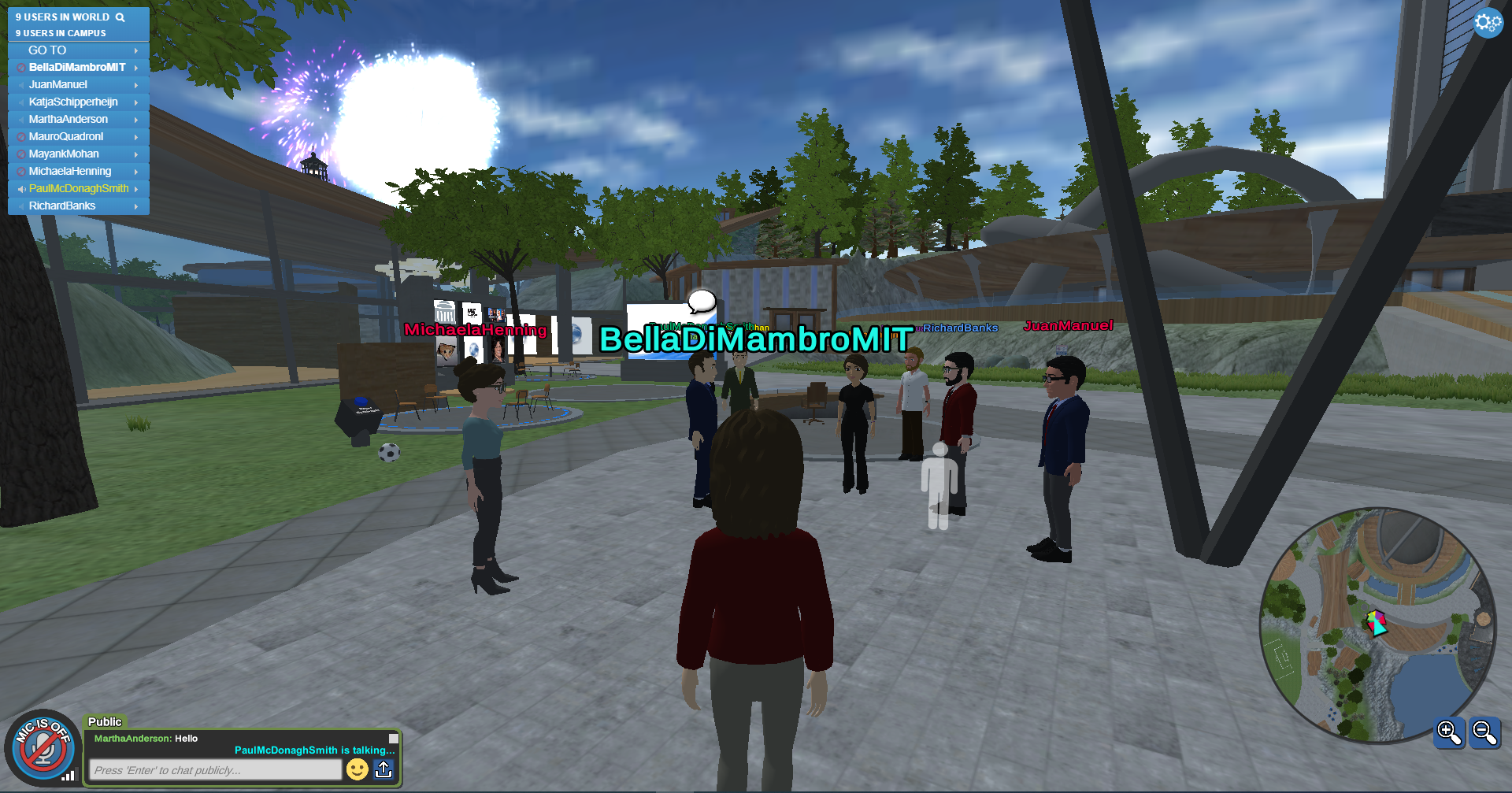 Self-Paced Experience
Algorithmic Business Thinking is delivered over seven weeks
Each module is released on a weekly basis (week one is an Orientation Module)
This course integrates a range of engaging learning media including live webinars, videos, podcasts, faculty office hours in our MIT Sloan virtual world as well as contextual notes, readings and interactive discussion threads
Each module is broken down into thematic units that combine video lessons and engaging learning activities to consume content and practice applying it
Throughout the program you will be supported by your dedicated MIT Sloan Digital Learning Facilitator Team. This team will guide you through your course experience and be a contact point for any questions you may have
In the self-paced format you will:
Spend 4-6 hours per module on learning related activities
Experience a broad range of digital content: video lessons, animations, live polls, discussion forums, assignments and application activities
Apply your weekly learning and insights to selected challenges and opportunities in your Algorithmic Business Thinking "Journal" that you will take away from the program as a resource to use in your company
Accelerating Digital Transformation with Algorithmic Business Thinking provides learners with a diverse and engaging learning experience built upon components, including the following:
Access to MIT Sloan 4Dx Virtual Collaboration Center: We recognize the importance of networking with other learners and having access to faculty. We think it's important to be able to collaborate around the key themes, content and context of the learning experience. With this in mind, all participants will be given access to MIT Sloan Executive Education's always open tailored 4Dx Virtual Collaboration Center. Meet with your fellow learners, talk about the program, collaborate on your assignments or simply hang out and share ideas.
Live Townhall keynotes: During modules 1 and 6, the Faculty Director will deliver live townhall sessions in MIT Sloan Executive Education's 4Dx Virtual Collaboration Center. These sessions will be recorded and available for participants to view and revisit during the course.
Office Hours: On the Friday of modules 1, 3, and 5, Faculty Director Paul McDonagh Smith is available for individual, virtual meetings to discuss your questions and ideas.
Program Project: At the close of each content module, you will be invited to complete and submit an assignment related to the key themes of that section of the program. By the end of the program, you will have a robust workbook that you can take away from the course and use with your teams and communities.
Module podcasts: At the end of each module, you can access a downloadable podcast that summarizes the key ideas, insights, and frameworks covered in that module. Each podcast will be 8-12 minutes in length. By the end of the course, you have an hour-long audio executive summary of the course.
In Person Experience
During the in person offering of this course, you will:
Experience immersive hands-on workshops with industry experts
Dive deep into the technology elements for AI, Machine Learning, XR, VR, Blockchain, NFTs, and Robotics
Discover which elements will benefit you strategically and fit your organizational reality
Work in a makerspace environment and experiment with the technology you are learning about
The in-person offering of this course is hands-on and involves the use of headsets. If you need additional accommodation, please reach out to the registration team: execed-registration@mit.edu.
Learn more about the in-person course experience.
Watch a recording of a recent course information session.
MIT's Paul McDonagh-Smith shares information about Accelerating Digital Transformation with Algorithmic Business Thinking in this recently recorded video. Watch now.
Applying to the Course
We accept enrollments until the offering reaches capacity at which point we will maintain a waitlist. Many of the courses fill up several weeks in advance, so we advise that you enroll as early as possible to secure your seat.
You can begin the application process by using the red "Enroll Now" bar at the bottom of the screen.
Please note, you may enroll in the program up to 7 days from the published program start date. If you're still interested in enrolling after the published start day, send us an email to get started.
Health and Safety
See our on campus healthy and safety policies.
Have questions?
Contact Us if you would like to speak with a program director or visit our Frequently Asked Questions page for answers to common questions about our courses.
This digital transformation course brings together insights from a team of world-renowned MIT Faculty. It also provides participants with access to our always open 4Dx virtual environment for office hours with the Faculty Director and for networking opportunities with other learners.
You'll leave this digital transformation course with:
A deeper understanding of advanced technologies, the patterns they share, and the critical human capabilities required to operationalize and integrate them in your company.
The ability to look at challenges and opportunities with an algorithmic mindset that breaks problems down into solvable parts and recombines those parts in a way that makes the best possible use of machines and humans.
An understanding of how to drive digital transformation that generates value now, not just in the unpredictable future.
A certificate of completion from the MIT Sloan School of Management. This course may also count toward MIT Sloan Executive Certificate requirements.
As a participant in this course, you will better understand:
How to recalibrate your human and machine relationship to fit the realities of your teams and company.
The human-centered capabilities essential to digital transformation—and how to leverage machines to augment those capabilities.
How to apply key principles of computer science to a broad range of complex business problems.
You will also benefit from:
Practical examples of algorithmic business thinking in practice and their implications.
Opportunities to practice reading, writing, and improving algorithms with our hands-on activities (no programming experience required).
An introduction to a new digital language that you can speak across your company in all roles and levels.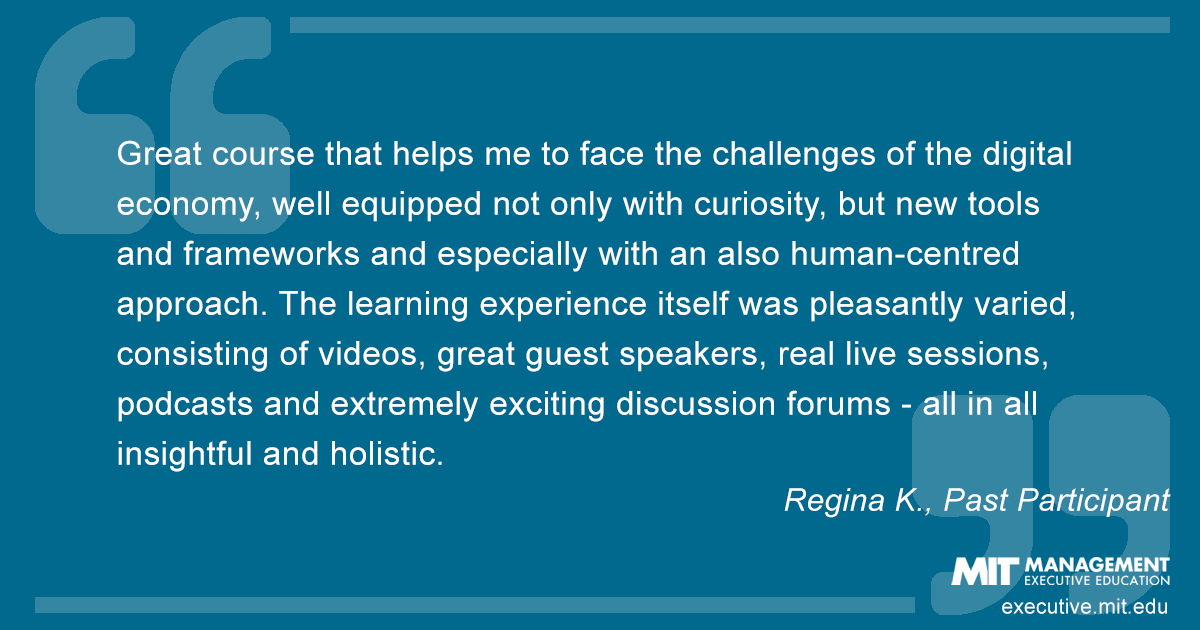 Sample Schedule—Subject to Change
Who should attend Accelerating Digital Transformation with Algorithmic Business Thinking?
This course is designed to help all levels of management act as translators between computer science and business functions in their organization. It is particularly beneficial to those responsible for or participating in the design and delivery of AI and other transformative technology initiatives in any industry. This course is also highly practical for chief learning officers and senior HR leaders and managers responsible for people strategies in their organization.
Regardless of whether you are currently in a technical or non-technical function, if you are looking to support your organization's digital transformation, or want to orient yourself to key principles of the digital economy, this course is for you.
| Course Dates | Format | Location | Duration | Time Commitment | Price |
| --- | --- | --- | --- | --- | --- |
| Oct 19-20, 2023 | In Person | Cambridge, MA | 2 days | 8 hours/day | $4,300 |
Tracks
Strategy and Innovation
Digital Business
Certificate Credits
2.0 EEUs
Topics
- Digital Business & IT
- Organizations & Leadership
- Strategy & Innovation
The mindset, frameworks, and tools covered in ABT are pivotal to leading AI transformational journeys... The frameworks gave me an appreciation for structuring solutions in a way that can be codified. It raised my awareness on how ways of working are evolving from command and control to experiment and iterate, coaching and collaboration. One of my favorite takeaways, to effectively harness advancements in technologies, organizations need to engineer the human centered genes into their organizations and "take the robot out of the human".
—Martha Anderson Sr. Director, Digital Transformation at Walmart