Supply Chain Strategy and Management
| Course Dates | Format | Location | Duration | Time Commitment | Price |
| --- | --- | --- | --- | --- | --- |
| Oct 4-5, 2023 | In Person | Cambridge, MA | 2 days | 8 hours/day | $4,300 |
Tracks
Technology and Operations
Certificate Credits
2.0 EEUs
Topics
- Global Economics & Markets
- Operations
Course Highlights
This course presents innovative strategies and best practices for improving supply chain performance
You will learn a unique MIT framework, using the concept of technology clock speed, for strategically managing and optimizing supply chains
You will gain a deeper understanding of supply chain integration, technology sourcing, make-buy decisions, strategic partnering and outsourcing, and IT and decision-support systems
You will earn a certificate of course completion from the MIT Sloan School of Management
Featured Content
Why attend Supply Chain Strategy and Management?
This supply chain management course presents innovative strategies and best practices for improving supply chain performance. It introduces a unique MIT framework, using the concept of technology clock speed, for strategically managing and optimizing supply chains. Participants gain a deeper understanding of supply chain integration, technology sourcing, make-buy decisions, strategic partnering and outsourcing, and IT and decision-support systems.
Course Experience
Led by world experts, this practice-oriented supply chain management course investigates a robust MIT framework for better managing supply chains in today's rapidly changing markets. Participants will explore:
The next big trend in supply chain strategy, and the key skills required to be successful
How to better structure a company's supply chain strategy
Guidelines for making strategic sourcing and make-buy decisions
How to integrate e-business thinking into supply chain strategy and management
How to blend recent developments in information systems and communication technology with sophisticated decision support systems and create a comprehensive strategy for manufacturing and logistics
"Clock speed benchmarking" — a tool for deriving critical business insights and management lessons from industries
Why all advantages in fast clock speed environments are temporary
Learn more about the live-online experience.
Many participants with interest in supply chain management courses attend this program along with Developing a Leading Edge Operations Strategy.
Applying to the Course
We accept enrollments until the offering reaches capacity at which point, we will maintain a waitlist. Many of the courses fill up several weeks in advance, so we advise that you enroll as early as possible to secure your seat.
You can begin the application process by using the red 'Enroll Now' bar at the bottom of the screen.
Have Questions?
Contact us if you would like to speak with a program director or visit our Frequently Asked Questions page for answers to common questions about our courses.
Upon successful completion of your course, you will earn a certificate of completion from the MIT Sloan School of Management. This course may also count toward MIT Sloan Executive Certificate requirements.
As a participant in this course, you will learn:
The role of supply chain design in business strategy and why, if not linked, your supply chain design can undo a company's entire business strategy
Forces that influence supply chain structure
How to integrate supply chain design with product and process development
How to connect supply chain design with supply chain management and logistics
Supply chains in the age of e-business
Hear from a past participant: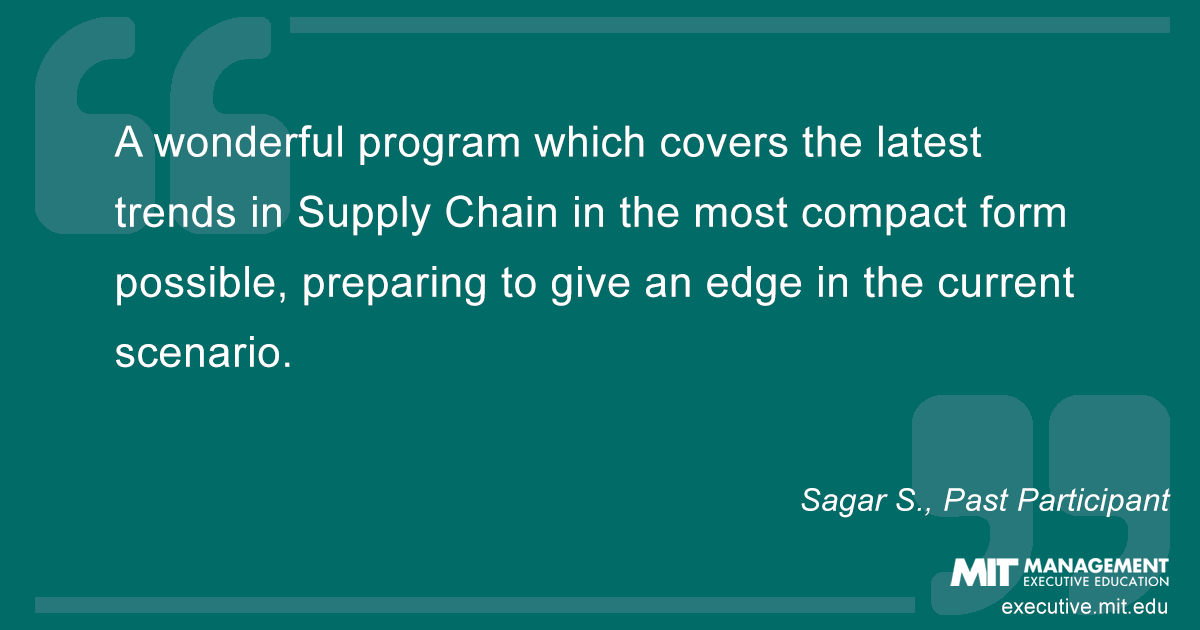 Sample Schedule—Subject to Change
This program has been designed for senior managers who are responsible for the general business and strategic management of product supply and development, including:
VPs of manufacturing, product development, and purchasing and distribution
Senior supply chain managers and project management executives in any company that manufactures or distributes products, including:

Component manufacturers
Contract manufacturing companies
Semi-conductor manufacturers
Equipment manufacturers
Consumer goods manufacturers
Telecom companies
Financial services companies
Retailers who would like to control more of the supply chain
Hear from a past participant: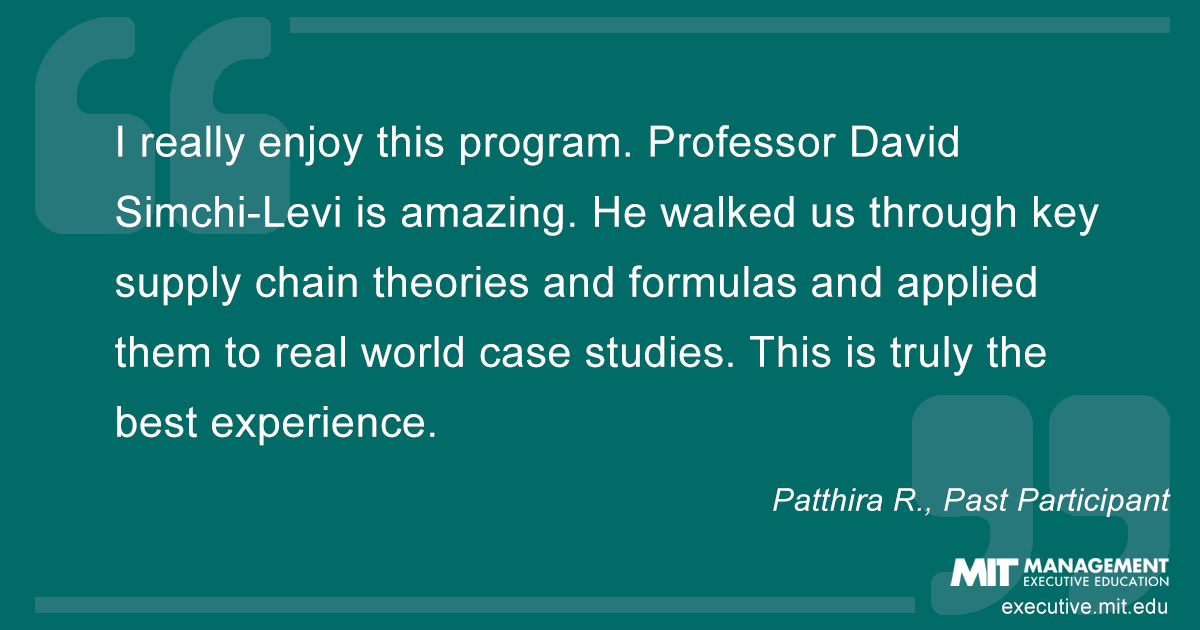 | Course Dates | Format | Location | Duration | Time Commitment | Price |
| --- | --- | --- | --- | --- | --- |
| Oct 4-5, 2023 | In Person | Cambridge, MA | 2 days | 8 hours/day | $4,300 |
Tracks
Technology and Operations
Certificate Credits
2.0 EEUs
Topics
- Global Economics & Markets
- Operations
Outstanding learning experience. Loved the conceptual framework and the quantitative approach for every topic. Found the learning applicable straight away.
—Past Participant Sivakumaran A.