Questions Are the Answer: A Breakthrough Approach to Creative Problem Solving, Innovation, and Change
| Course Dates | Format | Location | Duration | Time Commitment | Price |
| --- | --- | --- | --- | --- | --- |
| Jun 4-5, 2024 | In Person | Cambridge, MA | 2 days | 7 hours/day | $4,900 |
Tracks
Management and Leadership
Certificate Credits
2.0 EEUs
Topics
- Organizations & Leadership
- Strategy & Innovation
Course Highlights
Designed to help executives cultivate deeply inquisitive leadership practices that can lead to breakthrough results
Presents conceptual frameworks and behavioral habits for cultivating an inquiry-driven approach to leadership and life
Invites participants to workshop real challenges and leave with research-based insights and methods for transformation
Facilitates lively discussions and draws on practical applications from interviews with hundreds of business leaders during the past decade
Confers a certificate of course completion from the MIT Sloan School of Management
Featured content
Why attend Questions are the Answer?
What if you could unlock a better answer to your most vexing problem just by changing the question? Talk to the world's most creative problem-solvers and they will often tell you that asking the right questions led them to discover their most valuable innovations and continues to fuel positive change in their companies today.
Take the social entrepreneur who created GoldieBlox, Debbie Sterling, who wondered, "Why are all the great building toys made for boys?" Or, consider Nobel laureate Richard Thaler, who questioned, "Would it change economic theory if we stopped pretending people were rational?" Marc Benioff launched Salesforce with a query, "Why are we still loading and upgrading software when we have the internet?" that created cloud-based software services. And Rod Drury, founder of Xero, routinely asks, "What is the exact opposite of what an incumbent would expect us to do?" to challenge the industry.

Great questions like these have a catalytic quality—that is, they dissolve barriers to creative thinking and channel the pursuit of solutions into new, accelerated pathways. Asking such questions is essential in today's world where globalization, digitization, and disruption push leaders to the edge of uncertainty and force them to figure out what they don't know they don't know – before it's too late. Decades ago, Peter Drucker grasped this truth when wisely warning that the "important and difficult job is never to find the right answers, it is to find the right question. For there are few things as useless, if not dangerous, as the right answer to the wrong question." This is especially true in our times of radical transformation.
This highly interactive course helps executives cultivate deeply inquisitive leadership practices that can lead to breakthrough results and improved problem-solving techniques. Bring a real challenge to workshop and leave with research-based insights and methods for transforming yourself, your teams, and your organization into being more curious, fearless, and innovative.
Course experience
In this problem-solving course, Hal Gregersen delivers unique insights into the behaviors of extraordinary leaders and the unique conditions they created at work and in life to ask catalytic, game-changing questions.
Come ready to make progress on a real challenge you face and leave prepared to lay the foundation for truly catalytic questions to fuel greater success at work, and perhaps in life.
Course discussions and practical applications draw on interviews with several hundred business leaders during the past decade, including research studies conducted specifically for Gregersen's newest book, Questions Are the Answer: A Breakthrough Approach to Your Most Vexing Problems at Work and in Life
Through engaging discussion and active challenge-driven exercises, you will learn conceptual frameworks and behavioral habits for cultivating an inquiry-driven approach to leadership and life
The presented methodologies will also help you overcome the natural challenges of isolation as a senior leader and help you uncover your greatest blind spots
Drawing from the successful approaches of companies like Amazon, ASOS, Patagonia, Pixar, and Zappos, you will learn how to create the special conditions for curiosity, inquiry, and "creative friction" to thrive and to fuel productive change in your organization
Learn more about the live online experience.
Learn more about the in-person experience.
We do not recommend this course if you have already completed Inquiry-Driven Leadership, unless you are seeking a refresher of the content.
Applying to the course
We accept enrollments until the offering reaches capacity, at which point we will maintain a waitlist. Many of the courses fill up several weeks in advance, so we advise that you enroll as early as possible to secure your seat.
You can begin the application process by using the red 'Enroll Now' bar at the bottom of the screen.
Health and Safety
See our on campus healthy and safety policies.
Have questions?
Contact us if you would like to speak with a program director or visit our Frequently Asked Questions page for answers to common questions about our courses.
Upon successful completion of your course, you will earn a certificate of completion from the MIT Sloan School of Management. This course may also count toward MIT Sloan Executive Certificate requirements.
As a participant in this course, you will learn
How to create the unique conditions for catalytic questioning to cause radical shifts in beliefs and behaviors
What behavioral approaches can open a window onto "things you don't know you don't know" – the blind spot of any leader
How to generate greater individual and organizational value from uncomfortable, assumption-challenging experiences
How to become more reflectively quiet and engage the "power of the pause" more often at work and in life
Where, when, and how change-focused CEOs and innovators disrupt and transform their industries by leveraging their questioning capital—a track record of seizing on catalytic questions and seeing them through to impact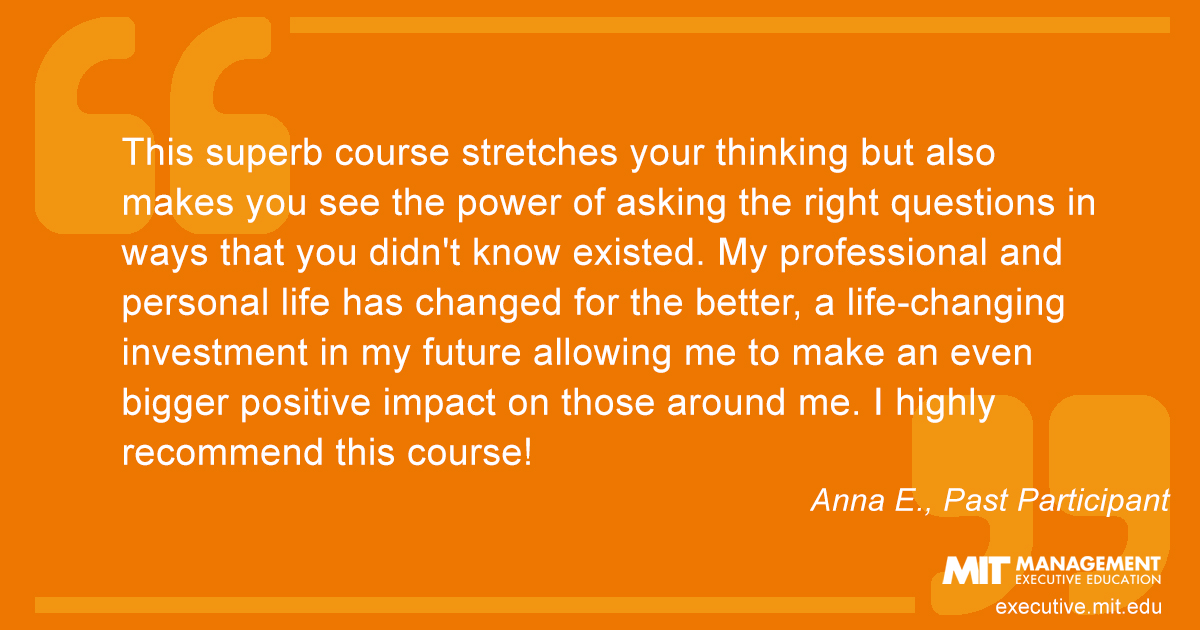 Sample Schedule—Subject to Change
This program is designed for
Individuals seeking to:
Solve big challenges
Lead positive change and disruption
Create a culture of inquiry and creative problem solving in their teams and organization
The course content is applicable to professionals in any role and in any industry, but has been designed with senior managers and executives in mind. If you're ready to make progress on a real challenge you face, confront your potential blind spots as a leader, and practice truly catalytic questioning—all among a diverse group of peers from around the world—then this course is for you.
Prior to the first day of sessions, participants are expected to complete pre-work about their questioning practices that will better prepare them for the learning experience.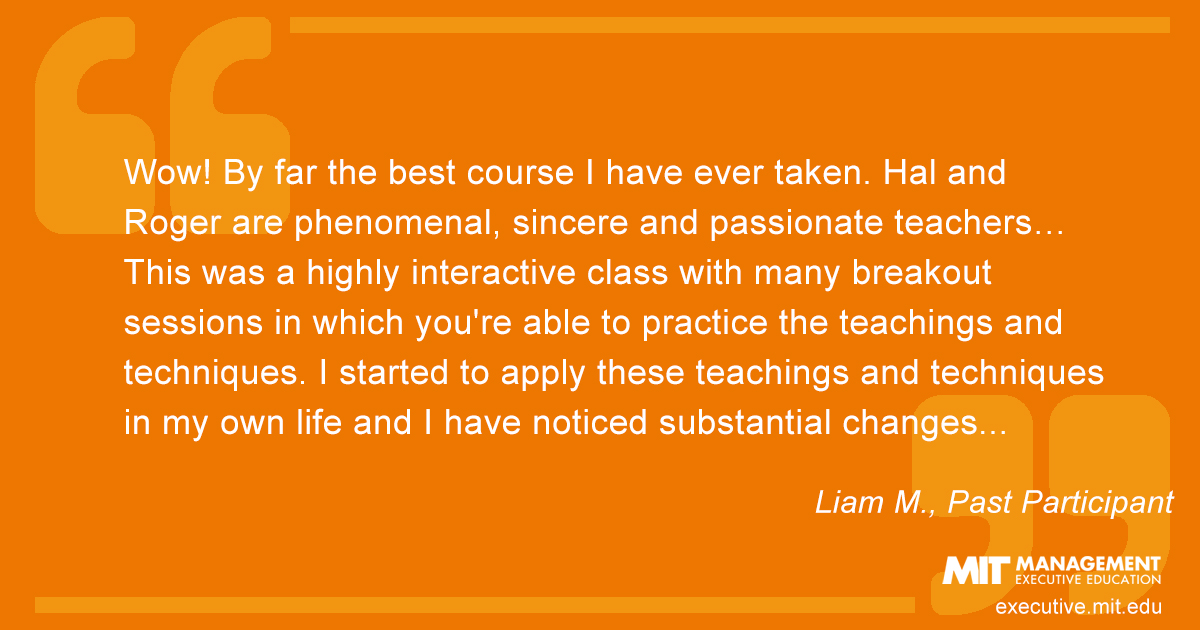 | Course Dates | Format | Location | Duration | Time Commitment | Price |
| --- | --- | --- | --- | --- | --- |
| Jun 4-5, 2024 | In Person | Cambridge, MA | 2 days | 7 hours/day | $4,900 |
Tracks
Management and Leadership
Certificate Credits
2.0 EEUs
Topics
- Organizations & Leadership
- Strategy & Innovation
This course was incredibly insightful in an unexpected way. It really brings you "out of yourself" to think of things from a new perspective, both professionally and personally.
—Kathryn B.