Managing Product Platforms: Delivering Variety and Realizing Synergies
| Course Dates | Format | Duration | Time Commitment | Price |
| --- | --- | --- | --- | --- |
| Apr 22-25, 2024 | Live Online | 4 days | 4 hours/day | $4,300 |
| Nov 18-21, 2024 | Live Online | 4 days | 4 hours/day | $4,300 |
Tracks
Technology and Operations
Certificate Credits
2.0 EEUs
Topics
- Financial Management
- Operations
- Systems Thinking
Course Highlights
Delivered in our live online format enabling real-time interaction with faculty and global peers
Introduces the concept of product platforms or "commonality"—the sharing of components, processes, technologies, interfaces and/or infrastructure across a product family
Exposes participants to a range of strategies, from product platforms, to supply chain platforms, to industry platforms
Offers private, 15-minute consulting sessions with faculty member Bruce Cameron
Confers a certificate of course completion from the MIT Sloan School of Management
Featured content
Why attend Managing Product Platforms?
Companies from Lockheed Martin to GE use product platform strategies to deliver more variety to their customers and compete more effectively. For example, Black and Decker uses shared motors and batteries across a range of power tools. These firms realize quicker new market entry and reduced costs but, to do so, they must orchestrate complex, multi-product development projects.
However, recent research suggests that many firms fail to earn a return on their platform investments. This work has uncovered that many firms face systemic pressure to diverge from their platform sharing. Several cases studied realized less than half of their platform sharing goals. Are these failures the result of a flawed product platform management strategy or poor execution?
This executive business course focuses on helping companies develop strong product platform strategies and execution programs by teaching executives how to understand the managerial levers necessary to operate in complex environments. As a participant in this course, you'll be exposed to a range of platform strategies, from product platform, to supply chain platform, to industry platforms. The course content draws on case examples from a diversity of industries and includes opportunities for you and your peers to share and discuss industry experience.
Course experience
This product platform management course introduces participants to the concept of product platforms, also known as "commonality"—the sharing of components, processes, technologies, interfaces and/or infrastructure across a product family. Successful product platform management software allows companies to develop better products more easily, improve product family planning and lifecycle management, and increase corporate profitability. Learn how you can develop a strong platform strategy that will deliver ROI for your organization.
The course teaches product platform management through a combination of lectures, case studies, breakout sessions, and group problem solving. Case studies covered in the course include GE Healthcare, Lockheed Martin, DG Flugzeubau, Siemens Rail, Joint Strike Fighter, and Google. Topics covered include the strategic marketing of product families, financial evaluation of platform proposals, building incentives for distributed platform execution, structuring development programs, and supply chain platforms.
As part of the live online session, you will also be offered the opportunity to schedule a private 15-minute consulting session with faculty member Bruce Cameron to discuss any individual issues or concerns facing your organization.
Learn more about the live online experience.
Applying to the course
We accept enrollments until the offering reaches capacity, at which point we will maintain a waitlist. Many of the courses fill up several weeks in advance, so we advise that you enroll as early as possible to secure your seat.
You can begin the application process by using the red 'Enroll Now' bar at the bottom of the screen.
Have questions?
Contact us if you would like to speak with a program director or visit our Frequently Asked Questions page for answers to common questions about our courses.
Upon successful completion of your course, you will earn a certificate of completion from the MIT Sloan School of Management. This course may also count toward MIT Sloan Executive Certificate requirements.
As a participant in this course, you will learn
How to analyze the difference between a company-centric platform strategy and a more open "industry platform" strategy such as at Apple, Microsoft, Google, and Facebook. You will analyze the differences in intent between product platforms and industry platforms and identify the boundaries of such strategies. You will also learn how to identify the management levers related to your supply chain as a function of the boundaries of your platform strategy and your firm's cost structure.

At the conclusion of this course, you will have a clear understanding of
Named platform strategies and past corporate examples
Criteria for evaluating market conditions for which the strategy is or isn't appropriate
Management levers for use in complex programs
Key performance indicators for successful platform development
Benchmark savings and investment sizing data from other firms
Knowledge and examples of failure modes from past platform efforts
The differences among industry platforms, supply chain platforms, and product platforms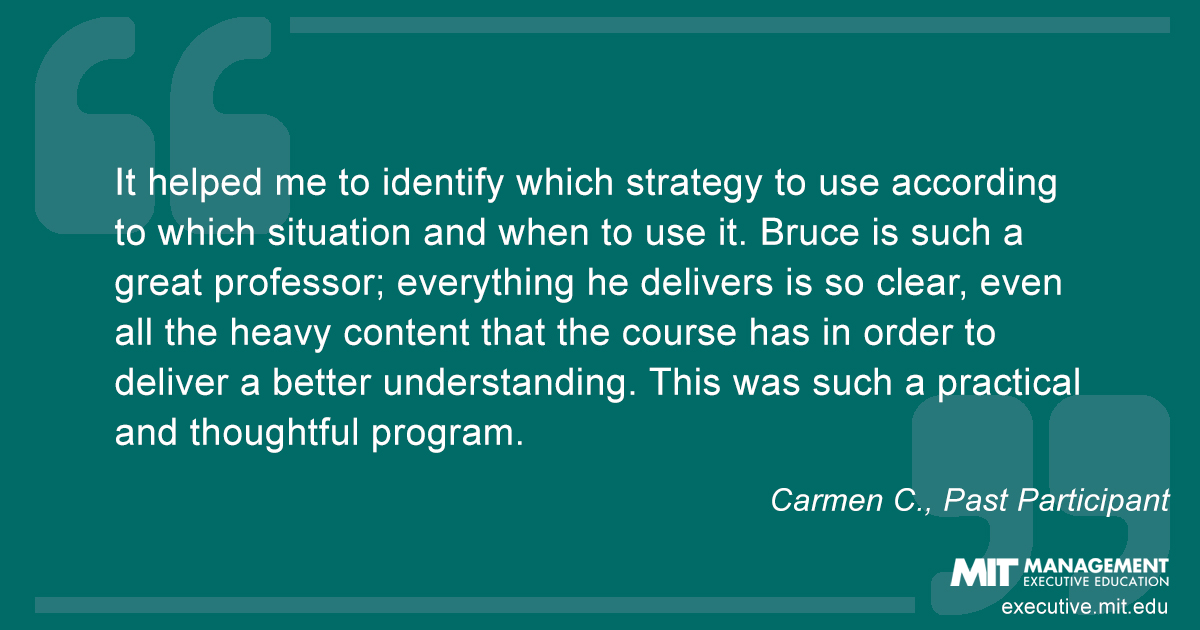 Sample Schedule—Subject to Change
This executive business course is designed primarily for leaders in strategy, marketing, product development, procurement, and supply chain management roles.
It is of particular benefit to executives from technology-driven industries with engineered products and services such as:
Automotive, high tech, manufacturing, railway, heavy vehicles, aerospace, defense, electronics, machinery, healthcare
OEMs and suppliers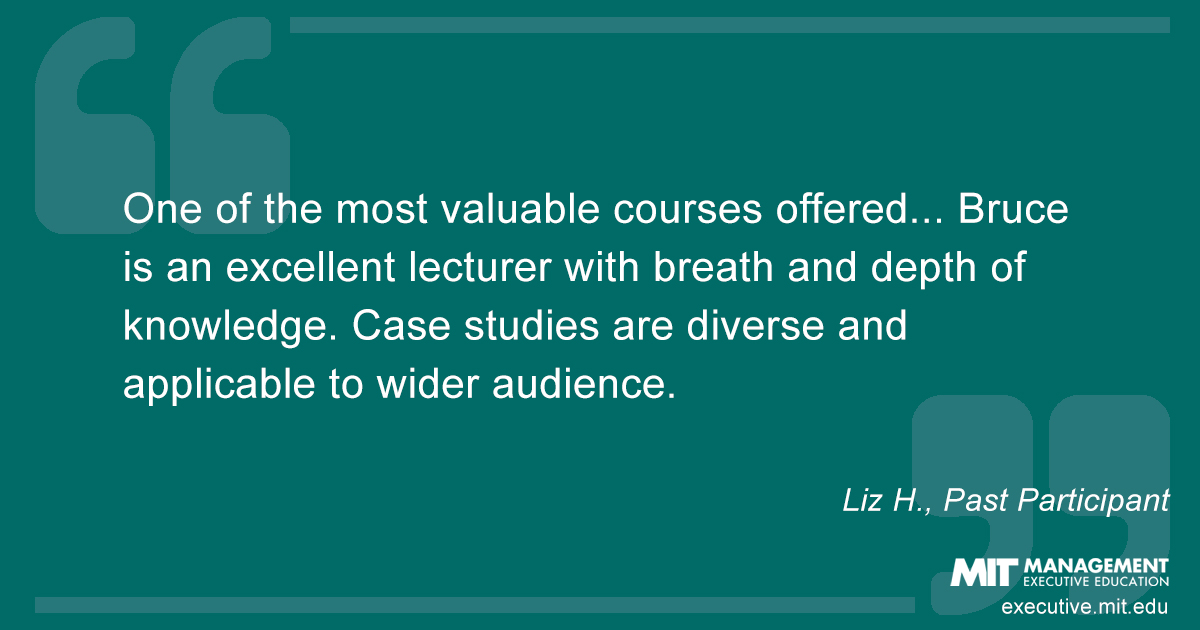 | Course Dates | Format | Duration | Time Commitment | Price |
| --- | --- | --- | --- | --- |
| Apr 22-25, 2024 | Live Online | 4 days | 4 hours/day | $4,300 |
| Nov 18-21, 2024 | Live Online | 4 days | 4 hours/day | $4,300 |
Tracks
Technology and Operations
Certificate Credits
2.0 EEUs
Topics
- Financial Management
- Operations
- Systems Thinking
A well-structured program providing hands-on application of platform management knowledge and immediately actionable take-aways. The eight platform strategy decisions framework readily illuminates strategy gaps and the management levers provide guidance for management controls and incentives. Highly recommended for anyone undertaking or considering a product platforming initiative!
—Christopher B.
This was a fantastic program indeed. Both the teacher and the support team found a way to overcome the hurdles inherent to the digital format we needed to stick to. On a different note, the co-learners alone would have justified joining the course. Every break-out session was full with interesting discussions that made time really fly. A learning opportunity not to be missed.
—Manuel C.