Essential IT for Non-IT Executives
| Course Dates | Format | Location | Duration | Time Commitment | Price |
| --- | --- | --- | --- | --- | --- |
| Aug 6-7, 2024 | In Person | Cambridge, MA | 2 days | 8 hours/day | $4,500 |
Certificate Credits
2.0 EEUs
Topics
- Digital Business & IT
- Operations
- Strategy & Innovation
Course Highlights
If you're a non-technical senior business manager, this course will help you work with, oversee, and generate value from IT
You will develop a shared language you can use when speaking with your company's IT professionals
You will participate in small group discussions, examine case studies and models, and leave with valuable frameworks
You will earn a certificate of course completion from the MIT Sloan School of Management
Featured content
Why attend Essential IT for Non-IT Executives?
Do you feel as though everything regarding IT takes too long and costs too much? Do you lack the language and instincts to make good decisions regarding IT? Is your company falling behind the competition in your use of technology?
For non-technical business leaders and corporate strategists, IT can be a source of much frustration. In many companies, the relationship between IT departments and business leaders is like a troubled marriage—miscommunication is rife, leaving executives struggling to improve the situation. This course is intended to help organizations develop a language shared by managers from various backgrounds and areas of expertise, so they can work together efficiently and productively, propelling the company toward future success.
Essential IT for Non-IT Executives offers essential IT management training to help non-technical senior business managers work with, oversee, and generate value from IT. Drawing on MIT Sloan research, faculty present strategies for instituting a working relationship between IT managers and business managers based on transparency—clear communication about IT performance and decision processes.
The program is not meant to make an IT specialist out of every manager, but to make every manager confident in resolving IT issues and working with IT staff to make better decisions and to deliver better process change.
Course experience
You will participate in small group discussions, examine case studies and models, and leave with valuable frameworks.
Learn more about the in-person course experience.
Learn more about the live-online course experience.
Applying to the course
We accept enrollments until the offering reaches capacity at which point we will maintain a waitlist. Many of the courses fill up several weeks in advance, so we advise that you enroll as early as possible to secure your seat.
You can begin the application process by using the red Enroll Now bar at the bottom of the screen.
Health and Safety
See our on campus healthy and safety policies.

Have questions?
Contact Us if you would like to speak with a program director or visit our Frequently Asked Questions page for answers to common questions about our courses.
Upon successful completion of your course, you will earn a certificate of completion from the MIT Sloan School of Management. This course may also count toward MIT Sloan Executive Certificate requirements.
As a participant in this course, you will learn
Participants in this program will learn where IT is going, where it fits into their organizations, and how to govern it well. Managers will walk away thinking differently, being able to talk differently with the company's IT professionals, and armed with real-life examples they can use to adjust and improve their organizational processes. Namely:
How to design processes to use IT better
How to work with IT people to make better decisions
How to drive transformational change throughout the organization
Key areas of discussion will include
Governance: Effective IT management requires active involvement from both business and IT managers. A firm understanding of roles and responsibilities for specific decisions will help minimize potential areas of conflict.
Discipline: IT cannot be everything to everybody. It is essential to set realistic goals and to manage everyone's expectations throughout any IT-related initiative. Discipline is essential in getting business value from IT.
Organizational Architecture: A well-managed, standardized platform is the foundation of IT effectiveness, risk management, and agility.
Transparency:Transparency is key to better decision-making and business value from IT. Managers should identify specific issues a company needs to solve through IT, define and follow assigned milestones, and keep close track of success metrics.
People and Culture: IT is more than just a technology challenge. Don't forget the people and culture. Simply understanding the vocabulary and knowing how and whom to ask IT-related questions can help non-IT managers make great strides toward organizational change.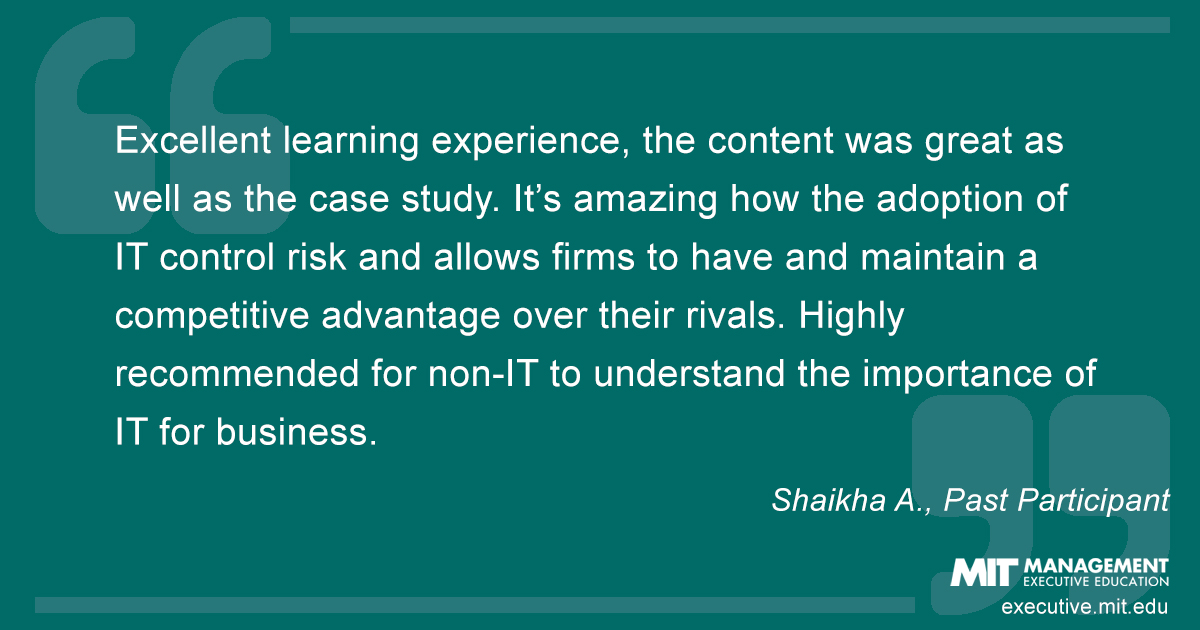 Sample Schedule—Subject to Change
This program is designed for line managers and corporate strategists who want a better handle on their role in IT oversight and management. The material is especially relevant for non-technical managers with IT responsibilities. In turn, IT managers will gain a better perspective on how to work productively with the company's senior executives.
We strongly encourage participants to attend this program in tandem or as teams of IT and non-IT managers. Away from the habitual patterns of everyday work, colleagues learn to collaborate in ways they've never thought possible. Learn about team discounts.

Past participants have included
Senior managers at the division or corporate level
CEOs
Corporate and strategic planners
Presidents
EVPs
COOs
VPs of operations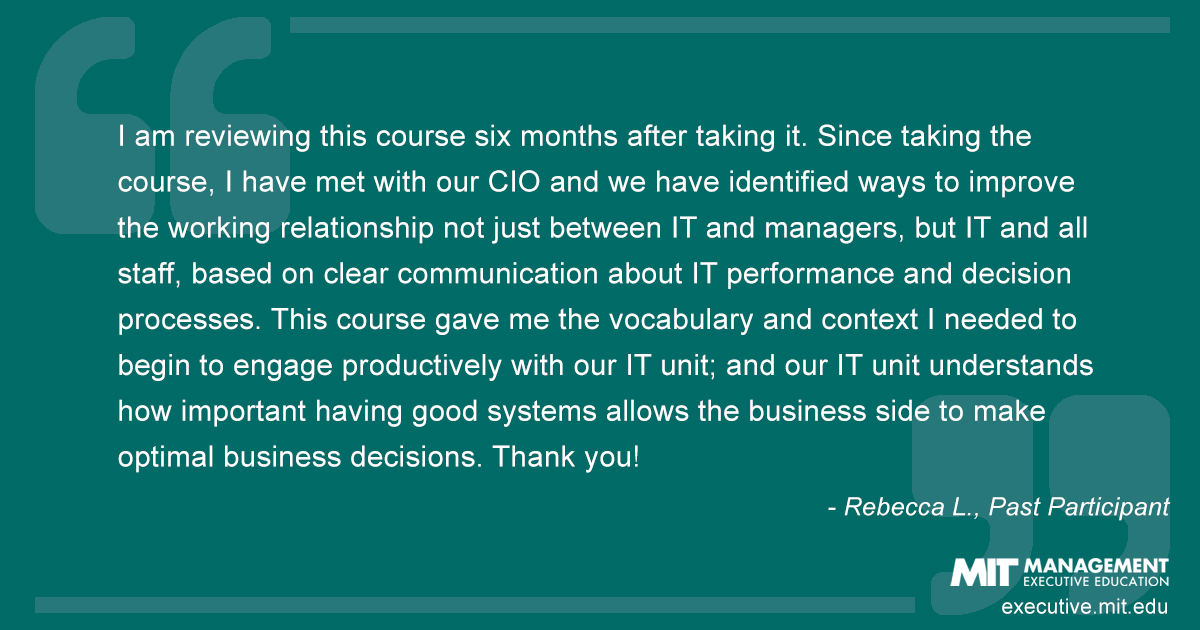 | Course Dates | Format | Location | Duration | Time Commitment | Price |
| --- | --- | --- | --- | --- | --- |
| Aug 6-7, 2024 | In Person | Cambridge, MA | 2 days | 8 hours/day | $4,500 |
Certificate Credits
2.0 EEUs
Topics
- Digital Business & IT
- Operations
- Strategy & Innovation
Great program, practical and applicable. Sparks curiosity and gives you tools needed to understand the IT value framework and how to position IT as an enabler of business.
—Rocio V.
Excellent learning experience, the content was great as well as the case study. It's amazing how the adoption of IT control risk and allows firms to have and maintain a competitive advantage over their rivals. Highly recommended for non- IT to understand the importance of IT for business.
—Shaikha Al N.