Entrepreneurship Development Program
Tracks
Management and Leadership
Certificate Credits
5.0 EEUs
Topics
- Entrepreneurship
- Financial Management
- Strategy & Innovation
Course Highlights:
Week-long in-person course on the MIT Sloan campus
Networking with an international group of peers from various backgrounds
Highly interactive and fun experience featuring teamwork, feedback from coaches, project pitches to a panel of judges, and engagement with the MIT ecosystem
Learn the 24-step Disciplined Entrepreneurship process created by Bill Aulet, Faculty Director of the program
You will earn a certificate of course completion from the MIT Sloan School of Management
Course snapshot:
Why attend the Entrepreneurship Development Program (EDP)?
Drawing from the vast culture of innovation and entrepreneurship at MIT, this unique entrepreneurship course introduces participants to MIT's entrepreneurial education programs, technology transfer system, and global entrepreneurial network. It covers the entire venture creation process, from generating ideas to building viable global businesses, with a special emphasis on the nurturing roles of corporations, universities, governments, and foundations.
This program leverages MIT's culture of high-tech entrepreneurship to help entrepreneurs, corporate venturing executives, startup companies, and others involved in entrepreneurial environments learn what they need to develop ideas into successful businesses, and how to increase entrepreneurial opportunities in their corporations, institutions, and regions.
The EDP experience:
Through lectures by senior MIT faculty, visits to local startup companies, and live case studies with successful entrepreneurs, participants will be exposed to the content, context, and contacts that enable entrepreneurs to design and launch successful new ventures based on innovative technologies. Specially designed team projects give participants hands-on training and practical experience developing a business plan, while networking events bring participants together with members of MIT's entrepreneurial community.
Learn more about the in-person course experience.
Applying to the course:
The January 2022 session of this course has been cancelled. Please sign up to receive notifications about the next session of the course at the "Request course information" form to the right.
Have questions?:
Watch this recently recorded information session about the program and our related course, Disciplined Entrepreneurship (live online) here.
Contact Us if you would like to speak with a program director or visit our Frequently Asked Questions page for answers to common questions about our courses.
COVID-19 policies:
See our on campus Covid-19 policies.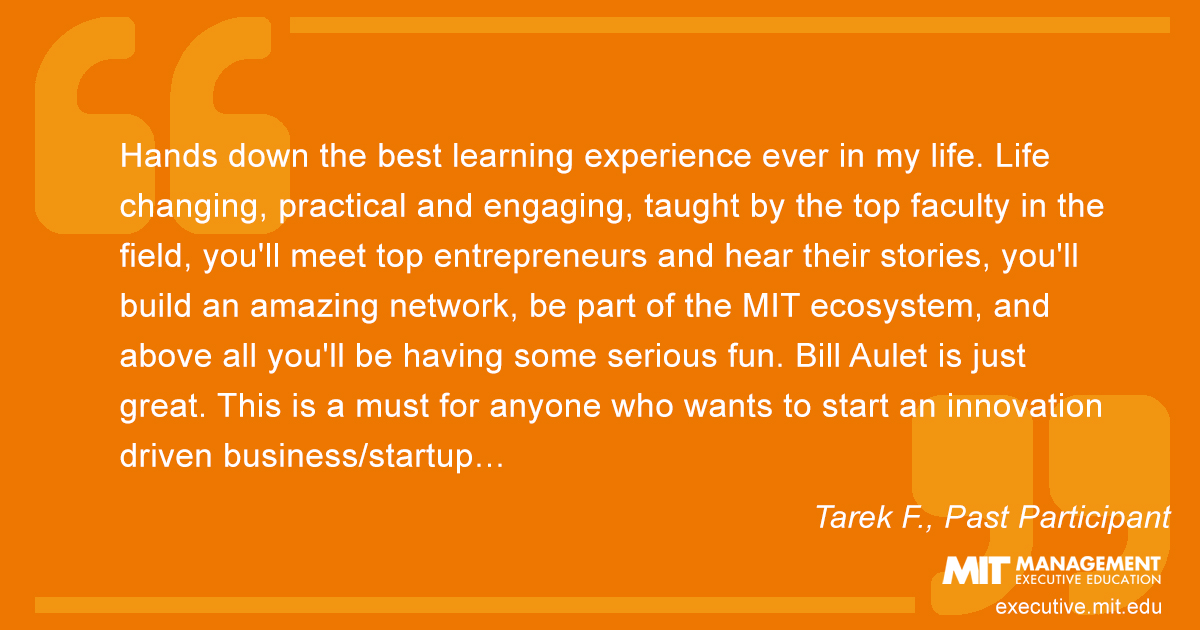 Upon successful completion of your course, you will earn a certificate of completion from the MIT Sloan School of Management. This course may also count toward MIT Sloan Executive Certificate requirements.
You'll leave this course able to:
Create, identify, and evaluate new venture opportunities
Interpret customer needs and quantify the value proposition
Start and build a successful technology-based company
Understand how the process of starting new ventures may vary geographically and culturally
Develop winning business plans
Scale startups to be globally successful
Navigate the venture capital investment process
Obtain feedback on personal entrepreneurship skills
Enhance and expand their networks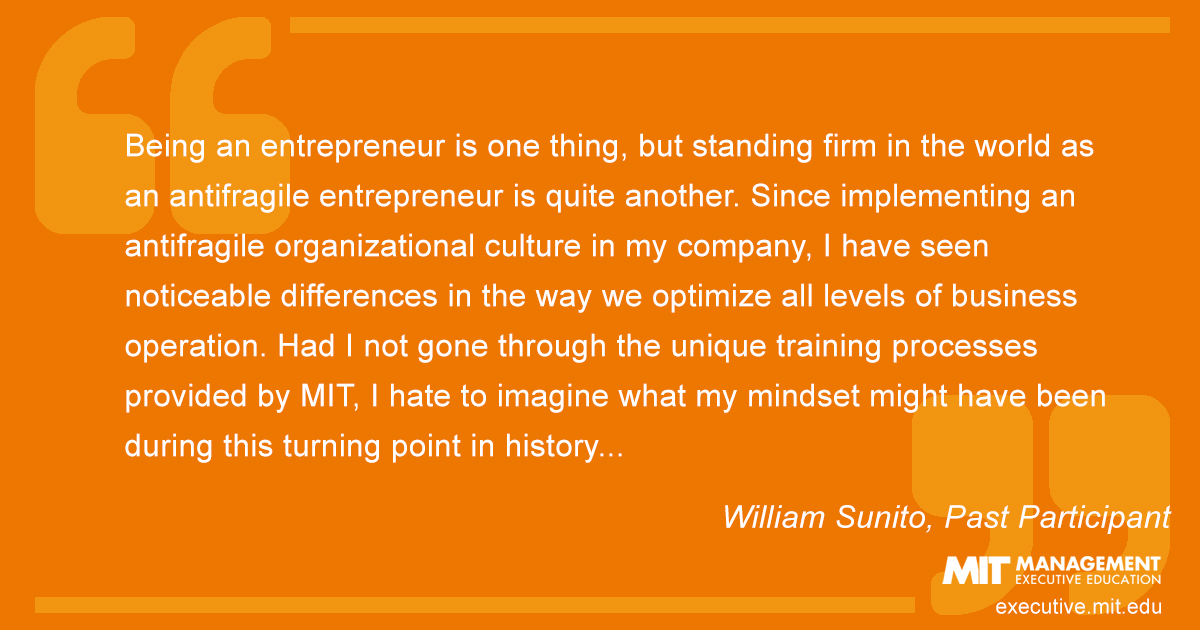 Read more about William Sunito's experience.
Sample Schedule—Subject to Change
Should you attend the Entrepreneurship Development Program?:
This program is designed for:
Aspiring entrepreneurs
Corporate venture officers
Startups
Those who would like to develop or strengthen a climate of entrepreneurship in their corporations, universities, and regions
Teams of entrepreneurs or intrapreneurs are encouraged to attend the program together with university staff and/or development professionals from their region

Titles of past participants have included:
CEO
Managing Director
Vice President
Chief Technology Officer
Director of Knowledge and Technology
R&D Manager
Business Development Manager
Investment Manager
Venture Manager
Development Officer
Head of Innovations and Enterprise
Professor
Regional economic development agencies: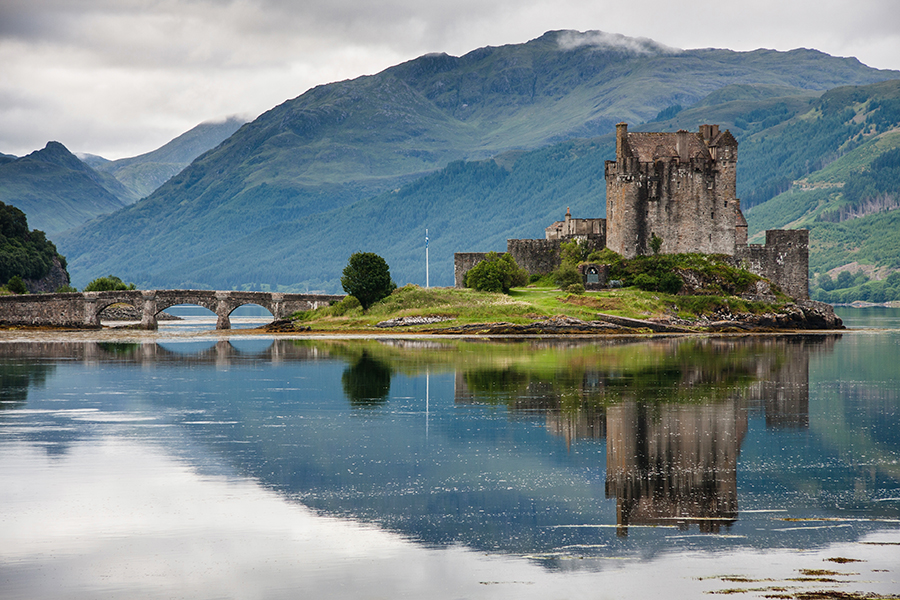 Scotland:
MIT has a long history of working with countries around the world to educate organizations—as well as their workforce—to inspire them to think about business in a uniquely different way. For more than a decade, two Scottish economic development agencies - Highlands and Islands Enterprise and Scottish Enterprise - have partnered to support the success of a variety of entrepreneurial ventures within the country through participation in the MIT Sloan Entrepreneurship Development Program (EDP). Read their success story.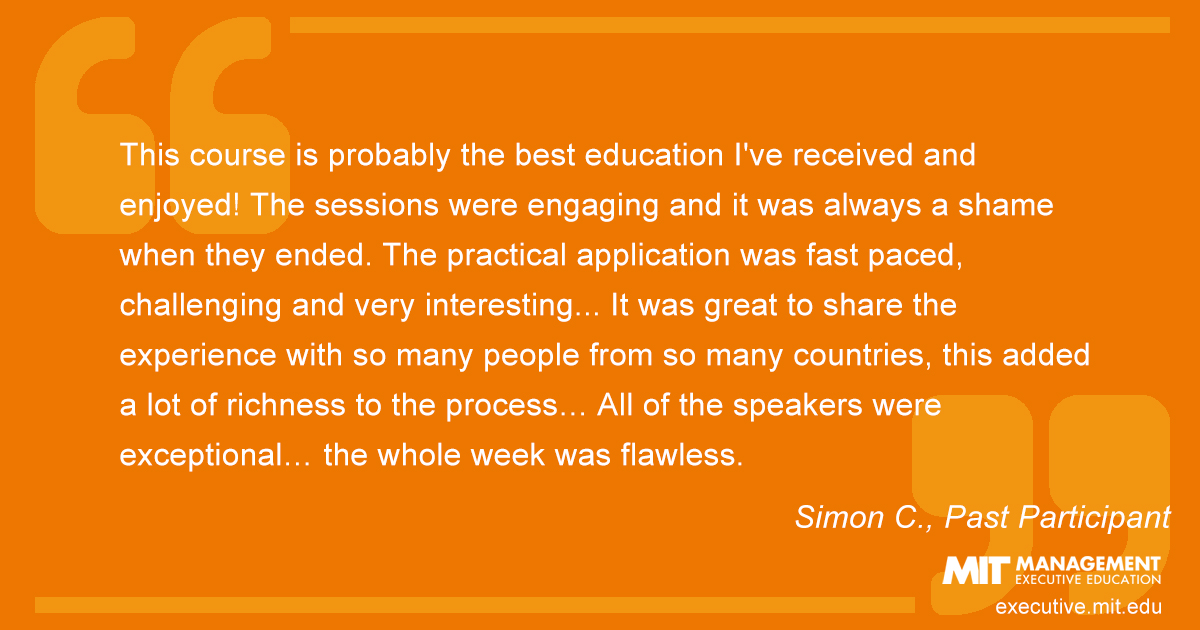 Tracks
Management and Leadership
Certificate Credits
5.0 EEUs
Topics
- Entrepreneurship
- Financial Management
- Strategy & Innovation
One of the most inspiring, energizing and complete learning experiences I have had in the last 20 years. All leaders should attend, even/especially when they think they are not an entrepreneur.
—- Alexander Michael V.
This is the quintessential program to attend whether for an aspiring or an established entrepreneur, or just someone wanting to learn the discipline of entrepreneurship. It is not only a show and tell. You learn by doing, actually incubating an idea with your team and building a plan all the way through the final pitch... This program is truly transformative. Valuable!
—- Fadia T.
It is life changing. It has made me rethink how wealth is created and how we are responsible for the development of our communities through entrepreneurship and innovation.
—- Mohamed P.
I have taken several Executive Education Classes from other Ivy League Institutions, this program is the absolute best. Not only is the material a must for anyone working in growth companies, but the way it is taught is truly unique... This class is outstanding. Life changing. For aspiring and rugged entrepreneurs.
—- Sophie C.