Digital Marketing and Social Media Analytics
Tracks
Strategy and Innovation
Certificate Credits
2.0 EEUs
Topics
- Digital Business & IT
- Marketing
- Strategy & Innovation
- Business Analytics
Course Highlights
This course is delivered in our Live Online format which enables real-time interaction with faculty and global peers
This course covers concepts such as the difference between earned and paid media, predictive modeling for ad targeting and customer relationship management, measuring and managing product virality, viral product design, native advertising, and engaging the multichannel experience
You will earn a certificate of course completion from the MIT Sloan School of Management
Featured Content
Why attend Digital Marketing and Social Media Analytics?
Digitization is revolutionizing marketing strategy. From tablets and big data to new customer monitoring tools and the global emergence of social networking, recent technology has revolutionized the modes of communication through which businesses and brands engage with consumers.
New digital technologies have fundamentally reshaped marketing theory and practice in numerous ways:
Technology has changed the modes of communication through which firms engage with consumers
Moore's law has made the storage and analysis of consumer data scalable, creating opportunities for fine-grained behavioral analytics
New monitoring tools have fostered precise and personalized customer relationship management practices
The rise of mobile phones and tablets has enabled location based messaging and reciprocal communication
The ubiquity of video content has promulgated rich, native advertising programs
The global emergence of social networking has enabled networked based predictive modeling and new forms of targeting and referral strategies based on the preferences of consumers' peers
Social media platforms have brought all of this onto the public stage, with word-of-mouth conversations driving brand awareness and brand loyalty, and user-generated content on review and ratings sites making or breaking demand for products or services
We do not recommend this course if you have already completed Digital Marketing Analytics, unless you are seeking a refresher of the content.
Course Experience
This course provides a detailed, applied perspective on the theory and practice of digital marketing and social media analytics in the 21st century. We will cover concepts such as the difference between earned and paid media, predictive modeling for ad targeting and customer relationship management, measuring and managing product virality, viral product design, native advertising, and engaging the multichannel experience. Throughout the course we will specifically stress the theory and practice of randomized experimentation, AB testing and the importance of causal inference for marketing strategy.
Topics covered in this digital marketing program include:
Search marketing
Social network marketing
Social media marketing
Social media analytics
User generated content management and marketing
Mobile advertising and commerce
CRM strategy in the age of big data and digital advertising
Earned vs paid media
Predictive modeling for ad targeting
Viral product design
The multichannel experience
Randomized experimentation
A/B testing
Learn more about the live online experience.
Applying to the Course
We accept enrollments until the offering reaches capacity at which point we will maintain a waitlist. Many of the courses fill up several weeks in advance, so we advise that you enroll as early as possible to secure your seat.
You can begin the application process by using the red Enroll Now bar at the bottom of the screen.
Have Questions?
Contact Us if you would like to speak with a program director or visit our Frequently Asked Questions page for answers to common questions about our courses.
Upon successful completion of your course, you will earn a certificate of completion from the MIT Sloan School of Management. This course may also count toward MIT Sloan Executive Certificate requirements.
Upon completion of this course you should have a fundamental understanding of:
The digital advertising ecosystem and attribution and pricing models for digital advertising
The fundamentals of web and app analytics and KPIs for web traffic and commerce
Search engine marketing, search engine advertising, ad auctions, and strategies for optimizing search engine advertising
Social network marketing and social network targeting
Predictive analytics using social network data, peer-to-peer marketing and personalized social advertising
Targeting and segmentation, specifically demographic targeting and segmentation, behavioral targeting and segmentation, social targeting and segmentation
Social listening—analysis of user generated content, reviews, ratings and their effects on consumer demand
Mobile commerce and analytics
Hear from a past participant: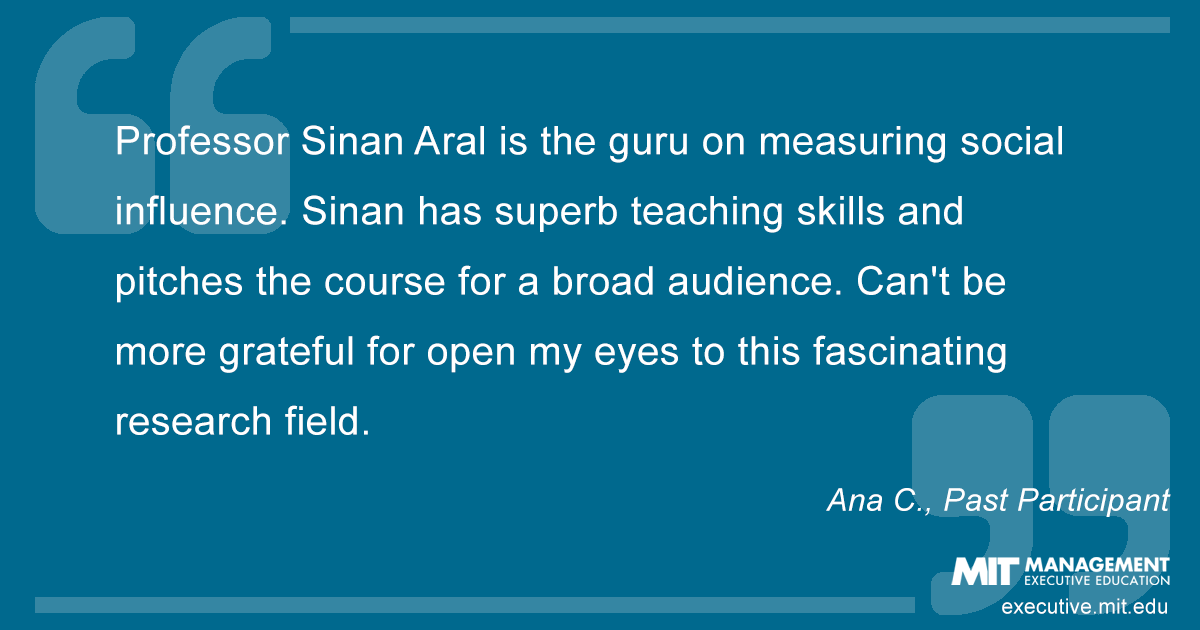 Sample Schedule—Subject to Change
This course is designed for business leaders seeking a deeper understanding of the digital marketing ecosystem and is particularly relevant for:
Chief marketing officers (CMOs) and direct reports
Marketing managers
Product managers and product development managers
CIOs and direct reports
Chief data scientists and data managers
Corporate strategists
Agency executives
Anyone interested in social media, measure ROI from social media
The content of this course is relevant to any businesses and brand that seeks to benefit from digital marketing strategy, as well as marketing providers, digital agencies, third party digital marketing firms, display ad firms, B2B and B2C marketing companies, data science companies, and firms that provide data within the digital marketing ecosystem.
We do not recommend this program to past participants of Digital Marketing Analytics (self-paced online) unless you are looking for a refresher.
Hear from a past participant: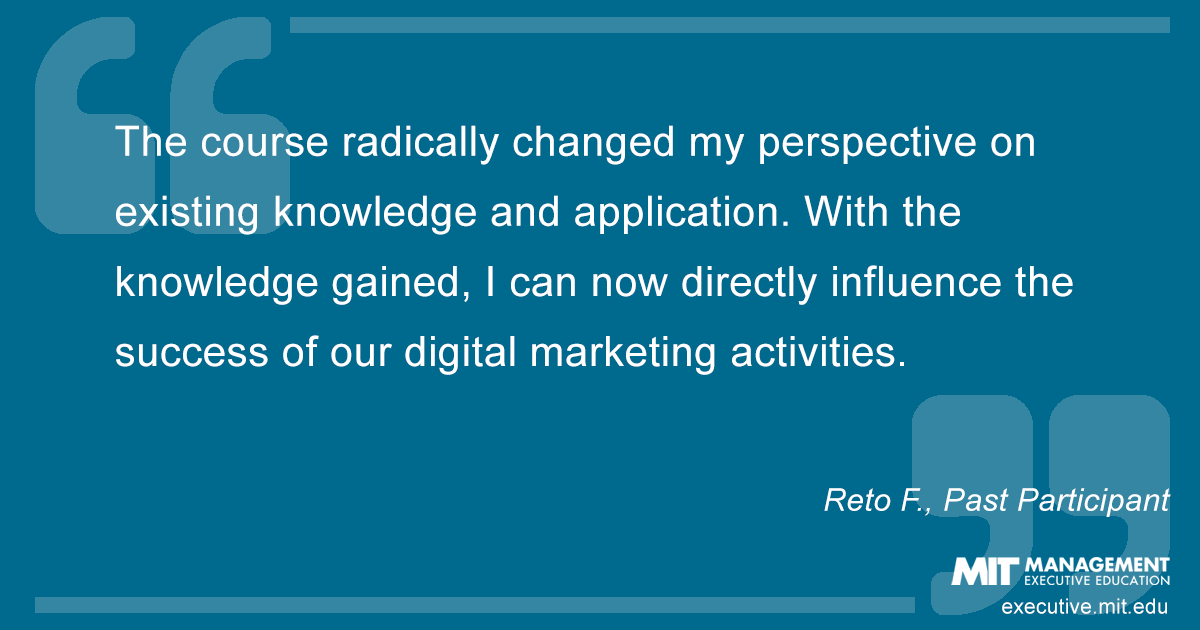 Tracks
Strategy and Innovation
Certificate Credits
2.0 EEUs
Topics
- Digital Business & IT
- Marketing
- Strategy & Innovation
- Business Analytics
I highly recommend this course to executives in all disciplines as it touches an area that has become so pervasive in our lives: mobile, social and digital.
—Past Participant Wael D.