Developing and Managing a Successful Technology Strategy
| Course Dates | Format | Location | Duration | Time Commitment | Price |
| --- | --- | --- | --- | --- | --- |
| Mar 12-15, 2024 | Live Online | N/A | 4 days | 4 hours/day | $4,500 |
| Jun 18-19, 2024 | In Person | Cambridge, MA | 2 days | 8 hours/day | $4,500 |
Tracks
Strategy and Innovation
Certificate Credits
2.0 EEUs
Topics
- Digital Business & IT
- Strategy & Innovation
Course Highlights
Gain a set of tools to identify high-leverage projects, match product strategy to market dynamics, capture market value, and change organizational capabilities to reflect evolving markets and technological dynamics
Leave with actionable frameworks to craft a technology strategy that will enable your firm to create, capture, and deliver value
Earn a certificate of course completion from the MIT Sloan School of Management
Why attend Developing and Managing a Successful Technology Strategy?
A great idea does not guarantee great profits. If a company's R&D dollars are going to pay off in profitable products or services, it needs a technology strategy that works in concert with its broader competitive strategy. From understanding how to respond to entry by entrepreneurial start-ups, to assessing the value of IP, to managing a portfolio of innovation projects, this course provides managers with actionable frameworks to craft a technology strategy that will enable their firm to create, capture, and deliver value.
Course Experience
This intensive course details a unique and powerful approach to integrating business and technology strategy and to developing profitable ventures and technologies. Participants are introduced to a set of tools to identify high-leverage projects, match product strategy to market dynamics, capture market value, and change organizational capabilities to reflect evolving markets and technological dynamics.
Learn more about the live online experience.
Applying to the Course
Please note: The application deadline for this technology strategy course is 3 days prior to course start. We accept enrollments until the offering reaches capacity, at which point we will maintain a waitlist. Many of the courses fill up several weeks in advance, so we advise that you enroll as early as possible to secure your seat.
You can begin the application process by using the red 'Enroll Now' bar at the bottom of the screen.
Have Questions?
Contact us if you would like to speak with a program director or visit our Frequently Asked Questions page for answers to common questions about our courses.
Upon successful completion of your course, you will earn a certificate of completion from the MIT Sloan School of Management. This course may also count toward MIT Sloan Executive Certificate requirements.
Drawn from MIT Sloan School's top-ranked MBA curriculum, this groundbreaking program will provide a framework for understanding how technologies and markets evolve, how they are linked, how technologies differ across markets, and how new technologies get accepted.
This program will enable participants to:
Identify profitable projects for their research dollars and find out how to capture the value of those projects
Build technical capabilities for products that create value for their customers
Restructure their organizations to respond to market and technical dynamics
Implement technology strategies for maximum benefit
Hear from a past participant: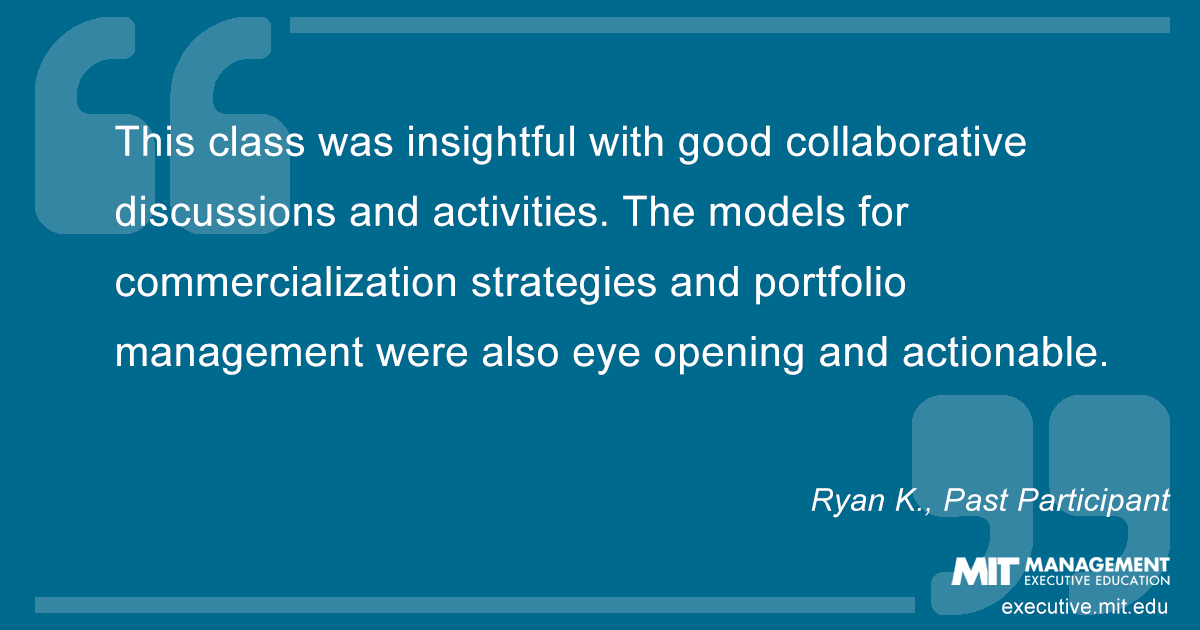 Sample Schedule—Subject to Change
This course is essential for senior general and technical executives involved in developing, managing, or marketing technology or products, or with managing organizations that sell their products in rapidly changing markets.
The program will be most beneficial for:
Managers in technology-intensive organizations
Marketing and business development executives in technology organizations
R&D managers in any organization
Titles of past participants have included:
CEO
President
COO
Executive VP
Head of R&D, Engineering, Manufacturing, and IS
VP of Marketing & New Venture Development
Chief Technologist
Corporate Planners and Strategists
Hear from a past participant: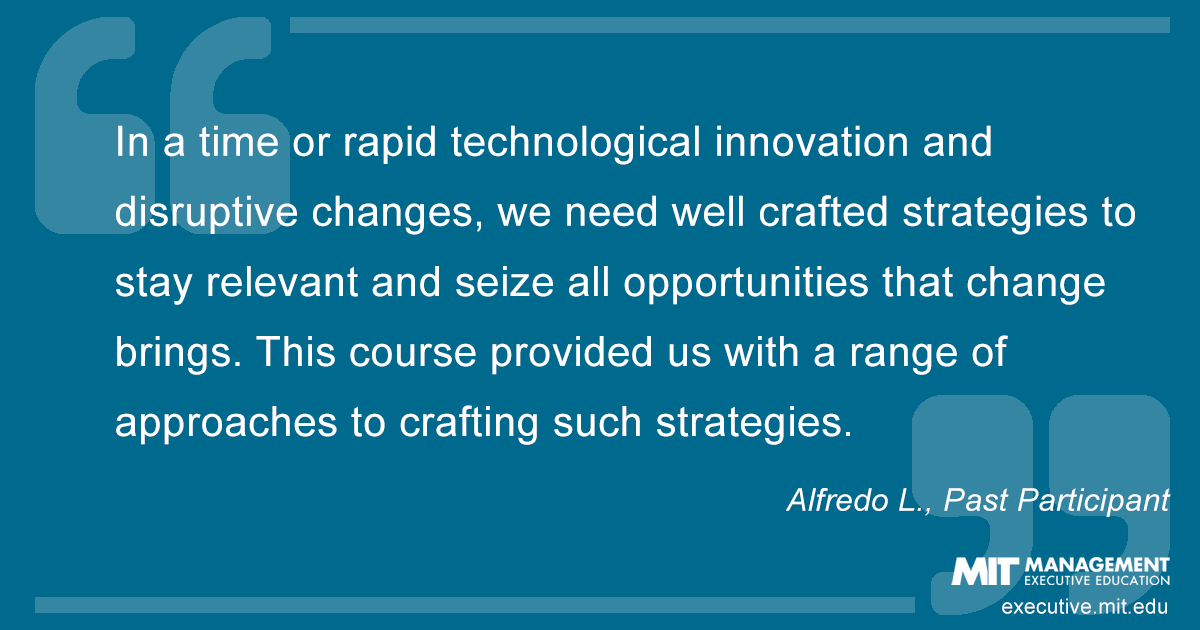 | Course Dates | Format | Location | Duration | Time Commitment | Price |
| --- | --- | --- | --- | --- | --- |
| Mar 12-15, 2024 | Live Online | N/A | 4 days | 4 hours/day | $4,500 |
| Jun 18-19, 2024 | In Person | Cambridge, MA | 2 days | 8 hours/day | $4,500 |
Tracks
Strategy and Innovation
Certificate Credits
2.0 EEUs
Topics
- Digital Business & IT
- Strategy & Innovation
This course was very engaging and presented a wide range of critical information related to not only product and technical strategy, but overall business strategies. The professors were superior on both their style and also their obvious depth of knowledge.
—Past Participant Gerry C.