Building Game-Changing Organizations: Aligning Purpose, Performance, and People
| Course Dates | Format | Location | Duration | Time Commitment | Price |
| --- | --- | --- | --- | --- | --- |
| Mar 14-15, 2024 | Live Online | N/A | 2 days | 8 hours/day | $4,700 |
| Jul 11-12, 2024 | In Person | Cambridge, MA | 2 days | 8 hours/day | $4,700 |
Tracks
Strategy and Innovation
Certificate Credits
2.0 EEUs
Topics
- Organizations & Leadership
- Strategy & Innovation
Course Highlights
Learn what it takes to build game-changing companies that make your teams and areas of responsibility world-class talent factories
Work on your own Collective Ambition and leave with an action plan on how to implement these concepts immediately
Hear from guest speakers who are leaders in their fields
Earn a certificate of course completion from the MIT Sloan School of Management
Featured Content
Why attend Building Game-Changing Organizations?
Game-changing organizations rewrite traditional playbooks. They stand out. They often create disproportionate value relative to their size and resources. They have big dreams but know how to get things done. These organizations have a palpable "buzz" to them. They have a breakaway business model, but they also have a breakaway spirit and organizational culture.
Leaders of these game-changing organizations understand the power and importance of telling their companies' compelling stories. They are hard-edged business leaders who also embrace what others might consider to be the "soft side" of leading: purpose, vision, and climate. They know how to integrate the hard and soft sides of leadership into a powerful formula that makes them game-changers. With organizational alignment, these leaders and their organizations are purpose-driven, performance-oriented, and principles-led. The weaving together of these three capabilities simultaneously is what helps them get and stay out in front.
Participants in this organizational strategy course will learn what it takes to build game-changing companies that make their teams and areas of responsibility world-class talent factories. They will also discuss the importance of building an innovative company culture and learn from the successes and challenges of various companies that have been on similar journeys of transformation.
Course Experience
Building Game-Changing Organizations employs several teaching methods: faculty presentations, small group discussions, case studies, interactive exercises, and panel discussions with industry leaders from RBC and PWC. Participants will hear first-hand RBC's journey to align purpose, performance and principles. Participants will walk away with a better understanding of the distinguishing characteristics of a "Game Changing Organization," based on real world research findings, and the challenges that accompany the journey to becoming a game-changer.
Each session is punctuated by small-group exercises, in which participants can actively apply the ideas and examples offered in class to their own specific, real-life situations. Participants will work on their own Collective Ambition and leave with an action plan on how to implement these concepts post-program.
Learn more about the live online experience.
Guest Speakers

Matt Kapszukiewicz is the Human Capital Director at PricewaterhouseCoopers. In this role, he is responsible for providing leadership and driving human capital strategy. Matt also provides leadership and expertise on national teams focused on onboarding, organizational design, talent management, mobility and talent development for the Firm. Matt's PwC career began in Washington, D.C. where, in addition to HR generalist responsibilities, he focused on talent acquisition and staffing, while gaining exposure to International HR matters. While based in Houston, TX, Matt led talent acquisition at some of the firm's largest sources. Following Houston, Matt led the Human Capital function for PwC's Global Capital Markets Group across 25 countries in Europe and Asia. Matt was based at PwC's headquarters in New York leading Human Capital for the U.S. Transaction Services practice prior to his current assignment in the Midwest.
He earned a B.A. in Political Science from the University of Massachusetts and an M.A. in Human Resources from the University of Cincinnati. He holds the SPHR designation from the Human Resource Certification Institute, SHRM-SCP from the Society of Human Resources and is a member of SHRM. He's an avid runner, little league coach, and scuba diver. He lives with his family in Ohio.

Kerry Stakem is the PwC Market People Leader Northeast Market at PricewaterhouseCoopers. In this role, she drives the people strategy to cultivate connectivity and development opportunities for professionals with a focus on diversity and inclusion. She has spent the past 22 years in various roles at PwC. Most recently serving as the Northeast Talent Acquisition Leader, Kerry was responsible for the identification and hiring of all campus and experienced hires into the Northeast Market. Prior to this, she spent time in various Human Capital roles focusing on talent development, coaching, and deployment. She began her career at PwC in the Assurance practice after graduating from Boston University with a B.A. in Accounting. In 2015, Kerry was selected to participate in Genesis Park - PwC's global leadership development program focused on growing and transforming high potential, top performing talent into resilient, responsible, and authentic global leaders. She has her Energy Project People Fuel Certification and is completing her Coaching Certificate with iPEC.
Outside of work, Kerry is an active volunteer in the community. She is currently the Chairperson of the Massachusetts Society of CPA's (MSCPA) Academic and Career Development Committee and a member of the MSCPA Education Foundation Board. In addition, she recently served a one-year term as Vice Chairman of the Board of Directors of the MSCPA after having served a term as a Board Member. Kerry is preparing to ride in her fifth Pan Mass Bike Challenge to raise funding and awareness for cancer research. In her free time, Kerry enjoys playing tennis, traveling, and spending time with her husband Steve and two young sons, Tommy and Charlie.

Robert Grubert is Head of Digital Solutions & Client Insights (DSCI) for RBC Capital Markets. In this role, Robert (Bobby) and his client-facing team are focused on leveraging the firm's innovation efforts and constantly reimagining and executing upon how we best service our clients in a fast-evolving digital world.
Prior to this role, Bobby served as Co-Head of Global Equities since 2018. Bobby had global accountability for all equity related product capabilities, including sales and trading, origination, new issue distribution, risk management, electronic trading and research.
Bobby began his career as an energy trader with Rauscher Pierce Refsnes, based in Dallas in 1996. Following the merger with Dain Rauscher, Bobby moved to Minneapolis to grow the NYSE Listed business. After RBC acquired Dain Rauscher Wessels in 2001, Bobby transferred to New York and was appointed Head of U.S. Trading in 2007. He became Head of U.S. Equities in 2008, adding responsibility for global electronic trading in 2009 and he assumed responsibility of Cash Equities in Europe in 2014. In 2018, he was appointed Co-Head of Global Equities. Bobby is a member of the RBC Capital Markets Operating Committee, as well as its U.S. Operating Committee. He is also an Executive Member on the Board of Directors of the Ronald McDonald House of New York, Inc., a member of the Borealis AI Advisory Council and is a founding member of the RBC U.S. Capital Markets Diversity Leadership Council.

Lori Messer is Managing Director and Global Head of RBC Capital Markets Business & Client Services. She is an executive leader with a proven track record of managing, building and transforming businesses through strategic vision and execution. In her current role, Lori is responsible for leading a global team that focuses on driving operational fluency across all Capital Markets businesses and the overall client transaction experience. Her versatile skills and inclusive leadership style are evidenced by senior roles held across multiple geographies and businesses.
Throughout her tenor at RBC, Lori has held several senior roles across offices in Toronto, London (UK) and New York. Most recently, Lori was the Chief Operating Officer, Global Equities where she was accountable for leading the business management, client strategy and technology strategy teams for the Global Equities and Research franchise. Prior to joining RBC, Lori lived in Buenos Aires, Argentina while working as a Client Relationship Manager for a Canadian pharmaceutical software development firm. She holds a Bachelor of Commerce (Hons) from Saint Mary's University and an International Masters of Business Administration (IMBA) from the University of Ottawa. Lori is passionate about and active in partnering with many community organizations. Within RBC CM, she is an Advisor for the RBC Academy, was a member of the US Diversity Leadership Council, co-founder of the Canadian Corporate Citizenship Forum, and former Employee Chair of the Canadian Employee Giving Campaign. Externally, she is Vice-Chair of the Board of Directors and Chair of the Board Quality Committee of Youthdale Treatment Services, which focuses on youth mental health and is actively involved as a supporter of several other community agencies, public schools, and athletic programs.

*Guest speakers subject to change.
Applying to the Course
We accept enrollments until the offering reaches capacity, at which point we will maintain a waitlist. Many of the courses fill up several weeks in advance, so we advise that you enroll as early as possible to secure your seat.
You can begin the application process by using the red 'Enroll Now' bar at the bottom of the screen.
Health and Safety
See our on campus healthy and safety policies.
Have Questions?
Contact us if you would like to speak with a program director or visit our Frequently Asked Questions page for answers to common questions about our courses.
Upon successful completion of your course, you will earn a certificate of completion from the MIT Sloan School of Management. This course may also count toward MIT Sloan Executive Certificate requirements.
Participants in this program will:
Understand what it takes to build game-changing organizations
Be provided with the resources and tools to articulate their company's powerful story—what we call their "Collective Ambition"
Examine how to integrate the "soft" side of leading (purpose, vision, culture) with the hard side (strategy, operational priorities, brand) into a powerful formula
Understand the importance of building an authentic and energizing culture
Understand what it takes to make their companies world-class talent factories
Hear from a past participant: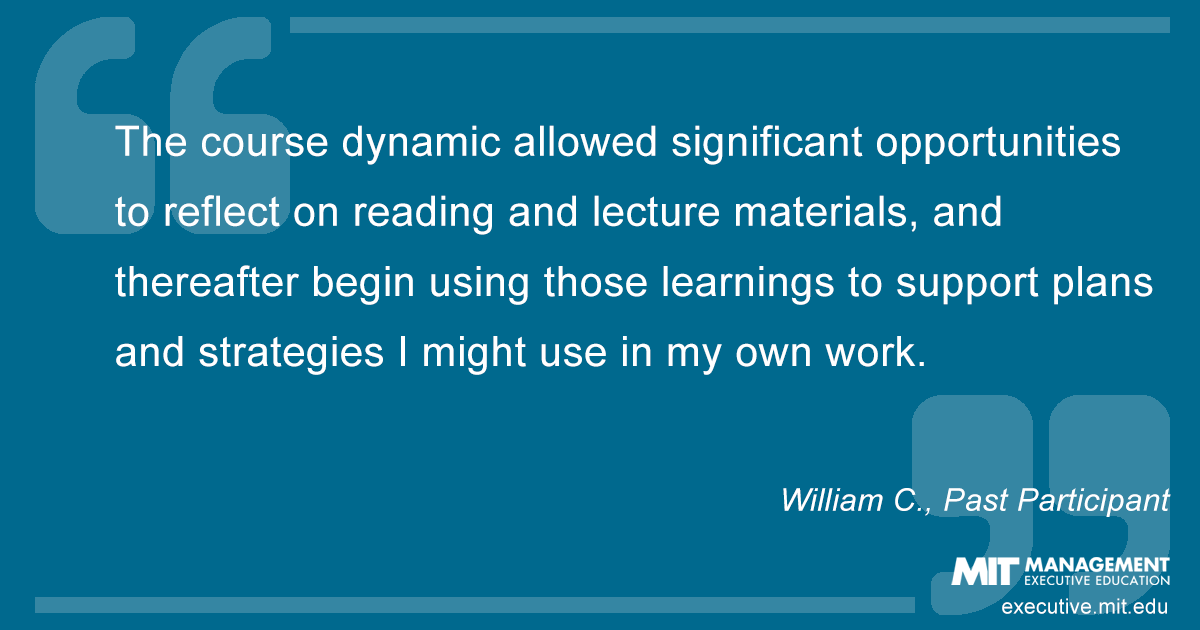 Sample Schedule—Subject to Change
This program is geared to upper- to senior-level managers who are responsible for or make strong contributions to their companies' strategy, vision, and operational priorities. In larger companies, this means executives who are among the top 500 enterprise leaders—division, business unit, functional or geographic leadership team members. In smaller firms, this means team members who are propelling the company forward. This course is also well suited for HR professionals who are in senior roles and responsible for contributing to enterprise-wide change or capability building efforts.
Hear from a past participant: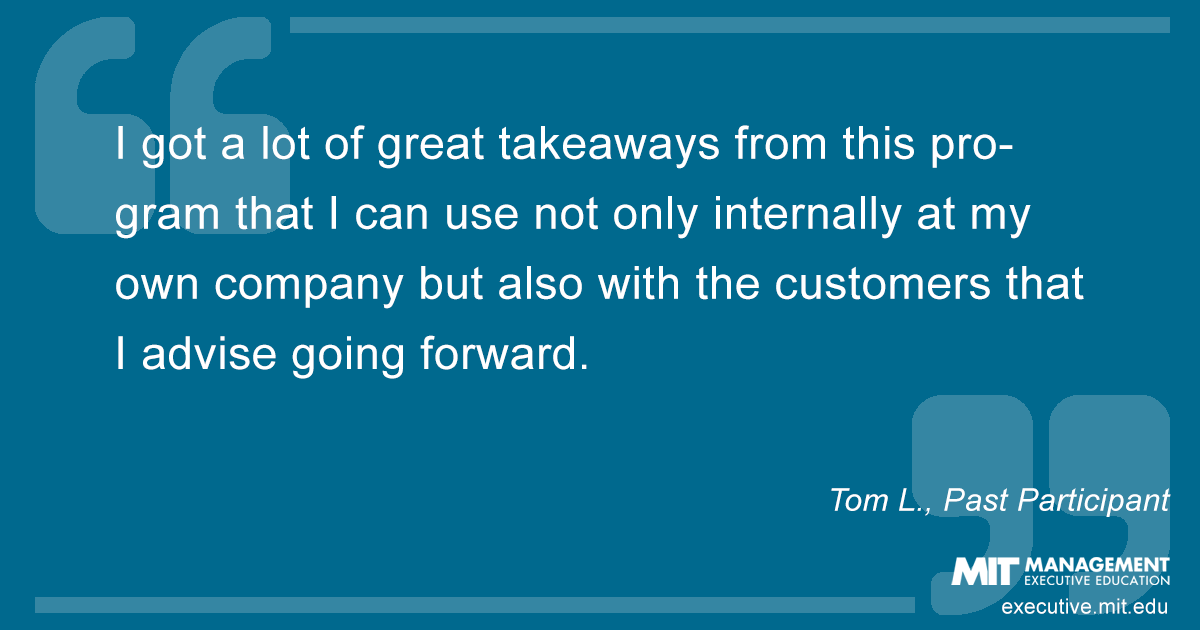 | Course Dates | Format | Location | Duration | Time Commitment | Price |
| --- | --- | --- | --- | --- | --- |
| Mar 14-15, 2024 | Live Online | N/A | 2 days | 8 hours/day | $4,700 |
| Jul 11-12, 2024 | In Person | Cambridge, MA | 2 days | 8 hours/day | $4,700 |
Tracks
Strategy and Innovation
Certificate Credits
2.0 EEUs
Topics
- Organizations & Leadership
- Strategy & Innovation
The course is a well-balanced combination of theory and practice, with topics that are very relevant to the challenges that organizations face in terms of the disruptive march of technology and the massive generational and geographic switches currently emerging in both the customer and workforce.
—Past Participant Biju K.