Strategies for Sustainable Business
Tracks
Strategy and Innovation
Certificate Credits
3.0 EEUs
Topics
- Organizations & Leadership
- Strategy & Innovation
- Systems Thinking
Course Highlights:
This course is delivered in our Live Online format which enables real-time interaction with faculty and global peers
Learn through interactive lectures, case studies, games, diagnostic exercises, and deep reflective work
The course places current business practices in a socioeconomic context and you will walk away with well-grounded strategies for making sustainability a reality in your organization, industry, and community
You will earn a certificate of course completion from the MIT Sloan School of Management
Course snapshot:
Why attend Strategies for Sustainable Business?:
For decades, MIT and MIT Sloan have been business sustainability thought leaders, from Jay Forrester's work on World Dynamics to our groundbreaking research on high performance work systems, to the formation of the Sustainability Initiative at MIT Sloan—an effort that is shaping modern discourse on sustainability.
Strategies for Sustainable Business connects executives with MIT professors and researchers who are currently breaking new ground in sustainability thinking and practice. Faculty combine interactive lectures, case studies, games, diagnostic exercises, and deep reflective work for a highly engaging experience. Participants place current business practices in a socioeconomic context and walk away with well-grounded strategies for making sustainability a reality in their organizations, industries, and communities.
Course Curriculum:
WHY: This first day focuses on why sustainability is THE challenge of our generation, and its materiality to participants' particular business. Case studies reveal how industries are changing to adapt to the business risks—and opportunities—presented by megatrends like climate change and globalization.
WHAT: Through lectures, discussions, and a hands-on system dynamics simulation ("EnRoads"), participants will learn about available strategies at the operational level, in their extended supply chain, and across their industry. They deepen their understanding of the environmental and social dimension of sustainability and the limits of voluntary action.
HOW: Participants chart a course toward the "hardwiring" of sustainability in their enterprise by building coalitions for change and undertaking process improvement. Lectures and discussions draw on the latest research by program faculty and include lessons on how to influence organizational culture, run experiments, conduct difficult conversations, and engage people to undertake important projects. Participants will leave the classroom knowing their next steps to move the ball forward.

Course experience:
This innovative business sustainability program applies a unique MIT Sloan framework to the topic of environmental and socio-economic sustainability and uses an engaging mix of interactive lectures, simulation games and action learning.
Participants leave with practical and impactful strategies for building consensus and making change, and are empowered to take action on sustainability from the personal through enterprise level.
Learn more about the live online experience.
Applying to the course:
Please note: The application deadline for this course is 4 days prior to course start. We accept enrollments until the offering reaches capacity at which point we will maintain a waitlist. Many of the courses fill up several weeks in advance, so we advise that you enroll as early as possible to secure your seat.
You can begin the application process by using the red Enroll Now bar at the bottom of the screen.
Have questions?:
Contact Us if you would like to speak with a program director or visit our Frequently Asked Questions page for answers to common questions about our courses.
---

Hear from a past participant:
"I joined this course with the highest expectations, and both professors exceeded them by far. Their work and ideas on the different dimension of sustainability gave me a different way to reflect about my professional goals and even personal beliefs."—Froylan Hernandez-Ruiz, Senior Attorney for the Latin America Region, The Nature Conservancy
Upon successful completion of your course, you will earn a certificate of completion from the MIT Sloan School of Management. This course may also count toward MIT Sloan Executive Certificate requirements.
Participants will learn effective strategies for leading and effecting change on multiple levels—from the individual to the organization to the industry—and how to apply them effectively in both the short and long term.

In Strategies for Sustainable Business, participants will:
Gain an appreciation for the key dimensions of unsustainability and leverage points for change
Learn what strategies for sustainability are available at all levels of the organization, and which are most relevant to their organization
Understand opportunities for business value creation through more effective, sustainable use of natural and human resources and cross-sectoral collaboration
Learn to assess business strategies and some public policies with a distinctive, holistic, and systems-based perspective on sustainability
Build an action plan for innovation and continuous improvement on sustainability
Receive feedback from faculty so that they are better equipped to implement, influence, and lead when they return to work
---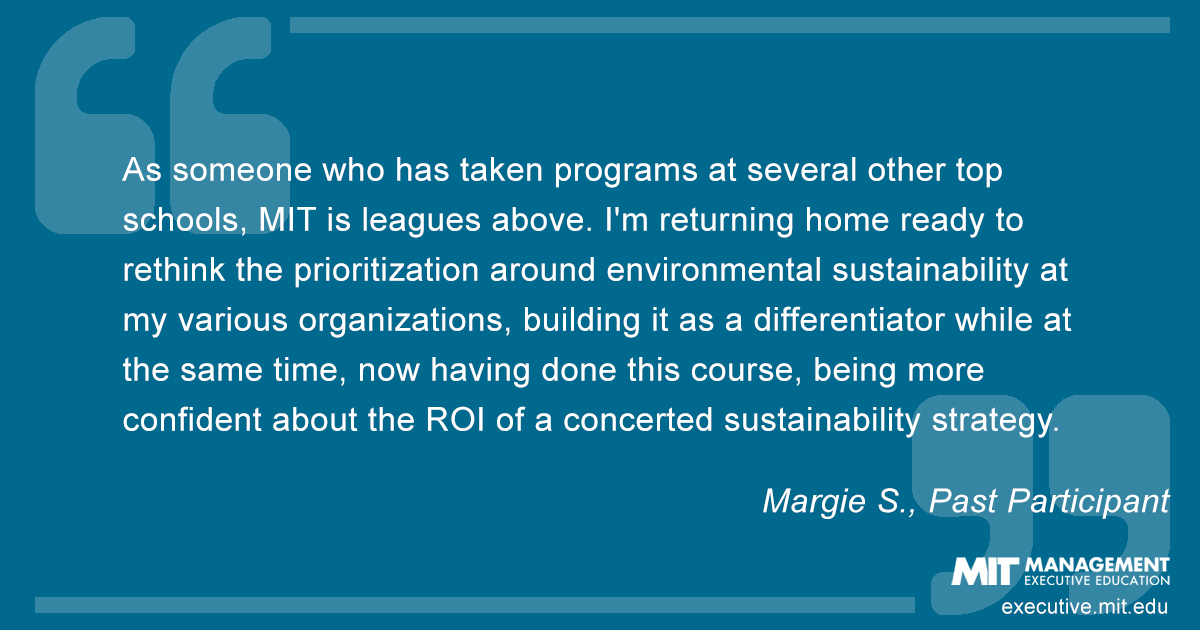 Sample Schedule—Subject to Change
This program is designed for people who have to make a sustainability strategy happen, including:
Functional and business unit leaders from companies committed to sustainability goals, who have been charged with advancing sustainability and creating value in their area.
Investment professionals who are charged with aligning socially responsible investments with value and/or who seek to deepen their understanding of sustainability in a socioeconomic context.
New sustainability professionals who need to get up to speed on strategies that promote sustainable business practices.
Environmental consultants and professionals who need to better understand how to link their practice to the world of business and to prove the value of sustainability in the marketplace.
NGO and government leaders who want to understand a business-centered but cross-sectoral perspective on sustainability.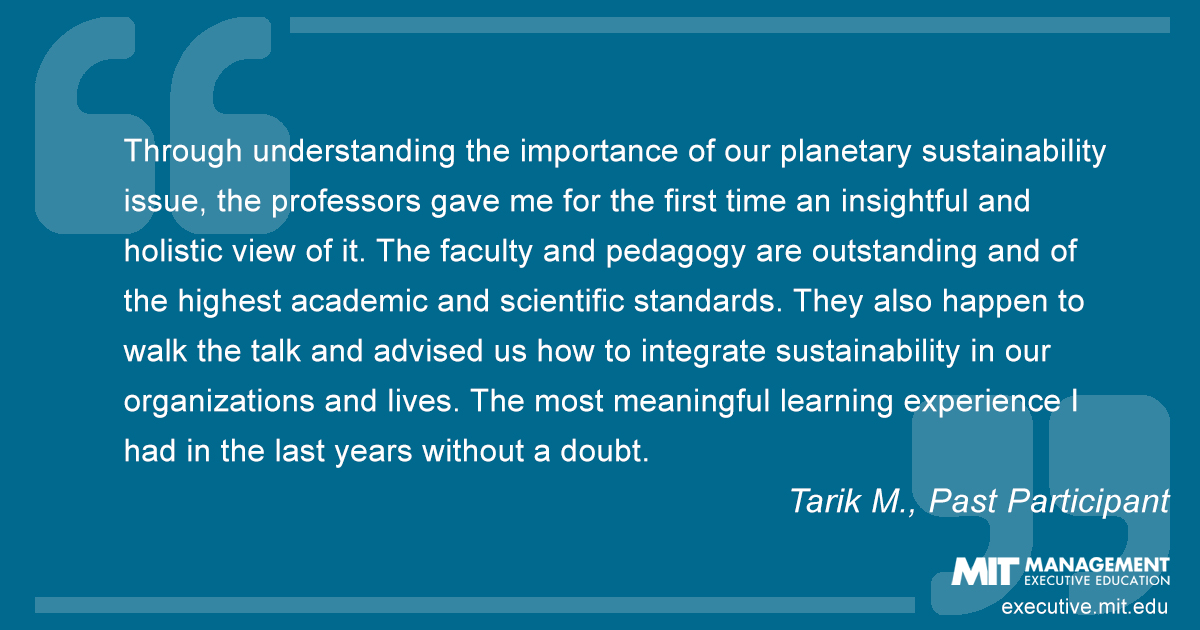 Tracks
Strategy and Innovation
Certificate Credits
3.0 EEUs
Topics
- Organizations & Leadership
- Strategy & Innovation
- Systems Thinking
Practical strategies, tools, and frameworks presented here will enable you to advance your personal and/or professional sustainability goals.
—Claudiu C.
Excellent course to understand macro view and specific case studies on sustainability. Amazing professors!
—Tricia C.