Closing the Gap Between Strategy and Execution
Tracks
Strategy and Innovation
Certificate Credits
2.0 EEUs
Topics
- Organizations & Leadership
- Strategy & Innovation
Course Highlights
Two-day in-person course on the MIT Sloan campus
Designed to help global executives close the gap between strategic intent and results by introducing a systematic framework and hands-on tools to drive execution in their own organizations
Introduces tools and frameworks that have been field-tested with corporations and not-for-profit organizations around the world for over a decade
Includes at least one self-diagnostic or template in every session to help you translate the course content into specific actions tailored to you and your organization
Confers a certificate of course completion from the MIT Sloan School of Management
Please note: The application deadline for this course is five weeks from the start date.
Why attend Closing the Gap Between Strategy and Execution?
A recent survey of more than 400 global CEOs revealed that the ability to execute strategy was their number one challenge, ahead of innovation, geopolitical instability, and top-line growth. Executives are right to be concerned. At least two-thirds of large organizations struggle to implement their strategies.
Most leaders rely on a set of implicit beliefs about how to get things done when they try to execute their strategy. Many common assumptions about execution, however, are incomplete at best and dangerous at worst. Despite its importance, strategy execution remains poorly understood—for every ten books on how to formulate a strategy there is only one on how to translate it into effective action. Executives often focus on specific tools, such as the balanced scorecard or management by objectives, to manage risk and drive strategy execution without understanding how these tools interact with one another.
Led by Dr. Donald Sull, a global expert on strategy execution in complex organizations, this course will help leaders reframe execution so that they can avoid common mistakes and focus on the actions that are most likely to bring results. This course introduces a systemic view of strategy execution based on over a decade of research and field-tested in dozens of corporations around the world.
Course Experience
This course is designed to help global executives close the gap between strategic intent and results by introducing a systematic framework and hands-on tools to drive execution in their own organizations.
As part of your participation in this program, you and 30 or more of your colleagues will complete a state-of-the-art survey in advance of the course. The data from this survey will be analyzed to provide you with real-time insights that help pinpoint concrete opportunities to improve your organization's strategy execution capacity.
Closing the Gap Between Strategy and Execution is:
Practical. All of the tools and frameworks introduced in the course have been field-tested with corporations and not-for-profit organizations around the world for over a decade. Every session includes at least one self-diagnostic or template to help you translate the course content into specific actions tailored to you and your organization. The course will provide tools and takeaways to help you translate insights into concrete actions when you return to work
Tailored to operating executives. The program introduces a simple framework to identify the leader's role in execution, as well as data-driven insights to translate their strategy into measurable results. Participants will learn how to effectively structure and guide discussions that are critical to implementation.
Systematic and comprehensive. Strategy execution is explored as an iterative process of risk management, making sense of the current environment, prioritizing activities and investments, securing commitments and ensuring delivery, and making revisions in light of new information
Based in practical research. The course is grounded in Sull's research, including dozens of structured experiments that involved structured interventions in companies and that quantified the impact on operational and financial results. A state-of-the art survey uses big data to measure and quantify how well organizations execute their strategy and identify specific areas for improvement
Hands on and interactive. The sessions include a mix of case study discussions, interactive lectures, in-class exercises, and opportunities to learn from peers
Learn more about the in-person course experience.
Health and Safety
See our on campus healthy and safety policies.
Applying to the Course
Please note: The application deadline for this course is June 16, 2023. There is an application process for this course. Enrollment is limited. To be admitted, participants must meet the criteria detailed on the Participants tab.
Have Questions?
Contact us if you would like to speak with a program director or visit our Frequently Asked Questions page for answers to common questions about our courses.
Upon successful completion of your course, you will earn a certificate of completion from the MIT Sloan School of Management. This course may also count toward MIT Sloan Executive Certificate requirements.
Participants of this course will leave with:
A comprehensive model of strategy execution
Data-based insights from a state-of-the-art survey that will help you pinpoint concrete opportunities to improve your organization's execution capacity
Best practices from some of the most effective organizations in the world
A structured tool for developing a strategy for execution that is easy to communicate and translate into action
Simple rules to embed strategic guidance into key activities while retaining the flexibility to seize unexpected opportunities
A series of worksheets to help you translate, in real time, insights from the course into concrete actions you can take when you return to work
A framework to identify and manage interdependencies among different parts of your organization
Guidance on how to retain the agility to execute your strategy in volatile markets
Hear from a past participant: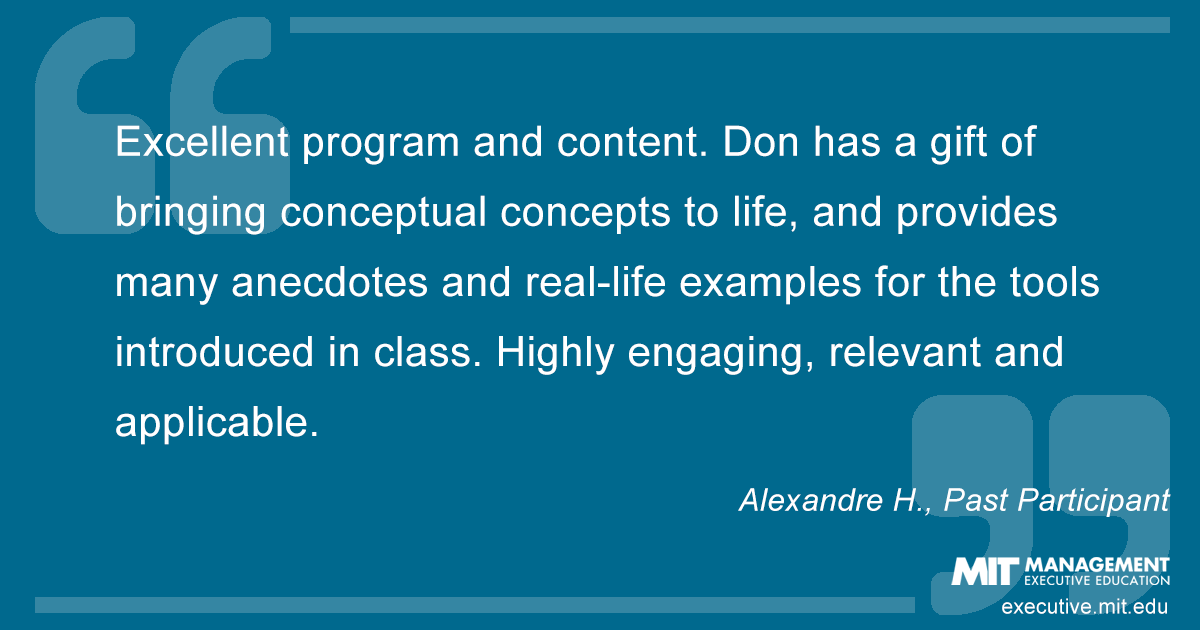 Sample Schedule—Subject to Change
To be admitted, participants must:
Currently serve as the CEO, MD, or member of an executive team running a significantly large company or division within a larger organization, typically booking revenues of at least $30 million
Have a large scope of responsibility, including managing teams across multiple units or departments
Agree to identify at least 30 of their colleagues who will complete a survey of their organization's execution capacity. The survey is completely confidential and administered by MIT Sloan
Companies who have sent participants to the program in the past include:
Banca d'Italia
Banco Santander
Danfoss
Medtronic
NASA
Owens Corning
Panasonic
Pitney Bowes
Raytheon
Rockwell Collins
SAP
Schneider Electric
Verizon
Tracks
Strategy and Innovation
Certificate Credits
2.0 EEUs
Topics
- Organizations & Leadership
- Strategy & Innovation
Thank you for what was without question the best short course I've ever taken! The content was relevant and thought provoking, the instruction engaging and delivered with such enthusiasm I couldn't possibly have lost focus! My fellow students, their experience and backgrounds only added to the richness of the learning experience. . . If I could change anything, I'd echo what previous classes have said… "more time!" I'm so excited to move out with all that I've learned and look forward to my next MIT Executive Education course!
—Jennifer M.