| Course Dates | Format | Duration | Time Commitment | Price |
| --- | --- | --- | --- | --- |
| Jul 22-26, 2024 | Live Online | 5 days | 3 hours/day | $4,500 |
Tracks
Strategy and Innovation
Certificate Credits
2.0 EEUs
Topics
- Marketing
- Strategy & Innovation
- Business Analytics
Course Highlights
Delivered in our live online format enabling real-time interaction with faculty and global peers
Learn to leverage marketing concepts and research to better influence the outcomes of new products and innovations
Participate in a marketing simulation
Leave with a common language that you can use to interact more effectively with the marketing and strategy professionals in your own firm
Confers a certificate of course completion from the MIT Sloan School of Management
Why attend Marketing Innovation?
You've created an innovative new product or service that could revolutionize your industry, but do you know how to successfully bring it to market? Are you prepared to assess market opportunities? Will customers readily understand the value of your innovation?
Even the most brilliant innovation can fail if you don't know how to market it. In other words, just because you build it doesn't mean they'll come. Marketing Innovation will help you to leverage marketing concepts and research to better influence the outcomes of new products and innovations. You will learn how to evaluate market attractiveness, think about the design and management of distribution channels, and understand pricing architectures.
This program is designed to provide executives who already have deep technical or functional experience with a thorough review of key marketing concepts as they relate to new innovations and new products. This course also covers fundamental digital techniques and the evolution of marketing as a data-driven science.
Course experience
The first day of the course provides a strategic and practical approach to understanding consumer decision making, analyzing company strengths, and assessing the competition. This strategic approach is applied to real world examples to help technical executives learn to identify the right product for the right market opportunity.
On the second day, the course turns to practical issues, including pricing architectures, building channel relationships, and marketing communications decisions. Participants will learn the pros and cons of digital marketing and explore how to leverage new digital techniques to optimize marketing outcomes.
After completing the program, participants will have learned a common language that they can use to interact more effectively with the marketing and strategy professionals in their own firms.
Learn more about the live online experience.
Applying to the course
We accept enrollments until the offering reaches capacity at which point, we will maintain a waitlist. Many of the courses fill up several weeks in advance, so we advise that you enroll as early as possible to secure your seat.
You can begin the application process by using the red 'Enroll Now' bar at the bottom of the screen.
Have questions?
Contact us if you would like to speak with a program director or visit our Frequently Asked Questions page for answers to common questions about our courses.
Upon successful completion of your course, you will earn a certificate of completion from the MIT Sloan School of Management. This course may also count toward MIT Sloan Executive Certificate requirements.
As a participant in this course, you will learn how to:
Develop a strategic framework for assessing market opportunities
Anticipate and take advantage of surprising inconsistencies in the customer decision process
Leverage pricing architectures best positioned to help capture value
Choose the digital marketing channels best suited for your product and market
Communicate more effectively with your marketing team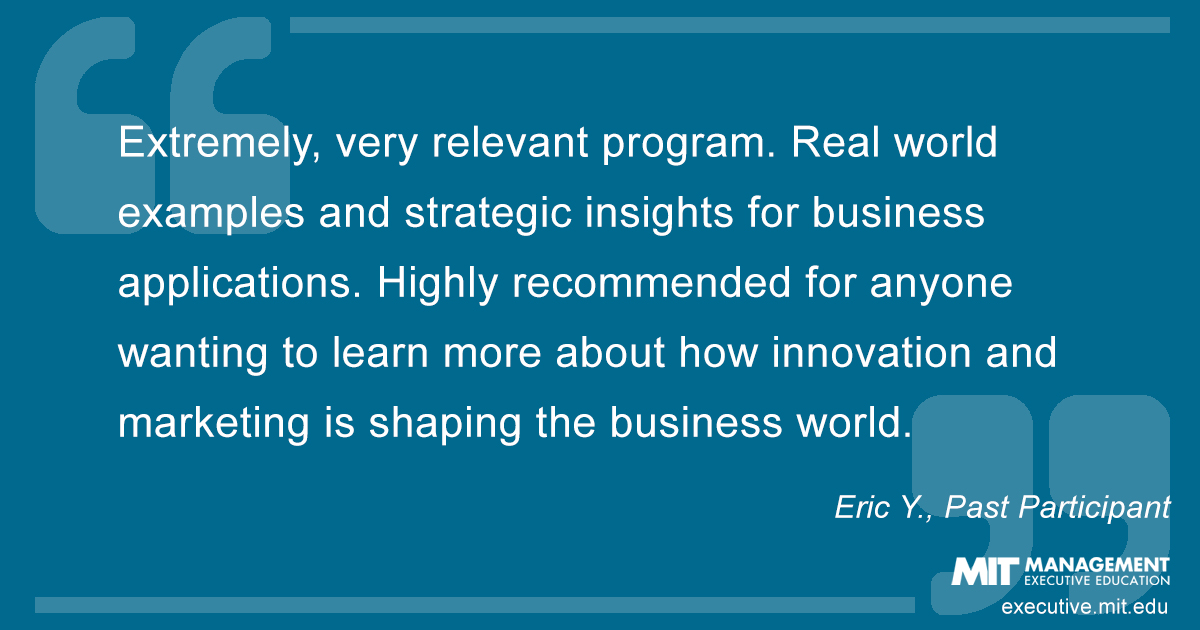 Sample Schedule—Subject to Change
Participants best suited for this course include
Senior engineering
R&D
Product development
Project management
IT
Finance
Manufacturing professionals
Representatives from a wide range of consumer and business-to-business industries
While the program is designed for technical executives who have less experience in marketing, marketing professionals may also find this session useful as a chance to discuss fundamental marketing techniques and their application to the innovative organization in today's world.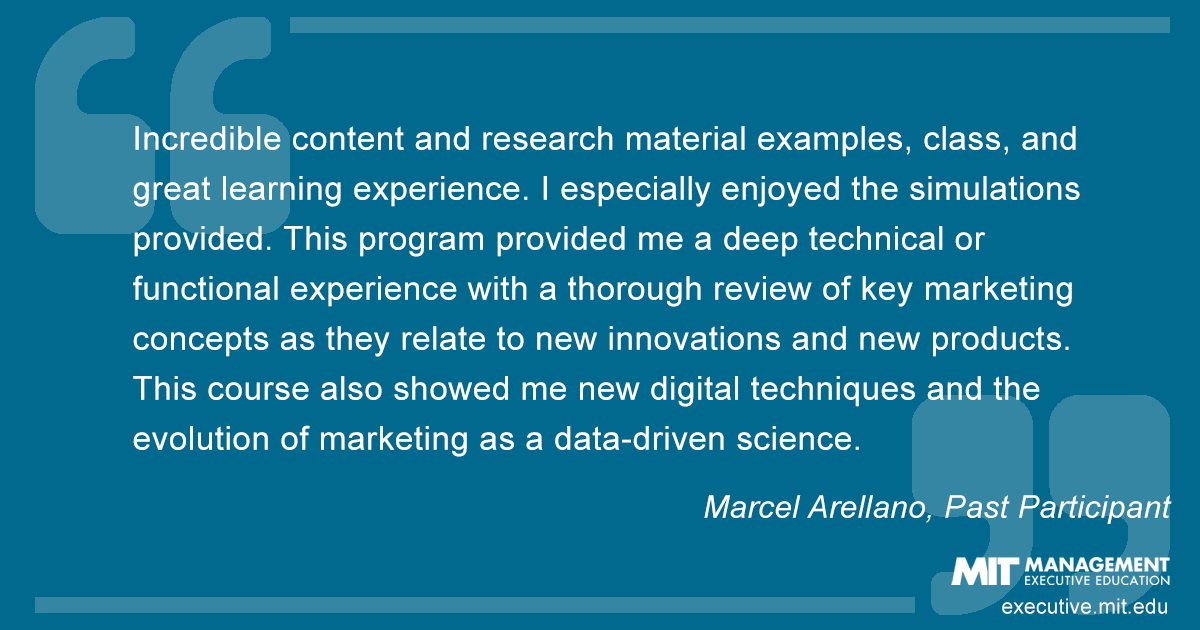 | Course Dates | Format | Duration | Time Commitment | Price |
| --- | --- | --- | --- | --- |
| Jul 22-26, 2024 | Live Online | 5 days | 3 hours/day | $4,500 |
Tracks
Strategy and Innovation
Certificate Credits
2.0 EEUs
Topics
- Marketing
- Strategy & Innovation
- Business Analytics
Marketing simulation exercise was the key of this course. It's just so useful to get an eagle eye view on how the company leadership has to make decisions considering the effect of each component.
—Ankit S.
Catherine Tucker is fantastic! So knowledgeable and engaging. I learned much more than I had expected going in.
—Marie N.