Leading People At Work: Strategies for Talent Analytics
Tracks
Management and Leadership
Certificate Credits
2.0 EEUs
Topics
- Organizations & Leadership
- Strategy & Innovation
- Business Analytics
Course Highlights
Gain a deeper understanding of how and when people analytics can be applied to improve critical issues such as recruiting and hiring, performance evaluation, promotion and training, compensation, and organizational change
Become familiar with the most relevant topics general managers face concerning the management of people
Learn a set of frameworks and theoretical models to help make key employee decisions
Earn a certificate of course completion from the MIT Sloan School of Management
Why attend Leading People at Work?
While people have always been critical to the success of organizations, many business leaders still make key decisions about their workforce based on intuition, experience, advice, and guesswork. However, today's leaders can improve their people decision-making based on the collection and systematic analysis of data.
Leading People at Work: Strategies for Talent Analytics focuses on the strategies that can be used to successfully design and implement people analytics in an organization. Faculty draw on the latest practices and research to illustrate how leading companies are using cutting-edge techniques to analyze data about their employees and make their organizations and their individual employees more successful. In doing so, we will explore areas where people analytics are most effective, and where it is particularly important to incorporate them.
Participants of this program will gain a deeper understanding of how and when people analytics can be applied to improve critical issues such as recruiting and hiring, performance evaluation, promotion and training, compensation, and organizational change.
Course Experience
People analytics is a data-driven approach to improving people-related decisions for the purpose of advancing both individual and organizational success. This course explores several strategies used to attract and retain top talent and illustrates how these strategies are being designed and used at cutting-edge companies.
The course takes the perspective of the general manager when examining how emerging big data analytical approaches applied to human resource management can be used to advance business objectives. By the end of this course, participants will understand how and when big data can be used to make key employee decisions, enabling executives to position themselves as a strategic partner in their company's talent management.
This course is not intended to teach statistics or programming. Nor will this course cover the issues involved when gathering (and analyzing) data. Instead, it is intended to acquaint participants with key strategies for the design and implementation of people analytics in an organization.
Applying to the Course
We accept enrollments until the offering reaches capacity, at which point we will maintain a waitlist. Many of the courses fill up several weeks in advance, so we advise that you enroll as early as possible to secure your seat.
You can begin the application process by using the red 'Enroll Now' bar at the bottom of the screen.

Health and Safety
See our on campus healthy and safety policies.
Have Questions?
Contact us if you would like to speak with a program director or visit our Frequently Asked Questions page for answers to common questions about our courses.
Upon successful completion of your course, you will earn a certificate of completion from the MIT Sloan School of Management. This course may also count toward MIT Sloan Executive Certificate requirements.
The goal of this course is to prepare executives to wisely collect and use data to manage people at work.
Participants of this course will:
Become familiar with the most relevant topics general managers face concerning the management of people
Learn a set of frameworks and theoretical models to help make key employee decisions
Be exposed to some of the most cutting-edge techniques used by companies to analyze data about their employees in order to make their organizations and their individual employees more successful
Understand how to apply big data analytics to identify, evaluate, and resolve a variety of challenges and issues relating to their workforce
Learn how to interpret and present the results of their analyses to make strategic people-related decision
By learning about strategies for people analytics, participants will not only advance their company's business objectives through the strategic management of people, but also their own career.
Hear from a past participant: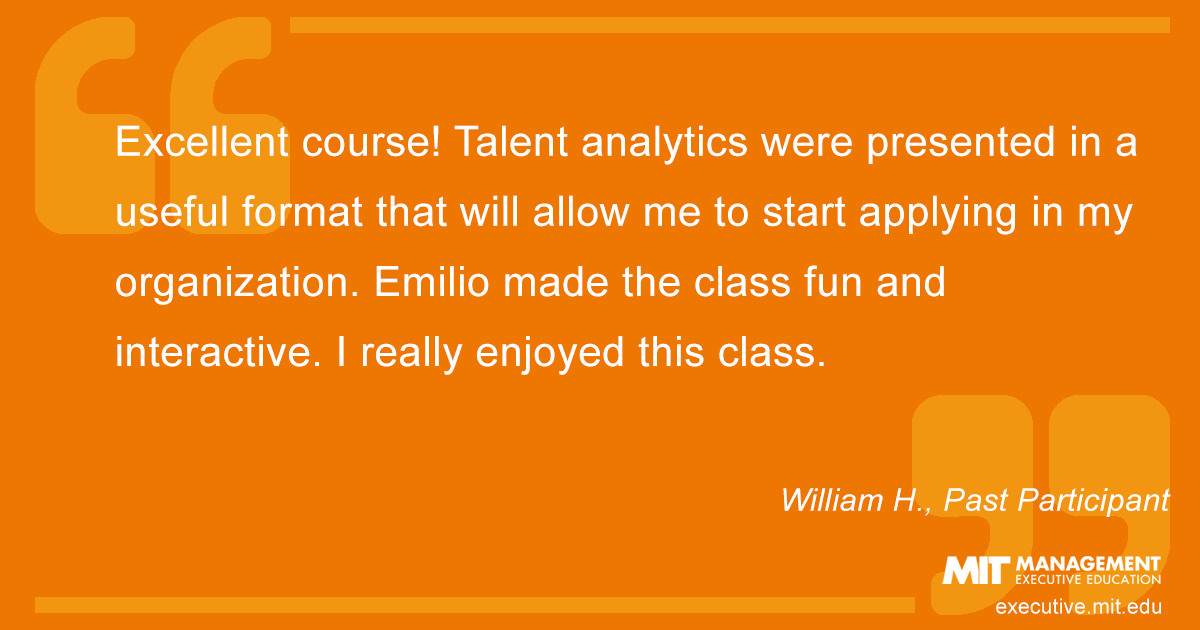 Sample Schedule—Subject to Change
This program has been developed for:
General managers and staff executives responsible for hiring and managing talent
Directors of organizational development and corporate strategy
HR directors and managers
Vice presidents of operations
Hear from a past participant: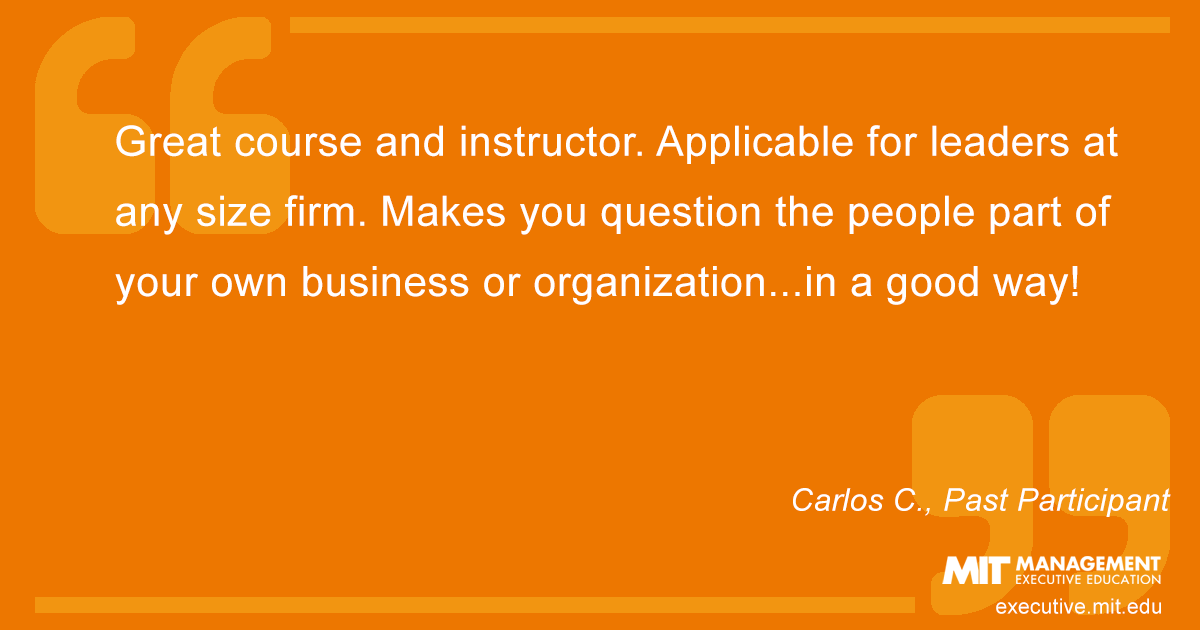 Tracks
Management and Leadership
Certificate Credits
2.0 EEUs
Topics
- Organizations & Leadership
- Strategy & Innovation
- Business Analytics
Engaging, insightful and a highly rewarding course and experience. Emilio provided the framework and models for addressing a majority of the challenges facing organizations in managing talent. The diversity of the global participants made the experience even more enjoyable. Highly recommend this program.
—Past Participant George S.