Distributed Leadership: Cultivating Nimble Organizations
Tracks
Management and Leadership
Certificate Credits
2.0 EEUs
Topics
- Organizations & Leadership
- Strategy & Innovation
Course Highlights
Learn how to architect and lead a nimble company by freeing people to innovate while maintaining strategic alignment and accountability
Delivered with a combination of theory, cases, exercises, and self-reflection
Earn a certificate of course completion from the MIT Sloan School of Management
Featured content
Why attend Nimble Leadership?
Organizations must innovate and adapt quickly to survive and thrive in an exponentially changing world. Business agility is key. Command-and-control bureaucracies are too rigid and slow to keep pace with rapid change; today's leaders must be nimble and capable of removing organizational and cultural barriers to change. This nimble leadership course will help you architect and lead a nimble company by freeing people to innovate while maintaining strategic alignment and accountability—without imposing bureaucracy.
Bureaucratic and hierarchical organizational structures and authoritative leadership styles are hardly the recommended approaches anymore. But until now, an alternative model has not emerged. Leaders know that nimble leadership and agility requires pushing power, decision making, and resource allocation lower in the organization; but how do they do it without losing control and falling into chaos?
Nimble is a system of leadership in which an organization's purpose, strategy, structure, culture, and leadership practices enable leaders up and down the organization to dream up new ideas and bring them to life. The goal is to build and run a team-based, networked organization that is customer-centric and can quickly sense and seize new opportunities that will win in the marketplace.
This course was formerly titled Nimble Leadership: Driving Customer Innovation and Elevating Employee Engagement.
Course experience
Through a combination of theory, cases, exercises, and self-reflection, you will learn how to diagnose the risks and barriers to change in your organization and understand how your own leadership style needs to evolve to match the needs of a nimble company.
Learn more about the in-person course experience.
Learn more about the live online experience.
Applying to the course
We accept enrollments until the offering reaches capacity, at which point we will maintain a waitlist. Many of the courses fill up several weeks in advance, so we advise that you enroll as early as possible to secure your seat.
You can begin the application process by using the red 'Enroll Now' bar at the bottom of the screen.
Health and Safety
See our on campus healthy and safety policies.
Have questions?
Contact us if you would like to speak with a program director or visit our Frequently Asked Questions page for answers to common questions about our courses.
Upon successful completion of your course, you will earn a certificate of completion from the MIT Sloan School of Management. This course may also count toward MIT Sloan Executive Certificate requirements.
As a participant in this course, you will
Understand the three interlocking components of a nimble company (culture, structure, and leadership practices) that free people to create, while keeping them aligned and accountable
Learn how to diagnose where your organization is on the journey to nimble, where you want to go, and obstacles that stand in the way
Create a strategic change plan that will move your organization towards the priority areas you identify
Learn specific tools of nimble leadership and system design that will aid you in your change effort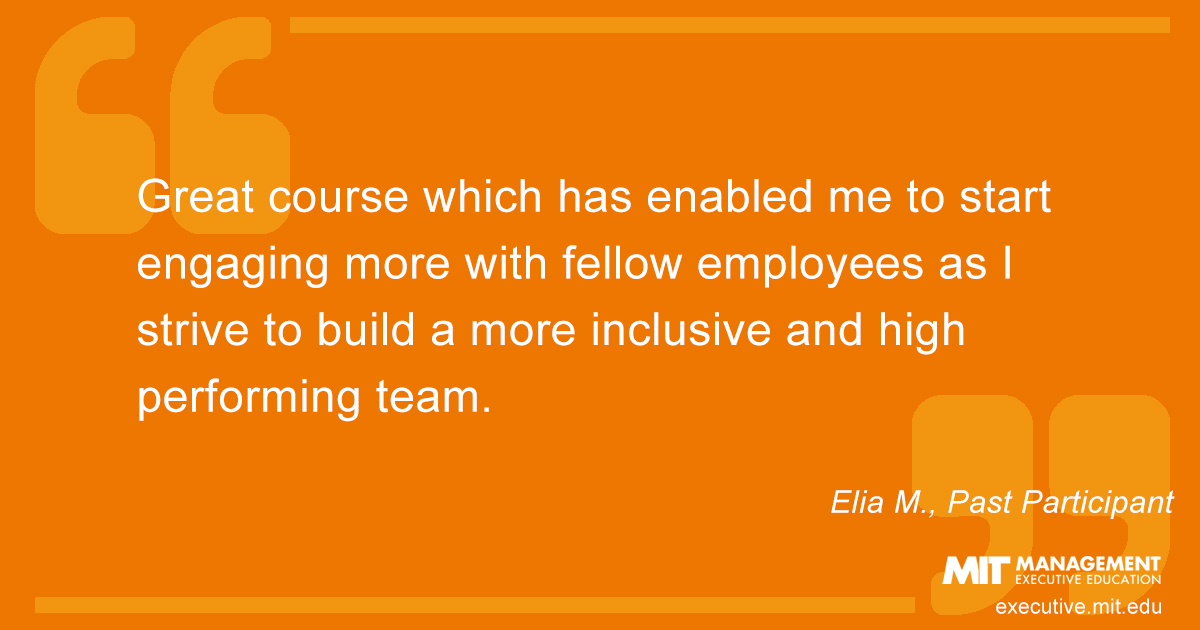 Sample Schedule—Subject to Change
This program has been designed especially for
Senior general and technical executives whose organizations compete in an environment of rapidly changing markets, technologies, and cultures, including:
CEOs
Presidents
COOs
Executive VPs
Heads of R&D, Engineering, Manufacturing & IS
Chief Technologists
Corporate Planners and Strategists
VPs of Marketing and New Venture Development
Other senior managers with leadership responsibility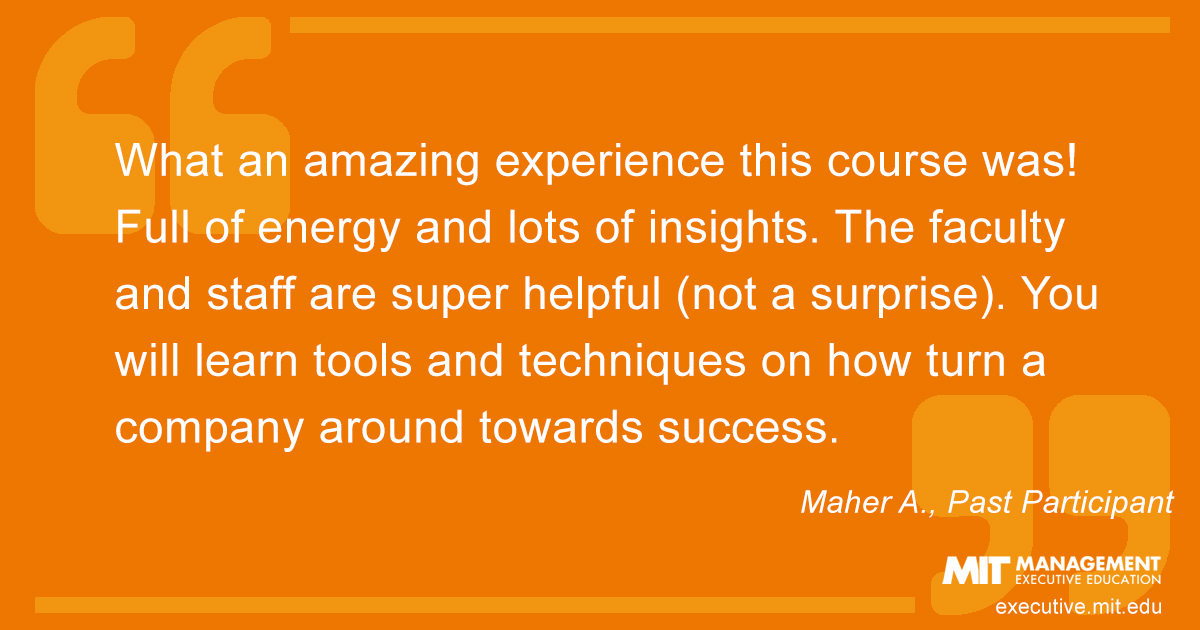 Tracks
Management and Leadership
Certificate Credits
2.0 EEUs
Topics
- Organizations & Leadership
- Strategy & Innovation