Leading Change in Complex Organizations
Tracks
Management and Leadership
Certificate Credits
5.0 EEUs
Topics
- Organizations & Leadership
Course Highlights
You will learn to harness the leadership skills, political resources, and cultural understandings needed to guide successful organizational change
You will learn to diagnose organizational cultures and the role they play in change projects
You will gain frameworks for making strategic business decisions in light of digitization and data analytics
You will learn the principles and methods of dynamic work design
You will better understand the critical success factors for implementing technological change in environments where failure rates are commonplace and few technologies seem to be implemented smoothly
You will earn a certificate of course completion from the MIT Sloan School of Management
Featured Content
Why attend Leading Change in Complex Organizations?
The 21st century organization is enormously complex, difficult to understand, and even more difficult to manage. Effective managers must have a strong knowledge of the people in the organization and the tasks they perform. They must also have the skills to use that knowledge in practical and flexible ways.
Leading Change in Complex Organizations presents innovative perspectives on organizational challenges, offering proven tools and frameworks to address them. The issues examined in the program—ranging from digitization to dynamic work design to workplace meritocracy—apply across sectors, industries, regions, and technical domains.
This program utilizes a unique analytical framework to address the change process from three perspectives: strategic, political, and cultural. Each of these lenses provides critical insights and tools that can help you avoid the pitfalls associated with managing change. You will learn to harness the leadership skills, political resources, and cultural understandings needed to guide successful organizational change.
Course Experience
This is a highly interactive program that draws managers and executives from around the world. As a participant in this program you will learn frameworks that are grounded in research and demonstrated through classroom conversations, exercises, group work, case studies and a software-based business simulation. The program is taught by world renowned MIT Sloan faculty as well as non-academic practitioners who demonstrate the application of course material.
Learn more about the in-person course experience.
Applying to the Course
The next session has not been scheduled yet. Sign up on the email form to receive a notification when the new date is announced.
We accept enrollments until the offering reaches capacity at which point we will maintain a waitlist. Many of the courses fill up several weeks in advance, so we advise that you enroll as early as possible to secure your seat.
You can begin the application process by using the red Enroll Now bar at the bottom of the screen.
Have Questions?
Contact Us if you would like to speak with a program director or visit our Frequently Asked Questions page for answers to common questions about our courses.
Upon successful completion of your course, you will earn a certificate of completion from the MIT Sloan School of Management. This course may also count toward MIT Sloan Executive Certificate requirements.
In this program, you will acquire an understanding of:
Forces that are transforming traditional management goals and practices
Practical tools and techniques for galvanizing the organization around change
Innovative incentives that organizations can offer to attract, retain, and manage employees who do not respond to familiar workplace rewards or aspire to traditional careers
Diagnosing organizational cultures and the role they play in change projects
Frameworks for making strategic business decisions in light of digitization and data analytics
Principles and methods of dynamic work design
Critical success factors for implementing technological change in environments where failure rates are commonplace and few technologies seem to be implemented smoothly
And, in general, why great ideas don't get implemented—and how to overcome the many barriers to change
Hear from a past participant: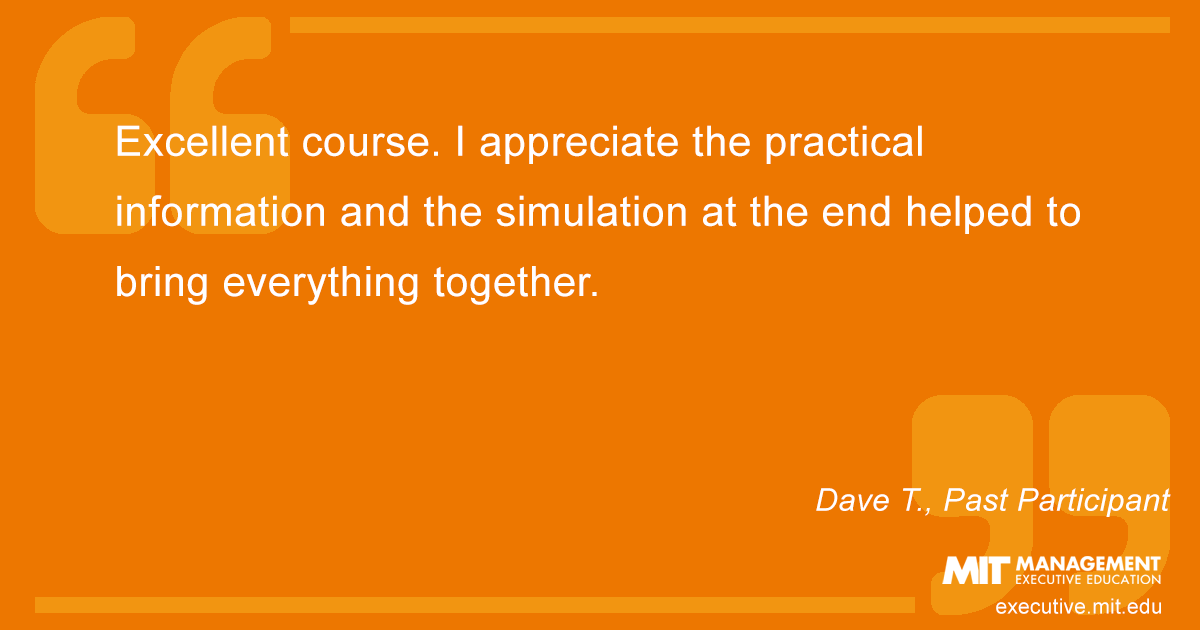 Sample Schedule—Subject to Change
This program is designed for general managers and senior functional managers who coordinate diverse groups and groups of diverse individuals.
Titles of past participants have included:
VP, Human Development
Executive Manager, Communications
Director, Organizational Learning
COO
Change Manager
EVP, Operations
Director, Corporate Strategy
Director of Organizational Development
Deputy Branch Chief
Director of Projects and Management Systems
Executive Director, Process Excellence
Manager, Organization and Methods
Manager, Strategic Human Resources
Organizational Development Specialist
Organizational Development and Training Lead
Programs and Business Development Manager
Senior Business Engineer
Executive Manager, HR
It can also benefit staff executives who manage training and education.The benefits of the program are reinforced when three or more participants from the same organization attend. Companies are encouraged to sponsor cross-functional team participation. Learn about our Team Discount.
Hear from a past participant: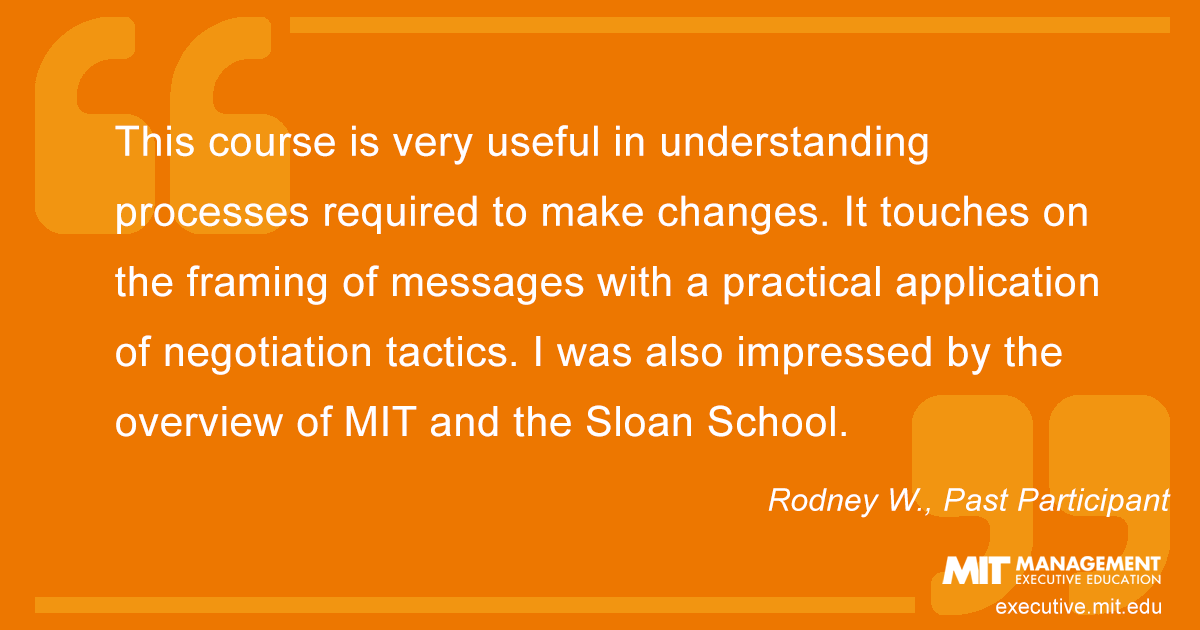 Tracks
Management and Leadership
Certificate Credits
5.0 EEUs
Topics
- Organizations & Leadership
Excellent course. I appreciate the practical information and the simulation at the end helped to bring everything together.
—Past Participant Dave T.