Owning Impact: Creating a Positive Legacy For Families and Society
Tracks
Management and Leadership
Certificate Credits
2.0 EEUs
Topics
- Family Enterprise
- Organizations & Leadership
- Systems Thinking
Course Highlights
This new, interactive course is designed to support families on their journey toward a positive social impact and family legacy in a rapidly changing and disrupted world
This course will help families build alignment on the topics of impact investing, philanthropy, corporate social responsibility, and political engagement
Families will leave the course with a better understanding of how to strengthen family unity, talent, culture, and reputation while uniquely contributing to a better world
You will earn a certificate of course completion from the MIT Sloan School of Management
Dates will be published soon. In the meantime, you can sign up to receive email notifications through the "Request Course Information" form on the right of the page.
Featured content
Why attend Owning Impact?
Family-owned businesses, family foundations, and family offices make a consequential economic, social, and environmental impact. How can families build an integrated family social impact strategy—driven by shared values, and utilizing the full set of opportunities, talents, and resources available to them?
At the intersection of family enterprise, social impact and systems thinking, this new, interactive course is designed to support families on their journey toward a positive social impact and family legacy in a rapidly changing and disrupted world. We bring together owners and future owners to develop an understanding of their dynamic family systems and work with them to create an integrated impact strategy. We then connect families with MIT faculty members to dive deeper into building knowledge and exploring opportunities in support of their specific strategies. Families will leave the course with a better understanding of how to strengthen family unity, talent, culture, and reputation while uniquely contributing to a better world.
Course experience
By mid-century, $41 trillion of family wealth will be inherited by the next generation, 60% of whom consider it important to use their family's wealth to make a positive social or environmental impact. Senior generations want to create a positive legacy, which includes family unity, talent development, economic success, and reputation. The events of 2020 have motivated purpose-driven families to intensify their commitment to the health of our society and world, building on their unique position in society - harnessing their collective power toward meaningful action. It is not always clear, however, what the appropriate impact focus should be, amid competing priorities.
Owning Impact provides families with an opportunity to convene around this charge, and to build family alignment on the topics of impact investing, philanthropy, corporate social responsibility, and political engagement. Through content, case studies, structured breakout activities, and meaningful discussions, participants will learn how to navigate the tensions of family social impact - moving from fragmented activities by individual family members toward a cohesive family social impact strategy, animated by shared values and drawing on the full capability of the family. Through the lens of systems thinking, a signature mode of thought at MIT, families will also learn how to deploy effort and resources in ways that truly advance their goals and minimize unintended consequences.
The course is taught by Jason Jay, director of MIT Sloan's Sustainability Initiative, and John Davis, lead faculty member of Family Enterprise Executive Programs at MIT Sloan. Jay and Davis are collaborating to develop a portfolio of offerings—the Owning Impact Project—to guide families as they strive to create positive social impact and family legacy.
The MIT perspective
MIT is uniquely positioned to provide support to families on their journey:
MIT understands and creates the future. We understand the technological innovation ecosystem, and develop future scenarios for the global economy, society, environment, and the role you can play in solving critical challenges.
MIT is rigorous. Expertise around specific problems and solutions abounds at MIT, as well as the ability to measure and evaluate impact efforts to ensure their effectiveness.
MIT unites the human and technical dimensions. Our faculty include leading coaches and facilitators on leadership, organizational change, and talent cultivation as you navigate social and technological disruption.
MIT leads in the understanding of family enterprise dynamics and social impact strategies.
Applying to the course
This family business course takes place over four half-days. We accept enrollments until the offering reaches capacity at which point we will maintain a waitlist. Many of the courses fill up several weeks in advance, so we advise that you enroll as early as possible to secure your seat.
We highly encourage families to attend this program as a group versus attending as an individual. Please note, teams of three or more participants from a single organization attending a program together are eligible for a 15% group tuition discount. See the Team Discount details.
You can begin the application process by using the red Enroll Now bar at the bottom of the screen.
Have questions?
Contact Us if you would like to speak with a program director or visit our Frequently Asked Questions page for answers to common questions about our courses.
Upon successful completion of your course, you will earn a certificate of completion from the MIT Sloan School of Management. This course may also count toward MIT Sloan Executive Certificate requirements.
As a participant in this course, you will benefit from
A clear impact strategy for this changing world, including business practices, investment, philanthropy, political engagement and family activities
A deeper understanding of the dynamics of your family system, and how to navigate tensions to build momentum for change
Systems thinking tools that help you understand the constellation of actions you and your family must take to meet your goals
Practical guidance to accelerate impact efforts within the specific channels of philanthropy, impact investing, corporate sustainability, and political engagement, and realize synergies across the board.
Addressing questions of governance surrounding family social impact activities: how owners' values and purpose can guide corporate boards, investment committees, and philanthropic boards to implement strategy in concert with key stakeholders and beneficiaries.
Sharing ideas, best practices, and collaborating with other families.
Learning from leading MIT faculty in specific areas of impact that you are interested in, and exploring opportunities to engage and activate your impact strategies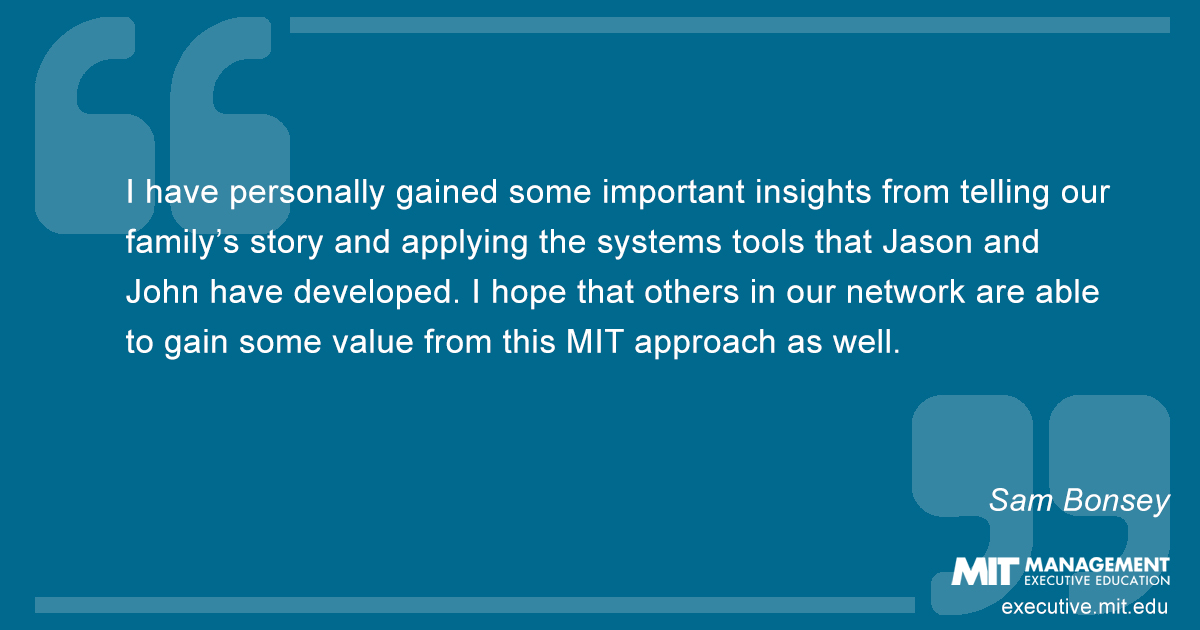 Sample Schedule—Subject to Change
This program is designed for family teams of at least two individuals, although we encourage teams of four or more. Family teams allow participants to have crucial conversations together and collaborate on short and long-term planning during the program. It also allows each team to take back to their family enterprise systems the concepts, practices, and understandings absorbed during the course.
Our family programs draw participants from around the world. They typically have complex family enterprise systems: companies, financial assets and perhaps a family office, family philanthropic and community activities, plus a growing and increasingly complex family and ownership group. They may have experimented with impact investing, philanthropy, and structured corporate sustainability efforts but seek greater impact and coherence across these activities.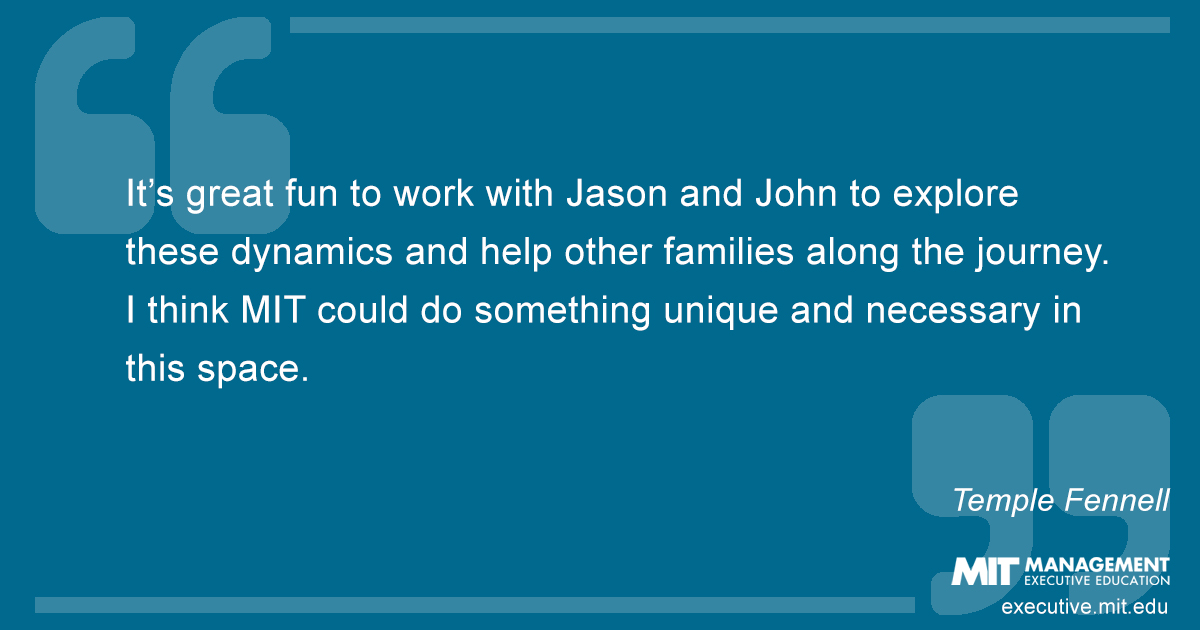 Tracks
Management and Leadership
Certificate Credits
2.0 EEUs
Topics
- Family Enterprise
- Organizations & Leadership
- Systems Thinking
Family-owned impact falls into four categories—impact investing, philanthropy, corporate social responsibility, and political engagement. Each of these play an essential role in the transition to a just and sustainable economy.
—Jason Jay, Sr. Lecturer, Director, Sustainability Initiative