Managing Complex Technical Projects
| Course Dates | Format | Duration | Time Commitment | Price |
| --- | --- | --- | --- | --- |
| Dec 4-6, 2024 | Live Online | 3 days | 4-5 hours/day | $4,500 |
Tracks
Technology and Operations
Certificate Credits
2.0 EEUs
Topics
- Digital Business & IT
- Operations
- Strategy & Innovation
Course Highlights
This course is delivered in our Live Online format which enables real-time interaction with faculty and global peers
Two days of the course focus on the design structure matrix (DSM) method, while the third day teaches modern agile development methods
Through lectures, exercises, interactive discussions, and teamwork, you will learn two sets of techniques which you can use to better handle the complexity of large product and service development efforts
You will earn a certificate of course completion from the MIT Sloan School of Management
Why attend Managing Complex Technical Projects?
Managing complex technical projects is a massive effort well beyond the scope of a simple project plan. Complex systems are comprised of hundreds or thousands of interconnected components, each potentially developed by a different group of people distributed over multiple organizations. Cost and schedule overruns are common. How can technical program leaders better manage such a complex process?
This project management training program enables participants to reduce the complexity involved in large projects by restructuring development and management procedures in ways that produces small-team results. MIT's innovative solution, based on the design structure matrix (DSM), is devised to streamline complex projects by developing detailed models to understand the intricate interactions and iterative nature of design. The course also discusses modern agile development methods and their application in complex technical projects.
Course Experience
Through lectures, exercises, interactive discussions, and teamwork, you will learn two sets of techniques which technical managers can use to better handle the complexity of large product and service development efforts. Two days of the course focus on the design structure matrix (DSM) method, while the third day teaches modern agile development methods.
DSM techniques have been used by MIT researchers to study complex system development and to help technical managers improve project performance. After field-testing DSM in dozens of organizations and industries around the world, the method is now being applied in a wide range of technical industries – automotive, software, aerospace, telecommunications, medical devices, energy systems, electronics, capital equipment, large-scale construction, and more.
Agile development techniques have been evolving in the software industry for many years. Today we are finding ways to apply agile methods in many other types of technical projects. However, some of the techniques that work for software projects are difficult to apply in other realms. The key to application of agile methods is to understand which of the many tools to use in any particular project.
Learn more about the live online experience.
Applying to the Course
We accept enrollments until the offering reaches capacity at which point we will maintain a waitlist. Many of the courses fill up several weeks in advance, so we advise that you enroll as early as possible to secure your seat.
You can begin the application process by using the red Enroll Now bar at the bottom of the screen.
Have Questions?
Contact Us if you would like to speak with a program director or visit our Frequently Asked Questions page for answers to common questions about our courses.
Upon successful completion of your course, you will earn a certificate of completion from the MIT Sloan School of Management. This course may also count toward MIT Sloan Executive Certificate requirements.
Through lectures, exercises, interactive discussions, and teamwork, participants in the program Managing Complex Technical Projects learn how to:
Map existing product development processes using DSM
Identify ways to facilitate planned iterations and reduce unplanned iterations
Manage technical complexity
Model system decomposition and architecture using DSM
Find patterns of modularity and integration in systems
Restructure development organizations based on system architecture
Understand team-based agile development and scrum methods
Select the most appropriate agile tools for specific projects
Scale planning and coordination in larger agile applications
Hear from a past participant: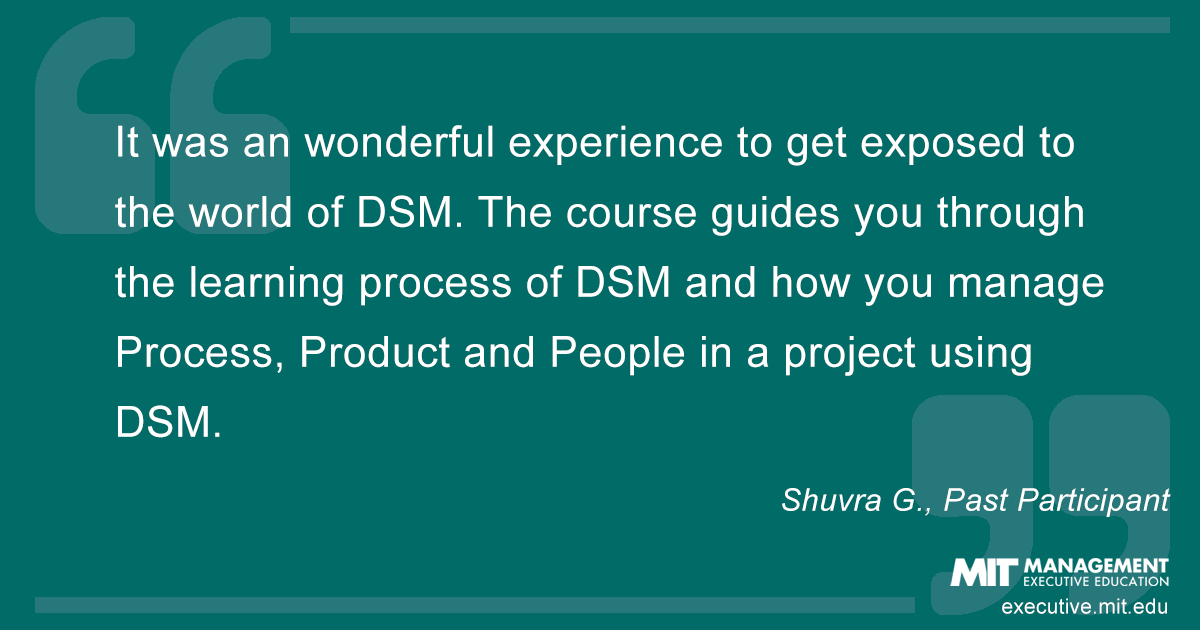 Sample Schedule—Subject to Change
Managing Complex Technical Projects is designed for senior managers involved in complex product development, highly-interdependent system and service development and delivery, and project management as well as those responsible for speeding up the process of improving design procedures and designing and developing better products and services.
The primary focus is on technical, engineering-driven products, services, and processes, although discussion around others is welcomed as applicable.
Participants include:
Vice presidents of engineering, manufacturing, and technology
Directors of project, program or service management
Product, service and business development
Engineering and R&D program managers
Chief project engineers
Product design and process development engineers
Technology strategists
Project leaders
Hear from a past participant: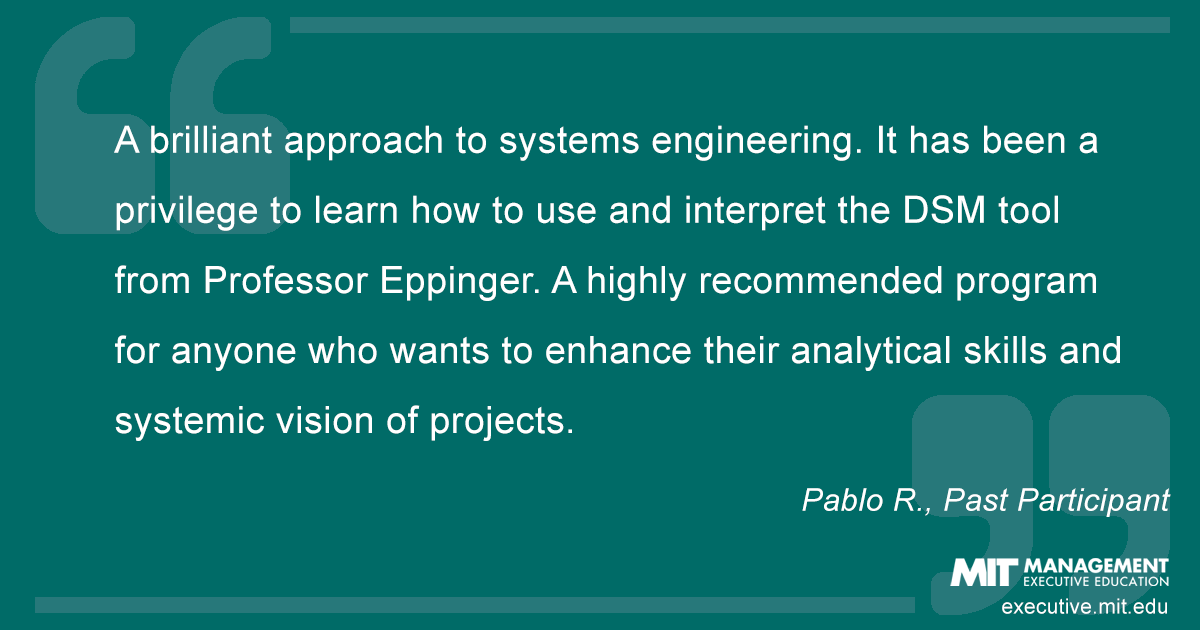 | Course Dates | Format | Duration | Time Commitment | Price |
| --- | --- | --- | --- | --- |
| Dec 4-6, 2024 | Live Online | 3 days | 4-5 hours/day | $4,500 |
Tracks
Technology and Operations
Certificate Credits
2.0 EEUs
Topics
- Digital Business & IT
- Operations
- Strategy & Innovation
The program has been excellent. Eppinger has been able to provide us, in a very short time, the key information on how to manage complex products, processes and organizations using the DSM approach, including several application examples. Wonderful class!
—Past Participant Guiseppe G.