Driving Strategic Innovation: Achieving High Performance Throughout the Value Chain
| Course Dates | Format | Location | Duration | Time Commitment | Price |
| --- | --- | --- | --- | --- | --- |
| Apr 7-12, 2024 | In Person | Lausanne, Switzerland | 6 days | 4-10 hours/day | CHF11,500 |
| Sep 22-27, 2024 | In Person | Cambridge, MA | 6 days | 4-10 hours/day | $12,500 |
Tracks
Strategy and Innovation
Certificate Credits
5.0 EEUs
Topics
- Marketing
- Operations
- Strategy & Innovation
Course Highlights
Offered jointly with IMD and takes place in person on the IMD campus in Switzerland or on the MIT campus in Cambridge, MA (see the course offering dates for locations)
Combines marketing, product development, technology assessment, value chain design, project execution, and talent management in an end-to-end roadmap for achieving breakthrough performance
Explore your own approach and style to innovation and leave with a roadmap which supports your company's strategic goals and accelerates change
Participate in wide-ranging and challenging discussions, intensive group projects, and live case studies
Manage the front-end of the innovation process and navigate increasingly unpredictable value chains
Why attend Driving Strategic Innovation?
How do the most successful innovators generate more than their fair share of smart ideas? How do they unleash the creative talent of their people? How do they move ideas through their organizations and supply chains that are not only creative but fast to market? The answers to these key questions form the core of this program for business leaders and entrepreneurs who are determined to position their companies for future growth.

Offered jointly with IMD, this course combines marketing, product development, technology assessment, value-chain design, project execution, and talent management in an end-to-end roadmap for achieving breakthrough performance. Drawing on a dynamic and integrative value chain framework created at MIT, participants learn how to build organizational relationships that facilitate knowledge transfer, both within the firm and across the value chain. Business leaders will explore how to successfully manage strategic innovation from concept to commercialization.
Course experience
Throughout this course, you will participate in wide-ranging and challenging discussions, intensive group projects, and live case studies, with ample opportunities for interaction with faculty and peers. Past participants form a network of innovative thinkers who continue to exchange ideas long after the course ends.
Program themes:
Incremental and discontinuous strategic innovation are not opposites, they are partners
We love our customers, but we are always out of equilibrium with them
We might serve our customers better by talking with people who are not our customers, and never will be
Good ideas do not just rely on experts, they require non-experts as well
Innovation thrives when ambiguity is both reduced and enlarged
Creating value is not the same as capturing value
Wide-ranging creativity requires discipline
Bottom-up entrepreneurial innovation thrives under strong, self-confident, top-down leaders
Learn more about the in-person course experience.
Health and Safety
See our on campus healthy and safety policies.
Applying to the course
Qualified candidates are admitted on a rolling, space-available basis, and space is limited. Early application is encouraged and will increase your chances of being accepted. As this course is scheduled to be held in-person, please also allow for Visa processing times.
You can begin the application process by using the red 'Enroll Now' bar at the bottom of the screen.
Have questions?
Contact us if you would like to speak with a program director or visit our Frequently Asked Questions page for answers to common questions about our courses.
Participants will leave this program armed with the knowledge of how to influence corporate culture, alter the way their organization responds to the challenge of strategic innovation, and strengthen relationships with partners along the value chain.
This intensive learning experience will deliver long-term value, helping business leaders to:
Meet technology challenges, from R&D to manufacturing, and project management to engineering
Link technology decisions with business strategy
Integrate product development, process developments, and value-chain strategy
Develop organization and supply-chain strategies to position the company for future growth
Leverage learning and innovation collaboration with customers, lead users, and suppliers, maximizing the value of research
Understand how technologies and markets evolve and how they are linked
Outperform the competition by generating breakthrough ideas
Cope with shorter product life cycles, while delivering greater customer satisfaction
Optimize sourcing and "make-buy" decisions
Integrate supply chain design with concurrent engineering
Engage talent within the organization and across the value chain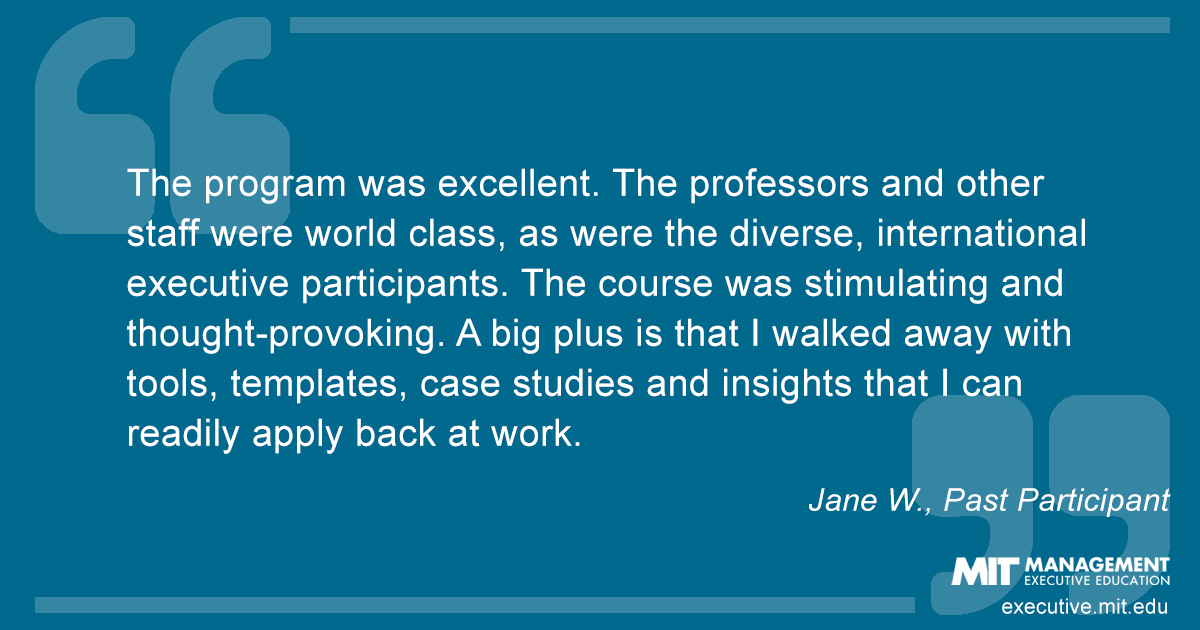 Sample Schedule—Subject to Change
This course is designed for senior executives and entrepreneurs who have significant input into the technology and innovation strategy of their organizations. Participants should play a key role within their organizations where they have the ability and perspective to look up and down the value chain to appraise strategic technology options wherever they arise.
Business leaders who will take away the greatest value from this program include:
CTOs
R&D directors
Other senior executives, and entrepreneurs who are responsible for technology, R&D, and supply chain strategy
CEOs
COOs
CIOs
Senior executives in charge of strategic innovation or new business development
Teams charged with planning and implementing innovation or value chain strategy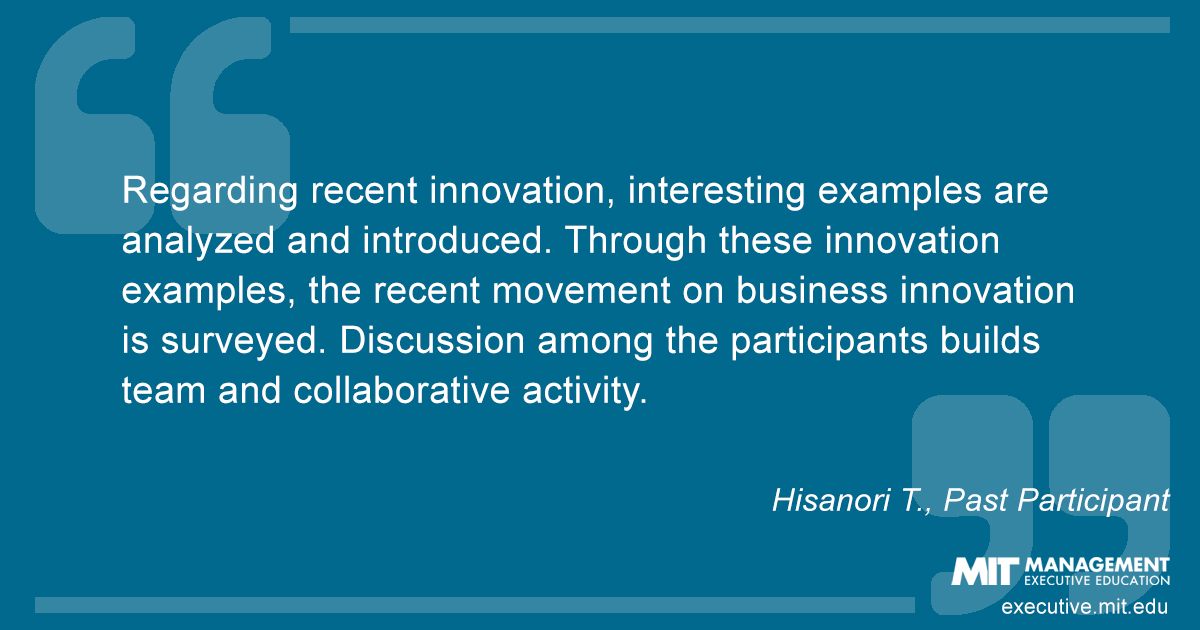 | Course Dates | Format | Location | Duration | Time Commitment | Price |
| --- | --- | --- | --- | --- | --- |
| Apr 7-12, 2024 | In Person | Lausanne, Switzerland | 6 days | 4-10 hours/day | CHF11,500 |
| Sep 22-27, 2024 | In Person | Cambridge, MA | 6 days | 4-10 hours/day | $12,500 |
Tracks
Strategy and Innovation
Certificate Credits
5.0 EEUs
Topics
- Marketing
- Operations
- Strategy & Innovation
An excellent program with many applicable tools made available for the participants to take back with them to implement in their own organizations
—George L.