Strategic Cost Analysis for Managers
Tracks
Technology and Operations
Certificate Credits
2.0 EEUs
Topics
- Financial Management
- Operations
Course Highlights
This course is delivered in our Live Online format which enables real-time interaction with faculty and global peers
Learn to analyze the performance of projects, and even entire departments, from a financial perspective
Gain a deeper understanding of cost management and how resources are allocated throughout an organization
Understand how to leverage cost and variance analysis to position a particular project or department for success
You will earn a certificate of course completion from the MIT Sloan School of Management
Why attend Strategic Cost Analysis for Managers?
This cost analysis course offers a unique opportunity for program and project managers to learn cost accounting-based management practices and strategies for making smart business decisions that justify outcomes and create value.
Whereas financial accounting is used primarily to communicate the overall results for an entire organization to external parties, strategic cost analysis helps you answer the granular, day-to-day questions: How much does this product cost to make? How should I price this service? How do I use the budget process to help me plan better in the first place? How do I evaluate the performance of my employees?
Course Experience
You will learn through a series of interactive lectures, cases, and small group exercises.
Program material is drawn from our popular and highly rated MBA course on managerial accounting, and topics include product costing, activity based management, flexible budgeting, variance analysis, and performance measurement systems.
Learn more about the live online experience.
Applying to the Course
We accept enrollments until the offering reaches capacity at which point we will maintain a waitlist. Many of the courses fill up several weeks in advance, so we advise that you enroll as early as possible to secure your seat.
You can begin the application process by using the red Enroll Now bar at the bottom of the screen.
Have Questions?
Contact Us if you would like to speak with a program director or visit our Frequently Asked Questions page for answers to common questions about our courses.
Upon successful completion of your course, you will earn a certificate of completion from the MIT Sloan School of Management. This course may also count toward MIT Sloan Executive Certificate requirements.
The program offers a series of interactive lectures, cases, and small group exercises that will help participants better understand:
The language and mechanics of cost accounting that goes on within complex organizations
Cost allocation, absorption costing, and transfer pricing, and their effect on reported performance
How to identify good results even though the accounting numbers look bad, and bad results when the accounting numbers look good
Companies' internal metrics for evaluating management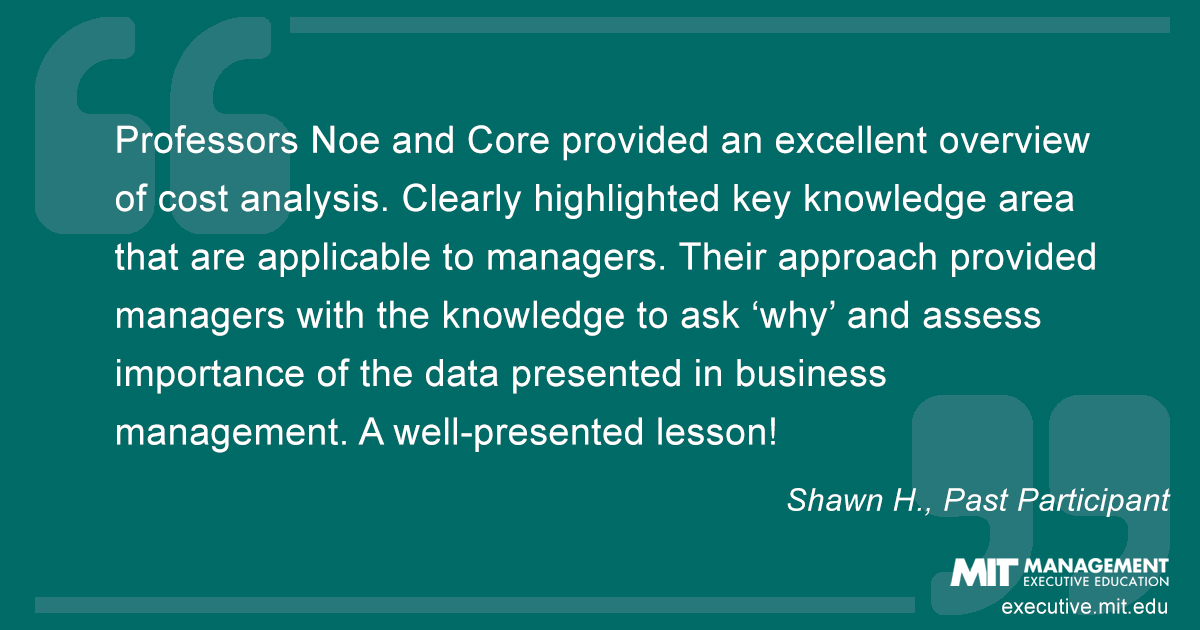 Sample Schedule—Subject to Change
This program has been developed for:
Senior program and project managers from a wide range of consumer and business-to-business industries, including:
Managers from engineering, manufacturing, IT, and technology departments
Directors of project management, product and business development, and R&D
Chief project engineers
Product design and process development engineers
Key staff members with performance responsibility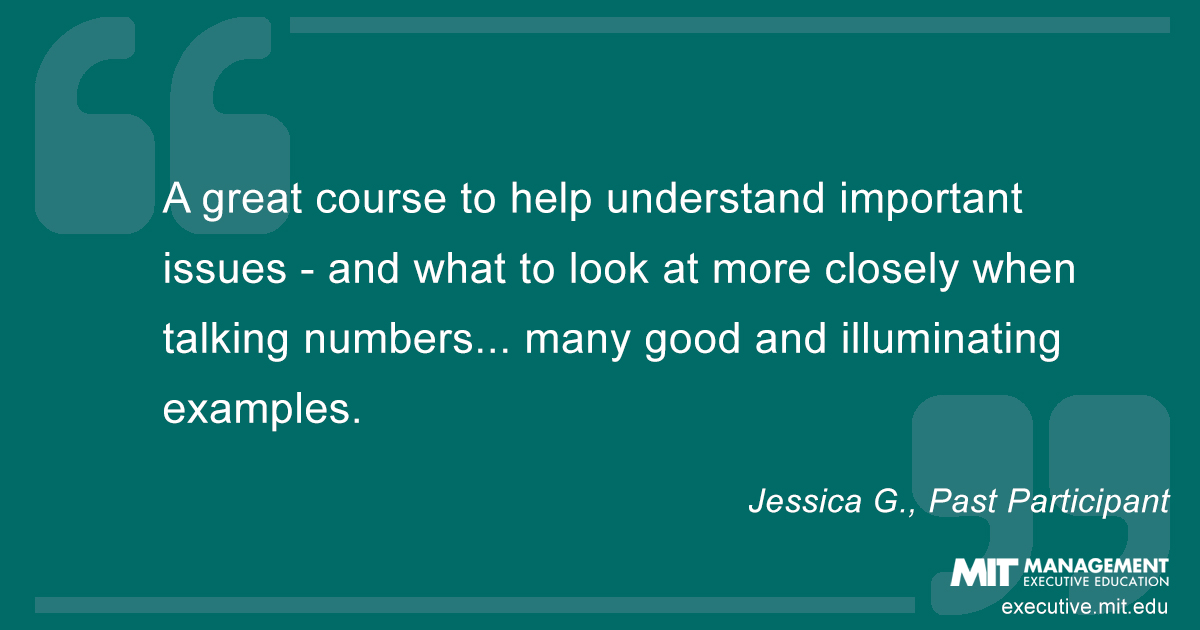 Tracks
Technology and Operations
Certificate Credits
2.0 EEUs
Topics
- Financial Management
- Operations
This two-day program helped me understand the strategic management of financial objectives. While I have managed $100 million in CAPEx and OPEx for more than a decade—this program will make me a better manager for the next decade!
—Past Participant Sam G.