Implementing Industry 4.0: Leading Change in Manufacturing and Operations
Certificate Credits
2.0 EEUs
Topics
- Digital Business & IT
- Operations
- Systems Thinking
Course Highlights
Learn how to implement large scale technological change
Gain an understanding of how to obtain greater value from your business by diagnosing the states of your systems, measuring activities appropriately, and overcoming cultural obstacles to deploy productive technologies
Hear from guest speakers who are leaders in their fields
Earn a certificate of course completion from the MIT Sloan School of Management
Course Snapshot

Why attend Implementing Industry 4.0?
The term "Industry 4.0" refers to the combination of several major innovations in digital technology that are poised to transform the energy and manufacturing sectors. From advanced robotics and machine learning to software-as-a-service (SaSS) and the Industrial Internet of Things (IIoT), these changes enable a powerful new way of organizing global operations. But how should executives lead this change within their own organizations so as to not negatively impact production, customer satisfaction, and corporate culture?
Implementing Industry 4.0: Leading Change in Manufacturing & Operations is designed to help executives implement large scale technological change. This course is not focused on the features or selection of specific Industrial Internet of Things/IIoT technology, products, or services. Instead, it is intended to help senior leaders in manufacturing and operations who are deploying Industrial Internet of Things technologies to obtain greater value from their businesses by diagnosing the states of their systems, measuring activities appropriately, and overcoming cultural obstacles to deployment of productive technologies.
Course Experience
Topics discussed include:
New business models and forms of operations that are currently being enabled by technological innovations such as the Industrial Internet of Things (IIoT)
The "hidden factory" that results from a counterproductive and unpredictable mix of old and new technologies. Over time, this results in an unknown "process" that delivers defect-laden products behind schedule
The importance of decoding cultural and workforce factors prior to making an investment in new technologies
The overemphasis on visioning at the expense of fully understanding existing systems, the context in which those systems are operating, and the people who must use the technology
Ways to increase a factory's "IQ," leading to more productive and safer operations
The role of the front-line leader in the adoption and successful execution of the new technology
Learn more about the in-person course experience.
Learn more about the live-online course experience.
Guests
We're excited to announce the following guests for the next offering:
Peggy Gulick: Director - Smart Factory, Kohler, and 2021 inductee in the Women in Manufacturing Hall of Fame
Matt Littlefield: President and Research Lead, LNS Research
Thomas Roemer: MIT Senior Lecturer
AND a visit to the PTC Corporate Experience Center in the Boston Seaport for a hands-on learning experience of Industry 4.0 technologies.
Applying to the course
We accept enrollments until the offering reaches capacity, at which point we will maintain a waitlist. Many of the courses fill up several weeks in advance, so we advise that you enroll as early as possible to secure your seat.
You can begin the application process by using the red 'Enroll Now' bar at the bottom of the screen.
Health and Safety
See our on campus healthy and safety policies.

Have questions?
Contact us if you would like to speak with a program director or visit our Frequently Asked Questions page for answers to common questions about our courses.
Upon successful completion of your course, you will earn a certificate of completion from the MIT Sloan School of Management. This course may also count toward MIT Sloan Executive Certificate requirements.
In this program, executives and frontline managers will explore methods and tools that individuals, teams, and organizations can use immediately to get the greatest value from technological change.
Participants of this course will learn how to
Identify current-state problems that need to be removed prior to the introduction of new technology
Eradicate "hidden factories" issues in process models and operations development of workforce skills
Successfully incorporate new technologies without disappointing customers, overburdening employees, and hurting short-term cash flow
Sequence the introduction of IIoT to accelerate adoption and time to cash flow
Use IIoT to leverage existing Lean/Six Sigma/continuous improvement efforts
Develop a coherent roadmap they can share with their entire company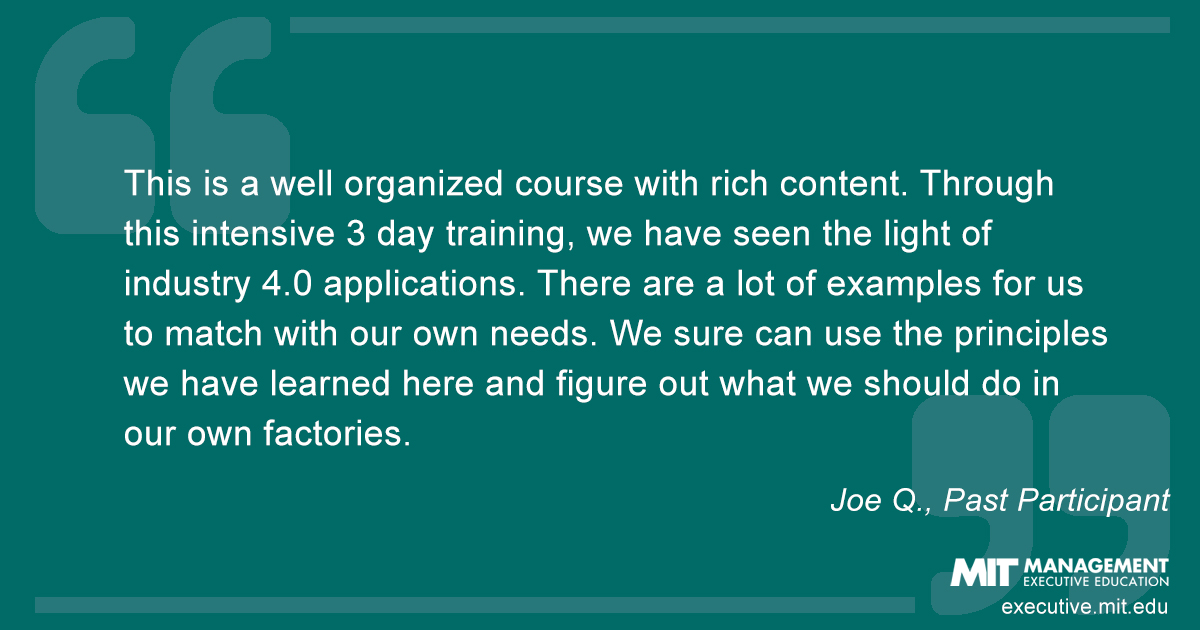 Sample Schedule—Subject to Change
This program is designed for
Anyone looking to integrate new industrial technology (such as IIoT) into their existing facilities in such a way as to realize the advantages while avoiding the systemic risks
Employees of companies developing new industrial products and services that are interested in accelerating adoption rate through a better understanding of their customers' needs.
CEOs
Operations general managers
VPs/Directors of continuous improvement
Frontline leaders
IIoT software application developers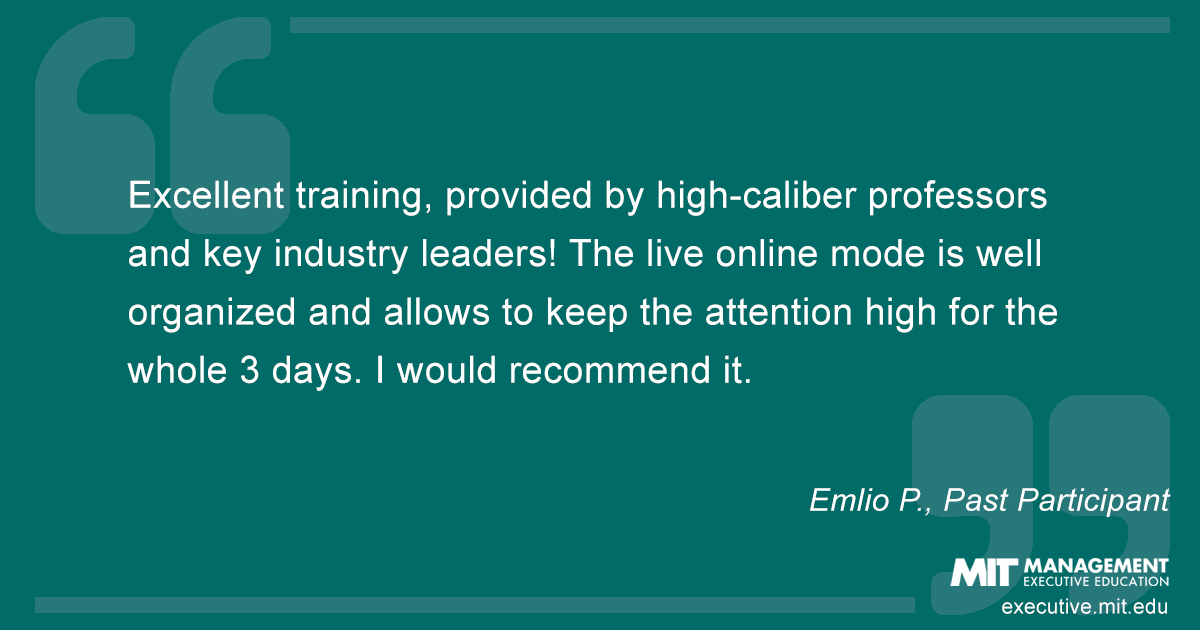 Certificate Credits
2.0 EEUs
Topics
- Digital Business & IT
- Operations
- Systems Thinking
Packed with great content and discussion. I enjoyed the readings both before and after the class. Of course, this field is broad and there is much to learn, but this course is a great map.
—Gabriel Castanon D.
I highly recommend this course covering Industry 4.0, brought to us by leading faculty and experts working on cutting-edge real-world applications.
—Manuel Muñoz De La C