Building, Leading, and Sustaining the Innovative Organization
Tracks
Strategy and Innovation
Certificate Credits
2.0 EEUs
Topics
- Organizations & Leadership
- Strategy & Innovation
Course Highlights
This course outlines the critical human, cultural, and organizational dimensions that must be aligned in order to create and sustain innovation
This program is designed to help organizations focus and appropriately change how they approach new product and service developments to encourage rather than inhibit innovation
You will earn a certificate of course completion from the MIT Sloan School of Management
Why attend Building, Leading, and Sustaining the Innovative Organization?
This course outlines the steps required to address the challenges most organizations face in their effort to be more innovative. Structured around a framework developed at MIT for leading and organizing breakthrough innovation, the program helps participants better understand how to anticipate customer needs and technology advances.
This program is designed to help organizations change their new product and service development processes to encourage rather than inhibit innovation. Too often the culture, structure, and organizational processes that promote short-term developments make innovation very difficult to introduce. This course will help you identify those barriers and provide practical steps to overcome them.
Drawing on over five decades of MIT research on innovation, the program will provide participants proven tools, concepts, and frameworks that will enable them to responsibly identify and commercialize the innovative products and services needed to survive and grow in the face of changing markets, technologies, and consumer demand.
Specifically, participants will be presented with:
Tactics for dealing with the uncertainty, risk-taking, internal politics, and resistance to change that can threaten innovation initiatives and early-stage developments
Ways to address common misperceptions about innovation that stifle your ability to quickly respond to a rapidly changing competitive landscape
Modifications to existing development processes that will make them more innovative friendly, from anticipating customer problems and emerging technologies, to creating roadmaps that guide the innovative offerings needed to remain competitive
Insights on the critical roles needed for moving, selling, and marshaling innovation through your functioning organization
Applying to the Course
We accept enrollments until the offering reaches capacity at which point we will maintain a waitlist. Many of the courses fill up several weeks in advance, so we advise that you enroll as early as possible to secure your seat.
You can begin the application process by using the red Enroll Now bar at the bottom of the screen.
Have Questions?
Contact Us if you would like to speak with a program director or visit our Frequently Asked Questions page for answers to common questions about our courses.
Upon successful completion of your course, you will earn a certificate of completion from the MIT Sloan School of Management. This course may also count toward MIT Sloan Executive Certificate requirements.
This course outlines the concepts and steps required to lead and implement a culture that fosters innovation. Structured around a 3-pillar framework (people, culture, process) developed for leading and organizing innovative activities, the program helps participants better understand how to identify the means by which organizations can overcome complacency and improve their marketing/technology interfaces for enhancing their innovative strategies.

Participants will learn about the options available for driving strategic innovation in the organization, including how to:
Combine the right mix of capabilities and critical functions to generate and commercialize innovative ideas more efficiently
Develop the processes required to support these activities
Build cultures that encourage innovative behaviors
Overcome the six misconceptions that stymie innovation in order to gather and process information that drives innovative ideas, identify opportunities that promote your organization's strategic goals, and deal with risk and uncertainty in a more timely manner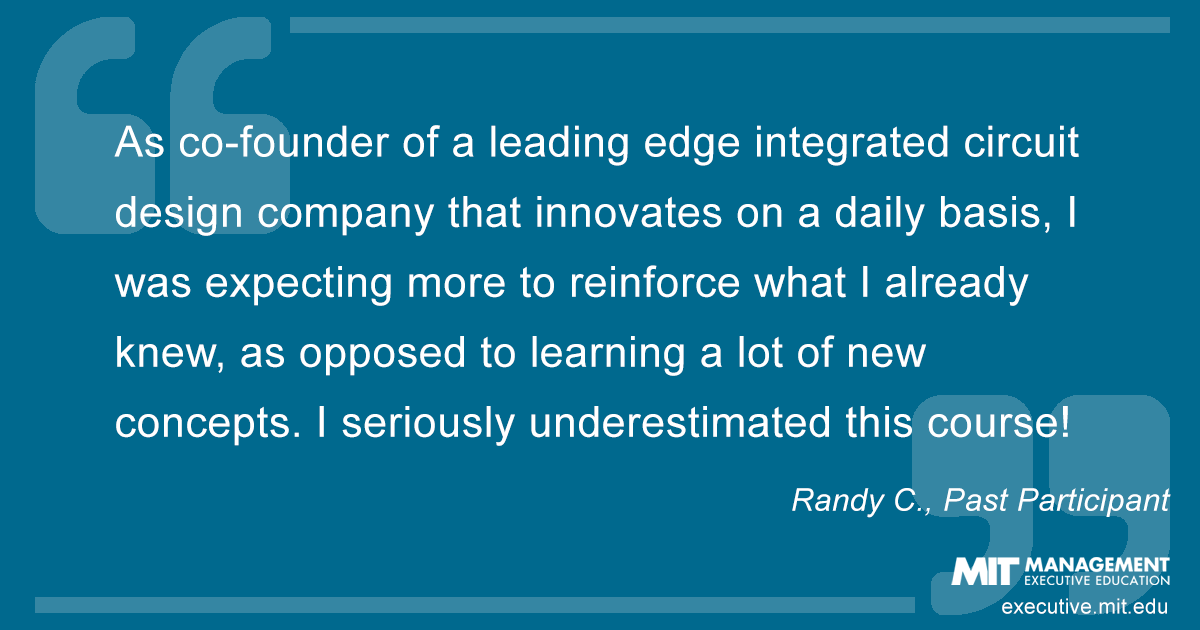 Sample Schedule—Subject to Change
This program has been developed for executives, managers and leaders who are interested in improving the organization's innovative capabilities, including:
VPs of Marketing, New Product Development, R&D, Human Resources, and New Business Development
CIOs
Chief Technologists, Innovation Officers
Managers and leaders with responsibility for innovative activities
Other executives with leadership responsibility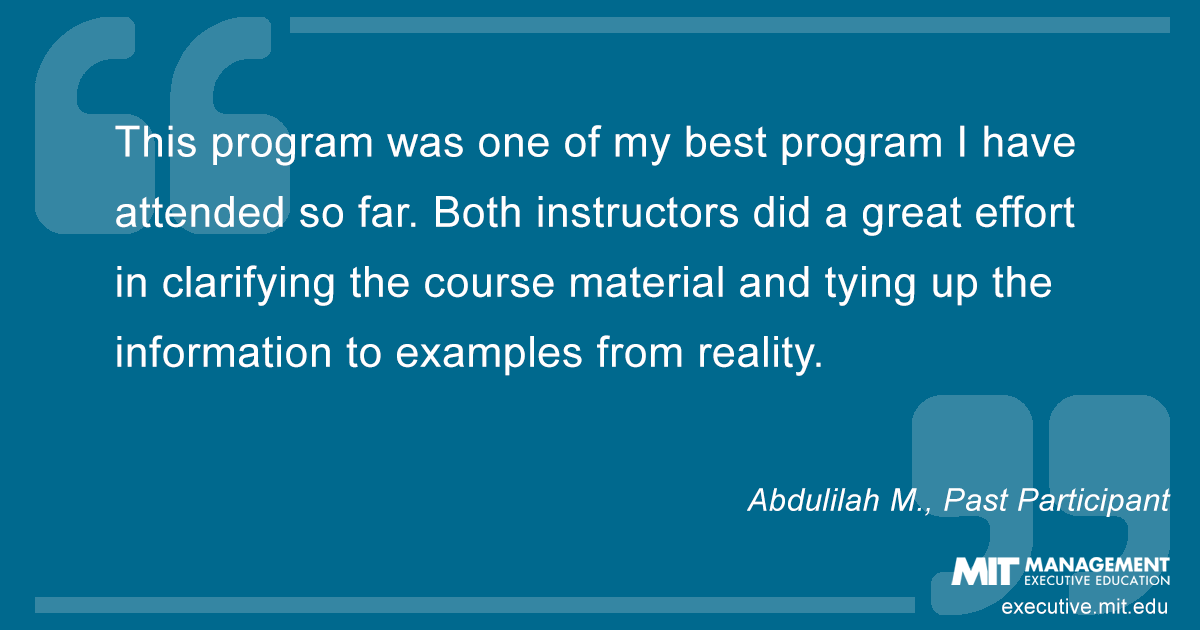 Tracks
Strategy and Innovation
Certificate Credits
2.0 EEUs
Topics
- Organizations & Leadership
- Strategy & Innovation
Amazing class. It has directly helped me build an innovation ecosystem in my company. Highly useful tools and clear ideas on how to use this right away to increase value in your company.
—Past Participant Brajesh J.
A Participant's Perspective
It's all about innovation for Mike Sansoucy, Director of Product Development. Encouraging innovation, as well as providing perspective is part of his job and why he chose to enroll in MIT Sloan Executive Education's class Building, Leading, and Sustaining the Innovative Organization.
Anticipating disruptive innovation
Organizations in today's hyper-competitive world face the paradoxical challenges of "dualism," that is, functioning efficiently today while innovating effectively for tomorrow.
Previous
Next